Amazing Architectural Model Making Projects in Australia by RJ Models
Introduction of RJ Models:
As we all know, architectural scale model plays a primary role in architectural design.
Over the past 26 years, RJ Models has been fortunate to have worked on numbers of projects for Australian clients.
Using state-of-the-art cutting and engraving facilities, RJ modelers are capable of handling every complex design details with high precision.
Our architectural model makers in Sydney always keeping their eyes for choosing the scale and style of architectural models.
Together with exquisite handicraft, cautious shaping, placing, gluing and painting work can achieve an optimum result.
Models from RJ Models transform space, as well as the ambiance that reveals design concepts and aesthetic considerations vividly.
Clients in Australia were deeply appreciative of the level of model making service they received from RJ Models.
Scale models not only become the best window to showcase ideas but also help to generate fruitful project profits.
Moreover, RJ Models incorporates a specialized to ensure the Australian clients can receive their models on time flawlessly.
Our professional manpower is able to guarantee the safe transportation of any of our finished scale models.
1. Apple Store's Timber Model in Melbourne
Scale: 1:200                               Size:  1400mm x 1400mm                            Production Time:  2 weeks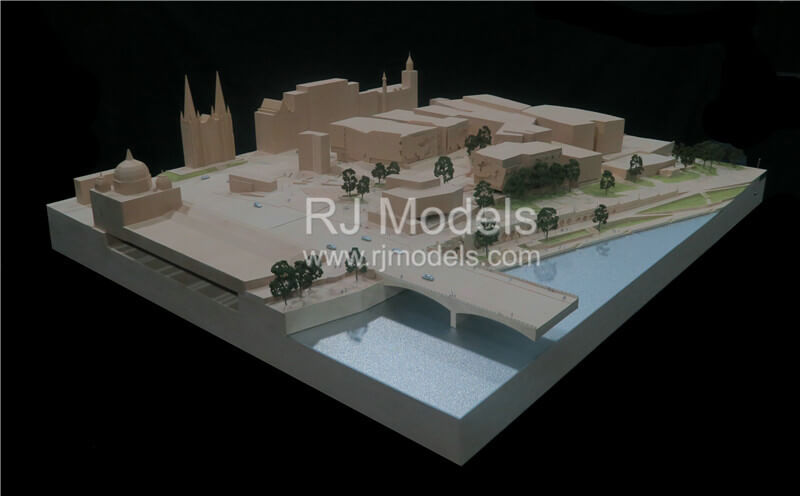 Foster + Partners, a leading architectural firm, collaborated with RJ Models to materialize this wooden architectural model project.
The gadget technology giant Apple intends to make this their flagship store in Melbourne.
Client commissioned RJ Models model making company in Australia for a white monochrome model in 1:200 scale.
Designers chose a blank monochrome style model in order to further the development of future design.
This type which is void of color or detail allows designers to study and draft concepts on a blank canvass.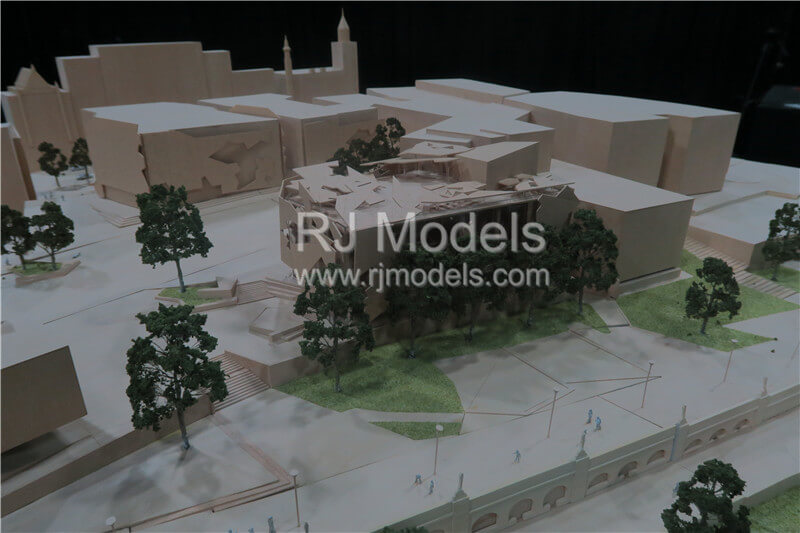 With the exact dimensions of adjacent buildings in place, they can also visualize how their plan affect the area.
Our architectural model building team in Australia used only quality materials of wood, foam boards, and cardboard.
A portion of the river, natural landscape and a number of trees add visual interest into the final product.
The project is a perfect combination of our model making skill and professionalism from planning to final output.
2. 505 George Residential Building Model in Sydney by SOM
Scale: 1:150                                 Size: 300mm x 600mm                            Production Time: 2 weeks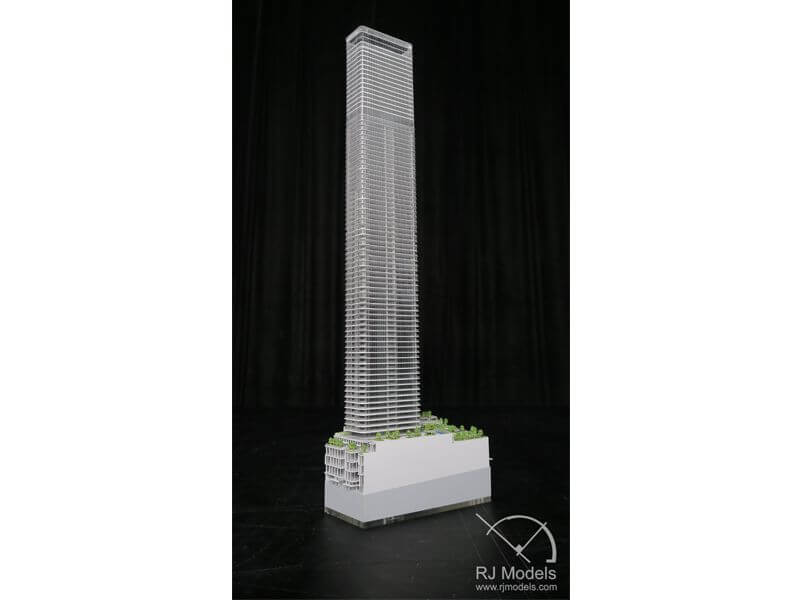 RJ Models, model making company in Australia produced this detailed tower model by big-name Skidmore, Owings, and Merrill (SOM).
This white style office building model represents the structural framework of the proposed residential building in the popular Sydney cityscape.
Characteristic of its uniform layering from top to bottom is the slender and statuesque tower protruding from a wider base.
The tedious process of careful assembly layer by layer by our architectural model makers in Australia produced the flawless finish.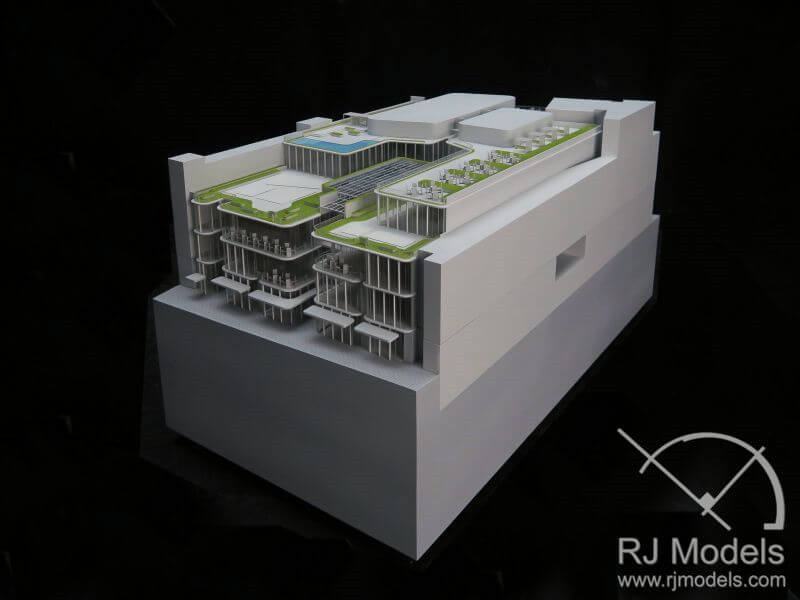 The lower, wider base features more the open recreational areas with facilities such as pools, lounging, and dining decks.
RJ Models added trees all around the base reminiscent of a terraced aerial garden thereby giving a fresh realistic appeal.
Delivered in as fast as two weeks without sacrificing the highest quality results our model-making company is known for.
Without the superb skill and professional services, our architectural model makers in Australia.
3. Residential Building Model in Australia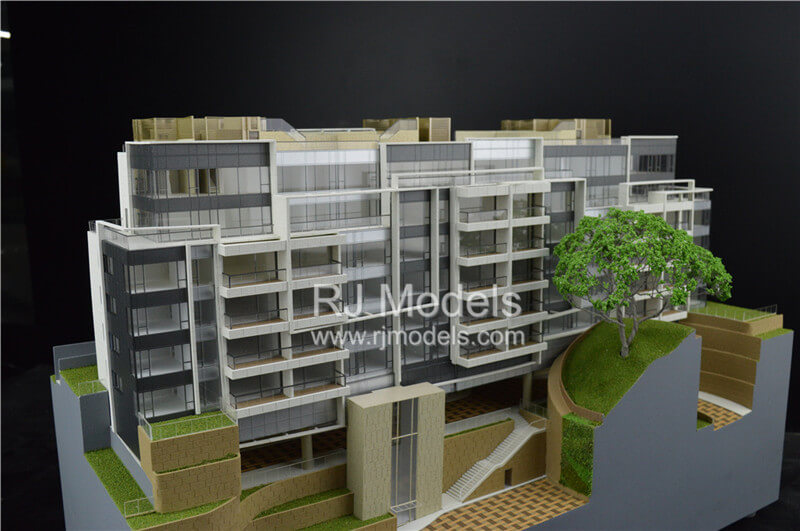 Scale: 1:200      Size: 1200mm x 650mm      Production Time: 2 weeks
This 1:200 miniature building model is something of a challenge to our architectural model makers in Australia.
The topography is unlike the usual flat level surface or slightly sloping platform to work on.
The building is situated on hilly terrain and the architect designed a split-level masterpiece to complement its setting.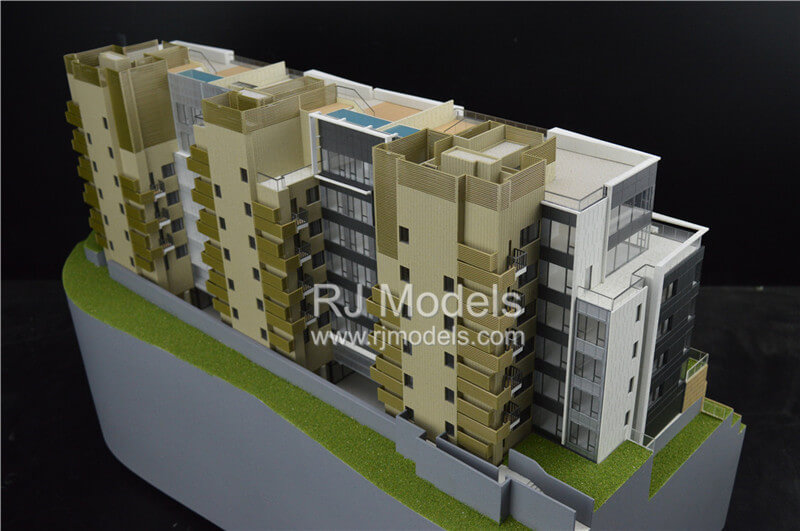 Levels of glass and concrete dominate the style with various layers of architectural elements projecting from the modern contemporary look.
Using materials most suited to mimic the original, like the realistic-looking balconies with glass railings, we have done impeccable details.
Model makers connect the different layers of building elements meticulously to each component following strict measurements according to plan.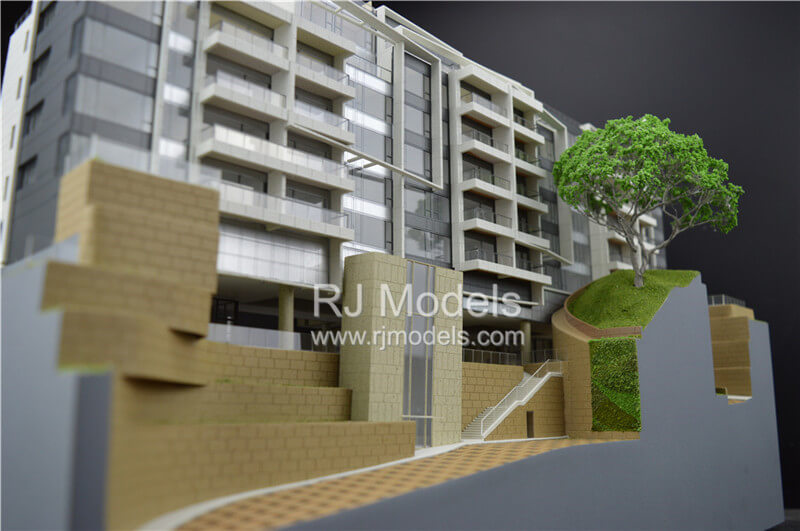 Notice the superb workmanship of tiles and brickwork covering the multi-leveled earth which is then landscaped to perfection.
Australia's talented architectural model making team definitely found the creation process as fun instead of a challenge.
This is especially true when artists take pride in what they do, the way they do at RJ Models.
4. Interior Model in Sydney
Scale: 1:25                                    Size:  1800mm x 800mm                            Production Time:  3 weeks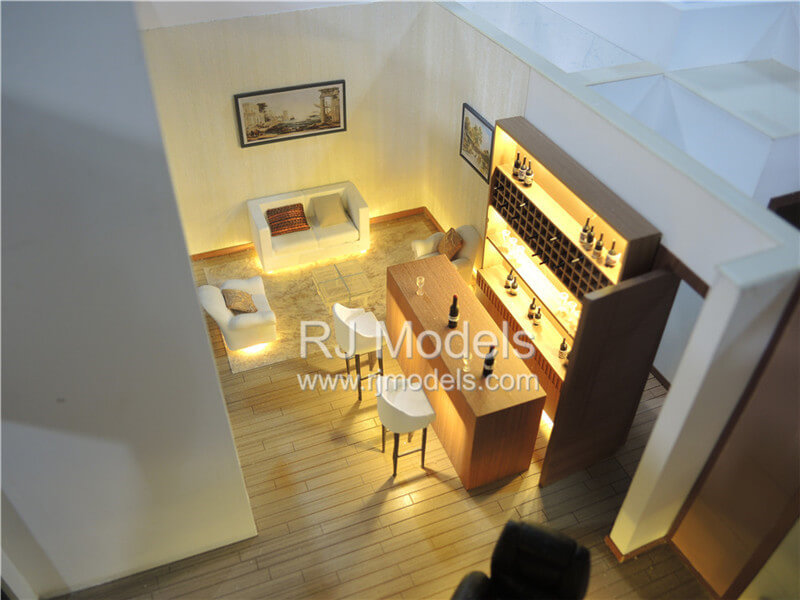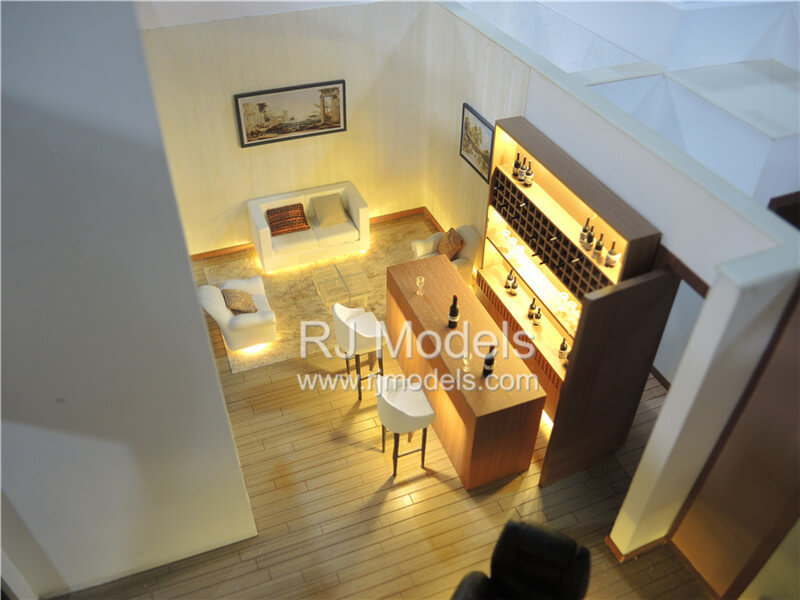 A quick look and you can almost mistake them as the actual interiors of a building.
That is always the objective of our model making company in Australia, the reason RJ Models is trusted worldwide.
Giving utmost satisfaction to our clients by delivering full detail craftsmanship according to the exact specifications.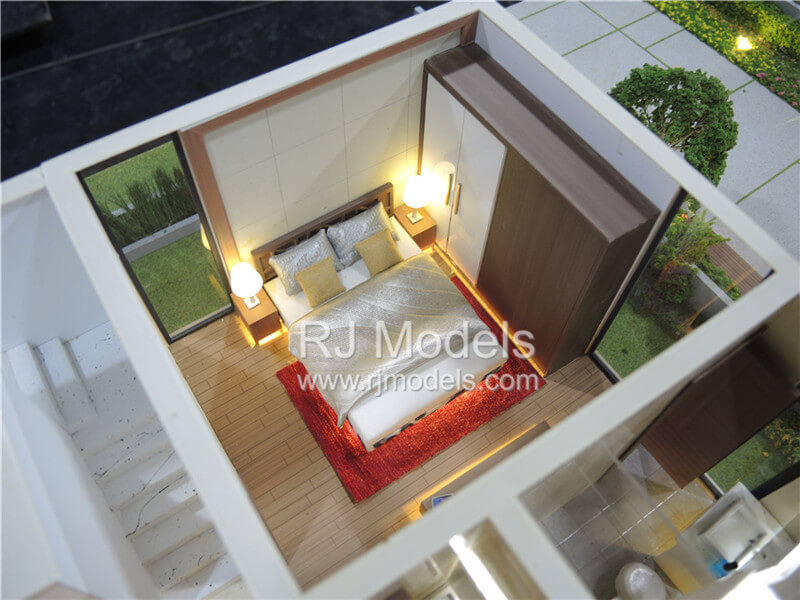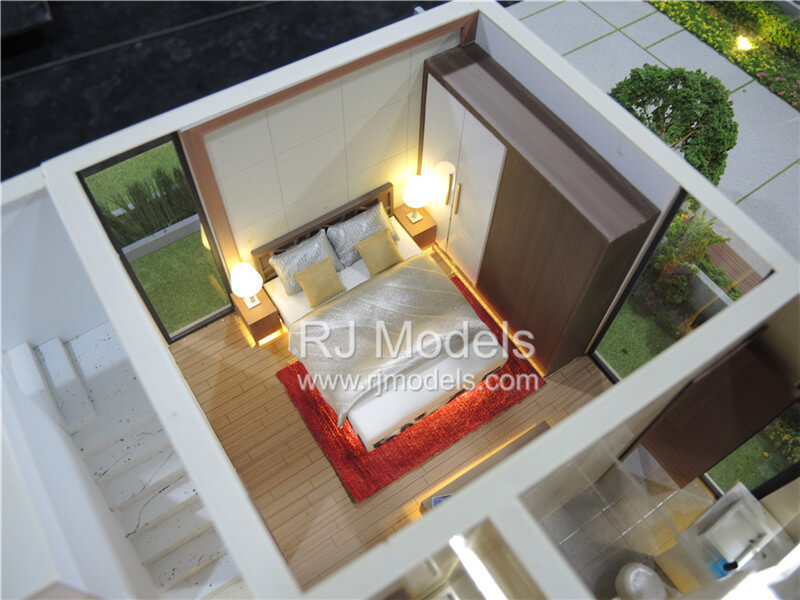 Looking from the outside with its serene façade and manicured landscape then going inside provides a sense of reality.
Finishing materials from the walls and carpentry are superbly lifelike.
Our architectural model makers in Australia's expertise made the flooring, from the wooden veneers, tiles and marble finishes flawless .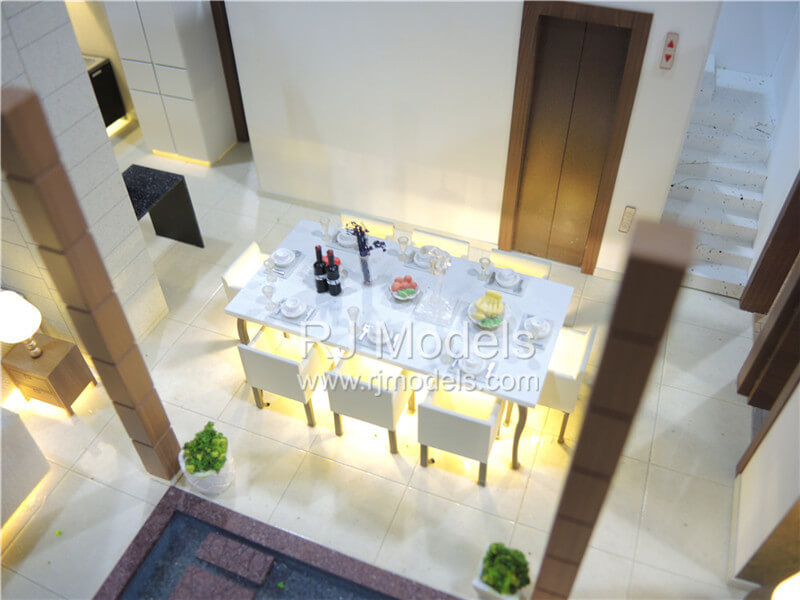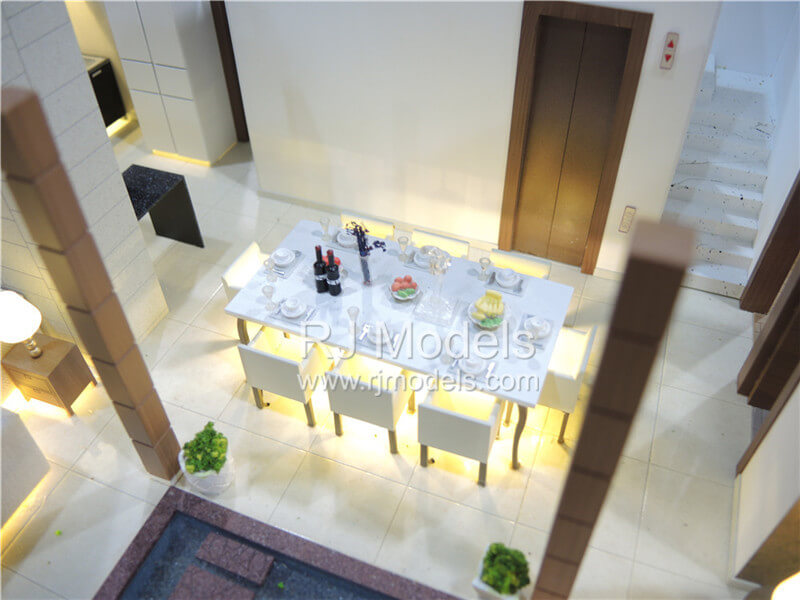 You can recognize even the most minute of home and kitchen elements with such vividness.
Adding to the charming interiors is the play of lights masterfully assembled into the interior model.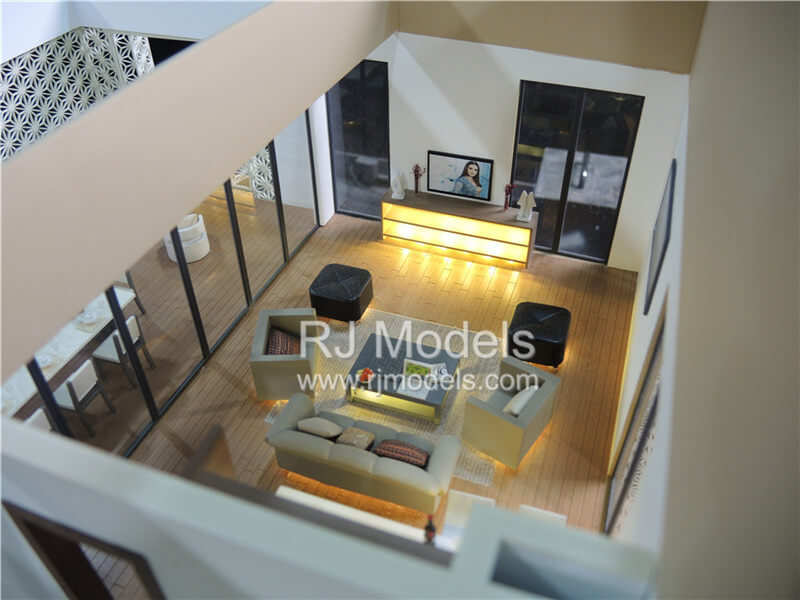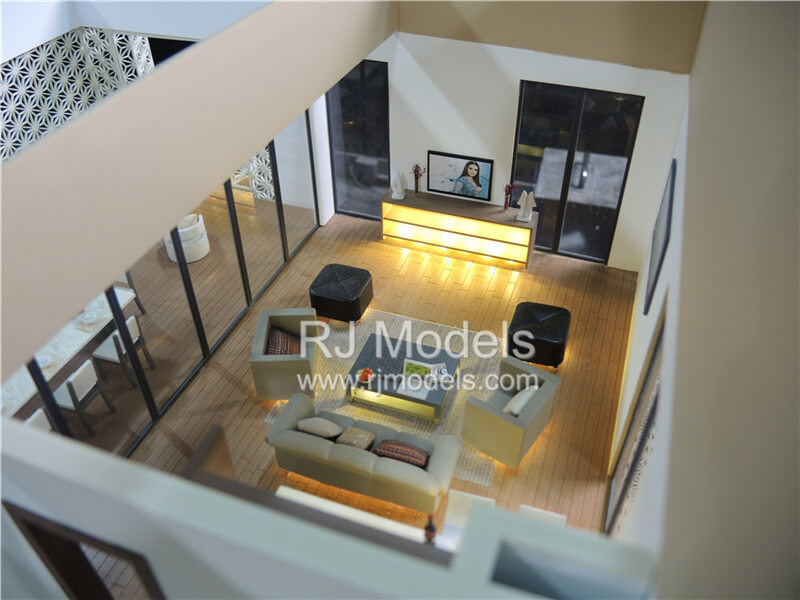 Developers mainly use these types of scale models to represent a housing scheme for the marketing approach to potential owners.
Within three weeks of production, RJ Models model making company in Australia delivered this 1:25 scale true to form.
5. Facade Design Model in Sydney

Scale: 1:25                                    Size:  1800mm x 800mm                            Production Time:  3 weeks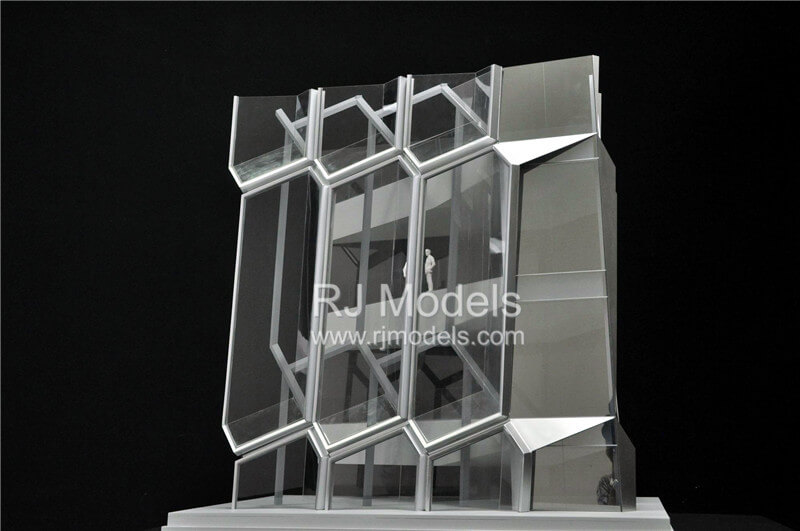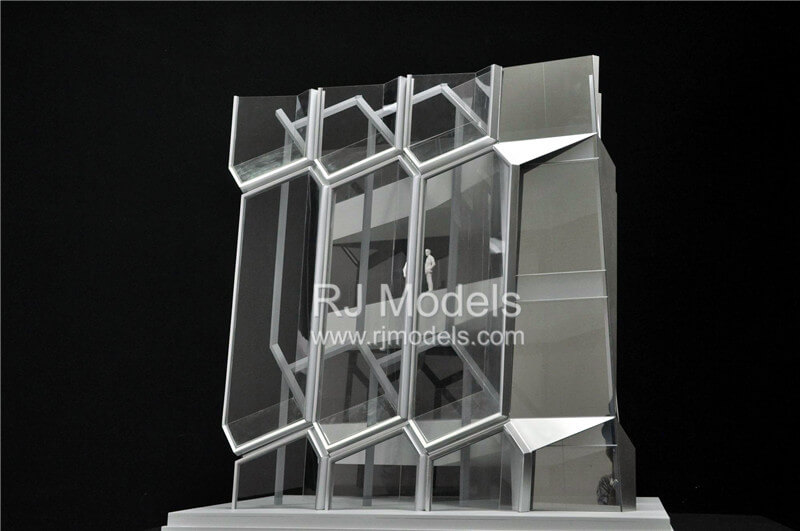 Providing clients with state-of-the-art architectural models is what our model making company in Australia and the world thrives on.
Such is the impact that this portion of a building façade model in Sydney exemplifies.
The workmanship is tedious because it requires absolute accuracy even when just a small portion of the façade was crafted.
RJ's model maker cut each architectural element of this 1:25 facade model into precision before finally putting the pieces together.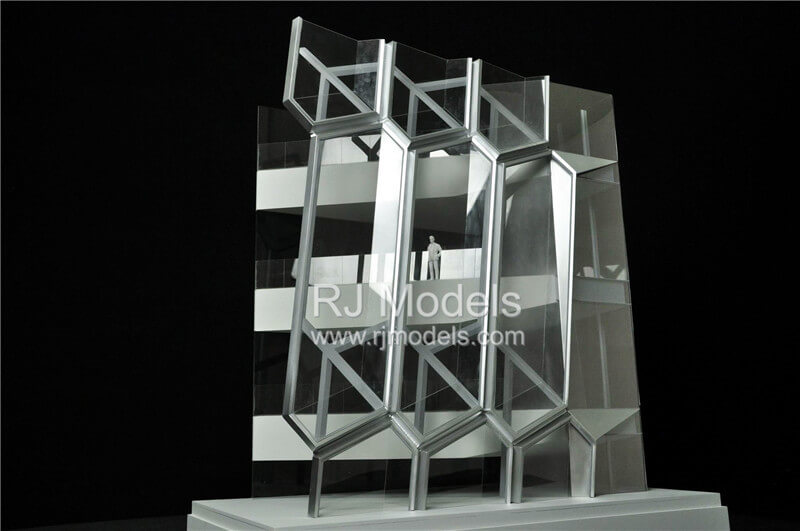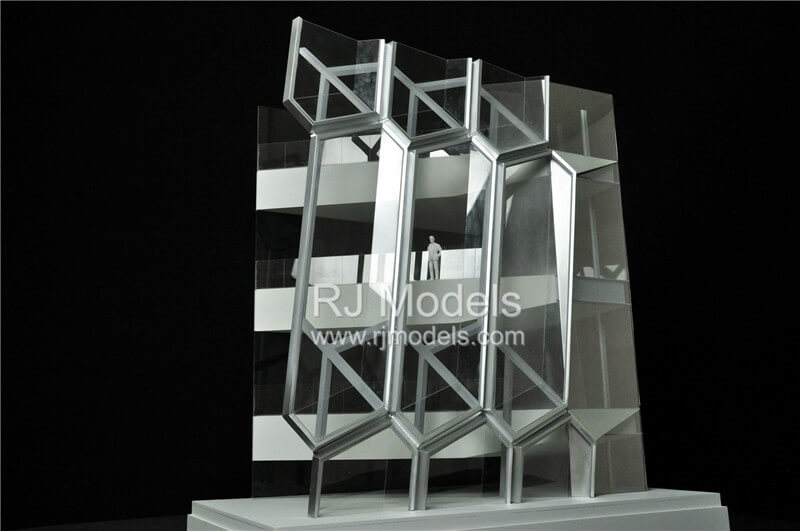 Laser-cut plexiglass and acrylic components make up the scale model which were then carefully assembled, finished and coated.
The see-through interior levels are likewise masterfully crafted with the addition of human-scale figures for proportion emphasis.
Sometimes intricate designs and technically demanding details to create require a scale modeled portion such as this.
It amplifies the major design features of a project giving the client board better visualization.
Therefore a must that everyone in our team of architectural model makers in Australia is competently sure-handed.
6. Massing Model in Australia
Scale: 1:200                                    Size:  800mm x 600mm                            Production Time:  2 weeks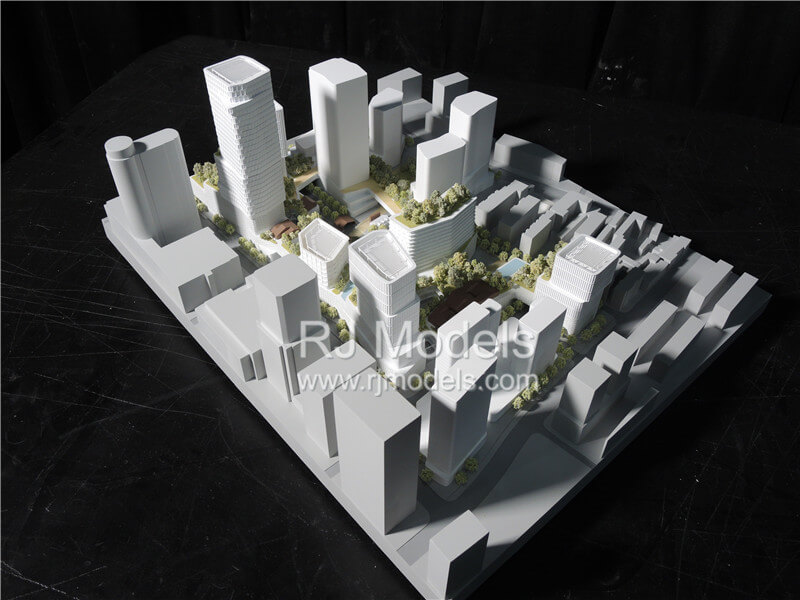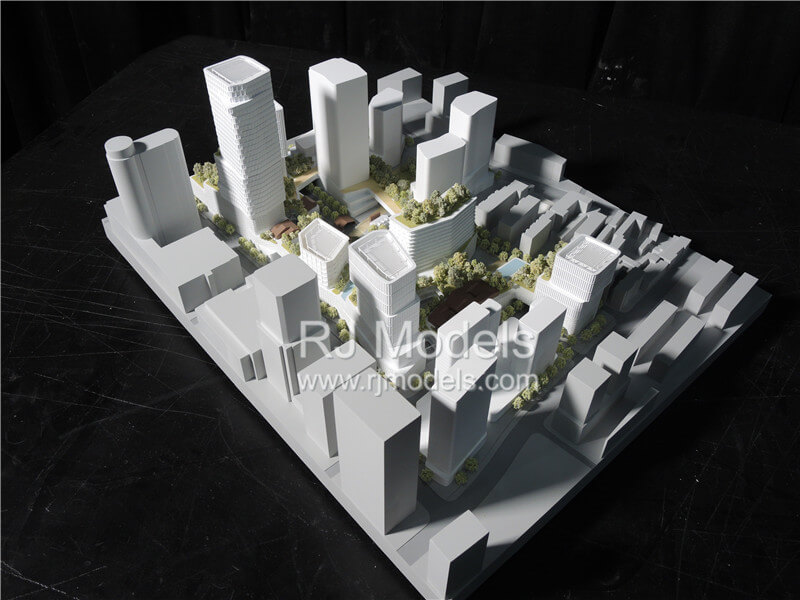 Designers choose a white styled model on certain occasions when design finality is yet to be decided with ongoing consultations.
RJ Models has professional services to cater however simple or detail intensive a master plan model project is.
Clients also opt for white styling as a design tool for a straightforward understanding of the general scheme.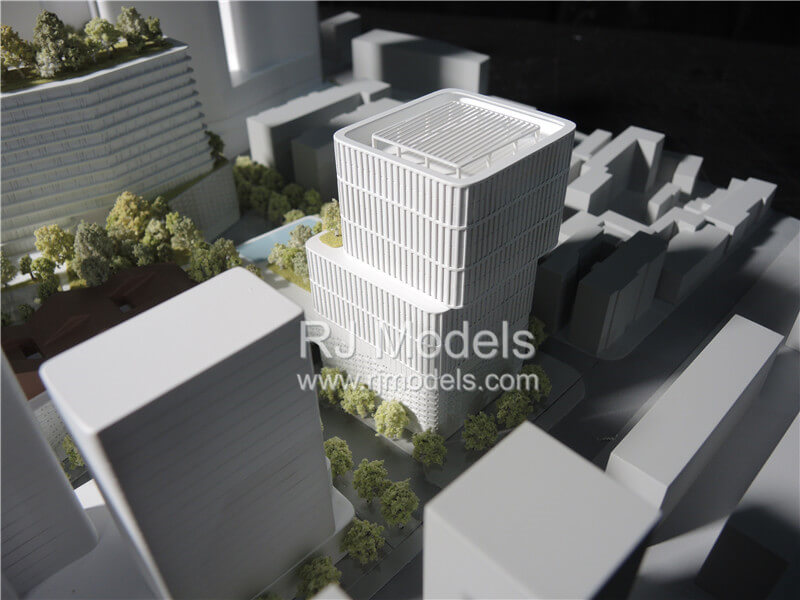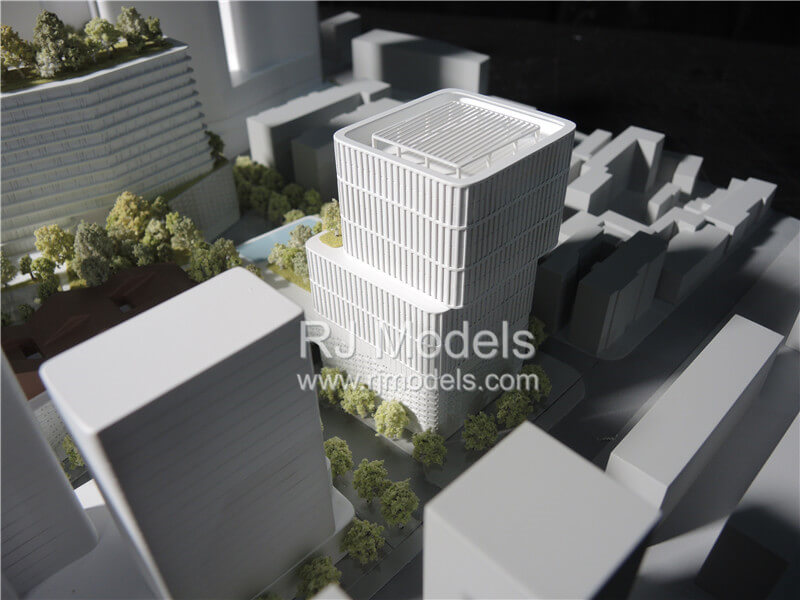 In this massing model, surface engraving is on the solid form of the featured buildings around the middle portion.
But even with their minimal details, a distinguishable design concept is visibly comprehensible.
Not particularly just for highlighting them but see how each building relates to the other and as a whole.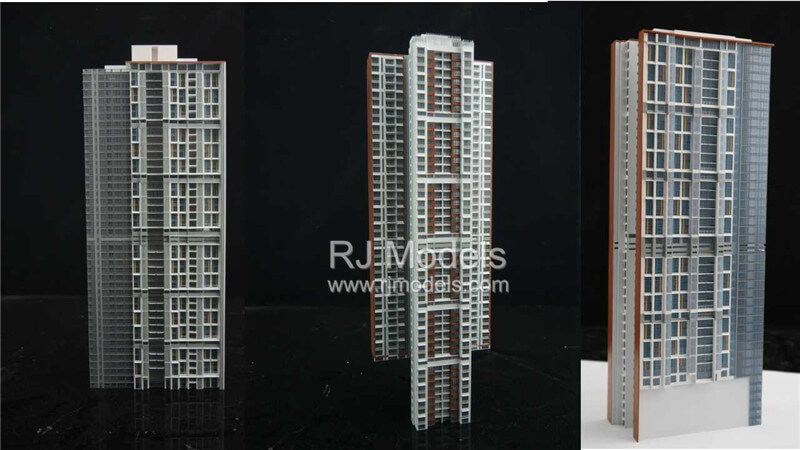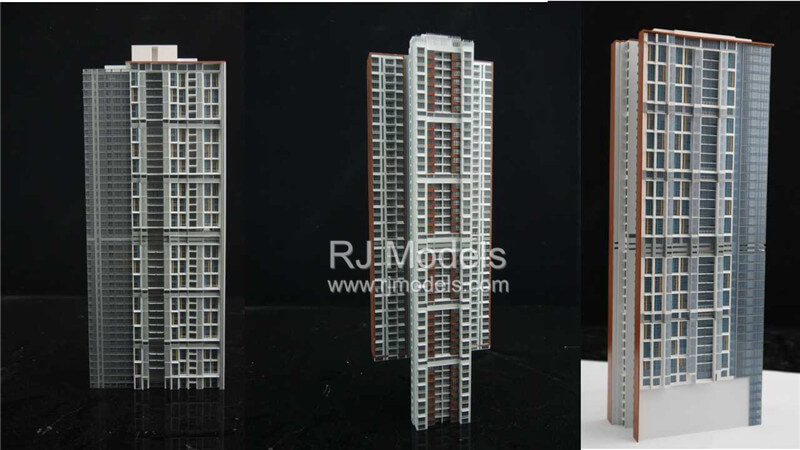 Much of the other structures surrounding the massing model were simple blocks scaled out of their exact shapes and dimensions.
To give a lively vibe to the whiteness, our model makers in Australia added trees on the area of interest.
Our architectural model building company always aims to produce precisely crafted architectural models whether in or outside of Australia.
7. Astronomical Satellite Model in Australia

Scale: 1:200                                    Size:  900mm x 500mm                            Production Time:  2 weeks
The architecture and engineering industry is not limited to designing houses, buildings, and bridges.
Giving our model making company in Australia a different take on scale modeling is commissioning this astronomical satellite model.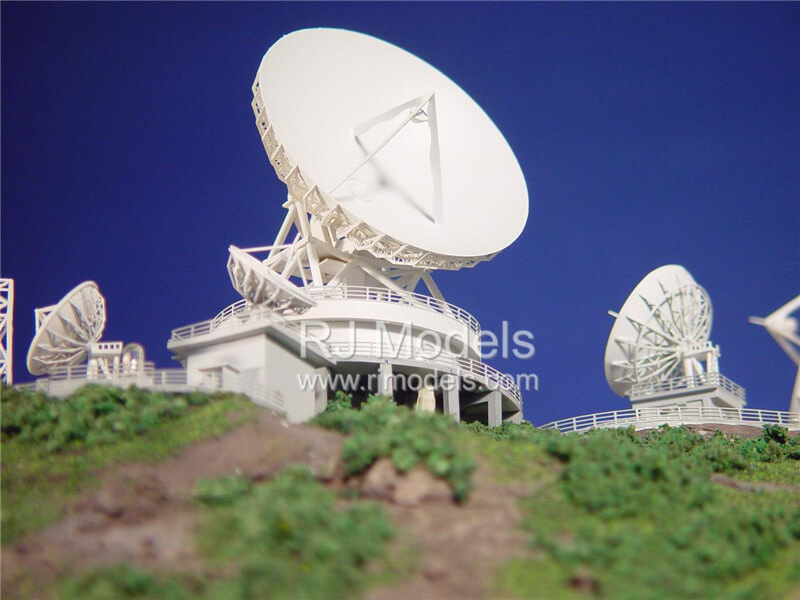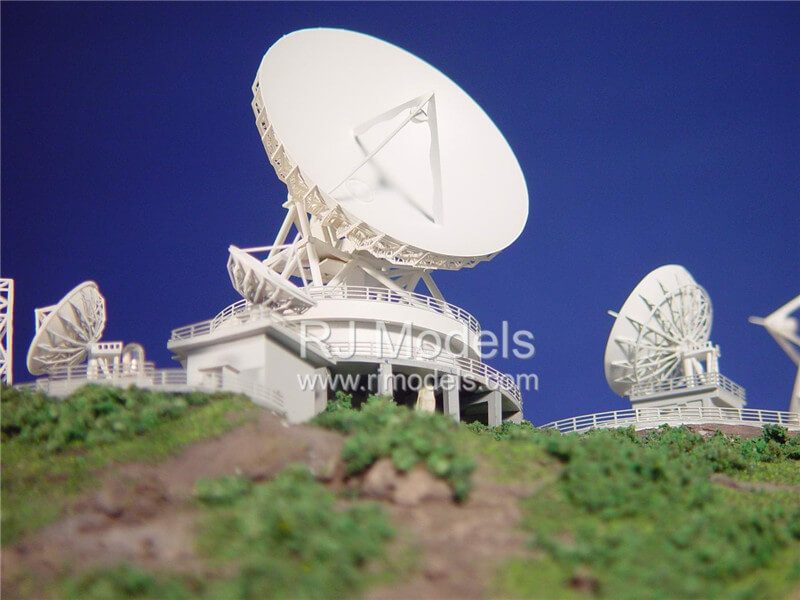 Our model makers erected the satellite facility model on an elevated terrain similar to actual landscape setting in real life.
Notice the superbly realistic resemblance of the topography to an actual site; grass, soil, rocks with its overall formation.
Curved scale model components such as the number of satellite dishes were formed using advanced techniques capturing its real form.
Full imitation even with the tiniest model elements does not hinder our architectural model making team to meet target accuracy.
As a result, RJ Models crafted each satellite dish with authentic detailing including the circular structures that carry them.
It took two weeks for our model making company in Australia to deliver the 1:200 model to very satisfied clients.
Astonishing every onlooker with the outstanding architectural replica RJ Models was able to render.
Conclusion
As a leading architectural model making company, RJ Models' dynamic teams with 3DR Models are keeping up with the up-to-date trends.
And we are well on our way to supporting more Australian clients to realize the objectives of the various projects.
RJ Models always provides the clients in Australia with the best of the model presentation advice and finest products.
And our Australian clients really hope that they will continue to be our future.
Leader in World Class Model Making
Any questions about architectural models,just feel free to contact us
We will never rent or sell your email to anyone.
Contact

RJ Models

& Start Making You the Top
Our vision is making the top quality architectural models to everywhere in the globe.