Professional


YACHT MODEL MAKING SERVICE


During the last 24 years of RJ Models' Passionate Journey of Ship Model Making. RJ Models dedicated to continuing making the excellent and elegant ship models for you.
Any Time, any countries, any types of Yacht Models,

Just Lets Us Know!
Over 23 Years of Yacht Model Making

Experience
Different Types of Yacht and Ship Models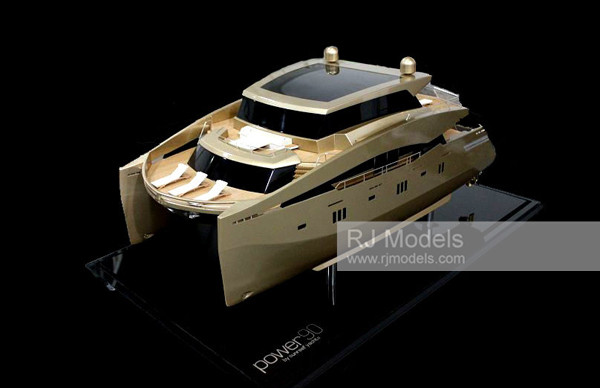 A catamaran is a type of ship with two equal-sized hulls held side by side. The wide bridging frame connecting two parallel hulls stabilizes the ship. It is propelled either by sails or motors.
The catamaran Model shows how the ship is wisely designed and structured.
Not only can you grasp the general shape and appearance of the ship, but you can also look into components, such as hulls, sails, steering wheel, cockpit, etc.
Walking around the catamaran Model, you can simply envision that you are delightfully chatting in the expansive salon space, cooking in the well-equipped galley, or lying down on the fabulous sundeck.
For designers, engineers and builders, Catamaran Model plays an essential role in their processes of work.
They ponder over problems while staring at ship models and fantastic ideas are born!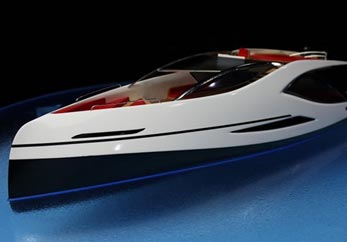 Concept Yacht Model is commonly used to form, facilitate and upgrade design ideas and schemes.
The model ship brings designers' minds into reality. Compared with hand-drawing drafts and 3D computer renderings, designers are inspired and benefited enormously by concept yacht models.
With a vivid representation at hand, yacht experts readily identify starting points to analyze and modify various boat elements and structures. Ambitious boat architects endow yachts with characters & uniqueness.
Concept Yacht Model visualizes and vitalizes their innovative design plans on paper.
Concepts are transformed into individual one-off ship models. Concept yacht models just expose simplified spaces with a few beautifully clean lines.
But they materialize designers' intentions with reference to colors, materials, and forms. You can easily appreciate those yachts' distinctive profiles. They are stylish, lovely, elegant or classical.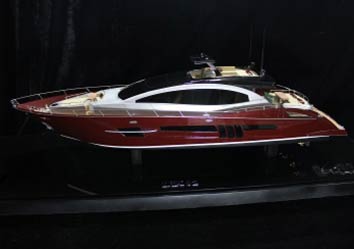 Flybridge defines a category of a motorboat. Situated on the top, the flybridge grants boaters nearly 360° panoramic views from the control station. The motor yacht model can be manufactured to showcase a wide range type of flybridge, characterized by an enclosed room, a bimini top, or a retractable soft top.
A delicately crafted model reflects not only a boat's physical features but also its spirit.
Conscious customer observes ship models, comparing one to another, and picking out the one perfectly suits his taste and personalities. In three dimensions, the motor yacht model uniquely offers users a visually parallel reference.
But it is also touchable. The model delivers its quality to prospects through their finger-tips.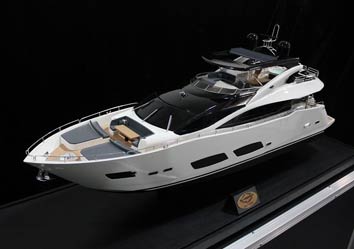 Motorboat generally refers to all types of motor powered cruisers. Some boaters prefer enclosed coupe allowing longer enjoyment on board regardless of extreme weather.
Motorboat model typically features a large main deck with luxury interior area accommodating families, friends, and guests.
The protective shade blocks outside heat and freezing air. In the meanwhile, unbeatable vista penetrates through circled glass windows.
A delicately manufactured boat model always attracts conscious customers. Selection of your motorboat starts from screening out your favorite boat model.
The boat model is also the source of vital spark from which innovative design comes into being. Ship engineers have introduced a fold-out hard top which allows a coupe and an open switch with each other as users want.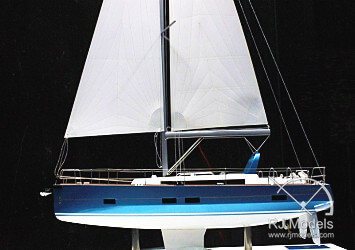 Sailing Yacht Model displays the ship's impressive shape. It's enhanced by many accurate details: vertical mast leads your vision up to the sky; horizontally spreading deck draws a sharp line across the sea, and comfortable cabins create superb cruising experience.
The sailing yacht is the generic name for watercraft which are primarily propelled by sails. This is a widely admired type for leisure activities and sports.
Sailing Yacht Model carries all qualities which a real sailing yacht is supposed to encompass.
It emerges you in the breeze and sunshine. Your mind is traveling to the sea accompanied by the rippled sails.
Sailing is a romantic voyage to the blue. The sailing yacht is a shining focal point on the horizon.
The sailing yacht model is the source of dreaming about that voyage to the horizon.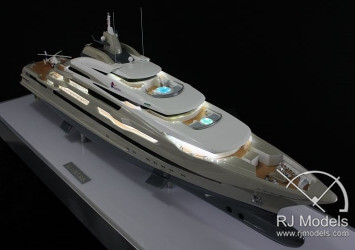 Super Yacht Model
The load line of a superyacht stretches for at least 24 meters. The superyacht can be personally owned, commercially chartered or both. It contains multiple deckers and cabins. So it is out of the question to accommodate a host of guests and crew members.
RJ's ship model team is capable of catching and highlighting the most valuable characteristics of super-sized yachts.
The vivid model takes you to every corner of the yacht, experiencing its styling exterior and luxury interior.
Superyacht owners will find themselves extremely proud of possessing such a brilliant model. It demonstrates the yacht's essential qualities in an exquisite form.
Despite the superyacht model is a scaled-down product, it doesn't compromise the grandeur of its prototype.
Thanks to modelers' talented skills, the model is more than a duplicate. It's actually a polished miniature.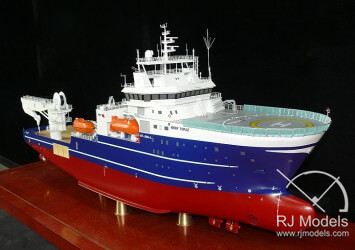 RJ's ship models not only serves yacht markets but also the nautical industry in general.
Vessels are categorized according to their performed tasks: cargo vessel for transportation of cargo, rescue vessel designed for salvage operations, and subsea vessel performing inspection, maintenance, repair, construction or supply to offshore oil and gas industry.
Although vessel types are varied, vessel models are capable of showcasing a full spectrum of vessels. The models highlight structural features, key components, and specialized functions.
Vessel models are especially benefiting to vessel companies. A well-built model suggests a wisely designed ship, which is further an iconic sign of the prosperous marine industry.
Vessel models build up your imagination. They are all professionally designed and made with sophisticated craftsmanship, which allows you to enjoy a fantastic world of vessels!
Yacht Model: The Complete Guide
Chapter 1: The History of Yacht Model
Yacht is a boat used for recreation or sports, which is originated from the Dutch navy's light speedboats that hunted pirates and other offenders in shallow waters.
After the promotion of Charles II of England, the yacht became an entertainment boat.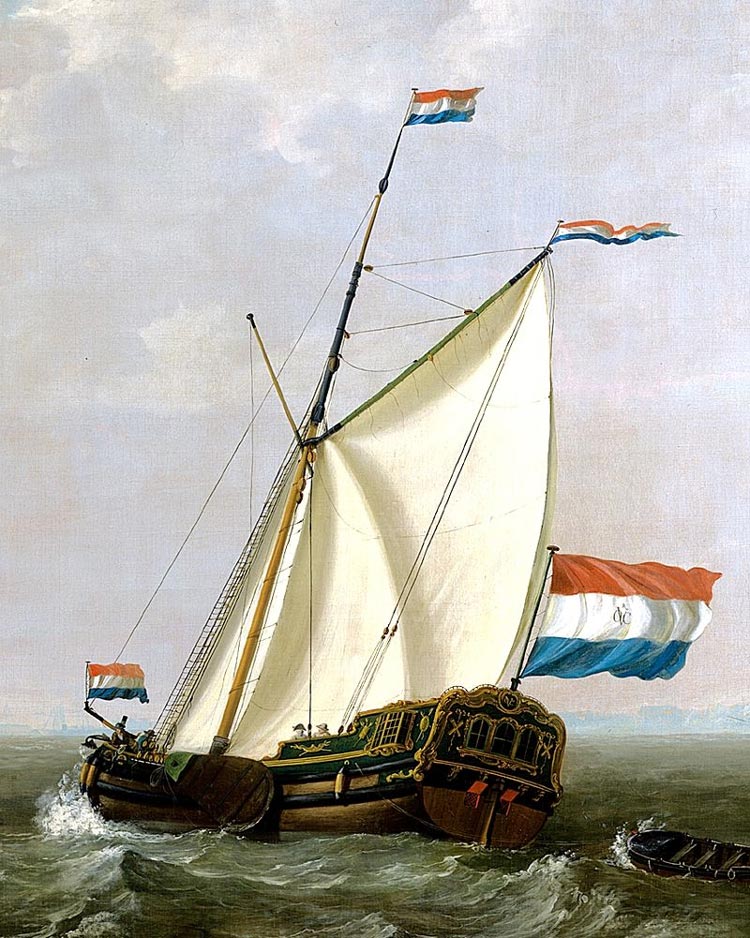 An 18th-century Dutch yacht (jacht) owned by the Rotterdam chapter of the Dutch East India Company (VOC).
A yacht does not have to have luxury accommodations, in fact, many racing yachts are stripped out vessels with the minimum of accommodations.
Yacht lengths normally range from 10 meters (33 ft) up to dozens of meters (hundreds of feet).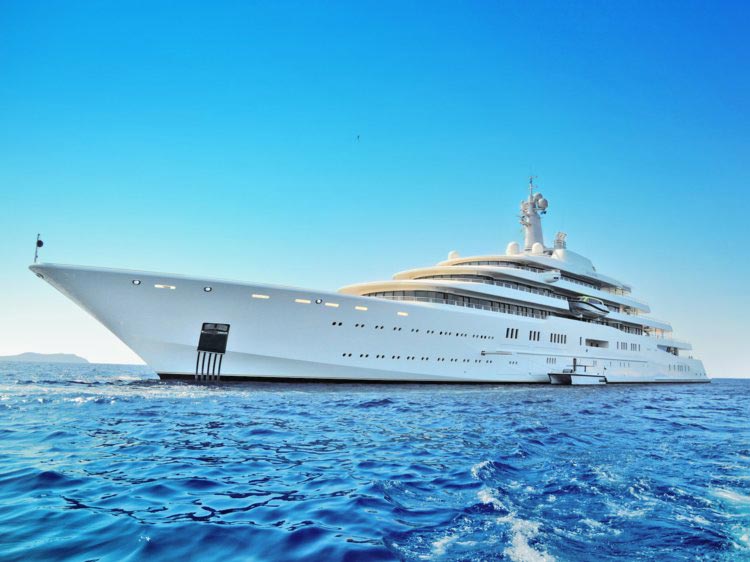 Example of a super yacht
A super yacht generally refers to any yacht (sail or power) above 24 m (79 ft) and a mega yacht generally refers to any yacht over 50 meters (164 ft).
The yacht model is an ancient object that is as old as the ship itself and can be traced back to the ancient times when the original water transport was developed.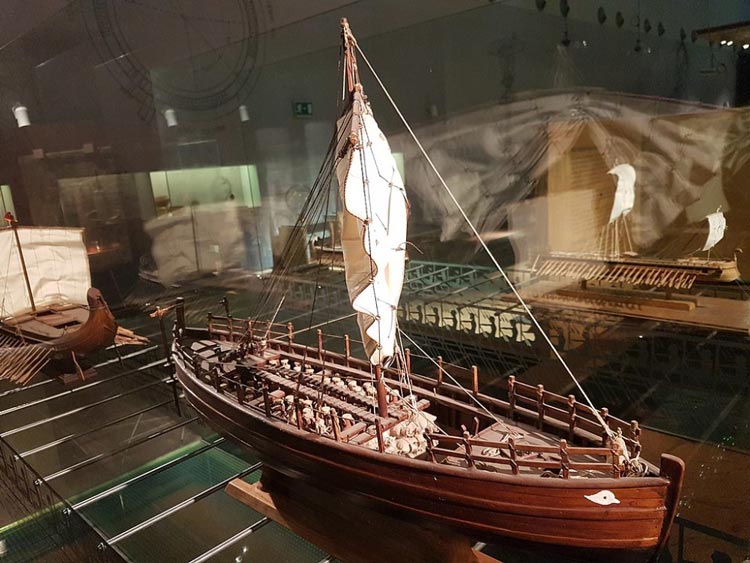 Ship models emerged as early as in ancient Greece
Ship models emerged as early as in ancient Greece, Egypt, and Phoenician.
Archaeologists have determined that Ancient Greek ship models were used as burial or votive offerings and as household articles such as lamps or drinking vessels.
At that time, the types of ships in ancient Greek ship models could be broadly divided into small vessels, merchant ships, and warships.
The ancient ship model cast from different materials, including wood, bronze, lead, and clay.
The development of tinplate and improvements in machine tools enabled significant advances in ship models from 1900 onwards.
Early 20th century models comprised a combination of wooden hulls and cast lead for anchors, deadeyes, and rigging blocks.
The speed of production for tinplate vessels enabled one 1909 manufacturer to produce ship models of speedboats that had competed that year in Monaco.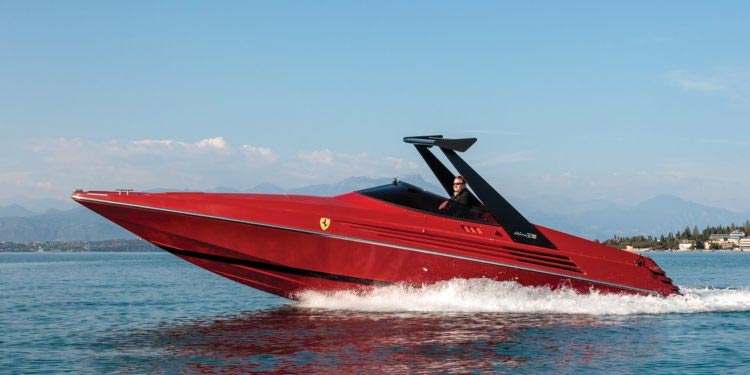 Example of a speedboat
To some extent, the speedboats model is recognized as the embryonic form of the yacht model.
Ever since the 20th century, amateur ship model kits became available to the public from companies such as Bassett-Lowke in Great Britain.
Today, ship companies have been accustomed to making model for a vessel under construction, which is in every respect a copy of the original on a small scale, whether steamship or yacht.
Unlike other ship models, the yacht model is not only a commercial exhibition object but also gradually becoming an entertainment activity.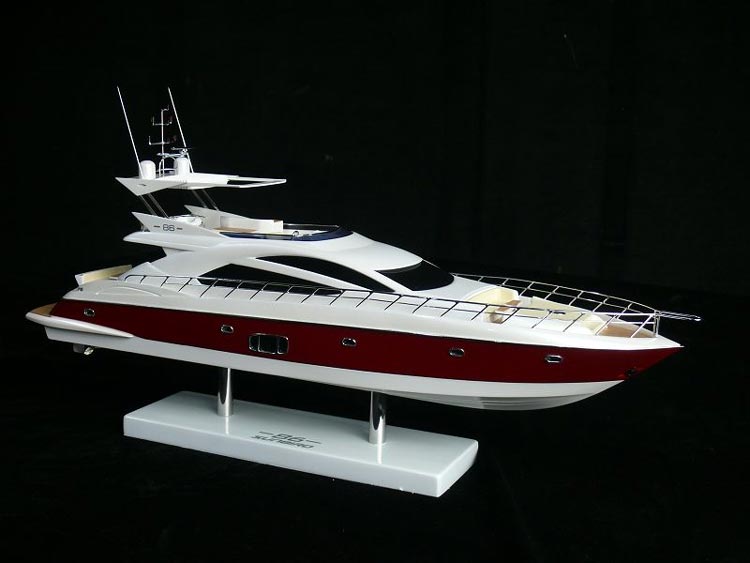 Design of Modern Yacht Model
They are operating craft, which may be sail, steam, engine or electric motor powered, typically resembling pleasure power craft, although the hobby also includes the construction and operation of models of working ships such as tugboats and other static models.
There have been yacht model clubs in the UK, Ireland, and the United States many years ago, and lots of yacht model competitions are held every season.
Rules usually do not require the owner or master of the yacht model to build their own craft, but in model yachts, the design and construction of the yacht are as important and interesting as the actual one.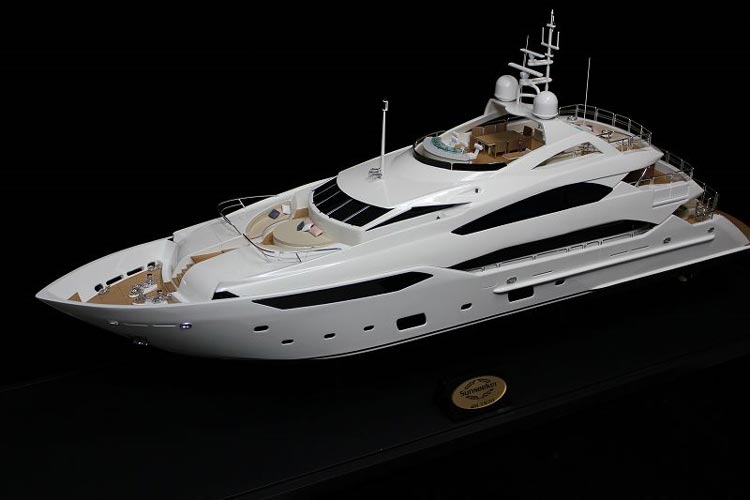 Design of Modern Yacht Model
The traditional yacht model consists of some light, seasoned wood, such as pine, preferably white pine, white cedar or unknotted mahogany.
The hull can be dug from solid wood blocks or cut from so-called bread-and-butter style wood planks or laid over keel frames and cross-sections.
A number of planks, which have been shaped to the horizontal sections of the model and from which the middle has been sawn out, are glued together and then cut down to the exact lines of the design,
Templates being used to test the precision of the curves.
For those uncontrolled yacht models, three kinds of steering-gear are used to keep the model on a true course.
These controls are the traditional methods, for more than 100 years before the advent of radio control and they continue to be used worldwide.
The yacht model competition used to be held within a specialized pond or rectangular pool to allow a course at least a quarter of a mile in length.
With the advent of radio control, it has become much more practical to operate the motorized craft.
Electric power and low-pressure steam engines are popular, with many amateur machinists building engines from casting kits in the yacht models.
In addition to being used for competitions, yacht models are also commonly used for commercial display.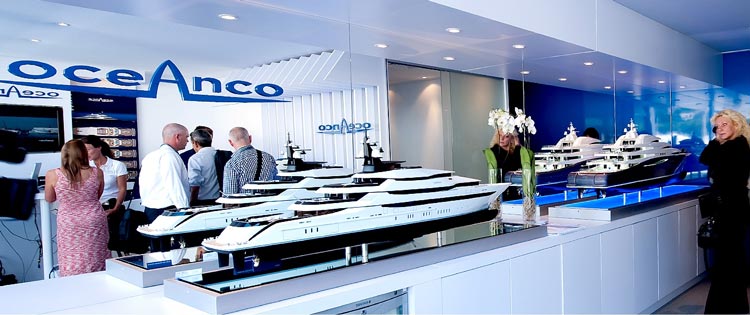 Yacht models are also commonly used for commercial display.
These yacht models are often completed by professional model making companies.
Through the exquisite craftsmanship, each rope, pulley or part of the engine is faithfully reproduced.
The name, home port and exact color scheme of yacht can also be precisely replicated.
Manufacturing and programming every single component in standard modeling methods is a complex and time-consuming process, but 3D printing model technology can produce a holistic model with excellent surface quality.
Due to the precision of each component, lower model cost, short production time and high aesthetic value, 3D technology is becoming more and more popular in yacht model making.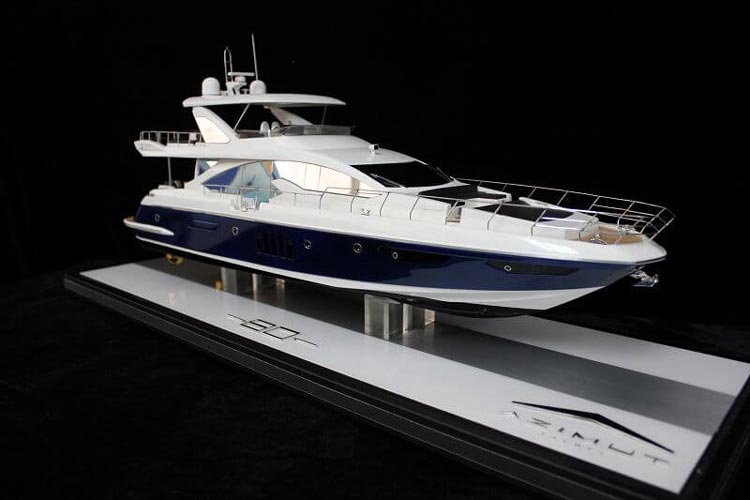 Yacht model can be finished within a month with high accuracy and fineness.
In recent years, widespread internet access has played a major role in promoting yacht modeling, offering enthusiasts the opportunity to show off their work and share techniques.
For those people who need a yacht model can get their customized one by simply surfing on the internet and choosing a favored model making company to make it.
Normally, an exquisite and delicate yacht model can be finished within a month with high accuracy and fineness by using advanced technologies and machines.
Chapter 2: Function of Yacht Model
The yacht model is a miniature vision of the yacht, which is an important carrier to explain the design concept and a significant object in display.
Generally speaking, the yacht model making process includes using 3D software such as CAD to make a yacht model drawing, using CNC engraving machine to sculpt the initial mold, manually polishing each component, painting, assembling and packaging.
Exquisite design, sophisticated materials, and fine details show the identity of the owner of the yacht model.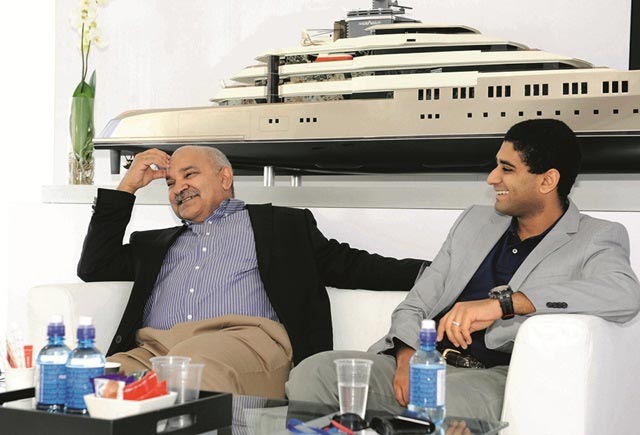 The yacht allows people to enjoy the pleasures of the sea, while the yacht model can be placed indoors or exhibition for people to appreciate.
Whether it is the LE GRAND BLEU, the AL SALAMAH and other world-famous yacht, or it is some small, unnamed yacht, different scale yacht models have been made for each yacht.
The yacht company makes models for its yachts, which can promote sales on the one hand, since the direct tactile experience is often easier to impress buyers; on the other hand, these yacht models are also a proof of their design and production capability.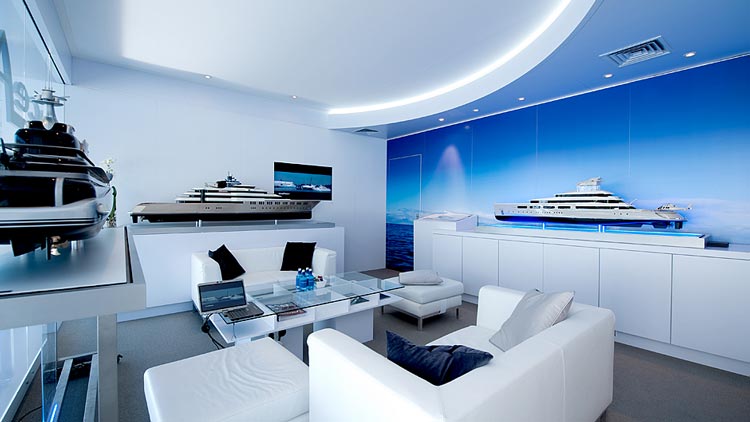 Many yacht companies have dedicated showrooms filled with yacht models that the company has produced and sold for people to visit and appreciate.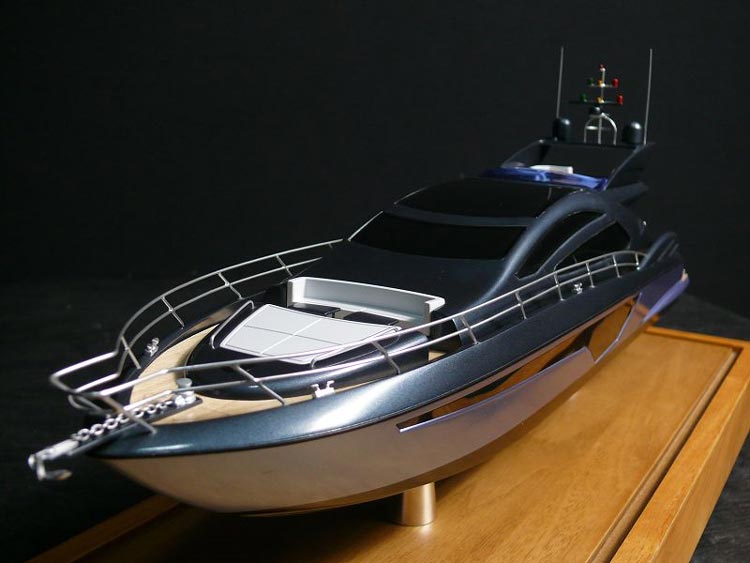 For yacht designers, an excellent yacht model can faithfully reflect their design concept, while a shoddy model may ruin their laborious design work.
In the design process, with the three-dimensional model, the designer can more intuitively review the existing design, so that adjustments or modifications can be made, and the final yacht can maximize meet the clients' requirements.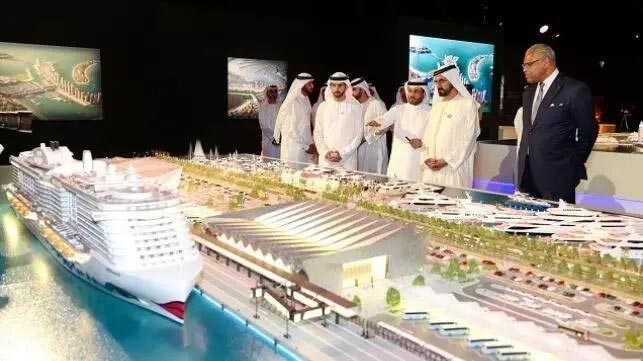 In addition to being exhibited separately as a miniature version of the yacht, the ship model is often used in architectural models.
When a project contains architectures such as ports, docks, and luxury villas, the presence of a yacht is essential; the sophisticated yacht model is not only a testament to the luxury of this project, but also reflects the superb quality of the entire architectural model.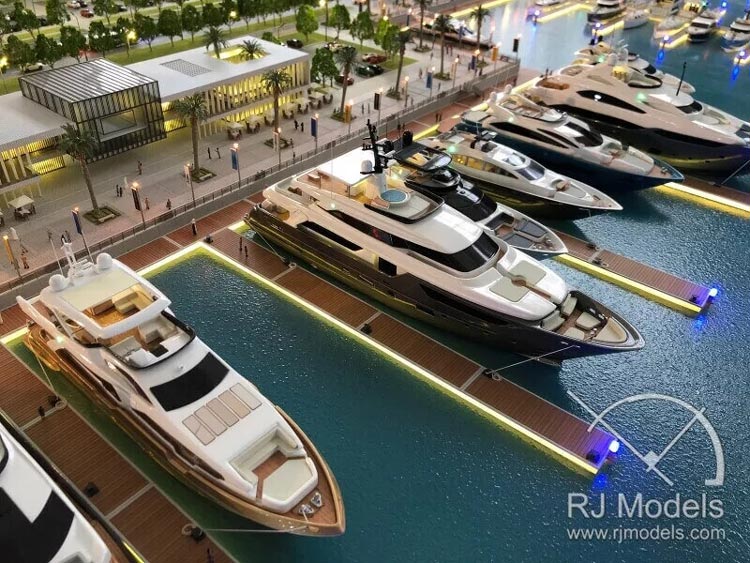 A Parallel 3D yacht model is also one of the best sales tools for brokers.
During the sales activity, there is no thing more convincible than a three-dimensional yacht model.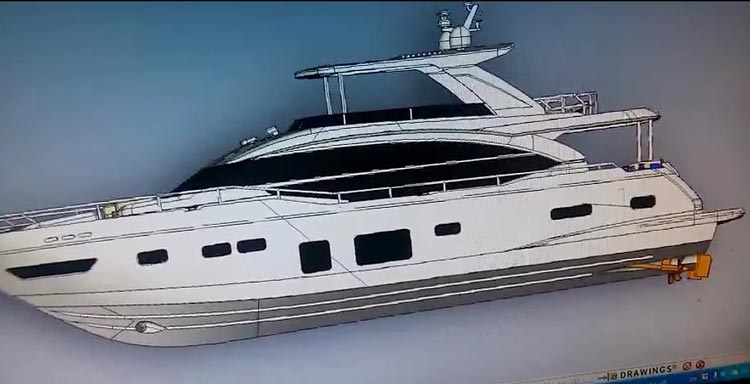 Comparing to the yacht model, the proportional albums and drawings are quite unpersuasive.
For the recent century, yacht model clubs have emerged from Europe to America. Club members are often enthusiasts of yachts.
They often get together to appreciate yachts, assemble their own yacht models, and then install power facilities in them; the club will hold regular competitions and other activities.
In here, the yacht model is not only an exhibit, but also a medium for fans to communicate, compete and relax.
Chapter 3: Materials of Yacht Models
C3.1: Introduction
Different materials have different characteristics, textures and attributes, and the processing methods are therefore different.
The model materials are more abundant and modern.
In addition to wood, materials such as plastics, acrylics, and metals that are difficult to cut by hand are commonly used.
If traditional materials are used, the yacht model makers will usually first make a positive model from clay or plaster (or using an existing model's hull) and then create a negative mold from fiberglass or plaster.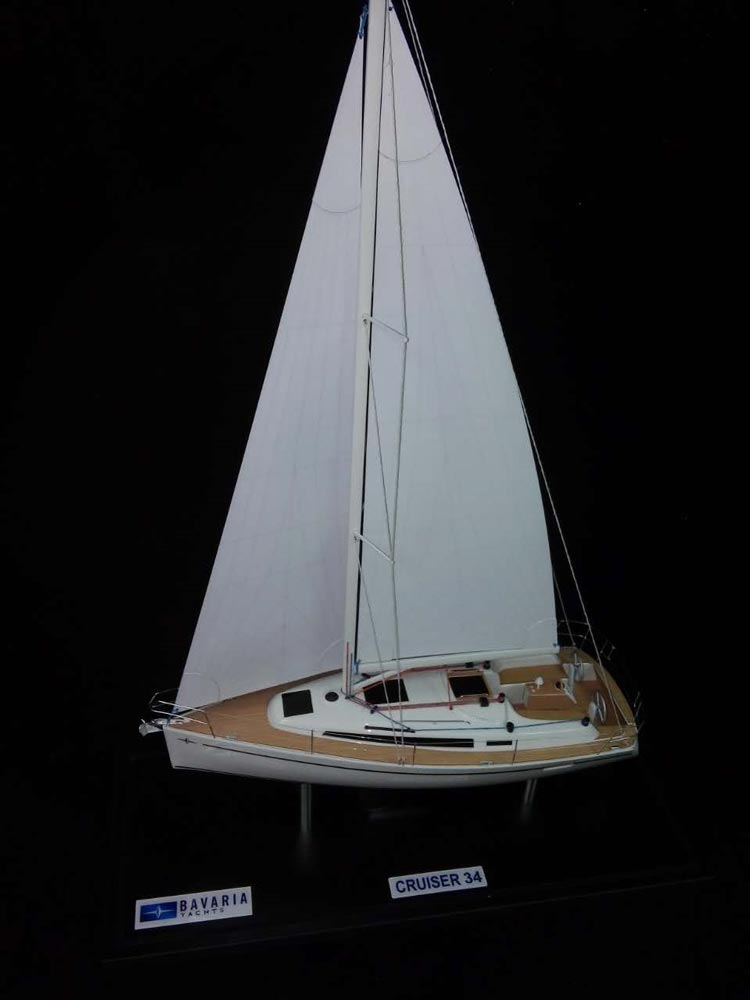 The experienced yacht model makers can even match the canvas work and upholstery, including deck furniture and toys.
In order to appropriately use materials to make yacht models, a certain degree of understanding of the type and characteristics of the distinguish material is required.
Here are several materials can be used in the production of yacht model.
C3.2: Plastic
Plastics with different compositions and manufacturing processes may vary greatly in their properties and usages.
The polystyrene foam board is a hard foam plastic with low density, high performance after polishing and easy to cut.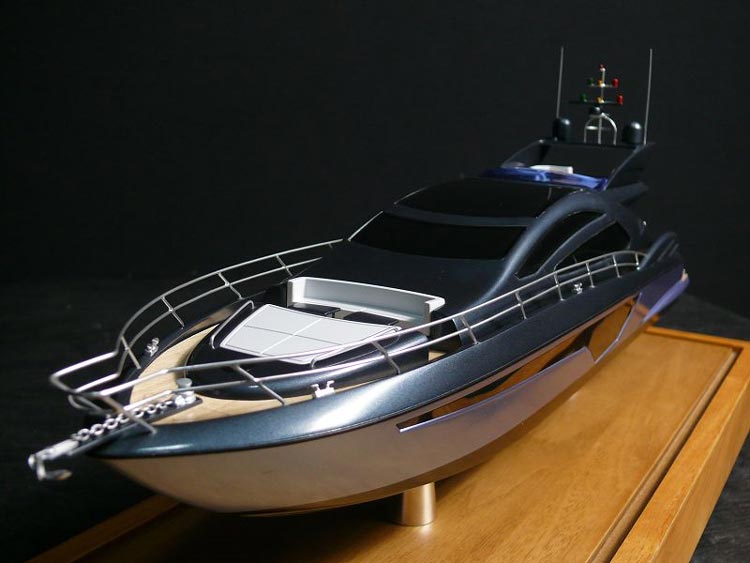 It is high efficiency in making the hull of the yacht and usually cut by electrically heated wire.
Polyhydrogen ester foam board and polymethyl methyl propionate plastic are another two plastic materials that constantly shown in the yacht model.
Generally speaking, the yacht model is not made entirely of one material but requires different materials to make different parts.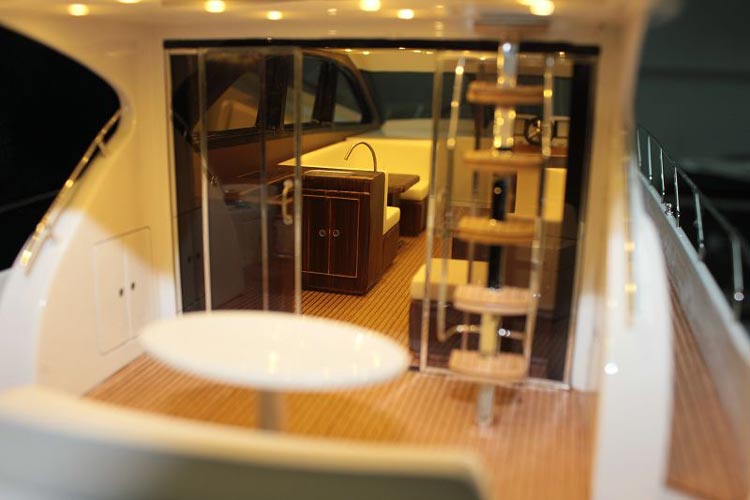 Example of the detail of the yacht model.
For example, the hull of one yacht model can be made of fiber reinforced plastics, while using the wooden material to make the interior skeleton to ensure that the type will not be deformed with time and temperature changes.
C3.2.1: Acrylonitrile Butadiene Styrene (ABS)
Its high mechanical strength and stiffness, high corrosion resistance and low water absorption make it an excellent material to make the main body of the yacht model, providing extremely high stability for the other tiny parts.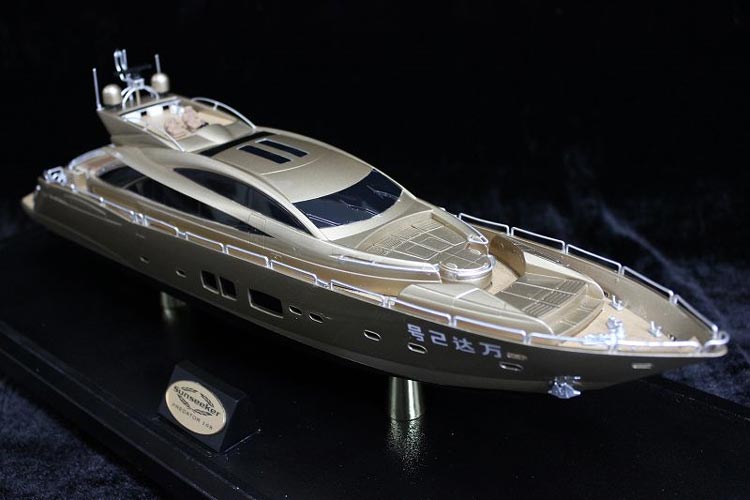 ABS is a popular material for professional model makers since they can make a high quality yacht model.
Also, the ABS board is malleable and easy processing, which is a great advantage in making those curved surfaces and rounded corners on the yacht model.
Therefore, an excellent yacht model can be produced even with only one kind of material.
For the upper cabin, ABS engineering plastic is used and then electroplates the railings and other small parts.
The container for the yacht model is usually making with the seamless acrylic material, which has high transparency and high strength, not only convenient for the viewers to appreciate but also ensure that it will not blur with time goes by and keep the transport safely.
In the painting process of the final model, piano lacquer is essential and often used to create the noble and luxurious feeling for the yacht model.
The so-called piano lacquer is a kind of high-gloss unsaturated polyester lacquer using a baking varnish process, which is usually used for the finishing of pianos.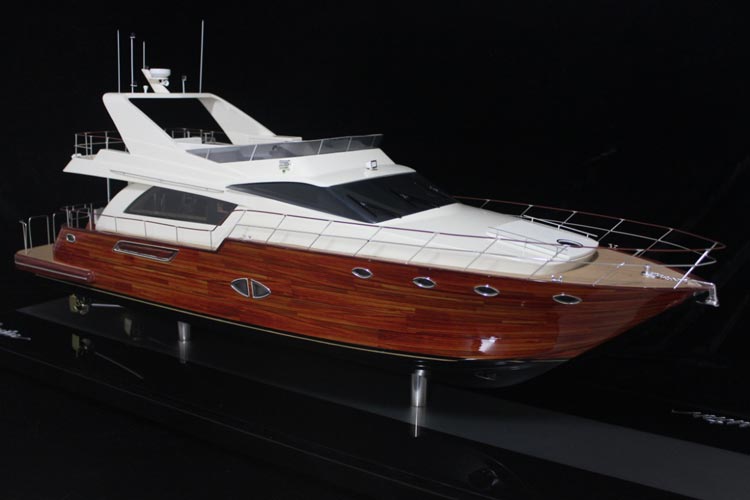 The piano lacquer is hard, wear-resistant and has good adhesion; the surface film is extremely shiny and has a very good decorative effect.
C3.3: Wood
Wood is a commonly used material in the production of the skeleton of the yacht model and different woods have distinct characteristics.
The wooden material has the characteristics of beautiful texture, hard to be deformed, easy to process, and certain elasticity.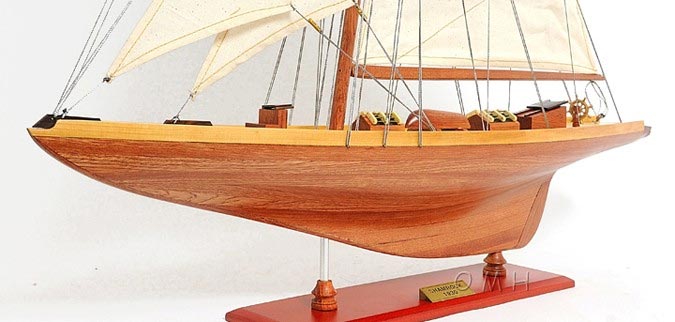 Commonly used wood materials including the Paulownia, Pine, Basswood, Birch and Glued board.
C3.4: Gypsum
Gypsum is a traditional material for making boat molds.
The raw gypsum is the white powder, after adding water and dry, it becomes solid and the amount of water determines the porosity and mechanical strength of the gypsum model.
Gypsum has good plasticity and can be used to make irregular shapes; the gypsum is economical, and the processing method is simple, while the requirements for tools are relatively low.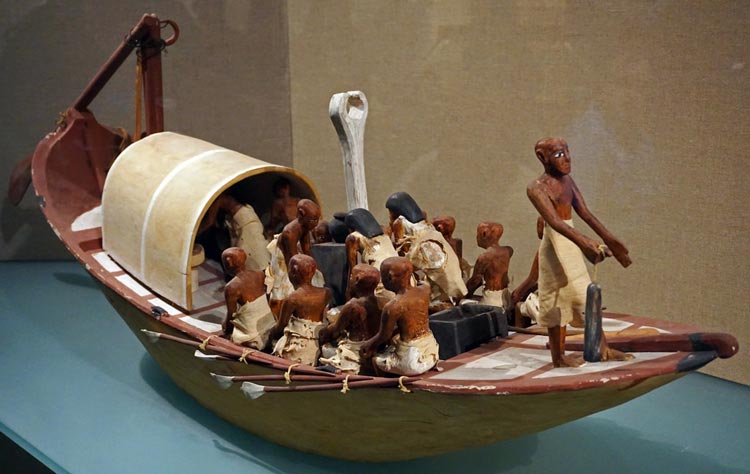 Gypsum is a traditional material for making boat molds.
However, the gypsum material is brittle, which leads a low processing precision and difficult to make fine details.
Meanwhile, because of the pores, the surface of the gypsum model is rough and difficult to paint, both the organic coating and the inorganic material, and cannot create the shiny visual effect.
C3.5: Bamboo
Bamboo is seldom used in the production of hulls, but it is sometimes used for masts, railings, canopies, etc., adding the different texture to the yacht model.
Bamboo boat model
C3.6: Metal
Metal material has the characteristics of high strength, the certain degree of plasticity and corrosion resistance.
The iron piece, copper sheets and the aluminum plate are frequently used metal materials.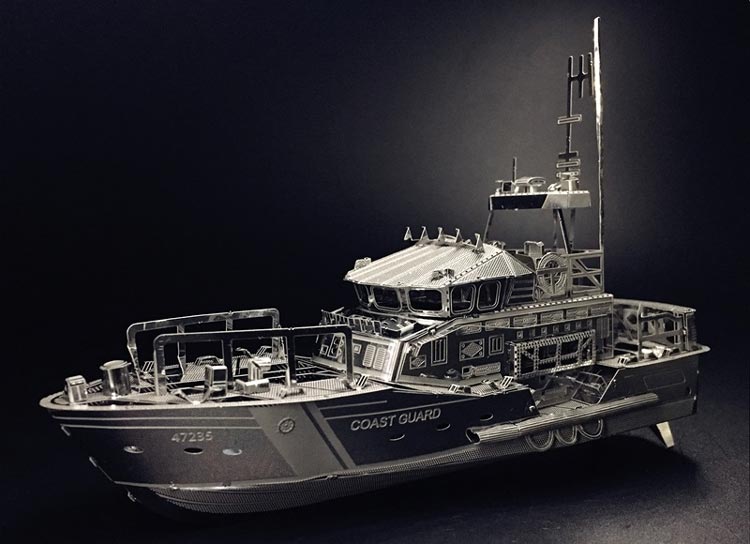 They are ideal materials for making conductive contacts, switches, battery clips and governors.
The mental materials can also be used to make the bracket, the mechanical conversion device, push-pull rod and other mechanical components on the yacht model.
Chapter 4: 5 Steps to know how to make a yacht model with professional model making company
Yacht models can display boat design scheme visually and be facilitate to discuss the designing scheme.
The process of every yacht model made by is different, but usually, it includes the 5 steps.
Chapter 4.1: Send an enquiry to the yacht model making company
Basically, if you want to make a custom yacht model and send a quotation, they would need information below:
Model boundary, dimensions and scale.
Final design of drawing of the buildings in PDF,JPD or CAD.
Rendering for reference (if any)
Delivery and installation destinations.
Expected completion date.
You might also select similar architectural model photos from our website below for your expected model detail standard and style.
Normally, once they received the above information, they will prepare a model diagram to offer the quotation within 48 hours.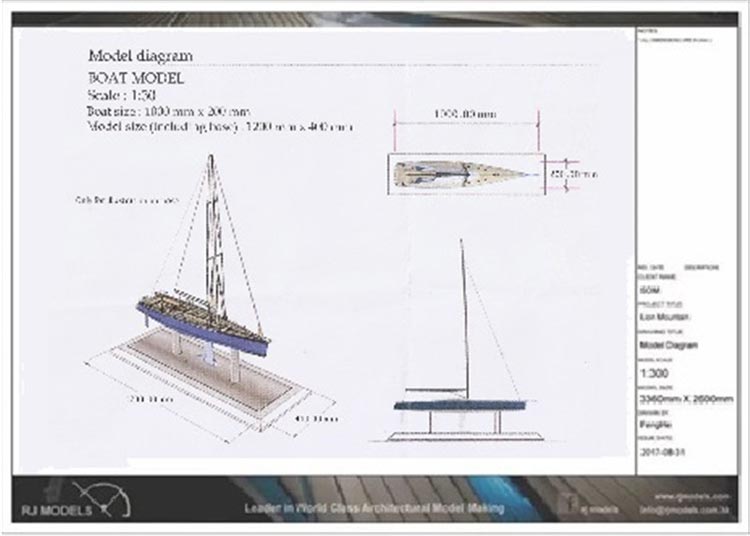 Diagram of yacht model
Chapter 4.2: Receiving the project information
After the quotation is confirmed, they will ask you to resend the latest documents to ensure that their yacht model makers can produce the yacht model according to the latest design.
Yacht Models:
Elevations, Plan and section of all the buildings in CAD.(if any). Rhino, Sketchup, 3D Max, 3D AutoCAD, model rendering.
Rhino, Sketchup, 3D Max, 3D AutoCAD (if any).
Building material sample or Panton (CU Matte)/RAL Color code.
Color Scheme:
Select the colored transparent glass code from the sample.
Select the reflective glass code from the sample.
They will communicate the boat model effect with customers and produce model strictly based on your design drawings.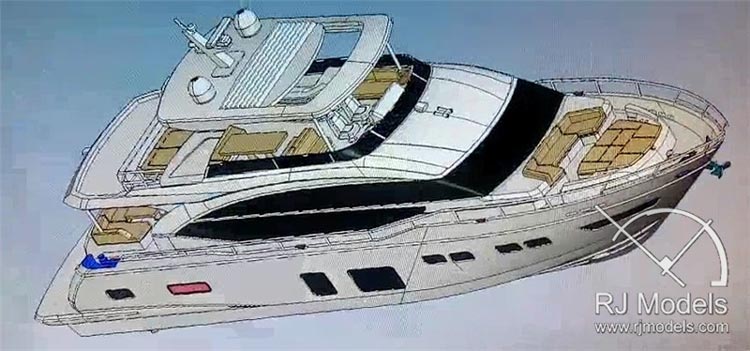 Above are the design drawing of Swiss Re Tower and its model made for Foster + Partner.
Chapter 4.3: Model sample preparation and confirmation
RJ Models will produce a portion of the sample during the model production to determine the display effect of the entire model.
Such as structure details, color match, texture and lighting effect of the model to ensure the sample is consistent with your design philosophy.
Then continue the overall model production.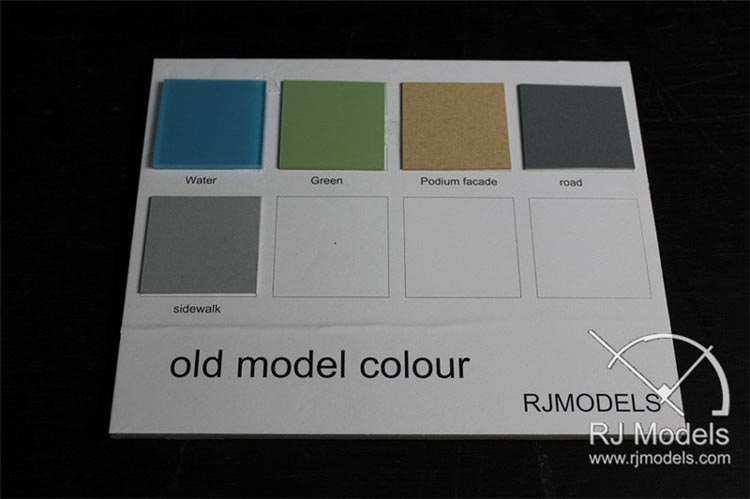 Color scheme sample broad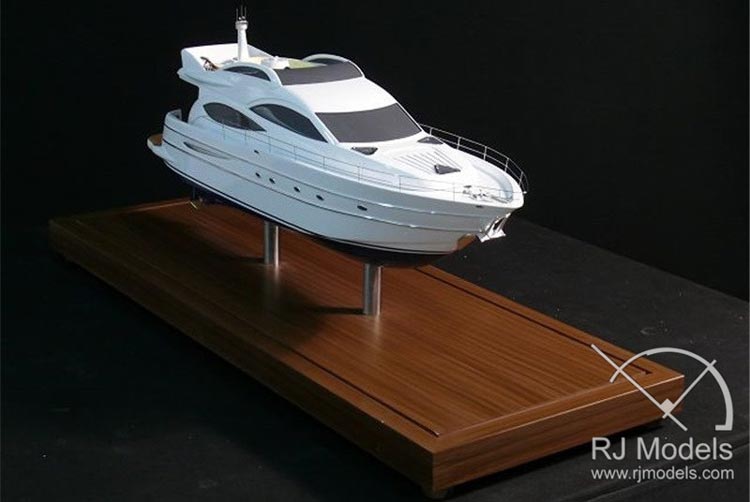 Base of the yacht model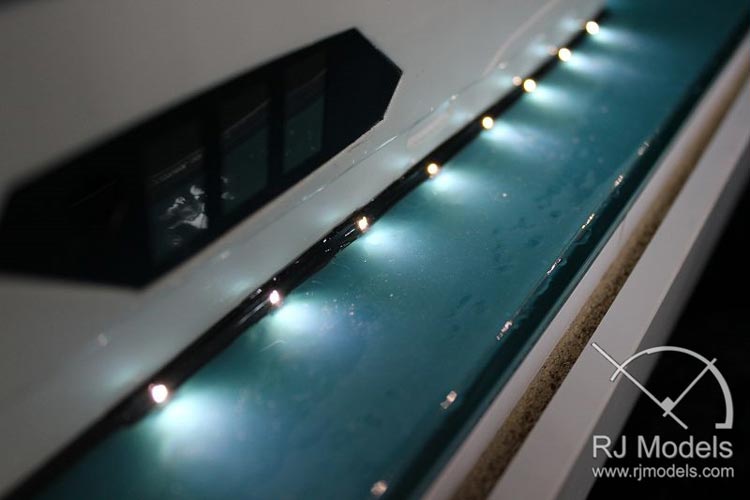 Lighting effect for yacht model
Chapter 4.4: Model production and progress report
When the yacht model starts making, the project manager will provide professional yacht model progress photos at regularly intervals for you to understand the latest situation of the model and the expected completion time.
Therefore, you can make sure the project goes well.
At the same time, depending on your needs, yacht model making company can arrange customers to make on-site visits in their company so that you can see your yacht model with your own eyes and contact it directly.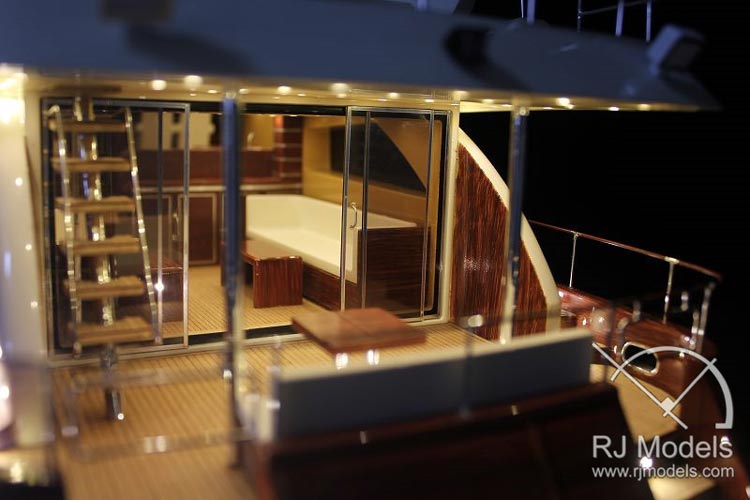 Professional yacht model makers can provide excellent quality yacht model to you.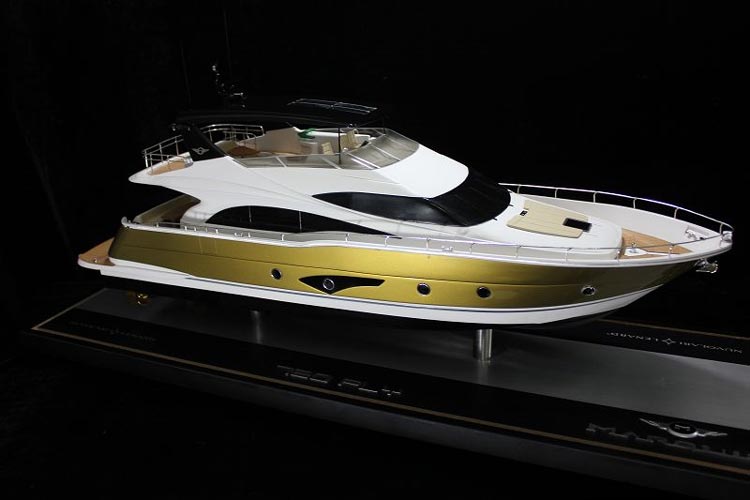 Professional yacht model makers can provide excellent quality yacht model to you.
Chapter 4.5: The model completes transportation and installation.
After get your permission, the yacht model will be packed and shipped to your address as you designated.
Yacht model making company will confirm with you to the yacht model's position and direction, and install and test it on the spot to ensure that the yacht model completed under your satisfaction.
If you need to travel with the yacht model or show it in different countries multiple times, you can ask the yacht model making company can be customized design and make a suitable flight case.
They have a number of cases that confirm the availability of the suitcase.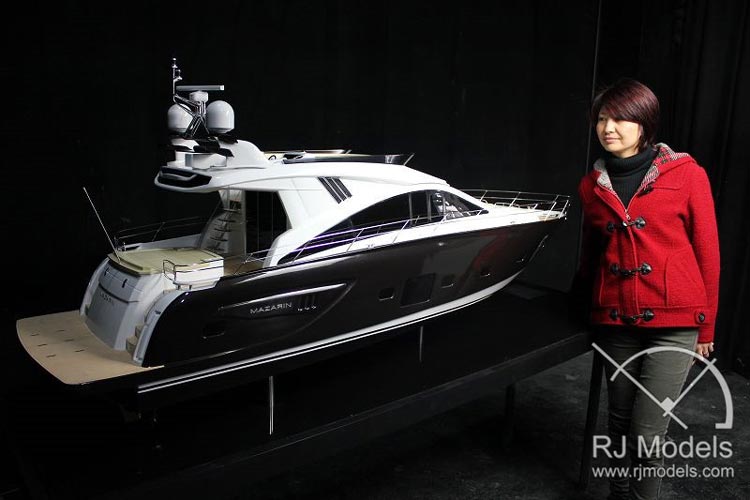 Even the size of the yacht model is huge, professional yacht model makers can delivery to you.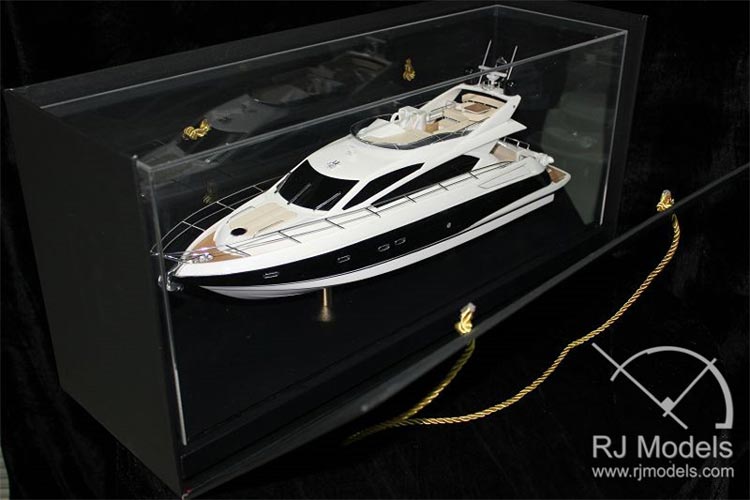 Yacht model with a packing case
RJ Models has completed more than 3000 boat model projects and trusted by the world famous boat design companies, the government and so on.
We provide the high productivity and high-end quality boat model production services for you to display design idea, market, sell and so on.
Our vision is making the top quality architectural models to everywhere in the globe.