Flybridge defines a category of a motorboat. Situated on the top, the flybridge grants boaters nearly 360° panoramic views from the control station. The motor yacht model can be manufactured to showcase a wide range type of flybridge, characterized by an enclosed room, a bimini top, or a retractable soft top.
A delicately crafted model reflects not only a boat's physical features but also its spirit.
Conscious customer observes ship models, comparing one to another, and picking out the one perfectly suits his taste and personalities. In three dimensions, the motor yacht model uniquely offers users a visually parallel reference.
But it is also touchable. The maritime model delivers its quality to prospects through their finger-tips.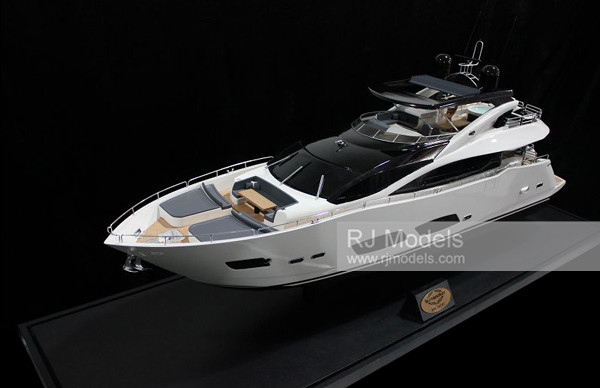 Simple Steps to work with us for custom Maritime Models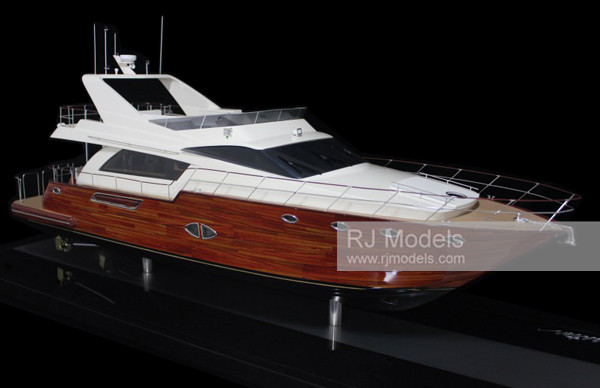 Glorious Yacht Creator 68
Scale: 1:30 | Size: 800mm x 250mm | Production Time: 15 days
Glorious is a Chinese yacht company founded in 2008.
Although it seems very young in this competing industry, Glorious is full of innovation and dare to challenge, and dedicated to bringing new trends to the classic and elegant yacht industry.
Glorious produced the first all-wooden structure yacht in the country in 2013, which is designed in cooperation with foreign teams from the exterior to the interior decoration.
This Creator 68 brings nobility and creation to yacht lovers with traditional material and cutting edge design.
The exceptional flexibility offered by wood implies it can be easily shaped and formed, which means the Creator 68 can adapt to environmental changes, like heat, moisture and flexes, much easier than others.
In this flybridge yacht model, experienced maritime model makers from RJ Models use carefully selected high-quality Southeast Asian teak and oak logs, precisely replica the original material.
The model's wooden superstructure has also been reinforced with epoxy to minimize the efforts needed in maintenance and can be displayed for generations.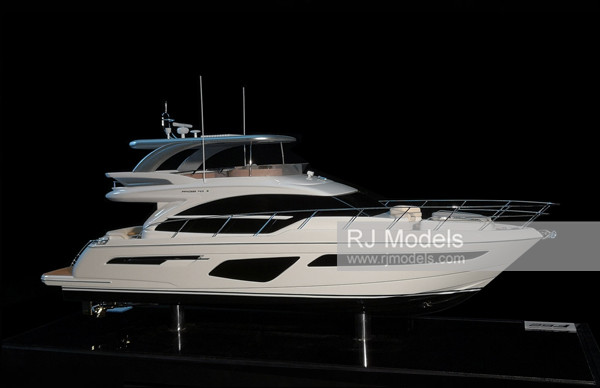 Princess F62 Model
Scale: 1:30 | Size: 800mm x 250mm | Production Time: 14 days
Founded in 1965, Princess Yacht is dedicated to developing ever more ingenious ways to ensure every last millimeter of the boat is ergonomically sound and highly practical.
This Princess F62 encapsulates meticulous design ethos and all the benefits of the latest infusion technology, enabling the inclusion of features normally possible only on a much larger craft.
On the flybridge of F62, there is a unique circular forward seating area beside the cockpit which can be converted to another sunpad if needed, consistent with its spirit "Designed for socializing".
Our yacht model experts use a combination of ABS and light-weighted resin for the iconic deep V hull of Princess Yacht, with other parts made from a variety of woods and metals.
The F62 model is immaculately painted to match the paint patterns exactly like its original yacht, even including the smallest parts such as rails, stairs, and helm station electronics packages.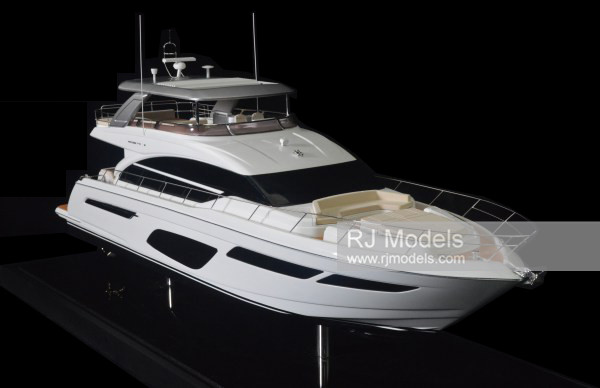 Princess F70 Model
Scale: 1:30 | Size: 800mm x 250mm | Production Time: 14 days
The all-new F70 is the flagship of Princess flybridge F-class range, featured with the new Allure Collection — an optional style pack featuring an array of fixtures, fittings, and finishes.
Flybridge of F70 has a generous area of 26.58 square meters, containing a large U-shaped dining area, served by water-bar, aft sunpad and forward seating area adjacent to the helm.
For its U-shaped dining area, model makers use a scaled teak table to mimic its original material, this meticulous model material choosing shows RJ Models attention to detail.
Matte textured grey ABS plastic was adopted for the hard top of the yacht, implying its sturdy and stable characteristics even with the astonishing high speed of 36 knots.
Our skilled yacht model makers also hand-craft highly detailed furniture and upholstery for its interior and unite different materials in a perfect balance for an alluring effect.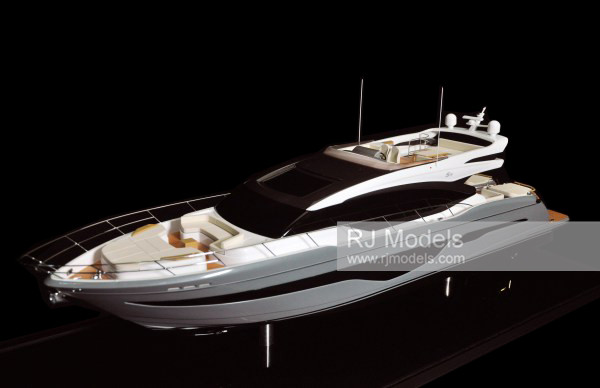 Princess Y78 Model
Scale: 1:30 | Size: 800mm x 250mm | Production Time: 14 days
The new Y78 has a combination of agile cruising and open plan elegance, featuring the very latest exterior design, interior materials and finishes in Princess.
The flybridge on the Y78 is spectacular and takes full advantage of its 18-foot beam; its retracted top design helps yacht lovers to enjoy sunlight or views of the night sky without any obstacle.
Extended window lines and unique full-height window on the port side allows the natural light to flow into the main deck and make the free standing dining area a spectacular place to entertain.
Our veteran model makers use 3d printing machine to produce the irregular shape window on the port side and use waterproof resin to attach it to the hull.
Even the material of cabin cover and front-window parts are both black, RJ Models' experts cleverly use the different transparency of materials to distinguish them, showing our sophisticated craftsmanship accumulated over the past 20 years.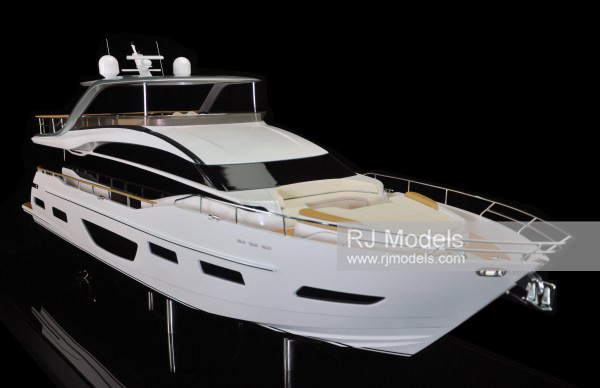 Princess Y85 Model
Scale: 1:30 | Size: 900mm x 300mm | Production Time: 15 days
Princess Y85 is designed in collaboration with world-renowned luxury yacht designer Bernard Olesinksi and Italian iconic styling house designer Pininfarina.
This combination has made Princess Y85 becomes the pinnacle of the Motor Yacht class.
Its naval style pioneering deep V hull design boasts the yacht outstanding performance, even in stormy seas.
Model experts from RJ Models use CNC cutting machine and laser cut for the tiny components, while 3D printing is used for the hull and cabin, committed to meticulously duplicate its elaborate and refined design.
"Light, space and guest comfort" are the three key items defined in Y85 by designers, therefore, our model makers pay more attention to these aspects, using whole pieces of glass for windows to strengthen its unbeatable view.
The alfresco flybridge is an irresistible invitation to those who want an expensive undisturbed leisure area; our delicate craftsmanship matches it with scaled teak-laid, stylish cockpit and sunbathing platform.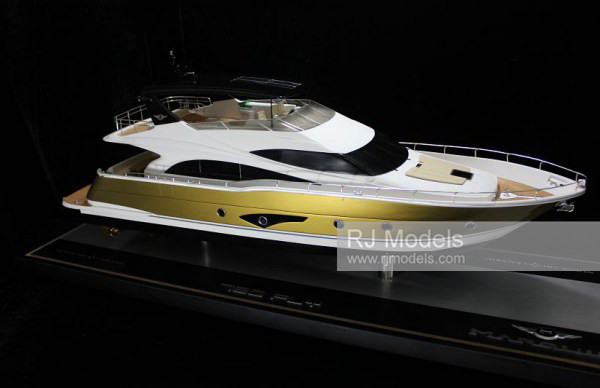 Marquis Yachts 720 Flybridge
Scale: 1:30 | Size: 750mm x 250mm | Production Time: 14 days
As described in its slogan "Fortune Favors the Bold", the design of its yacht is full of sharp edges and dashing lines, which increases the difficulty of making the perfect yacht model.
Skilled and experienced model makers manage to solve the irregular components by 3d printing and manual secondary grinding; then they use resin and organic glue to assemble each part.
For the hardtop, whole-piece of black plastic is adopted with the Marquis logo on its right column; the hull of the model has used a brushed gold metal material, showing its dignity and noble; and the same type of timber plate is used both in bow cockpit and back swim platform.
The yacht model is displayed on a piece of black marble, the contrast of gold and black, marble and metal, impresses everyone, even though for those who just give a glance.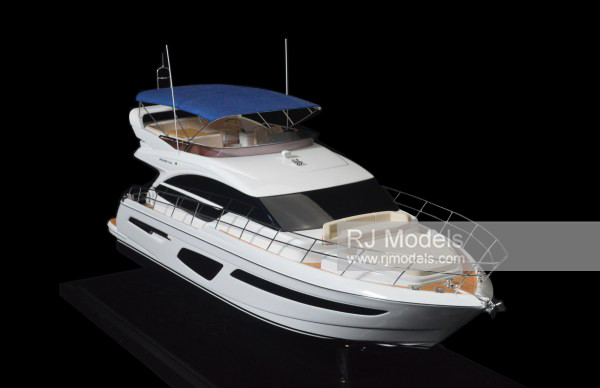 Princess F55 Model
Scale: 1:30 | Size: 600mm x 250mm | Production Time: 14 days
The distinctive design ethos of the Princess Flybridge range flows on the exterior of the Princess 55; its contrasting textures and materials become a balance throughout electronica paneling, teak veneers and contemporary paint finishes.
The F55 has both lower helm and flybridge helm, enabling owners to enjoy sailing fun in different weathers.
The same kind of foamed plastics is used in the yacht model's sunbathing platform, foredeck seating and flybridge sofa, indicating authentic consistency.
Designers of F55 install LED deck level lighting for night party, and model makers from RJ Models duplicate the lighting system in this yacht model without any deviation.
Our skillful model experts also make an optional sophisticated flybridge cover system with blue fabric and stainless steel, which can be retracted fully to show flybridge level.
Teak panels are laid around the cockpit deck, transom platform and even flybridge stairs, exact same with the actual design.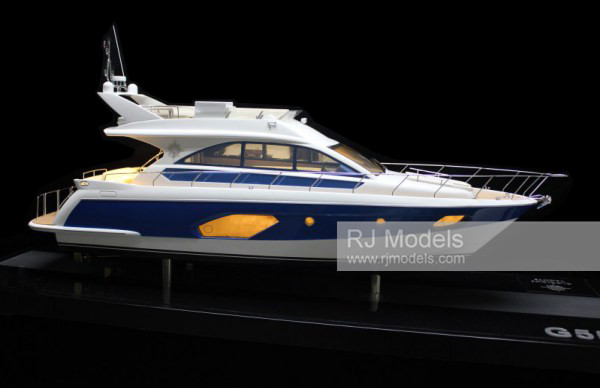 Glorious Yacht 55 Model
Scale: 1:30 | Size: 800mm x 250mm | Production Time: 14 days
The Glorious 55 Yacht is designed for family entertainment, its 55 feet length is suitable for a family to gather around and features a cheerful atmosphere.
The designer chooses a rare azure blue for its hull, which merges into the sea and the sky, striving to create a bright and stylish characteristic.
Glorious 55 is designed especially for Chinese customers with ample space for family members, fully considering the traditional oriental aesthetics and preferences.
RJ Models believes that beauty comes from detail, no matter the upholstery or interior accessories should not be neglected and needs faithfully duplicate; only in this way, the yacht model can show the authentic feeling.
The yacht model is made of high-quality ABS and stainless steel, and mounted on a black marble pedestal, a plexiglass display case is also optional, ensuring the durability and quality of the model in variable climatic conditions.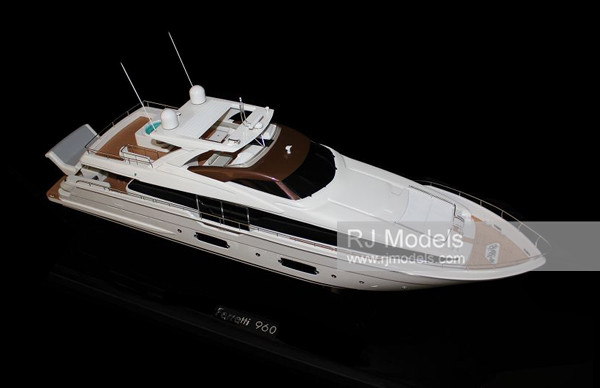 Ferretti 960 luxury charter yacht
Scale: 1:30 | Size: 900mm x 250mm | Production Time: 15 days
With 96 feet of sporty lines, the 960 has become the largest planing pleasure boat that Ferretti Yachts has made to date, and it is the flagship of the sheet.
Even the hull length of 960 is over 23 meters, it can still be maneuvered like a motor craft, with best-in-class performance and supreme levels of amenity.
The Ferretti 960 also features a foldable tender garage, which is unusual for a yacht of this size; its bathing platform can be immersed in the water and allow for the launching of the tender in just a matter of minutes.
As usual, our model experts pay more attention to this tailor-made system in each yacht, and hand-craft a customized foldable garage system to duplicate its unique tender parking area.
Bronze material is selected for its hard cover of the deck, consistent with its interior oak and walnut woods upholstery.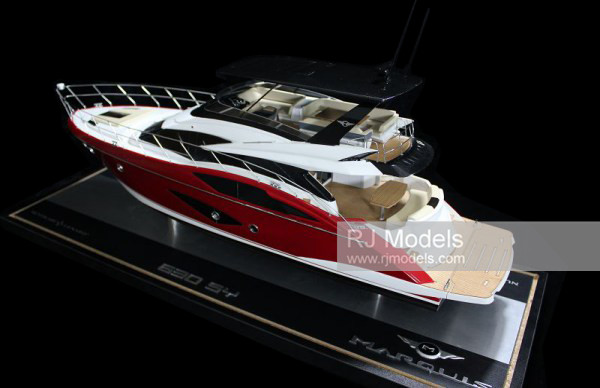 Marquis 630 Sport Yacht
Scale: 1:30 | Size: 750mm x 250mm | Production Time: 18 days
Marquis Yachts is an American premium yacht manufacturer and has won many World Yacht Trophy awards during the past half-century.
This 630 Sport Yacht is a punchy combination of Volvo joystick control and the most strong IPS available, embodying it up to 662 KW power.
The design team includes world-famous Italian designers Dan Lenard and Carlo Nuvolari, therefore the 630 has not only American power but also Italian elegance.
Our yacht model experts make a choice of unusual dynamic red ABS for its hull, contrasting with its white deck and black flybridge hardtop, implying its innate sports gene.
From the past 20 years' model making experience, we found that exposure to sunlight, humidity, and dust, as well as improper handling, can result in damage to a delicate model, therefor mahogany or plexiglass display case is also optional for better protection of your yacht models.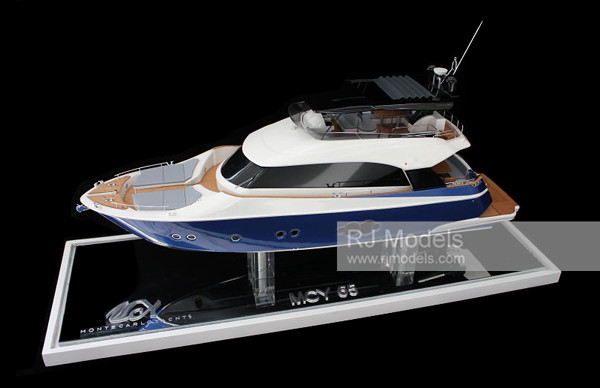 Monte Carlo Yachts MCY 65
Scale: 1:30 | Size: 600mm x 250mm | Production Time: 16 days
The MCY Yachts are elaborately thought, designed and built to stand the test of time and go beyond trends.
RJ Models also use the same high quality and sophisticated requirements to make yacht models, a perfect yacht model cannot be produced without meticulous production processes.
In this 65 type model, our yacht model makers use materials include plexiglass, hard plastic and thin metal rods to make the hull and deck part, while for the base of the model, we use mirror materials to cleverly reflect the bottom of the model, which enable the viewer to see each tiny part of the model.
In order to better show the 360-degree unobstructed luxury perspective of this yacht, RJ Models' yacht model makers use customized molds to make the whole glass part without any splicing in the middle.
On the base, RJ Models also deliberately paste the type of the yacht and MCY's well-known logo, which is ingeniously for customer's collection and appreciation.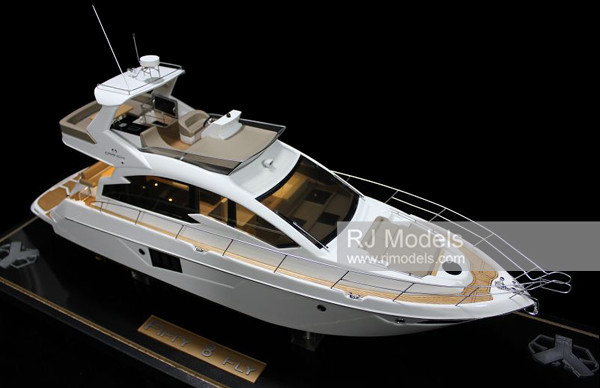 Cranchi Fifty 8 Fly Power & Motoryacht
Scale: 1:30 | Size: 750mm x 250mm | Production Time: 14 days
In this motor yacht model, our model makers use a material system with white acrylic as the main material and thin wooden board as the auxiliary.
It can be seen that on the black base, the yacht model looks white, flawless and even nobler.
The model experts adhere to the extremely high quality of RJ Models as always, carefully handmade the internal components of the cabin according to the proportion, such as the bar, sofa and operating table; they also install warm yellow lights on the ceiling to show the interior.
Light brown plastic panels are also used to characterize the driving section on the top of the yacht and its rest area.
Crahchi is an Italian company with one hundred and a half years' history of shipbuilding.
With the high-quality materials and elaborate handcrafting, customers can appreciate the elegant design not only in the bay pier but also from the display cabinet at home.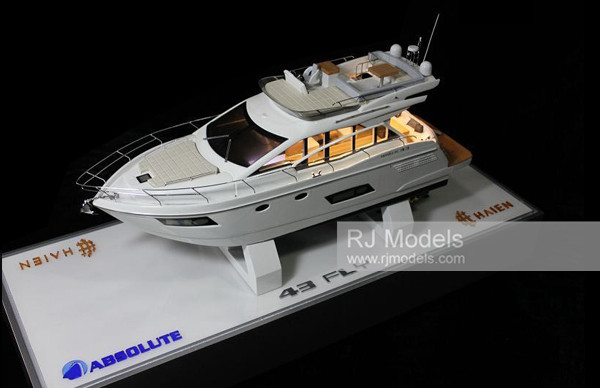 Absolute 43 Fly Motor Yacht Model2
Scale: 1:30 | Size: 600mm x 250mm | Production Time: 14 days
The Absolute Motor yacht 43 Fly has a perfect balance of space and comfort, style and glamour, performance and safety.
In this model, skilled model experts use plastic, resin and metals to make the replica of the yacht, and install warm light in the cabin. Model experts pay attention to every tiny part, even the wipers on the windshield are perfectly recreated.
The sliding glass door access to the accommodation enhances the elegance of the living room, through which we can see the exact lounge area, coffee table and sofas.
On the top of the yacht, the helm station layout, electronics package and dashboards are also scale made, which inspires the desire of viewers to fly this yacht out to sea.
For the base part, RJ Models also symmetrically paste the model of the yacht and the logo of Absolute, so that viewers can discover the charm of the yacht no matter from which angle.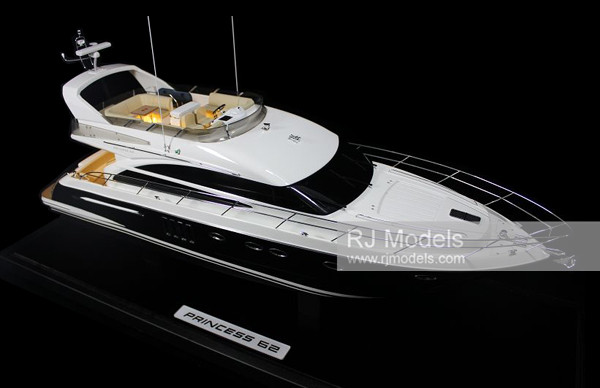 Princess 62 Flybridge boats
Scale: 1:30 | Size: 800mm x 250mm | Production Time: 14 days
The slogan of Princess 62 Flybridge is "Designed for Socializing".
Therefore, RJ Models pay more attention to how to create the comfort and cozy rest area to fully fulfill the design of Princess 62.
Rather than install the lights in-cabin as other vendors always do, model makers from RJ Models also carefully install hidden light strips at the lower part of the stern sofa and top sofa, this labor-intensive approach greatly shows the charm and nobility of this yacht.
The yacht's cavernous main deck saloon connects to the world outside through full-length side windows and model makers use a whole piece of black bright surface plastic to strengthen this marvelous design.
Every part of the yacht model is created with meticulous attention to detail to create an environment that's modern, cool and elegant as it born to be.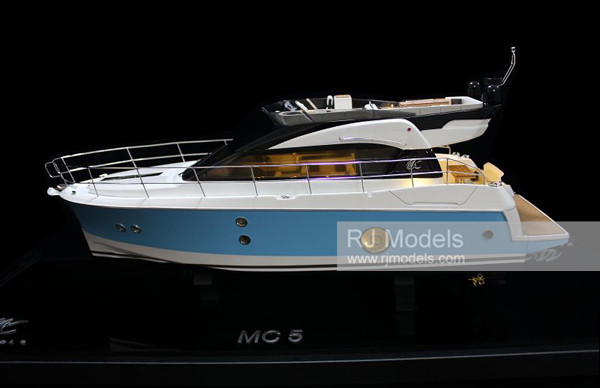 Motorboat Monte Carlo 5 - Powerboat Beneteau
Scale: 1:30 | Size: 750mm x 250mm | Production Time: 14 days
The vast shaded Flybridge of MC 5 combines the driving station, sunbathing area, exterior galley and a large saloon for cruises, and model makers devote as same energy as making the hull to make small modules, such as the cockpit, stern sofa and sun-bed.
With over 20 years of model making, model makers from RJ models skillfully create display yacht models, which capture every detail of each vessel.
Gold metal pieces are inlaid on the side of the hull to indicate the portholes of the master bedroom, while smaller silver rings are used to indicate the portholes of other bedrooms and bathroom.
These thoughtful designs allow viewers to easily identify the layout in the cabin even from a single glimpse.
Meanwhile, model experts pick a kind of translucent black plastic for window part, and once the interior light is on, the inside will be displayed in a hazy but attractive way.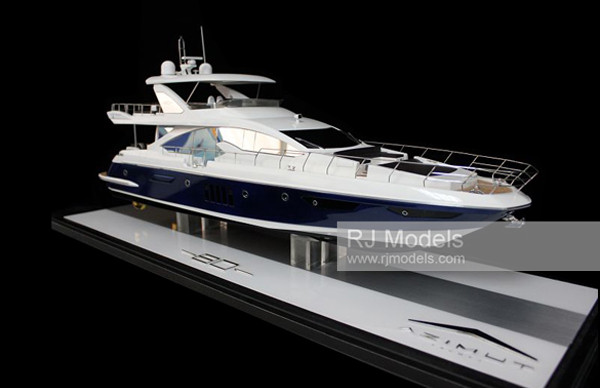 Azimut 80 Flybridge boats
Scale: 1:30 | Size: 800mm x 250mm | Production Time: 14 days
With elegant temperament, open space, and agile posture, Azimut 50 breaks all the visual obstacles and brings the sun and sea to your eyes.
Dark blue is used for the main part of the yacht model, creating a strong contrast between the hull and white deck part, just like the boundless sea and flout could.
For the window of the cabin, a reflective mirror material is selected to enhance its light and agile characteristic; on the contrast, black glass is used for the windshield and main deck.
A good yacht model is not only mimicking its original design following the 3D models and plans but also by using techniques and skills to strengthen its feature in less than half a-meter square area.
On its white baseboard with black edges, yacht model type and Azimut's logo also been presented by silver material, which complements perfectly with the modern, smooth-lined yacht.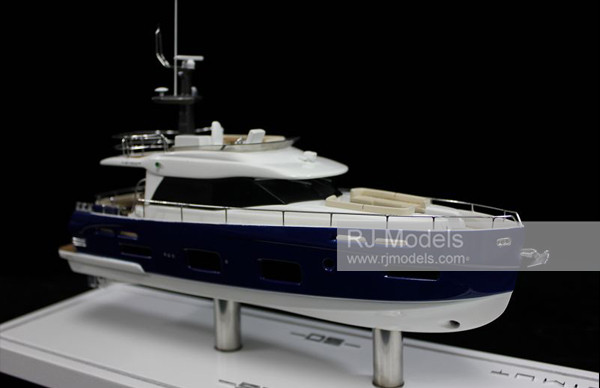 Azimut 50 Flybridge boats
Scale: 1:30 | Size: 550mm x 250mm | Production Time: 15 days
In making this model, in order to comply with the stable and steady design style of the yacht, the model makers carefully polished the edges of each component to make it edges rounded, yet tried to avoid sharp edges like other models.
The color scheme adopted in this yacht model, dark blue and white, is consistent with other models of Azimut yachts, and supplemented by light brown which is used in making upholstery.
This kind of color system is convenient for customers to distinguish each brand and collection, very organized and clarified.
3D modeling and laser cut are used by model experts to craft each tiny component of the yacht, including electronic packages, gauges and the whole-piece window.
The yacht model is mounted on a display base with two silver-grey cylinders; this clever design highlights the yacht model and gives it a natural spotlight effect when it is displayed on a table or in a cabinet.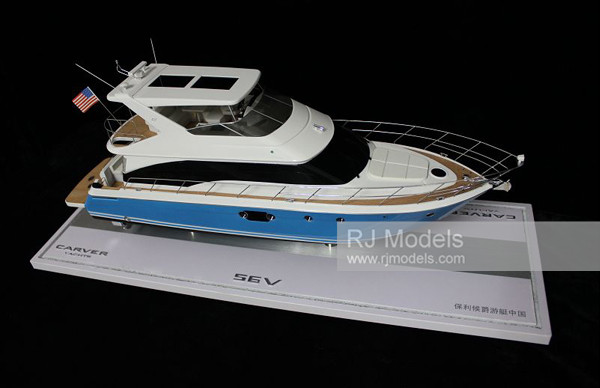 Carver 56 Voyager Flybridge Boats
Scale: 1:30 | Size: 550mm x 250mm | Production Time: 15 days
The 56 Voyager has a typical two-layer layout, the cockpit is on the top with some sofa and the main living area is on the lower floor where has 360 degrees unobstructed visual.
For these two layers' windshields, model makers use two different types of plastics, one is frosted translucent black while the other is gloss black; this exact tiny distinguish shows RJ Models superior craftsmanship.
Laser-cut thin wood plate is used in foredeck and aft; silver metal strips are assembled in 45 degrees around the deck; the shape of both parts is in line with the hull, and the yacht model just looks like to jut through the waves.
The yacht model is mounted on a display base, which has a brushed silver aluminum bar in the middle and divides the entire board vertically into three parts.
The model is positioned on the aluminum bar and shows symmetrical aesthetics.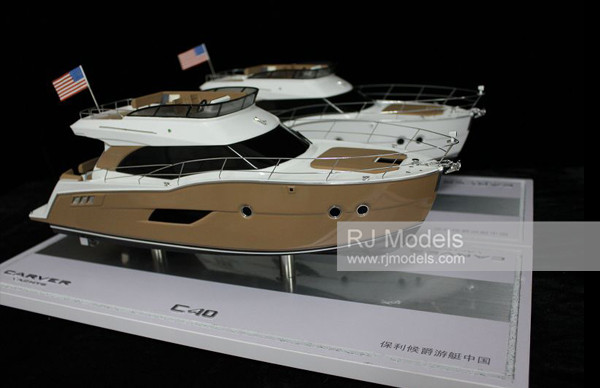 Carver C40 Boats
Scale: 1:30 | Size: 600mm x 250mm | Production Time: 14 days
Carver C40 has a fully open cockpit which gives the boat driver a feeling of driving a sports car, except he is galloping on the boundless sea.
Since there is no ceiling on the top and the viewer watches through the interior directly, model makers pay great attention to the top cockpit floor, no matter the driving table, or the sun pad and seating area are all elaborately handcrafted and polished.
Because of the irregular curve of the cabin, traditional molds cannot be used to directly manufacture the component, so the architectural model makers use 3d printing technology to make the hull, and the fence on the hull also accurately conformed to the trend of the curve.
Except for Carver's classical brown, model experts also make a white one for the exact same yacht, giving the customer more choices when they want to collect one in their home.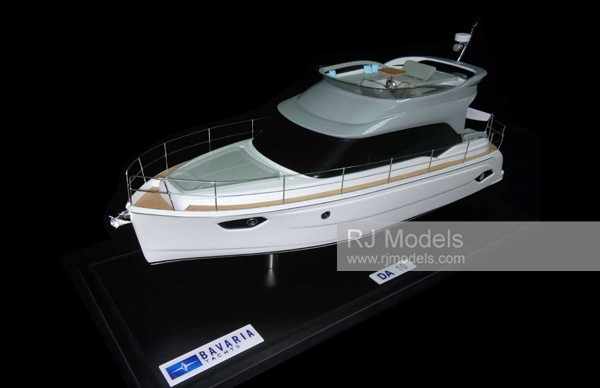 Bavaria Yachts Project DA10
Scale: 1:30 | Size: 550mm x 250mm | Production Time: 14 days
Founded in the last century, Bavaria Yacht has been one of the largest yacht companies in Europe , and has extensive expertise of German engineering in each yacht.
To fulfill the meticulous and refined manufacture quality, model makers try to use as little glue as possible, so the unnecessary joint seams can be reduced and the yacht model looks like a complete masterpiece.
For the front sun pad and flying bridge part, experts choose an abnormal grayish-green which strongly contrasts with the black cabin, wooden deck and white hull.
A scaled wooden table with mental trestle and minimized blue pillows are displayed nearby the cockpit on the flying bridge shows the great craftsmanship of model makers from RJ Models.
Customers can also choose mahogany or plexiglass display case along with the yacht model, which can effectively prevent the fingers or dust from this delicate model.
With over 500 ship models being created every year, we thrive on maintaining consistency of delivering high quality ship models.
RJ Models is a word renowned A-list ship model making company,founded in 1995.
Our ship model makers possess a broad range of experience,with a high reputation for being specialists within our industry.
RJ Models has an extensive team of multinational and experienced shipping professionals in place with tight deadines for your ship models.
Contact

RJ Models

& Start Making You the Top
Our vision is making the top quality architectural models to everywhere in the globe.