Sailing yacht model displays ship's impressive shape.
It's enhanced by many accurate details: vertical mast leads your vision up to the sky; horizontally spreading deck draws a sharp line across the sea, and comfortable cabins create superb cruising experience.
The sailing yacht is the generic name for watercraft which are primarily propelled by sails.
This is a widely admired type for leisure activities and sports.
Sailing yacht model carries all qualities which a real sailing yacht is supposed to encompass.
It emerges you in the breeze and sunshine.
Your mind is traveling to the sea accompanied by the rippled sails.
Sailing is a romantic voyage to the blue. The sailing yacht is a shining focal point on the horizon.
The sailing yacht model is the source of dreaming about that voyage to the horizon.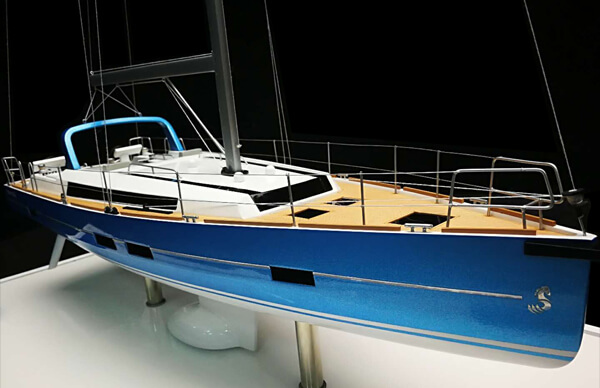 Simple Steps to work with us for custom Maritime Models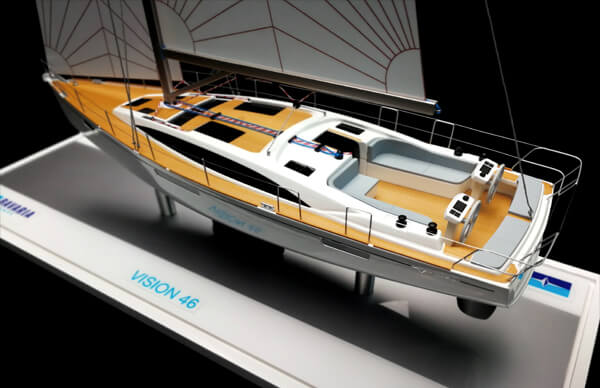 Bavaria Vision 46 Yacht Model
Scale:1:24 | Size:240mm x 460mm x 630mm | Production Time:14 days
Bavaria Yachts is renowned as an innovative producer of yachts and the Vision 46 is made up of a thousand brilliantly conceived details.
As said in its slogan "Discover the Blue", Bavaria yacht can always bring an invigorating day of sailing or relaxing with its unique design, as shown in its electrically retractable cockpit table combines with the L‐shaped bench seat to port to form a special deck area.
Sailing yacht model makers from RJ Models use an unusual bright yellow for its deck and sunbathing platform, faithfully scale every instrument essential for sailing and navigation and highlight its unbeatable view with the flat deck and sail trim.
To present Bruce Farr's design idea, "Vision 46 can almost be sailed with the fingertips", our experienced model makers skillfully choose light materials for most parts of the yacht, including its sails, masts and the guardrails surrounding the hull.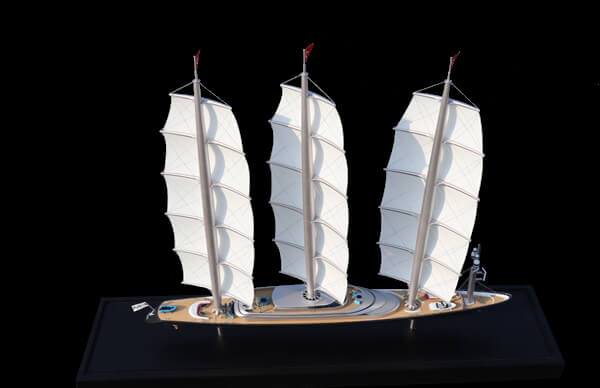 Maltese Falcon 1-250 Yacht Model
Scale:1:24 | Size:270mm x 450mm x 500mm | Production Time:14 days
The Maltese Falcon has long proved a popular charter choice thanks to its endless amenities and the revolutionary sailing system known as the Falcon Rig: with in-mast furling systems designed by Fabio Perini.
The interior, which was designed by Ken Freivoch is nothing less than spectacular. The vessel's décor blends an industrial edge with a host of stunning materials, showing modern and classy.
The most challenging task for RJ yacht model makers is how to faithfully replica its delicate sail system. The system contains three carbon-fiber masts rotate and feature computer-driven sail deployment with fifteen sails.
Our skilled yacht model makers use white plastic membranes, which slightly bulging in the middle, to simulate the canvas in the sailing wind; and use silver-gray metallic ropes to attach them on the masts.
From this yacht model, collectors can fully appreciate Maltese Falcon's expansive deck spaces, social circular bar, and the fascinating Jacuzzi, which perfectly located in front of the cinema screen on the deck.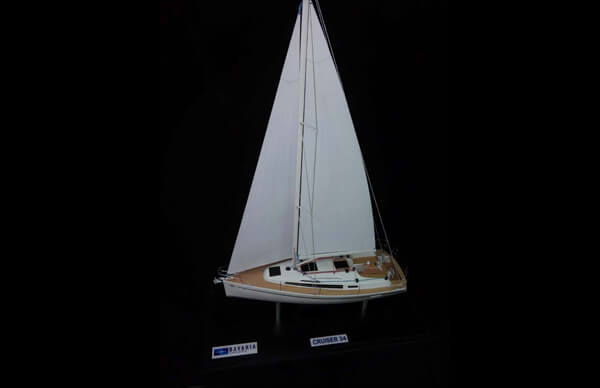 Bavaria Cruiser 34 Yacht Model
Scale:1:24 | Size:280mm x 350mm x 600mm | Production Time:14 days
For Bavaria Yacht, attention to detail always means combining comfort and safety, and they believe that even smaller yachts can be tremendous fun.
Its two steering wheels cockpit layout ensures that the helmsman can always have an unimpeded view of the sails, course and the crew and provide utmost safety.
The cockpit offers plenty of space and free access from the bathing platform to its companionway; our sailing yacht model makers use consistent timber for its deck and helm position, subconsciously strength Cruiser 34's conveniences, and spaciousness.
White thick paper is selected for its sails with triangle brown veins on it, consistent with other yacht models from the same collections.
Our skilled yacht model makers deliberately use white and red ropes for lower cables in front of the cockpit table, generous down to the smallest detail, manifesting the prodigious fun implied in its compact design.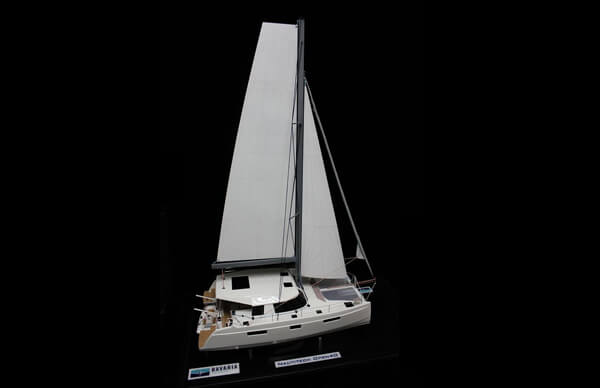 Bavaria Nautitech Open 40 Sailing Yacht Model
Scale:1:24 | Size:300mm x 420mm x 650mm | Production Time:14 days
While the current market trend increasingly promotes the catamaran experience as a static mode, designers from Nautitech still believe that navigation must be at the heart of a multihull's DNA; therefore, the open 40 is designed remarkable both stationary and blue water cruising.
Designed by Marc Lombard, a large aft cockpit directly linked to the helm stations for more conviviality and allows the cruiser to enjoy every moment, in complete safety, at anchor as well as while sailing.
Because of its twin-hull design, the general molds for the yacht model cannot be employed, model makers from RJ Models design specific applications and mold for this model, showing the responsibility to our clients and ensuring each yacht model will be exactly what they expected.
For the past 20 years of model making, RJ Models not only good at architectural model making, we have accumulated plenty of experiences in model making and fully ready to add character and charisma to your home or office with our museum quality replica yacht models.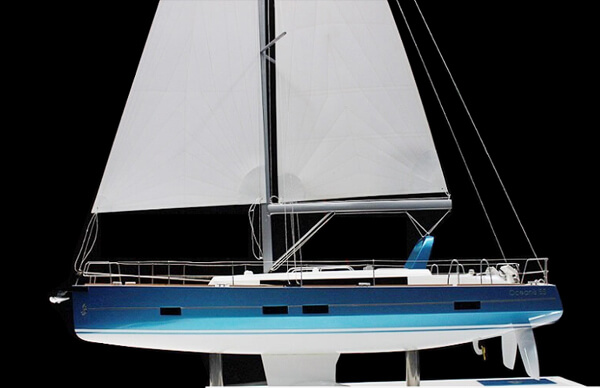 Beneteau Ocean 55 Yacht Model
Scale:1:24 | Size:300mm x 450mm x 650mm | Production Time:14 days
The Ocean 55 from Beneteau designed with a balanced hull and high standard of finish, giving its owner great sensations and safe sailing.
Berret Racoupeau in charge of the design and production, and they feature great innovation in this sailing yacht, including the mainsail arch, mast position, balanced sail plan, 45° companionway, and electric swim platform.
A great yacht model maker not only needs to represent its shape or accessories, but also the design idea and its character, while model makers from RJ Models have done excellent on this.
Our model makers choose the calming blue for its hull, flat timber for its deck and clean-cut components for its customizing details, all of these efforts help the yacht model showing its easy to handle and security design.
For the label on the baseboard, model makers deliberately choose a light blue to echo its hull, showing consistency and delicacy, which is capable of performances second to none.
With over 500 ship models being created every year, we thrive on maintaining consistency of delivering high quality ship models.
RJ Models is a word renowned A-list ship model making company,founded in 1995.
Our ship model makers possess a broad range of experience,with a high reputation for being specialists within our industry.
RJ Models has an extensive team of multinational and experienced shipping professionals in place with tight deadines for your ship models.
Contact

RJ Models

& Start Making You the Top
Our vision is making the top quality architectural models to everywhere in the globe.