A catamaran model is a type of maritime model with two equal-sized hulls held side by side.
The wide bridging frame connecting two parallel hulls stabilizes the maritime model. It is propelled either by sails or motors. Catamaran model shows how the ship is wisely designed and structured.
Not only can you grasp the general shape and appearance of the ship, but you can also look into components, such as hulls, sails, steering wheel, cockpit, etc.
Walking around the catamaran model, you can simply envision that you are delightfully chatting in the expansive salon space, cooking in the well-equipped galley, or lying down on the fabulous sundeck.
So catamaran model plays an essential role in their processes of work for you.
They ponder over problems while staring at maritime models and fantastic ideas are born!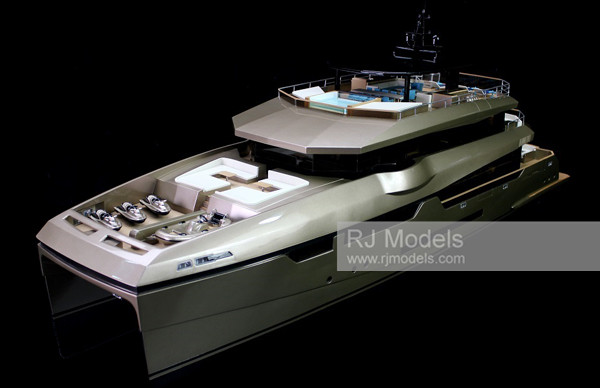 Simple Steps to work with us for custom Maritime Models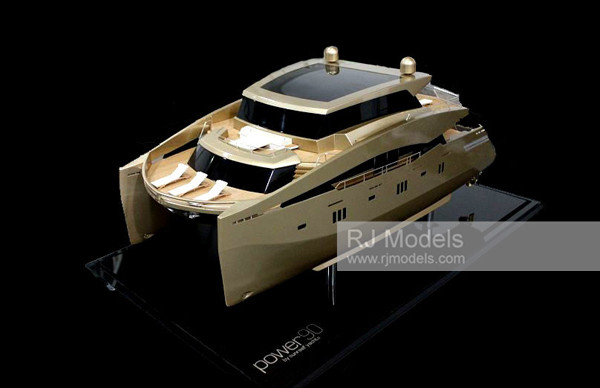 Aspen Power 90 Catamaran Model
Scale: 1:40 | Size: 400mm x 250mm | Production Time: 14 days
Even though most power cruising catamarans have misnomers attached, such as "pocket" or "cuddy". The Power C90 designed by Aspen will never give you a feeling like that.
Designers from Aspen have put many hours of designing and full-scale model building. It dedicated to getting all the right elements at the right scale, whereas not at the expense of economic efficiency.
On the contrary, because of the adoption of asymmetric hull design which uses only a single-engine, rather than the normal twin engines. Its fuel-efficient and hydro dynamically efficient have exceeded other power catamarans.
The production of catamaran hull cost RJ Models' yacht model makers a lot of efforts and time. Its asymmetric design requires two different suits of modules and assemble must be taken very carefully.
However, once the sophisticated and consummate catamaran model shows in front of everyone and received abundant appreciation from viewers. We know all of the previous efforts are worthy.
With over 500 ship models being created every year, we thrive on maintaining consistency of delivering high quality ship models.
RJ Models is a word renowned A-list ship model making company,founded in 1995.
Our ship model makers possess a broad range of experience,with a high reputation for being specialists within our industry.
RJ Models has an extensive team of multinational and experienced shipping professionals in place with tight deadines for your ship models.
Contact

RJ Models

& Start Making You the Top
Our vision is making the top quality architectural models to everywhere in the globe.