Leading model maker for Dubai with experienced architectural model making technique, 3DR Models and RJ Models.
Introduction of 3DR Models:
3DR Models was established in 1989, is one of the leading model making companies worldwide.
As a professional model maker in U.A.E, 3DR Models located in Dubai and cooperate with RJ Models for more than 15 years.
3DR Models and RJ Models currently have 18% of the world's model making's market, occupying 12,800 square meters with over 500 in manpower, producing over 60 architectural models per month.
Introduction of RJ Models:
Established in 1995, RJ Models, is a world-renowned architectural model-making company, that has the largest factories for model making in the industry based in China and Dubai, U.A.E.
With a team of experts, professional equipment and years of experience in this field, we have served clients from more than 98 counties.
We accomplish an average of over 700 scale model projects each year and provides world-wide shipping and installation service.
The architectural models being shipped from China to the world often varies in size with the largest possibly being over 700m².
Most of them also come with intricate lighting features thus require highly-demanding shipping and installation skills.
Our service covers more than just architectural models. RJ Models also provide outstanding designing and producing service for models in the field of urban planning, office buildings, real estate, hotels, interior design, airports, marine facilities and many more.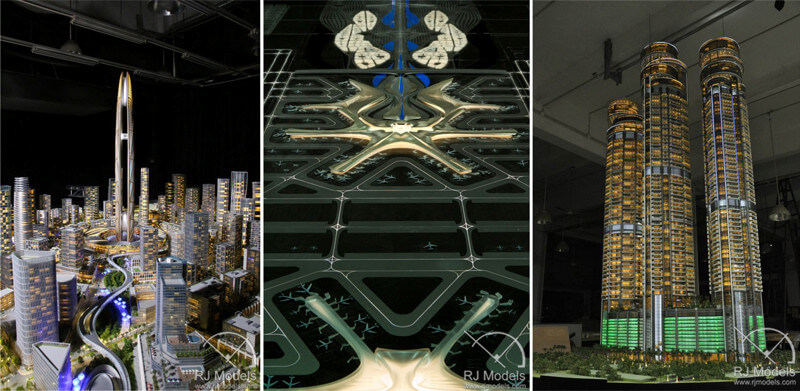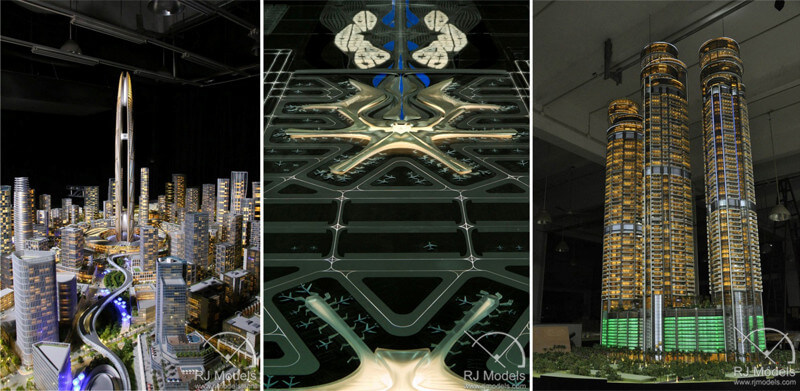 ▲Jumeriah Central, Beijing Daxing International Airport, Omkar 1973 Luxury Apartments
Despite all the challenges they may encounter during the production process, the architects, engineers, lighting technicians and production team members from RJ Models have perfectly excelled in every project incorporating various technologies including LED intelligent control system, laser cutting devices, 3D printing as well as CNC engraving and milling machine.
RJ Models has established a partnership with 3DR Models in Dubai and has set up a local office providing professional human resource and technical support for clients and final model installations.
We have provided many high-quality models for various world-renowned projects including Burj Al Arab Hotel, Dubai Cruise Port and Urban Design Landscaping Expo, impressing viewers with our intricately detailed models each time.
Some of RJ Models' Dubai-featured Signature Work:
1. Ain Dubai on Bluewaters Island Model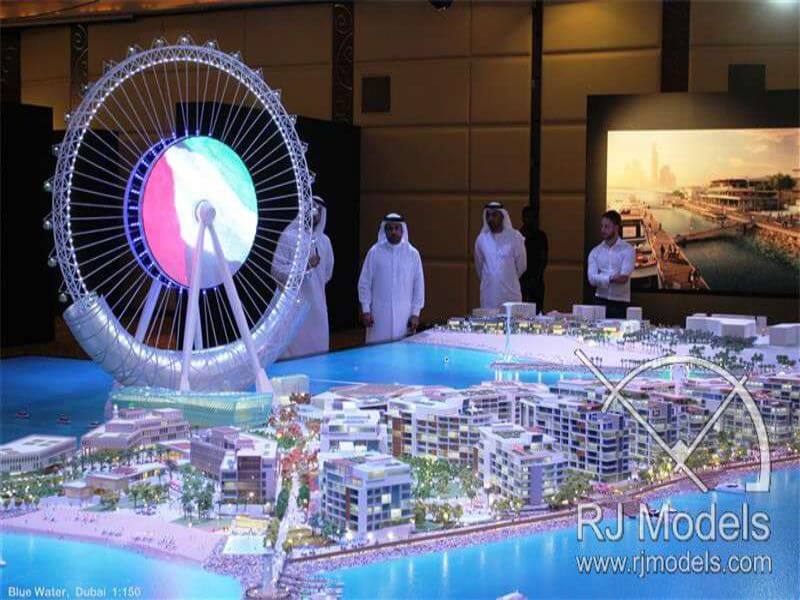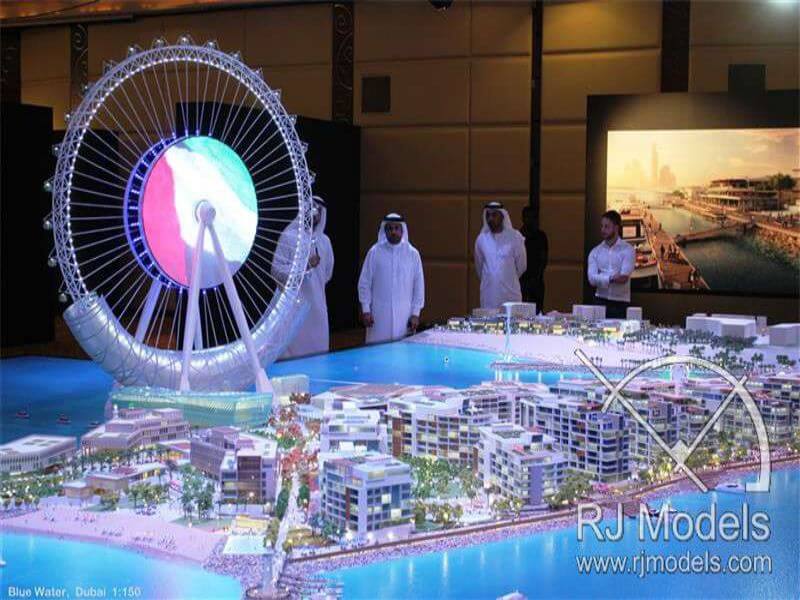 Scale: 1:150                                    Size:  700mm x500mm                            Production Time:  3 weeks
The 9.8 billion(CNY) Dubai Bluewaters Island Development Project featured Ain Dubai, the 210-meter tall world's largest Ferris Wheel.
Located alongside the beautiful Jumeirah coastline, it has 48 individual capsules and holds a capacity of up to 1,400 visitors offering them a 360-degree view of Dubai city.
With this exceptional experience in Ain Dubai, Bluewaters Island Development Project has attracted global attention.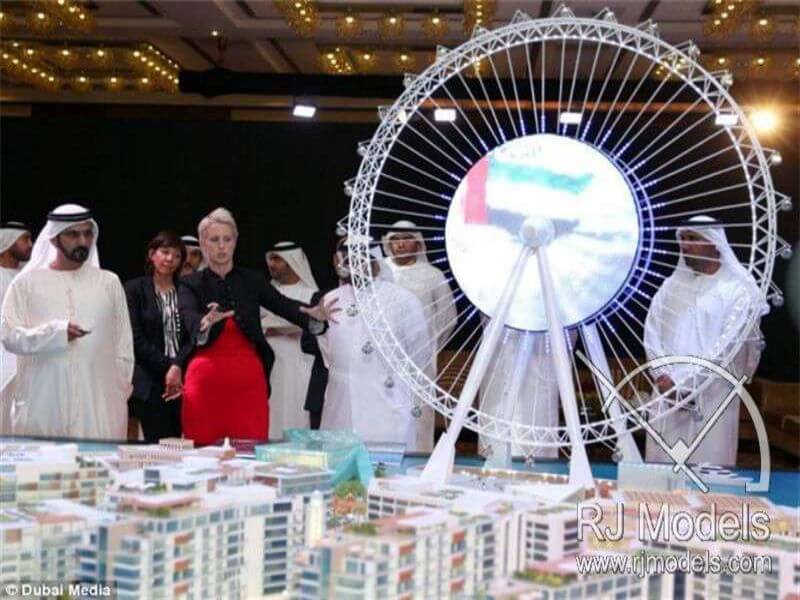 ▲Government Officials Listening to Project Commentary on Site
Visitors taking this 250-meter-high Ferris Wheel will be able to enjoy a 360-degree overlook view of Dubai City and its coastline.
For the government officials to have a thorough understanding of the layout and the scale of this artificial island construction, we have built the entire architectural model on a 1:100 scale.
Models with this scale, there will be no tolerance for any mistake or inaccuracy.
Many components need to be precise and accurate especially the construction of those 48 Ferris Wheel capsules.
It is not an easy task to maintain the capsules horizontally suspended while the Ferris Wheel rotates.
Hence RJ Models has repeatedly run trials to test the rotation function until it reaches an ideal result.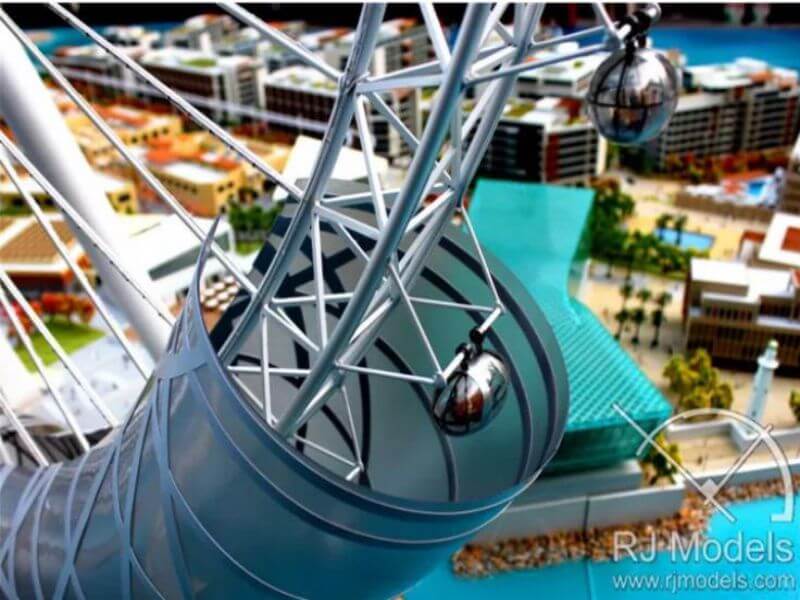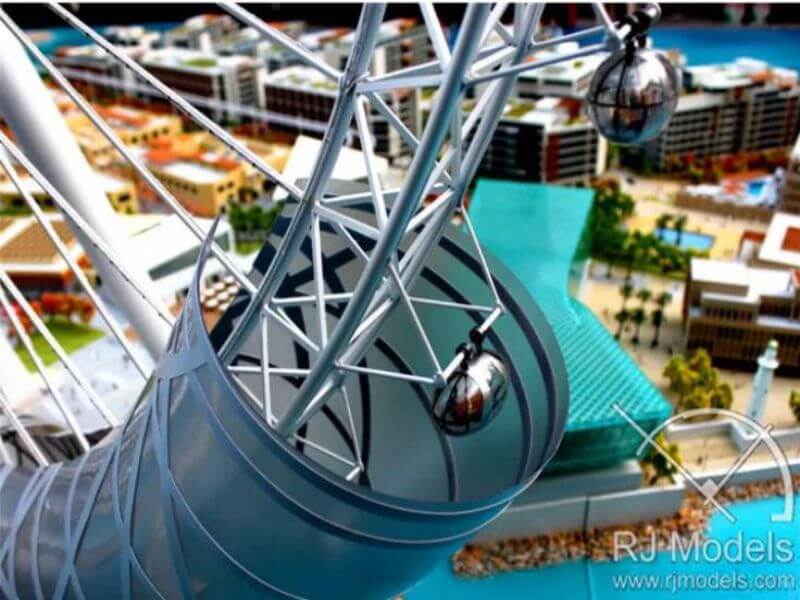 ▲The Detail of 48 Capsules maintaining horizontally suspended while the Ferris Wheel rotates.
Multiple electric wires were installed in each main building. The Ferris Wheel also has 48 built-in LED strip lights.
All of them can be controlled or adjusted by a digit tablet.
For the central giant TV screens on both sides of the Ferris Wheel, RJ Models even designed LED screens to be used for video playbacks providing advertising platforms for developers.
This brings a brand-new experience to the audience making a remarkable impression of the Bluewaters Island Development Project.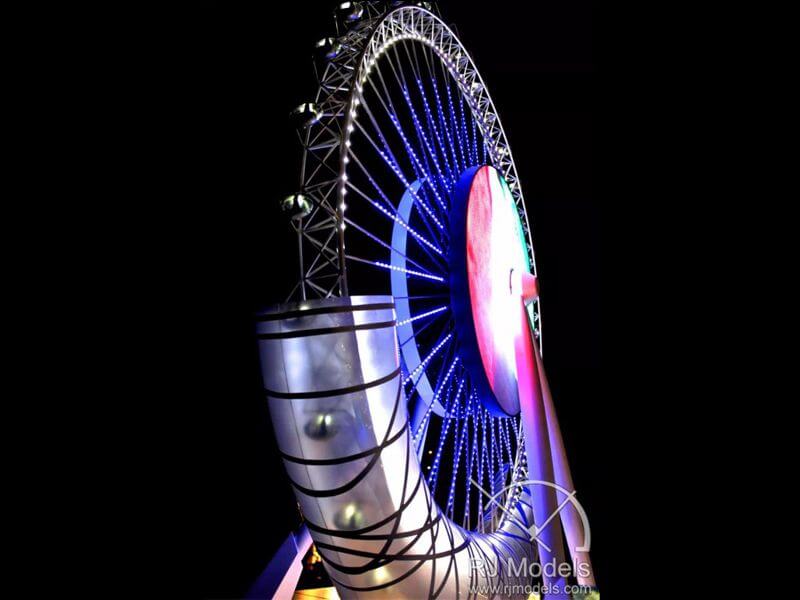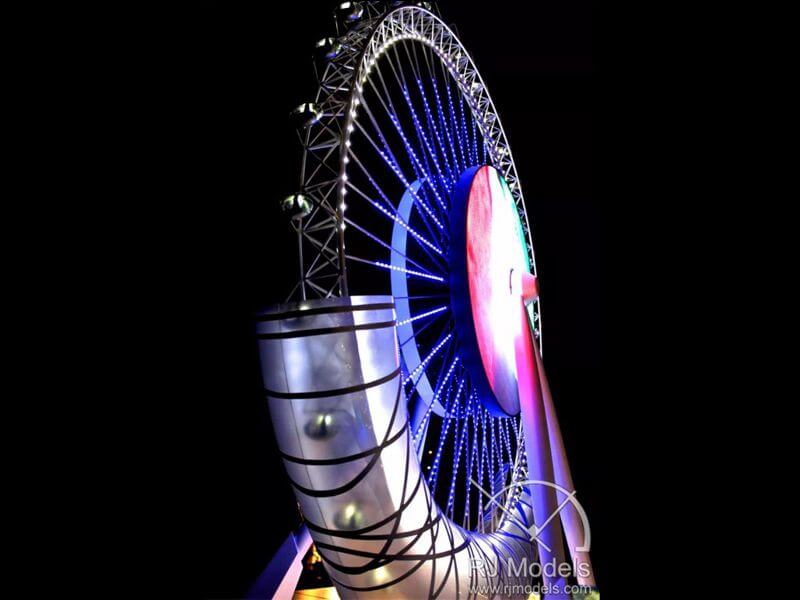 ▲A Close-up of the Bluewaters Island Ferris Wheel Development Project Model
However, the challenge does not just stop at achieving big numbers. It is often even more difficult to bring the lifelikeness of an architectural model building.
RJ Models has thus mobilized nearly 40 scenery modelers to style the model with props and accessories only to portrait maximum realness.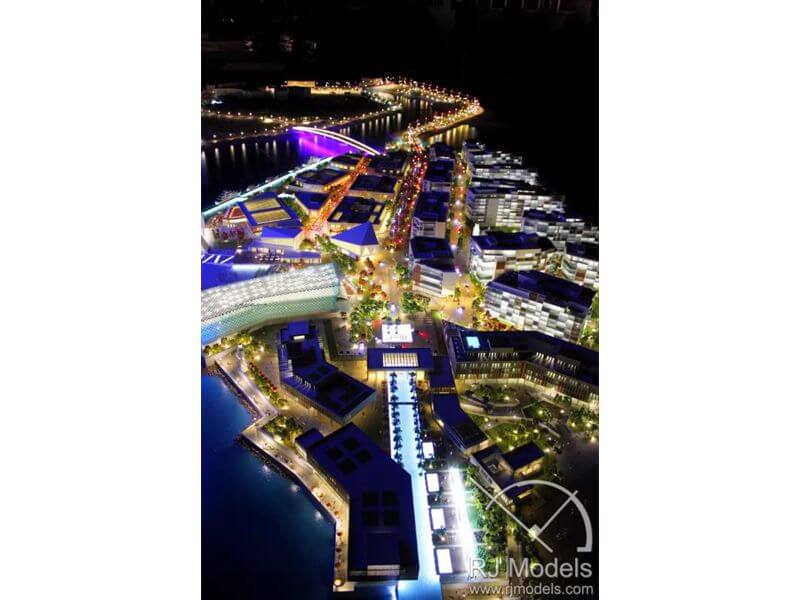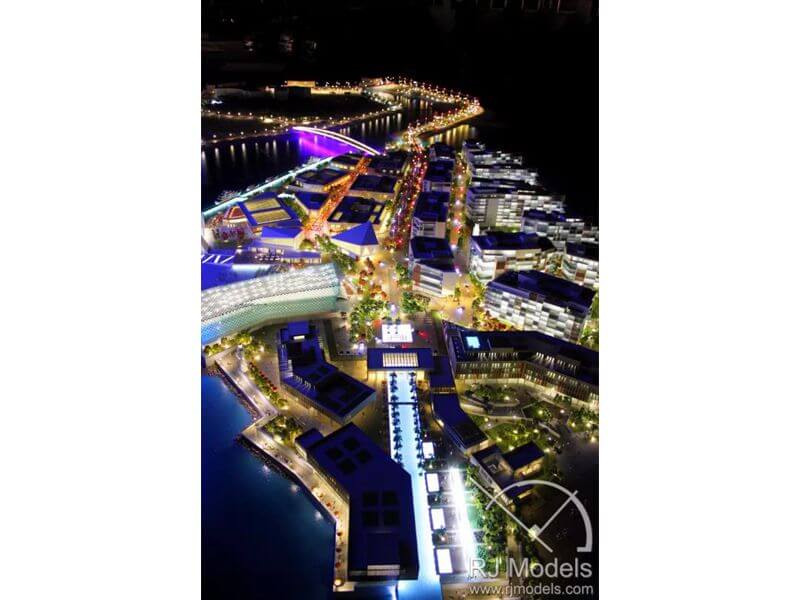 ▲Speedy cars on the road with neatly installed street lights, the Bluewaters Island Development Project model has shown its exquisite scenery.
A project isn't complete without all the steps being fully executed to RJ Models' standards.
Even during the last phase of shipping the giant model to Dubai, RJ Models has handled the task with ease.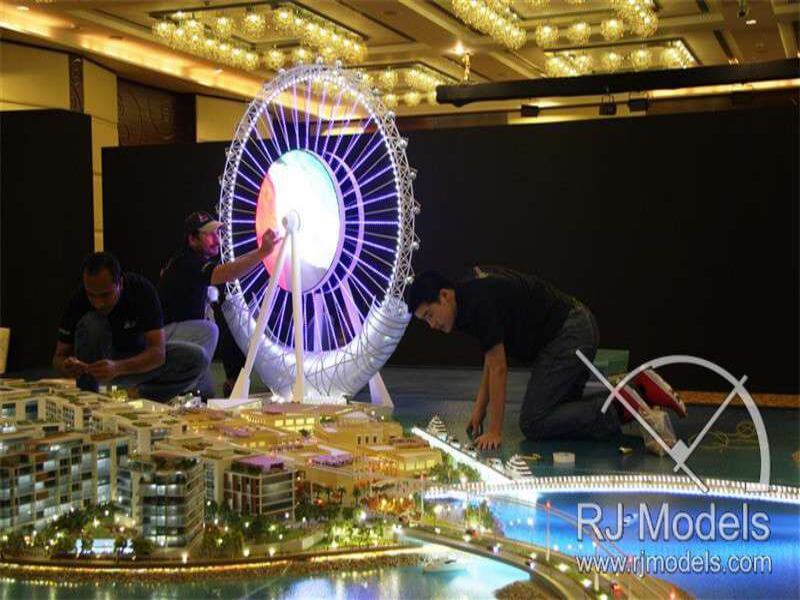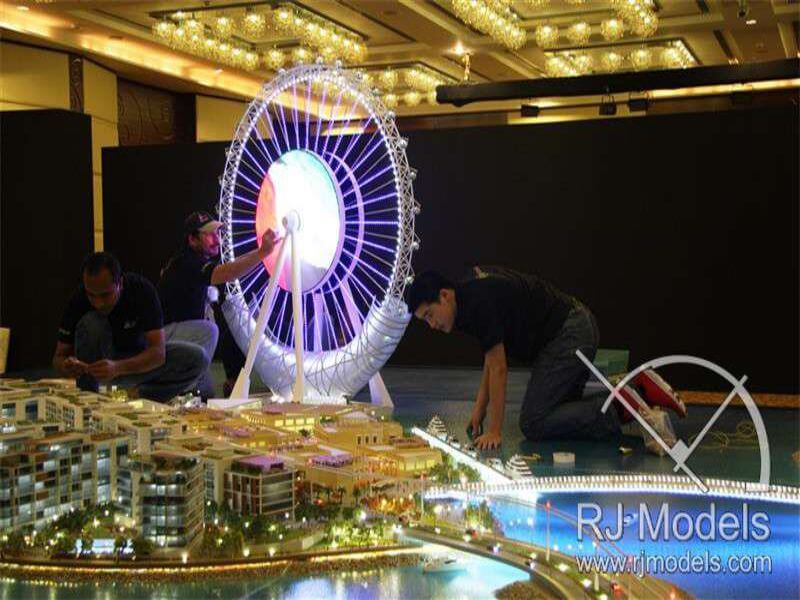 ▲On-site installation and trials is a crucial step and are done in absolute accuracy.
International shipping requires highly demanding packaging, we handled it with ease.
12 architectural model makers were sent to Dubai directly from Hong Kong to follow through the entire process.
Upon arrival, the models remained perfectly intact. From factory to installation each step was carried out aiming only for perfection.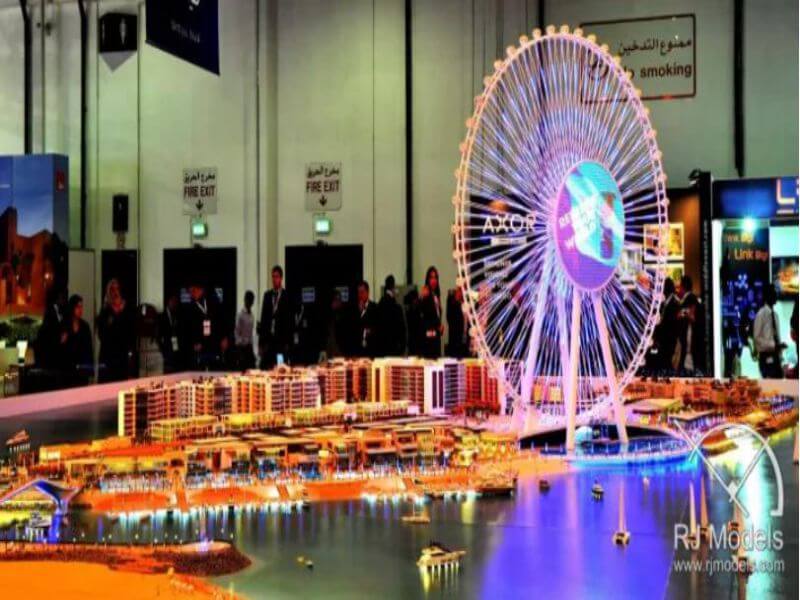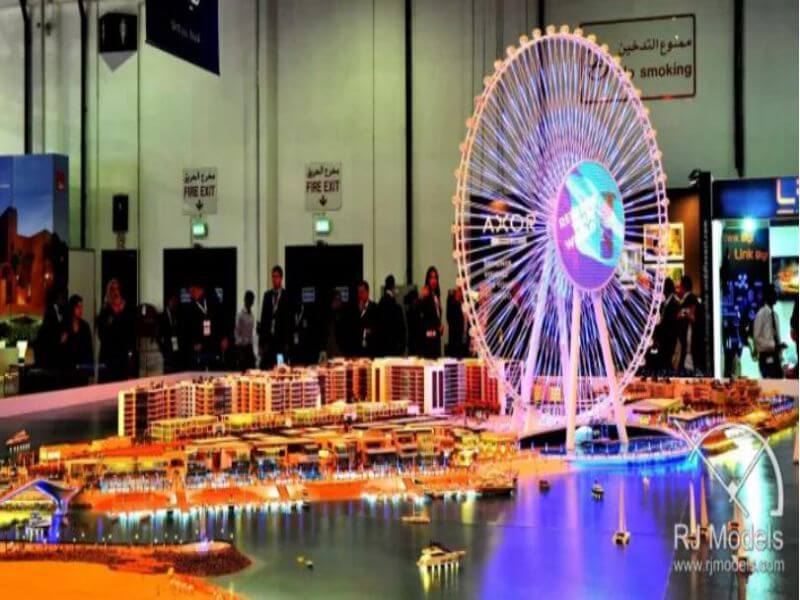 ▲The Bluewaters Island Ferris Wheel Development Project Model Overall View Upon Completion.
2. The New Dubai Cruise Tourism (DCT)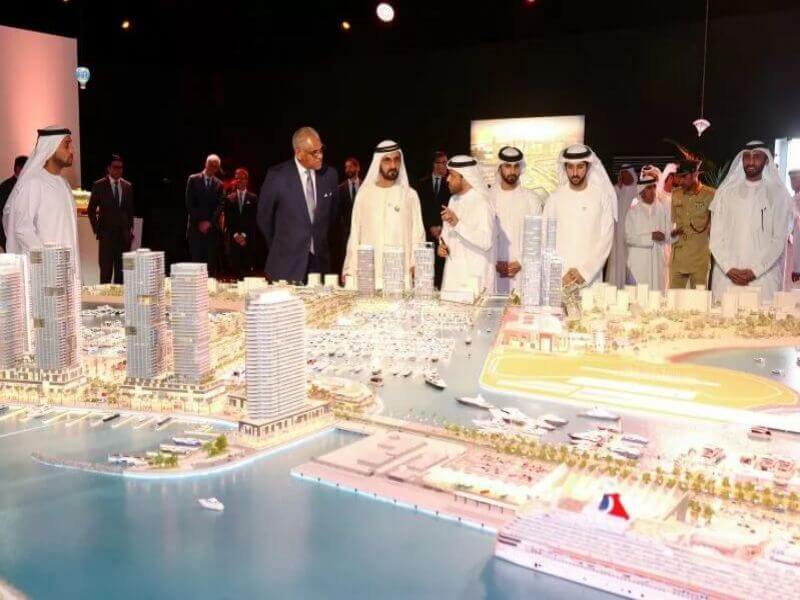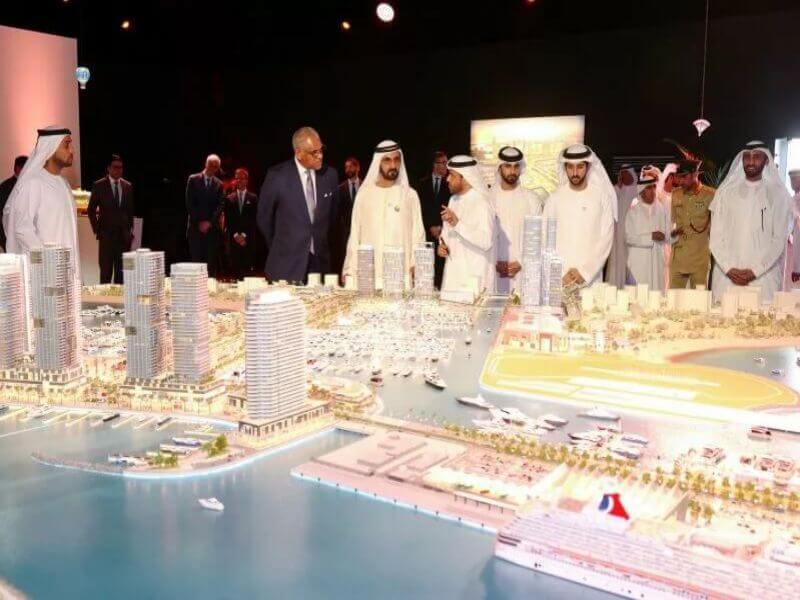 ▲Models Displaying the Layout of the New Port for Government Officials and Investors
Entrusted by Meraas Dubai, RJ Models had the honor to work with them again on this New Dubai Cruise Terminal Project.
A 1:400 scaled model of the terminal layout and a 1:150 scaled AIDA Cruise model were created respectively.
Estimated at 10 million square meters, the new Dubai Cruise Port will also feature 1400 docks, a 135-meter high lighthouse and a 150km-long harbor with a capacity of over 6000 visitors.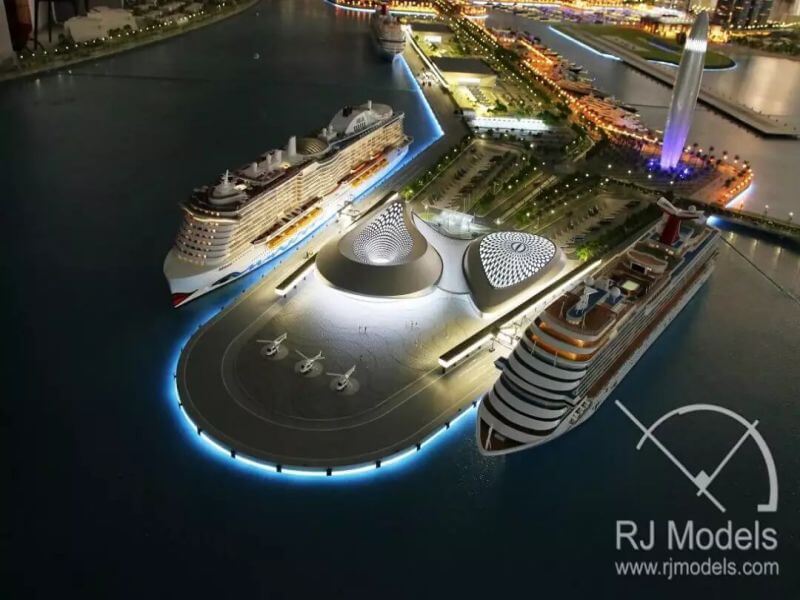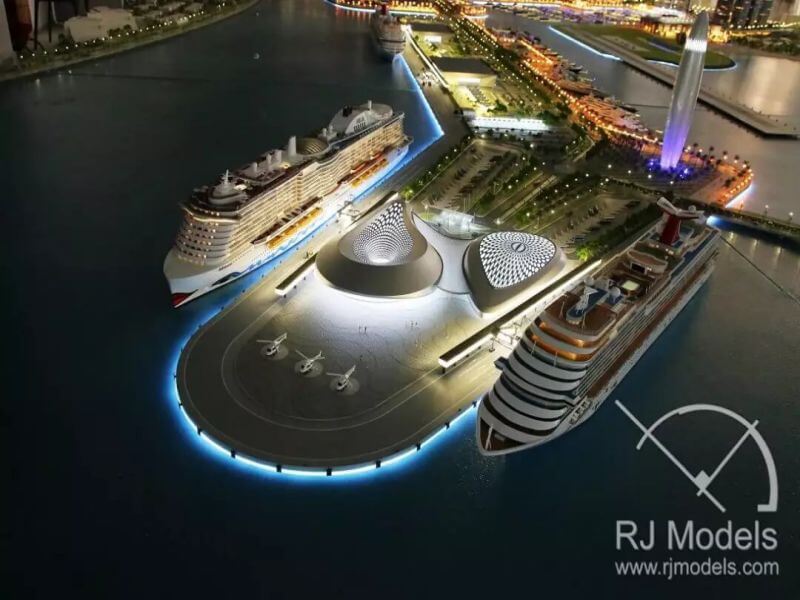 ▲The Port Looks Afloat above the Blue Light.
This new area will also feature other architecture projects including office buildings, supporting facilities, culture zone, Administrative buildings, luxury apartments and many more.
It perfectly combines leisure and residential areas and is right up Meraas' alley.
To fully present the blueprint of this maritime hub, we have assigned over 10 illustrators in the early phase of this project to re-verify the allocation of each building and attraction by drawing.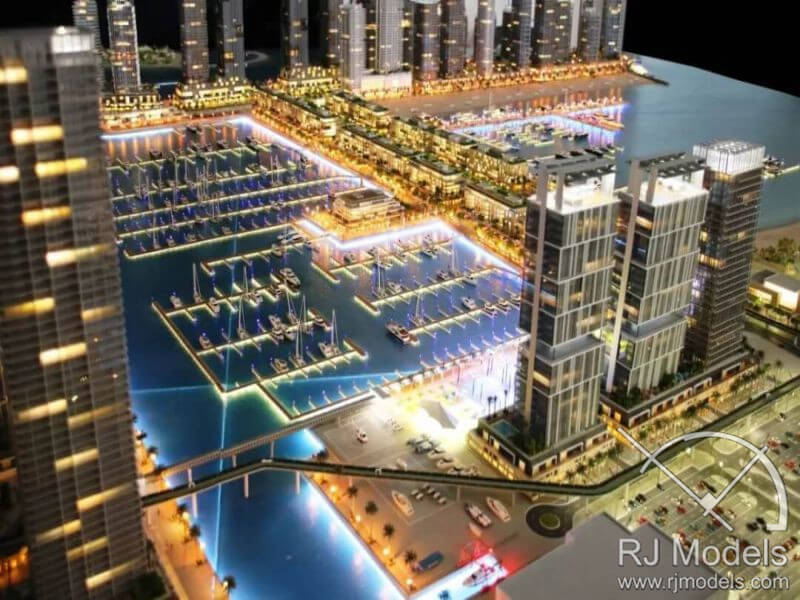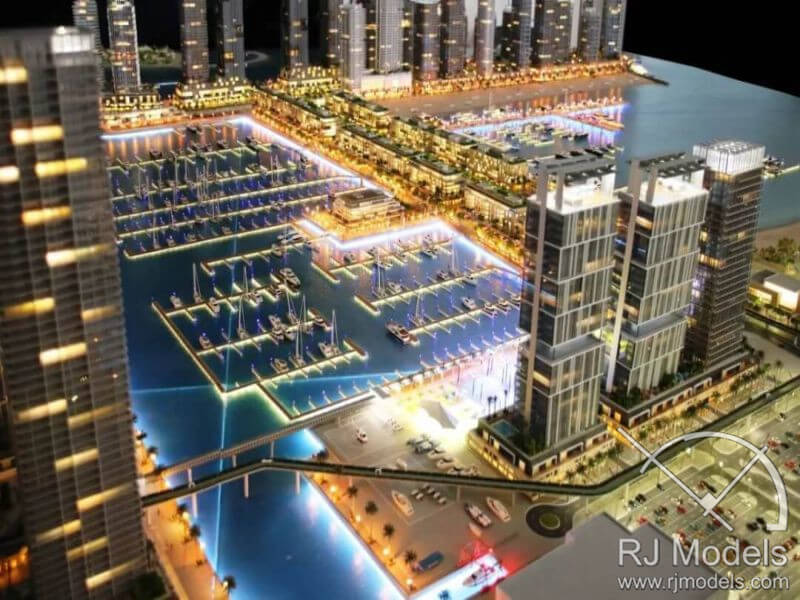 ▲All Yachts were modeled according to world-renown brands.
The production team used multiple 3D Printers and CNC engraving & milling machines simultaneously which efficiently completed the construction of the architecture and cruise liner parts.
An expert team of lighting, building and scenery design modelers, model tree makers was also formed later on.
Together with professional model shipping and installation service, the final products traveled over 6000km from Shenzhen and arrived in Dubai perfectly on time.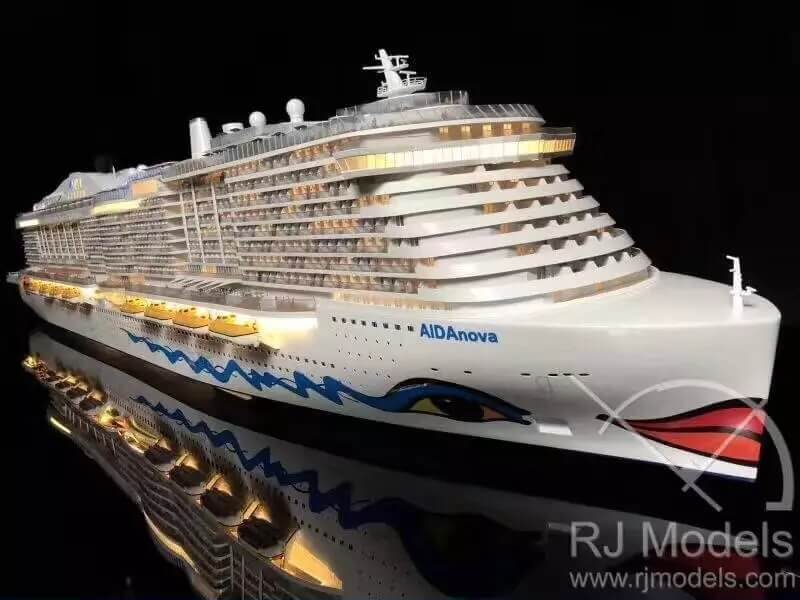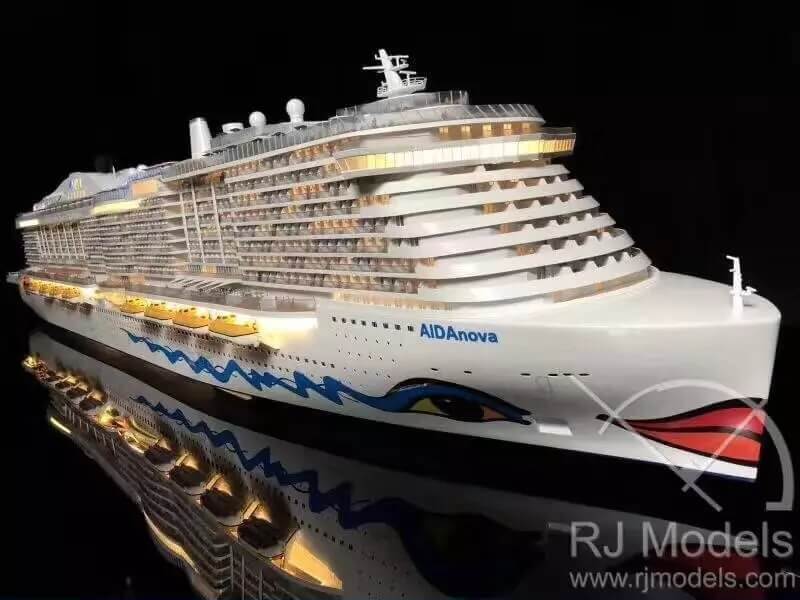 ▲Intricate shapes and design details can be seen throughout the entire model
The cruise liner has 20 decks, 2500 passenger cabins and more than 20 cabin types vary from single cabin to penthouse suite.
Cruise liners are very particular about the vibrant spray paint on the hull. It needs to be not only smooth in texture but also visually pleasing in its color and saturation.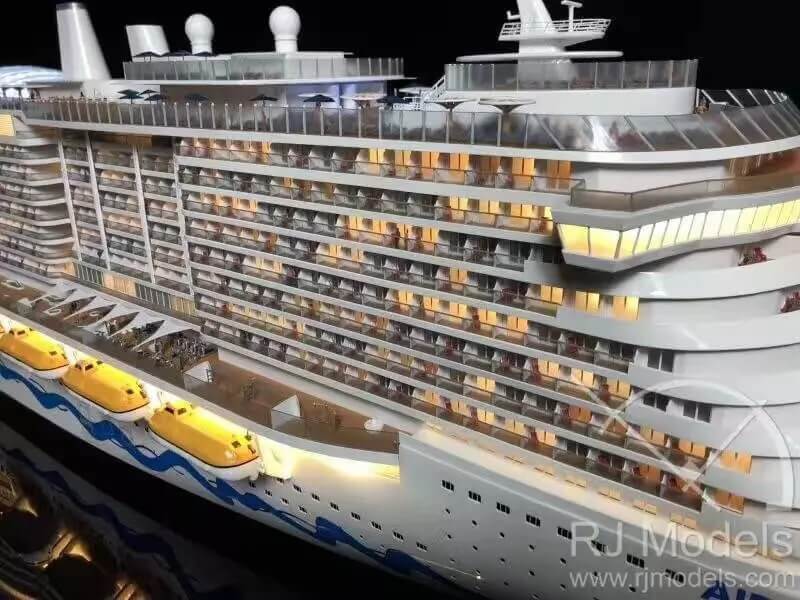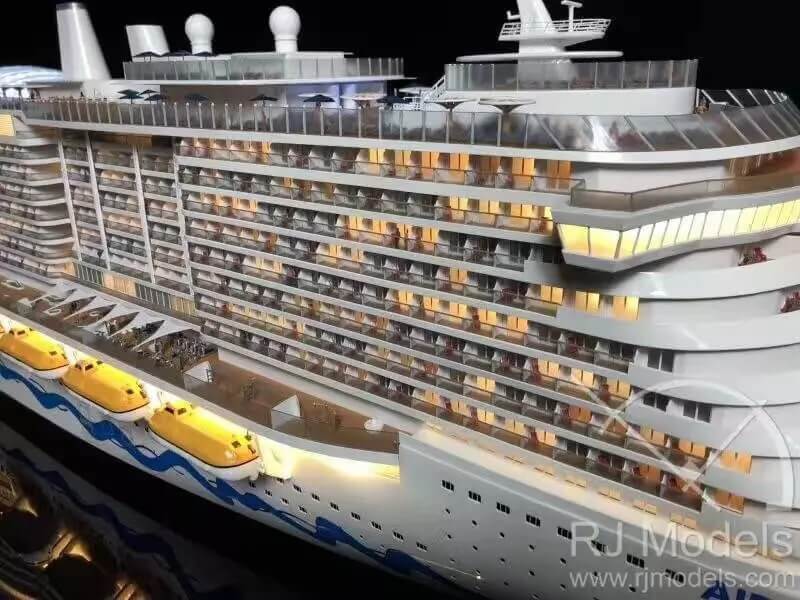 ▲The design of the appearance outside the cabins also plays a vital part in presenting the grandness of the cruise liner.
Our team of modelers has also considerately designed social scenes and activities on the dock.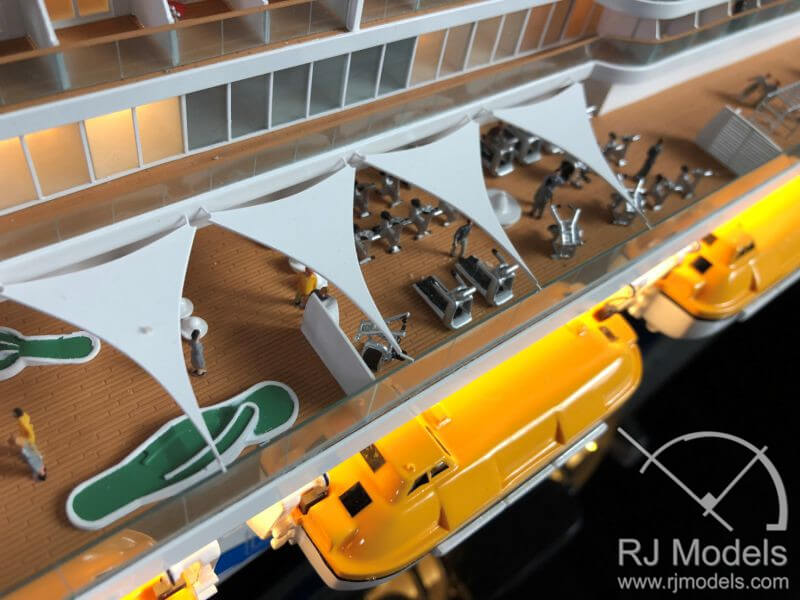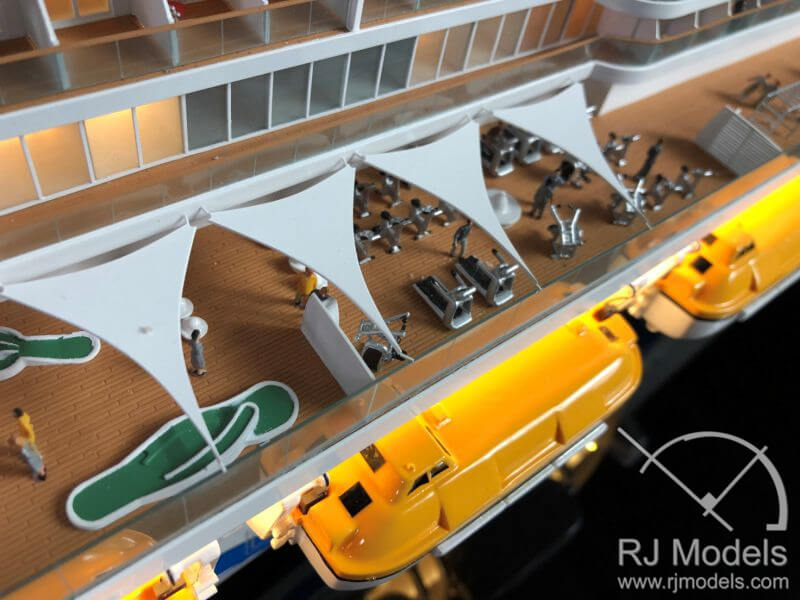 ▲Passengers exercising on the outdoor treadmill and elliptical machines
To complement the luxurious surroundings, we have also put lights in the ship's hold to imitate the actual lighting effects.
Even the CEO from Carnival Cruise Line commented afterward: "It′s the best cruise ship model I've ever seen!"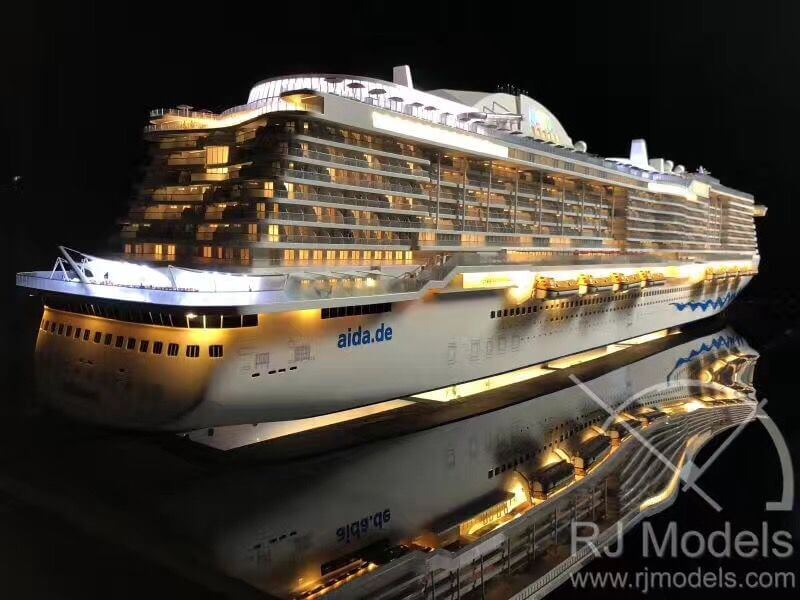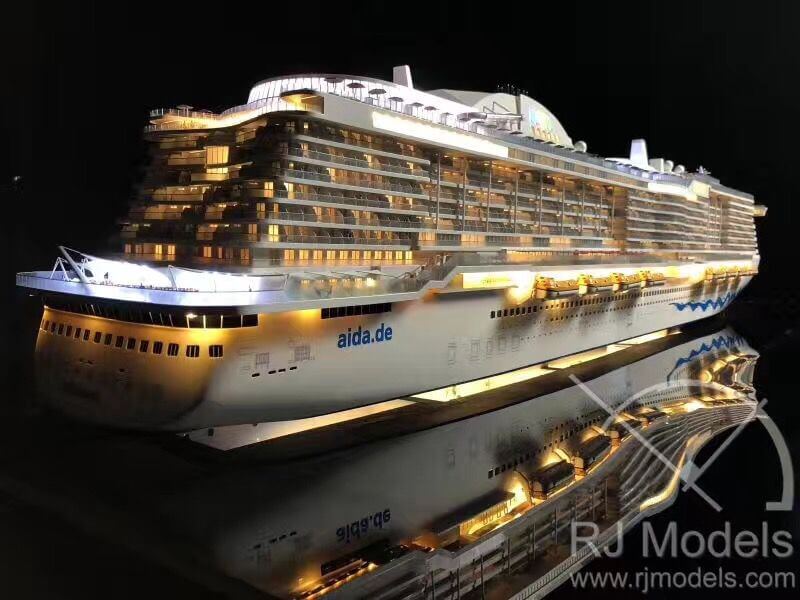 ▲Like a shimmering pearl, AIDA Cruise Liner Mooring at the Port
We wish by adding a touch of humanity to the scenes will let all potential clients envision Dubai Port's infinite possibilities.
This is also the spirit of craftsmanship RJ Models has always been pursuing.
3. Burj Al Arab Hotel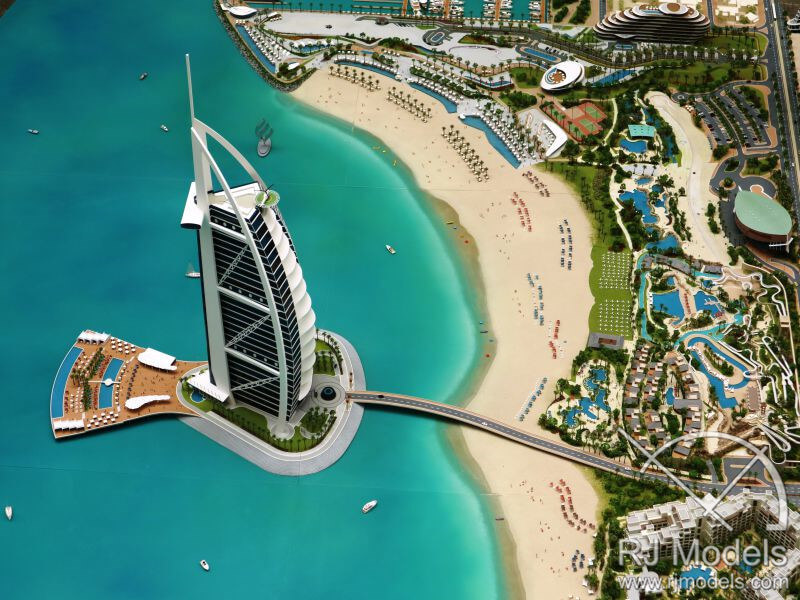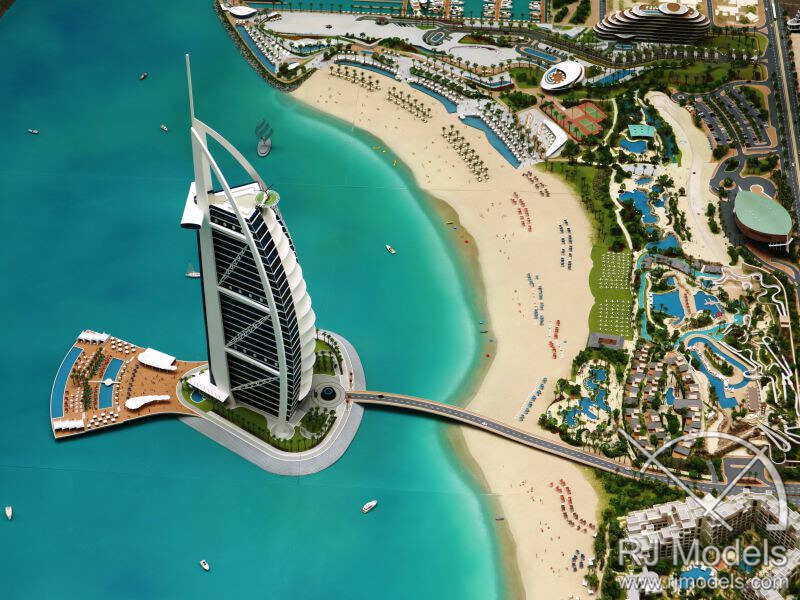 ▲Located 278m from the shores of the renowned Jumeirah beach, standing on an artificial island with its distinctive shape resembling the sail of a ship, is Dubai's most luxurious and expensive Seven- Star hotel, Burj Al Arab Jumeirah.
It is said that the Defense Minister of UAE, crown prince of Dubai, Mohammed Bin Rashid Al Maktoum proposed the initial idea of Burj Al Arab which was designed and completed later on by a team led by British architect Tom Wright.
We wish to present this unique hotel in all perspectives from its distinctive exterior to the connection of the manmade island with the mainland.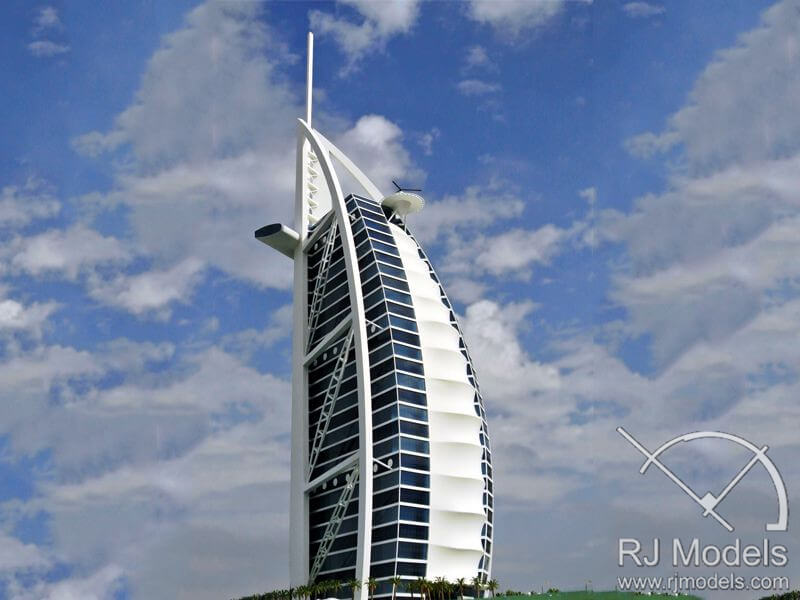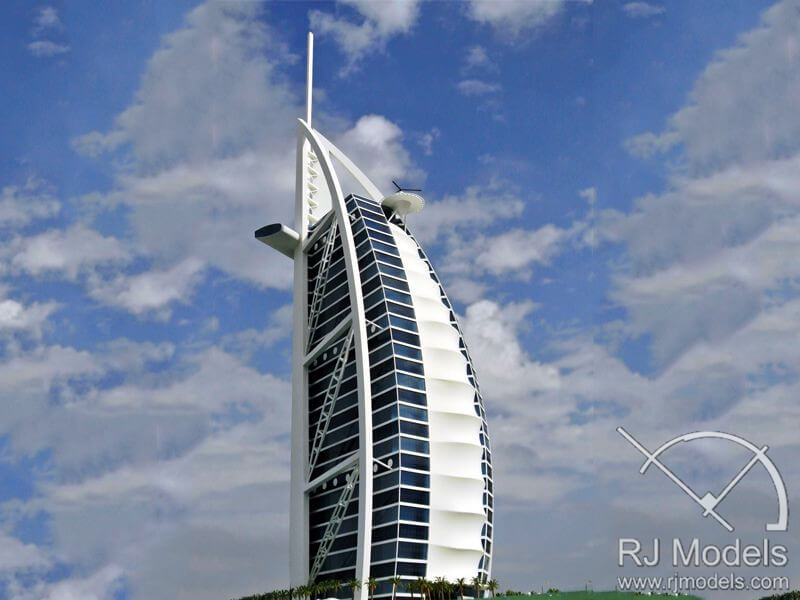 ▲The main structure of the model was made using CNC engraving & milling machine and covered with white spray paint.
The curtain was made of the dark blue mirror plane. And the detailing of the 321m tall mast with its horizontal triangular truss was impeccable.
The model also shows the two possible arrival methods: the suspending platform for helicopter landing and the connecting bridge specifically for in-house guests.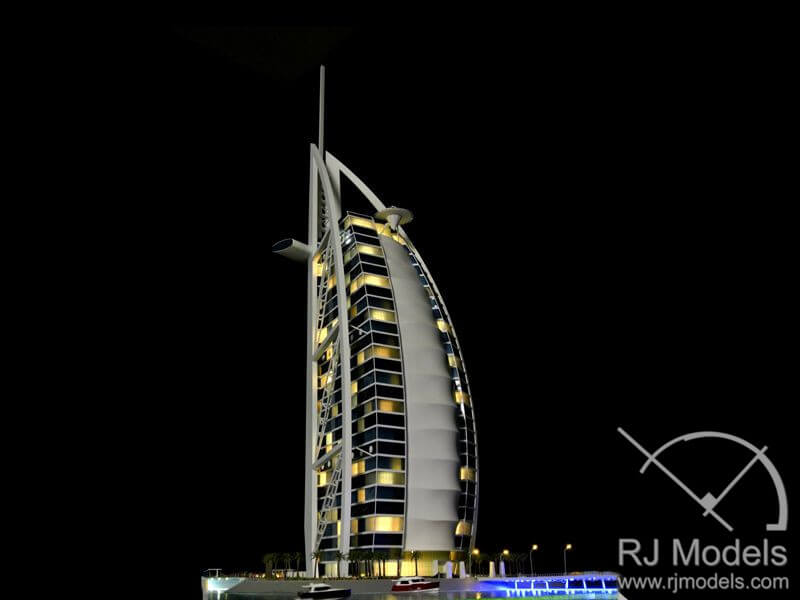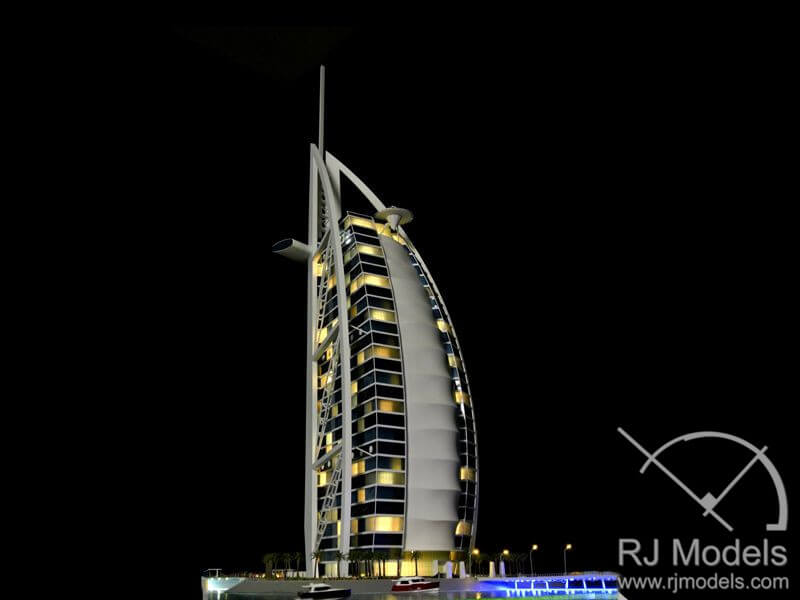 ▲Gentile warm tone indoor lighting with outdoor cool-tone seascape design
The lighting design is also one of the key features of the model, just like the model from the architectural rendering.
You may also find fine-dining restaurants, infinity swimming pools, a manmade beach and all sorts of sunrooms on the floating pontoon.
With the dynamic lighting set-ups gleaming in guest rooms, lights from the seascape and yachts also glittering back as if in response.
The 1:150 scaled model has truly captured the luxury of this seven-star hotel.
RJ Models' offices are operating 24/7 to serve their clients in different regions and time zones so as not to disrupt the flow of communication.
Information is the key to have a competitive quote and to be able to adhere to the given timeline no matter how tight the deadline.
We also have a partner, 3DR Models to support our model making service in Middle East District for ensuring the quality of model making.
Having an experience of producing and servicing for 24 years shows the possibility of RJ Models to deliver high-quality customized models anywhere in the world.
Leader in World Class Model Making
Any questions about architectural models,just feel free to contact us
We will never rent or sell your email to anyone.
Contact

RJ Models

& Start Making You the Top
Our vision is making the top quality architectural models to everywhere in the globe.