Professional


3D Architectural Rendering Service


With Experienced Team Offering the Finest Works
Interior 3D Architectural Rendering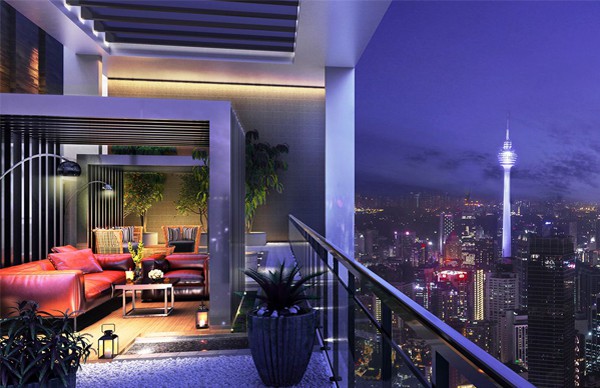 3D Rendering of Bukit Bintang Project
In marketing living spaces, 3D interior renders are the fundamental tools to showcase your interior designs and concepts.
The Bukit Bintang Project, at first glance, welcomes you to the metropolitan nightlife.
More than that, this interior design gives the vibe of a modern, but a balanced lifestyle.
This image can let viewers instantly experience living on skyscrapers above the urban grounds. The interior design also expresses a cozy feel to it, a combination of warm lights and colors.
Moreover, the image is beautifully constructed, as if the interior living space and the night lit sky outside were contrasting each other. Overall, the image gives the viewers the feel for both areas.
The interior design has been adorned with flora, giving an exotic and luxurious touch. The designer has a good taste for the selection of modern furniture, giving the entirety more life and elegance.
Our 3D architectural rendering artists were able to give attention to the lighting in order to give the warm lighting and the midnight sky a perfect glow.
With 3D interior renders, your ideas and designs can have a glimpse of life.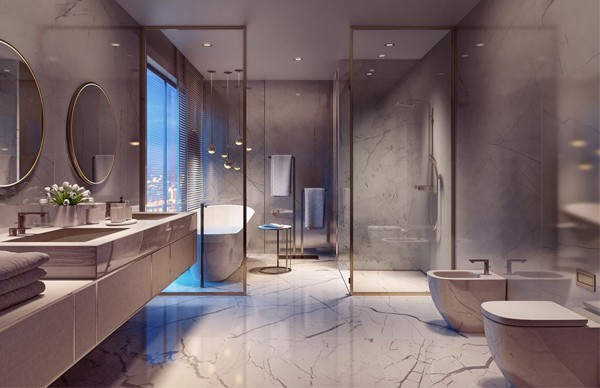 3D Rendering of Garden Grove Project
Every element of the living space is essential, as they can be a deciding factor for your clients in giving the green light on projects.
One significant part of the living space is the bathroom and the restroom. Sometimes, this can be a deal-breaker and if not met with the client's requirements.
Our artists created a render of the Garden Grove Project according to the designer's theme.
After creating this wonderful model, the 3D architectural rendering team improved visual effects in adjusting materials and lighting in various elements.
The clean and spacious bathroom definitely gives satisfaction to viewers and clients, knowing that this would provide comfort to people in these living spaces.
Our artists also utilized techniques in order to render some unique details in this image, such as cloth textures, mirror reflections, and shadows.
We understands your architectural rendering needs. You can contact us for your best interior design rendering projects.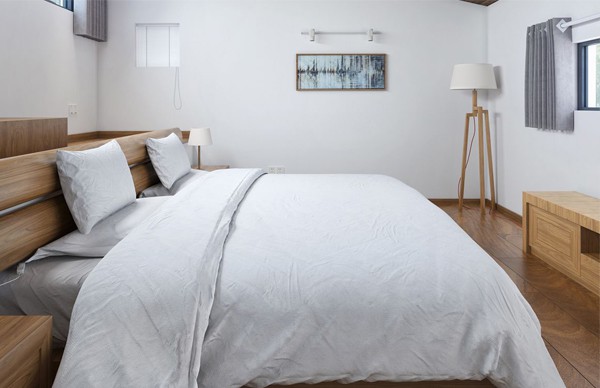 3D Rendering of Hill City project
3D renders are like paintings: They are effective if they get you lost in imagination and capture the viewer's emotion.
A part of the Hill City Project is a render of the bedroom. With simple and minute details, these can make or break a rendered image.
One good example of such details is the folds and creases of clot, and the sheets and pillows look very natural.
As simple as can be, this image just brings viewers back to a stress-free rest at their homes. For your clients, this can be a part of their dream home.
Our 3D architectural rendering team, along with the designer's style, modeled and rendered the room with white paint to play a cool and comfortable look in the viewer's eyes.
Moreover, the pillows and the bed are rendered naturally to look soft and snug. It can come to viewers as inviting and convincing to have a rest in this bedroom.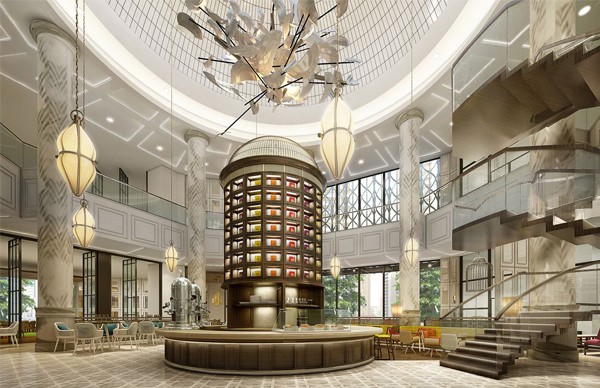 3D Rendering of Hyatt Nashville Project
For interior designers, 3D rendering helps what you aim for in your design. 3D renders can impress, as well as express and make viewers feel what you are aiming for.
The Hyatt Nashville Project is one of our renders which projects luxury and relaxation. This image showcases a spacious lobby in a pearl white theme.
This is a great work by the designer, collating various patterns and details, and then mending them into a work of art.
The details of this space bring elegance and magnificence. The unique designs on the lobby counter, columns, ceiling, and walls bring together the high- end look.
Our 3D architectural rendering artists made spacious space more prominent with natural lighting and lamp lighting.
The glimpse of vegetation through the windows signifies that this structure may be surrounded with tended gardens and fields.
Overall, clients can see this as an invitation to relaxation and holidays, away from business and urban environments.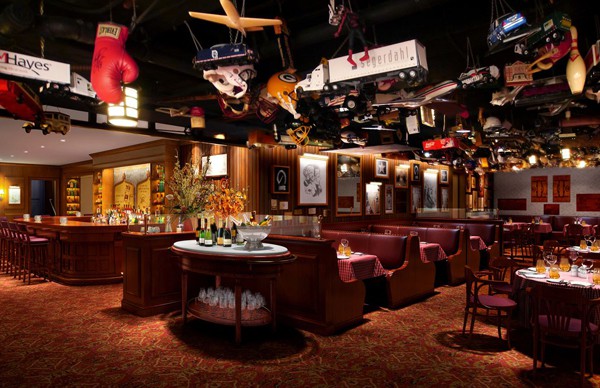 3D Rendering of One Restaurant Project
The mere look at restaurant interiors can be inviting and can last impressions with guests and customers.
For interior rendering, restaurants are exciting projects as there are a lot of details and designs that we love to work with.
Our 3D architectural rendering artists modeled various objects to create a collection that is decorated and hung on the ceiling.
The details in this render is a good call from the designer, projecting a luxurious and vintage atmosphere.
From wine bottles, posters, and unique and collectible tokens, these elements compliment the elite and royal look of the color red.
In this restaurant interior render, the tables, chairs and the space overall invites families, businessmen, friends and lovers to take a seat and enjoy the ambiance.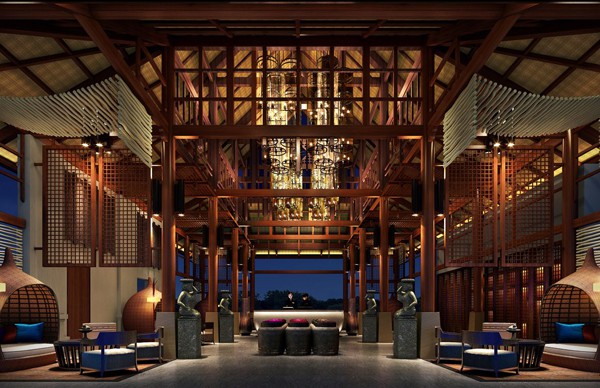 3D Rendering of Sanya Hotel Project
The Sanya Hotel Project is one of our most detailed interior renders and one of the most interesting lighting techniques.
3D architectural rendering has various elements to consider, including lighting. In this render, our rendering team worked with limited light sources.
We created this image with the interior designer's central theme for eastern motifs. Moreover, our render artists blended warm lighting into the design.
The RJ Models' team made sure that the lights should not be overdone to remain the realism of the image, but not dark enough in order to see every important detail.
Also, the small patterns and details bring a challenge as well, but once it is achieved, the image will be breathtaking.
The materials for furniture, flooring, walls, and posts are mostly wood, but the variation in the kinds and finishes give more depth into this design.
In its overall look, the Sanya Hotel holds a calm and serene environment, giving viewers a taste of rest and relaxation.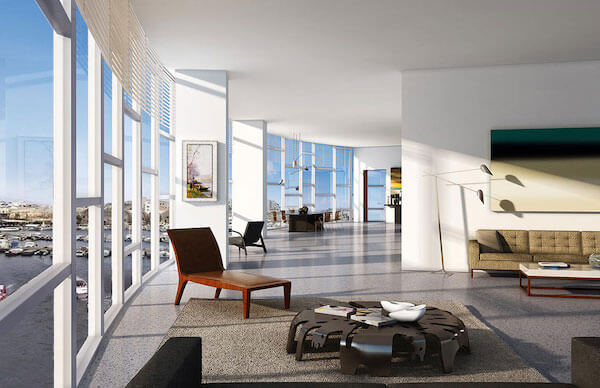 3D Rendering of Bin Coast Condo Project
RJ Models' wide range of expertise in 3D architectural visualization solutions caters remarkable living room projects even to the most meticulous.
One can see with the exceptional rendering output for this contemporary home.
Huge windows present a calming view of the seaside residence with just the right amount of sunlight coming through.The renderers perfectly captured the balance of warmth and coolness of the setting with the natural lighting complete with shadows.
The glass gives the real-life impression showing off reflections from the inside.
A uniquely designed center table made in wood adorns the forefront of the image, various furniture pieces add appealing quality.
These are finely detailed according to each material's real textures; leather, fabric, and even the rug on the floor.
The camera angle is made to look like the viewer is standing in the room is in every way convincing.
Overlooking the photorealistic waterscape view with azure skies, calm water ripples and boats.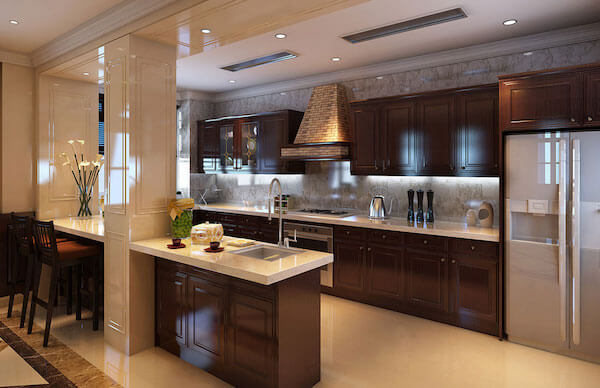 3D Rendering of Residence Interior Project
RJ Models' certified 3D rendering experts fantastically showcased this elegant modern residence kitchen that is too good to be true.
3D rendering interior spaces aims to give full realization of how the design will come together even before construction.
Cupboards and base cabinet panels are flawlessly rendered.
All the wooden elements with grains, design details in a nice coated finish and completed with gold-plated metal knobs.
Classy with its ivory-white bar's center column and ceiling accents.
Luxurious with the marble finishing on the backsplash and countertops.
The layered brick served as finishing to house the exhaust hood above the stovetop is on point.
Artificial, as well as natural lighting coming from windows, project ever realistic reflections on the interiors.
Modern kitchen appliances like the fridge and oven, as well as the sink fixtures, are sleek.
Every accessory, be it glass, porcelain or stainless, is depicted realistically.
Overall, RJ Models' 3D artists masterfully seized the elegant warmth and functional atmosphere a kitchen should possess.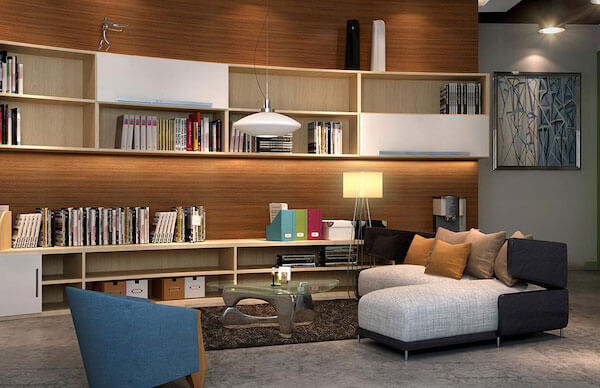 3D Rendering of Office Interior Project
This photo of a comfy-looking reading area is actually a 3D rendering project by industry specialist, RJ Models.
Images like this enable designers to view the proposed project for finalization.
And in time, for future owners to have a visual sense of the space in ascertaining their design needs as the interior model.
It depicts a homey feel with the use of wooden materials and warm lighting.
Exquisitely capturing the wooden appearance is the full backdrop of the book shelves, also in wood but of lighter shade.
The edgy look comes with decors like the silver framed artwork, lamps and furniture pieces like the low table.
Plush throw pillows in complementing tones, the single arm chair and L-shaped sofa upholstery presents realistic fabric textures.
The quiet and cozy ambiance an area like this should have is absolutely delivered in real-life imagery.
The final image completely captured the designer's vision through photorealistic 3D rendering by RJ Models.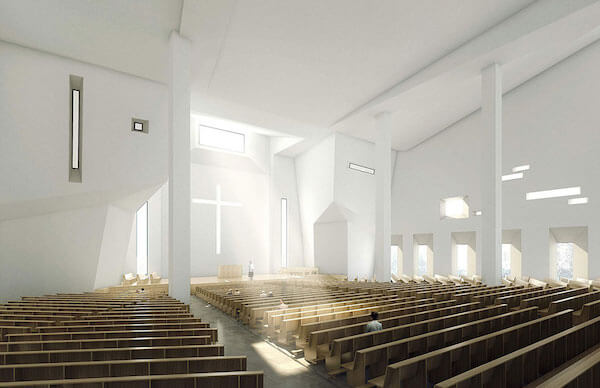 3D Rendering of Indian Hill Church Project
Once never thought possible, photorealistic rendering sets every 2D drawing into 3D images like it's taken on the actual location.
An architect's concept for the interior of this Indian Hill church is now presented in true to life visuals.
The serenity of the all-white interiors give off just the immaculateness and purity a religious place should evoke.
RJ Models 3D rendering artists provided every aspect of the image in absolute detail even with the design's simplicity.
The windows are direct to the point with its functionality, providing enough natural light like divine blessings coming from above.
The congregation would see the effect as something to draw inspiration from.
And the skill of our 3D artists seamlessly created the lighting effects in the right quantity and direction.
Impeccably rendered wooden pews where seating is so arranged for the worshippers.
The aisles and the nave leading to the pulpit presents the distinction of its finished flooring material.
A 3D interior visualization such as this will undoubtedly satisfy any viewer.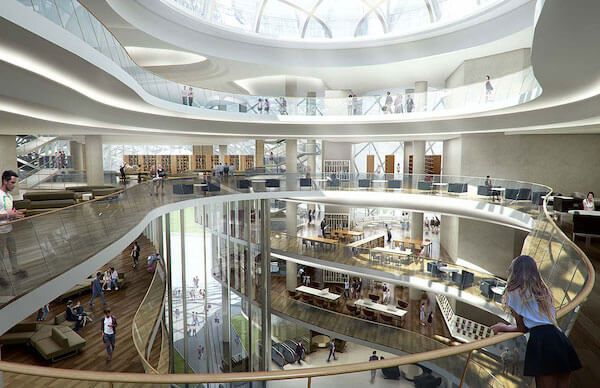 3D Rendering of Tainan Library Project
Libraries are used to be those quiet, boring places that a non-reader actually see as uninteresting.
But surely not with this modern flowing design concept that 3D rendering experts from RJ Models realistically translated.
The camera angle chosen is ideally showing the library from top to bottom featuring its interesting central opening feature.
Abundant natural light which comes from the circular glass ceiling, as well as glass windows all around are well illustrated.
It also promotes a bright and airy atmosphere conducive to reading.
The concrete and glass elements are balanced and softened with flawlessly rendered wood flooring on all reading area levels.
This brings the homey feel with the addition of upholstered sofas and sectionals for lounging readers.
Aside from the detailed overall appeal are the realistic looking people in various poses on every floor.
Stunning visualization like this at your shopping mall model, just reach out to us and let RJ Models 3D rendering services deliver.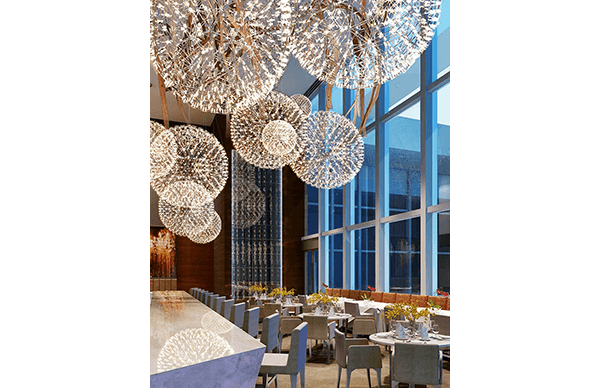 3D Rendering of MPQ Hotel Project
Every interior masterpiece needs to be conveyed in a manner closest to its designer's vision.
Presenting this photorealistic image of hotel dining will also be a sure way to attract more guests into the place.
Floor to ceiling clear glass windows framed in steel provide an open and airy ambiance to the room.
Magnificent chandeliers in different sizes placed in random heights are designed like bursts of fireworks lighting up the high ceiling.
These are held in place by woodwork resembling tree branches that perfectly harmonizes with the rest of the interior.
The wood veneer walls looks genuinely realistic with mirrors that capture the reflection of the lighting fixture's luminescence.
These reflections are also seen on the glossy marble top of the bar below.
RJ Models 3D rendering team always outdo themselves to provide these stunning visuals for the client's full realization.
The image is set at an angle that captures all the important components in an elegant, almost magical scene.
Exterior 3D Architectural Rendering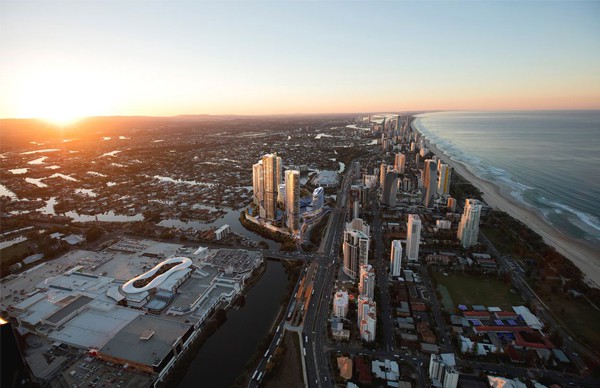 3D Rendering of Destination Gold Coast Project
Our architectural visualization for the Destination Gold Coast Project shows what we can do for rendering commercial architecture through exterior rendering.
In this project, our rendering artists used various techniques in producing the most realistic CGI as possible.
This architectural rendering shows the high level of detail that our company can achieve.
Our 3D artists underwent processes from modelling, rendering, and photo enhancing to deliver this masterpiece.
The modern setting surrounding the commercial buildings shows the modelers' attention to detail and makes it more convincing.
The warm sunset emphasizes the commercial building at the center, using a realistic and natural effect. Moreover, the shoreline makes the viewers feel how great the sights there are from the skyscrapers.
The life of RJ Models is architecture, and rendering products and services in the best quality is the essence.
In need of a realistic and outstanding architectural visualization? Contact RJ Models and be served with compelling and outstanding 3D renders.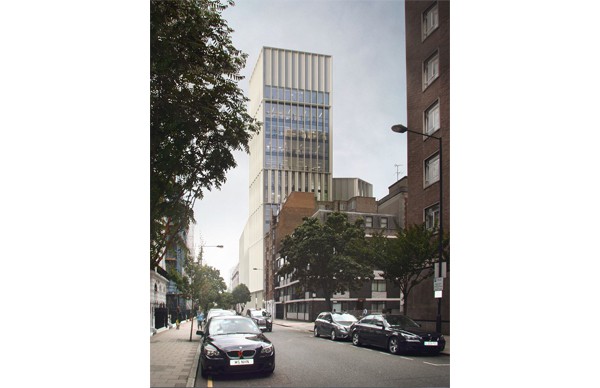 3D Rendering of Queen Square House
3D rendering in architecture is an essential part of selling your projects to clients.
Before proceeding with a project, 3D renders that are compelling can convince your clients for the green light.
Our render artists created an image for the Queen Square House situated in an inner-city vibe.
This image perfectly projects a peaceful environment blending on the fair weather.
The objects in this rendered image are rich in detail, taking note of natural lighting and reflections.
The minute details such as pedestrians and the natural-looking trees contribute to the realistic and thematic look of the render.
RJ Models also considered the camera angle in setting up the image. The Queen Square House is showcased as a pleasant addition in this neighborhood.
Foreground details like the neighboring buildings show the depth of detail as seen in the brick walls. Also, the reflective surfaces of the vehicles partly show the clear sky above.
RJ Models' rendering team always provides the most accurate and alluring scenes, not only to present architectural wonders but also to relay the mood to the viewers.
3D rendered images such as this one will be a significant part when attracting your clients into your project, giving them the thrill in beginning a wonderful project.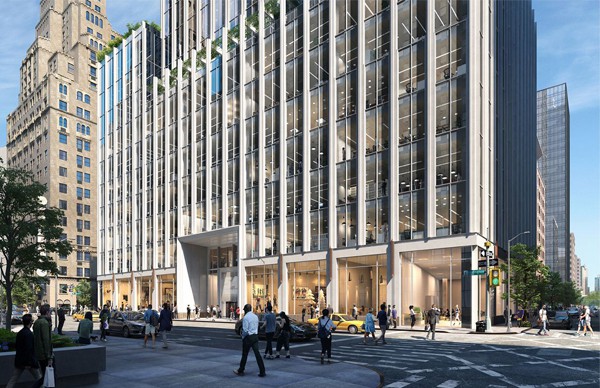 3D Rendering of 541 Lexington Ave Project
Commercial architectural renders are so much enthralling. For clients, it could be very exciting to see your project come to life with computer-generated renders that represent them based on your design.
This image of the Lexington Ave Project is a product of the skills and effort of our rendering team.
Our team is composed of artists with expertise in modeling, texturing, lighting, and photorealism in general, in order to render an image that captures architectural design in the most captivating way.
In this project, our 3D artists modeled the commercial building, fit into a precise location, and scaled accordingly. Textures were then laid out to portray accurate details like the clear glass windows and well-lit offices.
This commercial establishment has been perfectly rendered into reality with the correct measure of natural and artificial lighting, reflections, and shadows.
The final touch, adding secondary details such as the employees, people in the background, and street elements bring the image into life, portraying the busy morning offices and streets during working hours.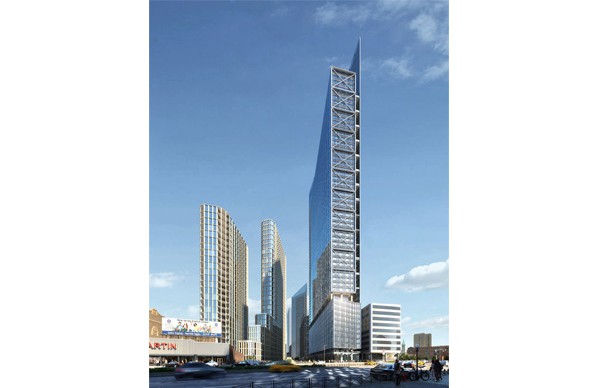 3D Rendering of Journal Square Project
When RJ Models are given unique architectural buildings for visualization, our rendering artists are thrilled to visualize your project.
This commercial architecture is modeled in high detail and placed strategically along a busy highway.
For commercial establishments, location is a critical aspect.
More than that, the rendering team added several complementary elements into the render.
Figures and details such as billboards give a nice touch, showing the commerciality of the area.
The foreground objects from the pedestrian, parked cars, and the bicycle add more realism to the image.
One noticeable factor the artists considered was to generate the image in a perspective mimicking a photographer's picture from the ground.
Also, the image focuses on the commercial structure in vivid detail, providing the most clarity into the architectural centerpiece.
The blur of vehicles is an element to make the photo livable and relatable to viewers. It gives the impression of the morning rush and businesses running as usual.
To top it off, the shadow is carefully set inwards to the photo, implying the sun is still rising. All these tiny details give the viewers the feel of the 9 am morning rush.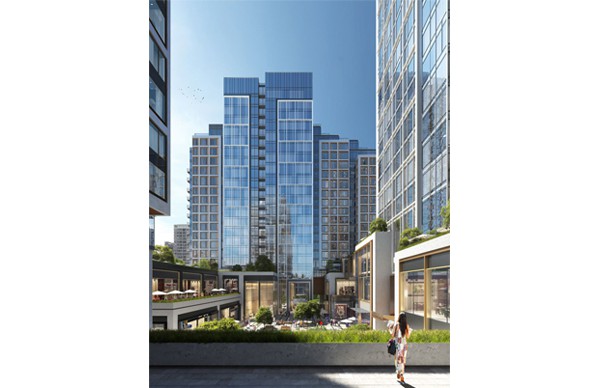 3D Rendering of Boston Seaport Project
Architectural renders are magical in a way that lets you live in the moment it shows.
This residential structure presents living space for a relaxing and comfortable stay for professionals, businessmen, families, and students.
The structure alone is amazing, but the surrounding buildings also signify its practicality, being located in a compound where all needs are present in these premises.
The living space has commodities nearby, such as restaurants and parks, convenient for the residents in the area.
RJ Models created the image like it is taken from the front, showcasing the facade of the building. This perspective effectively shows how it is related to other facilities.
The foreground details, such as the walking woman and the grass make the image framed as if taken by a person on the ground.
Finally, the reflection of the building on the surrounding structures is a critical element to create a cohesive and compelling image for the viewer.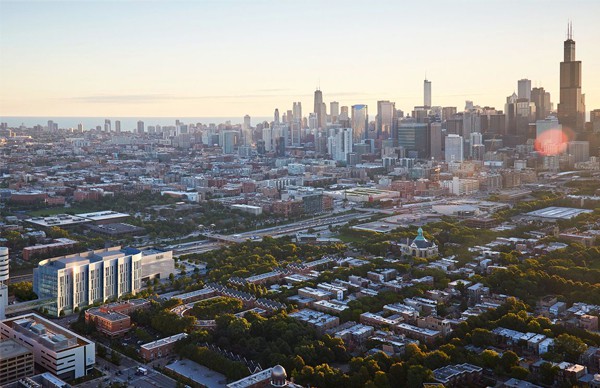 3D Rendering of RCACH Project
An aerial bird's eye view render is an appropriate tool for projects to pinpoint locations, showcase maps, and also provide guides.
In this project, the RCACH Project is rendered in a bird's eye view. This breathtaking render showcases the separation between commercial and residential spaces in this area.
As seen in this render, this project has been built in a strategic location, near living spaces, and along massive roads to urban and commercial areas.
Our 3D rendering artists scaled the modeled building and laid it out into an image to strategically show its location.
For clients, this render does not only show location, but also the project's capability in terms of accessibility and ease of transport. Moreover, this project could be a multipurpose structure, be it for residential or commercial purposes.
With exterior renders, natural lighting and its effects in the environment is important. Our rendering team calculates shadows and reflection precisely to keep it realistic. The addition of sunlight glare also adds to the natural effect of the photo.
In RJ Models, you can rely on us of city planning model and as we have the dedication and skill set for creating compelling renders for your design ideas.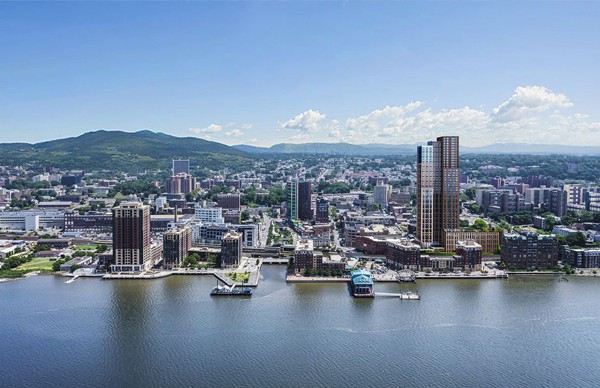 3D Rendering of 21-65 Buena Vista Ave-Tuetonia Hall Project
Architectural renders are not only about magnificent buildings and structures. At RJ Models, we integrate your amazing designs into the natural scenery and blend them into reality.
Here is our render for a commercial building by the bay area. The facade compliments the look of the community and presents itself as a central and essential part of the area.
The clear sky and clear water highlight the amazing environment. With these details, one can imagine how cool and fresh the air maybe, living in these skyscrapers.
Our 3D architectural rendering artists created natural elements such as the mountain, the clouds, and the sky, and the sea to frame the image into a cohesive piece.
The camera angle is also an important aspect of an excellent image, framing the shot and binding elements together, despite the individualistic and buildings.
With this render, viewers can get a glimpse of living in a furnished modern space while enjoying the view and ambience of nature.
Need renders to attract and convince your clients? Contact RJ Models and experience the expertise and service of our company.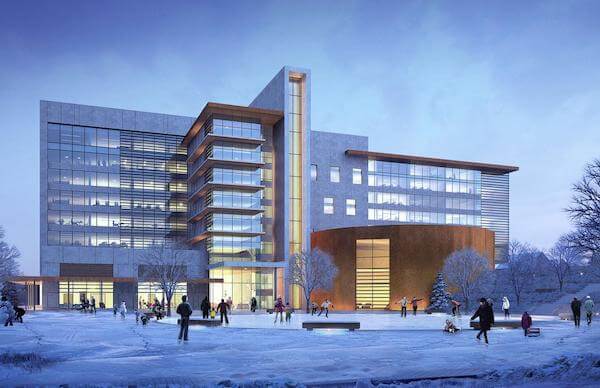 3D Rendering of Modern Residential Project 1
Architectural renders are the key to showcase your future project to clients.
With image renders, you can be able to show the project and stir excitement as clients have a virtual visit.
Clients can communicate with architects and make the designing process interesting for them.
The 3D artists of RJ Models rendered a plan for an office building situated in a relaxing natural environment.
The rendered image shows the office building well-designed with modern elements.
In contrast to the chill wintertime atmosphere outside, the office building draws a warm and welcoming feel.
The designed office spaces are well-lit in daylight with the large windows installed.
Also, the warm lights in the lobby bring a cozy welcome to guests and employees.
RJ Models placed excitement to the scene, with people playing on ice to give a fun atmosphere in an office building.
This makes the clients dismiss the common office aura of being monotonous, busy and boring.
RJ Models can provide photorealistic images to your future projects even office building model. You can entice your clients with exterior design your company has in store.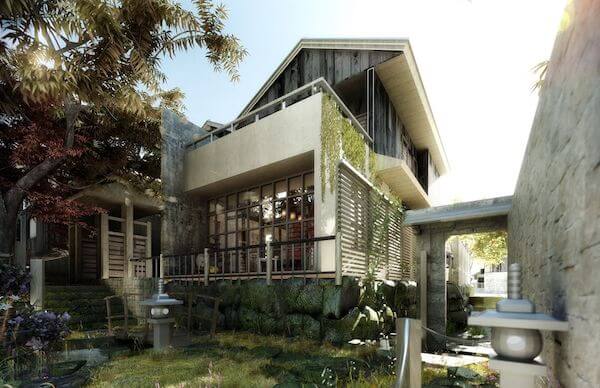 3D Rendering of Kozy Landscape Project
3D exterior renderings for residential projects helps architects to communicate with their clients.
With exterior renderings of future homes, your clients can appreciate the details which are not seen in drawings and plans.
As seen in this HD rendering, RJ Models created a realistic image of a home themed with natural elements.
The design portrays its closeness to nature with the vegetation surrounding it.
Moreover, the home is blended into nature with the use of natural objects such as wood, rocks, and stones.
The designer considered the landscape to be a large factor in this photorealistic render.
These exterior details, such as the bridge, rock arrangements, and exterior ornaments supplement the natural aura of this home.
Another clinching feature is a hint of modern architecture in this house.
This includes a panoramic window that lets the occupants view outside.
Want to create an engaging and realistic image for your design? Contact RJ Models and we can make realistic renderings for you.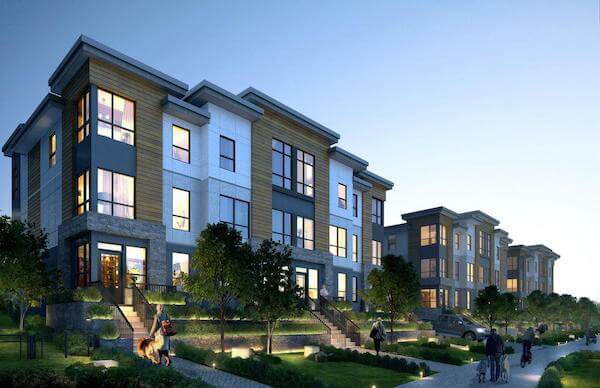 3D Rendering of PW Townhouse Development Project
Residential developments are very attractive to customers once you let them feel how to live in these homes.
With 3D exterior renderings, you must show your clients how these homes will provide shelter and satisfaction.
This photorealistic render is a townhouse-type development perfect for large families.
RJ Models created this exterior design to show how these houses are made for the comfort of each family of each household.
The warm indoor lighting induces the cozy feel of the homes, while these houses showcase a modern and simplistic design.
The time is set at dusk, portraying the time where every family is reuniting at home after travel and work.
RJ Models perfectly set the scene with the human characters.
This shows the realism of family members getting home each day, living in a quiet and family-centered community.
Want your projects to get the approval of your clients? Contact RJ Models and we can create the perfect exterior renders for your architectural projects!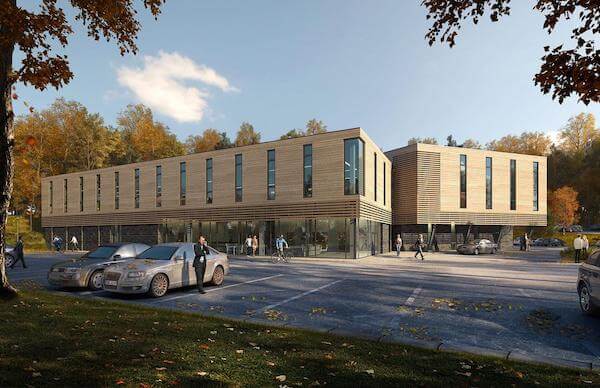 3D Rendering of Modern Residential, Bronx Project
Architects are moving onto more elegant designs for community and health facilities today.
With 3D exterior rendering services, you can showcase your designs for health hubs even before they are started.
This render shows an innovative design for a community hub for the recovery of patients.
With 3D rendering, this stylistic yet simple building design blends in a calm and quiet environment, perfect for its purpose.
Every detail contributes to the mood of the image. The lighting is soft, emulating the early morning sunlight.
The surrounding trees in the autumn season blend to the impression of being conducive for cure and healing.
More life is breathed into the scene by placing human characters, moving around the facility in various activities.
The littered leaves improve the photorealism of this render, simulating the scattering of leaves during the fall. Overall, this render lets your client walk into the scene and feel as if it blends in reality.
For your next projects, not only residential model, you can contact RJ Models to create the most realistic renders.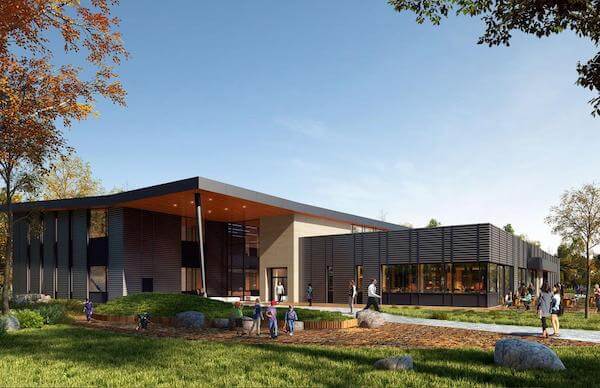 3D Rendering of Innisfil Health Hub Project
Starting from a concept, an architect's project can be seen through a render for the first time.
This exterior rendering of a recreational and wellness center is enticing to clients and customers.
The modern design of this building as rendered catches the eye of its viewers.
With the warm tones of the structure suggest a welcoming visit to this facility.
As seen from the render, the structure showcases a wide floor area.
A structure this spacious can cater to several offices and common areas for social activities and gatherings.
This 3D rendered structure inspires positivity. It gives the clients ideas on how this can be utilized for community wellness and development.
RJ Models utilized human characters enjoying each other's company.
As seen in the render, the structure is close to nature with tended park areas for visitors to enjoy.
Want the best renders for your upcoming projects? Not only hospital model, contact RJ Models and they can deliver photorealistic 3D rendering and visualization for you.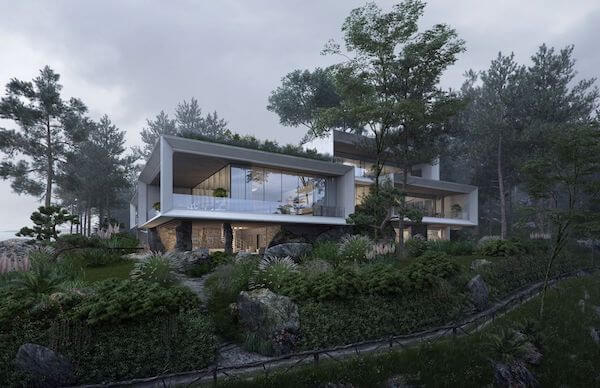 3D Rendering of Mountain View Villa Project
When creating great homes, architects carefully plan every factor needed to be considered.
This HD exterior rendering features a residential home, built around a landscape in the mountainside.
The architect considered the resources in the area such as the large rocks to mold the features of the landscape.
RJ Models achieved photorealism in this render by the use of vegetation like conifer trees, grass, and shrubs.
With the use of powerful 3d rendering software, they were able to give the fine details to these objects.
From a client's point of view, the cloudy weather induces the home as an inviting place to stay warm.
But imagine how this home would look like during the summer being located in the mountainside.
This image gives suggests a vision of a wonderful view of the sunset and sunrise when the weather is clear.
With panoramic windows all around, the surroundings can be viewed on all sides and can be enjoyed by the household.
Want to convince your clients to your wonderful home projects? Message RJ Models and they can provide you the best 3D rendering service you need.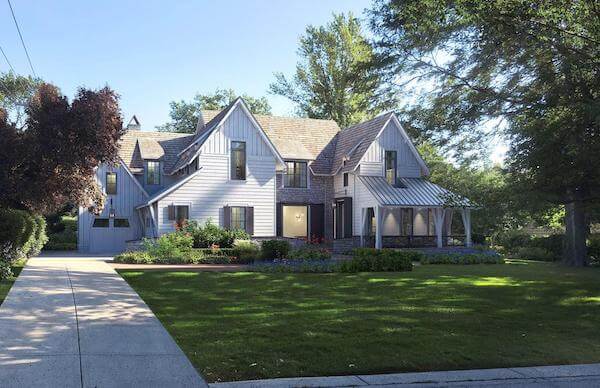 3D Rendering of DG Residence Project
From simple homes to grand mansions, your clients will appreciate seeing their dream houses come true-to-life.
With the help of photorealistic renderings, our services can provide an engaging "visit" to your home projects.
This HD render presents a western-style home in an inviting exterior.
The home has a front porch and a wide lawn, creating a welcoming facade for the occupants and visitors.
RJ Models created this stunning image considering the mini garden and the lawn which are under the homeowner's care.
The architect created this home with a mixed historic style.
The windowed gables, attics and central entry hall comes from different architectural styles.
Familiar and comforting, the overall look of this home is similar to typical American homes we are familiarized with from movies.
It is a simple yet welcoming home for a family.
Want to deliver your clients' dream house? Contact RJ Models and we can provide you and your clients' dream projects through our high-quality renders and villa model.
With over 500 projects being created every year, we thrive on maintaining consistency of delivering high quality architectural visualization projects.
RJ Models has an extensive team of collection more than 30k+ architectural models of all major interior and exterior accessories, lighting in our architectural visualization library, with a high reputation for being specialists within our industry.
Your projects are given full attention and implemented to ensure the highest-quality result whilst complying with tight deadlines by our architectural visualization service team.
RJ Models open 24 hours a day, 7 days a week to serve you in different time zone and regions.
Your projects will be delivered quality results within 3 to 7 business days.
3D Architectural Rendering: The Ultimate FAQ Guide
3D architectural rendering refers to the process of creating a photorealistic image of an object using dedicated computer graphics software.
It is an important artistic technology and often determines the final result.
This guide explains a wide range of elements revolving around 3D architectural rendering.
Essentially, this is fundamental because you find convincing reasons to consider the specific architectural design project.
What Is The Purpose Of 3D Architectural Rendering?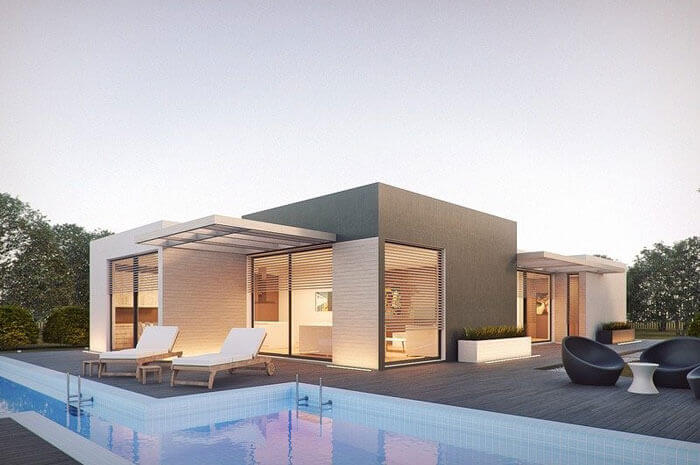 Figure 1 3D Architectural rendering
Ideally, the main purpose of a typical 3D architectural rendering is to give you a vivid picture of what the finished project will look like.
It is created for presentation to clients to understand what the project will look like upon completion.
Professional 3D architectural renders are quite indistinguishable from ordinary photos.
Thus it eliminates the need for waiting until when a project is complete to take its photos.
Of course, this is important since it makes it easy for you to establish whether the project specifications or features meet your demands.
Also, 3D architectural rendering is used for marketing.
Many developers usually go for these elements to showcase the project's practicality to their respective clients or potential investors.
Another purpose of a three-dimension architectural rendering is for design analysis.
In many instances, structural engineers use copies of 3D architectural rendering to evaluate the project's feasibility.
In such instances, they assess numerous aspects regarding the project to establish and correct any possible design flaws before actual construction process.
Essentially, this enhances construction of a suitable project based on different design analysis aspects.
The other purpose of 3D architectural rendering is to enable you to save time, money, and resources.
Contractors and inspectors get 3D visualization of the project hence easily determine several best techniques possible to approach it.
What Is 3D Architectural Rendering Service?
Primarily, a 3D architectural rendering service refers to a commercial service revolving around providing 3D renderings for architectural needs.
In many instances, this service is offered by different professional and accredited companies.
However, you can also find freelance independent technicians with a specialty in providing this service.
What Are The Types Of 3D Architectural Rendering?
Characteristically, 3D architectural renderings are classified into two main types as follows;
By Interior Or Exterior CG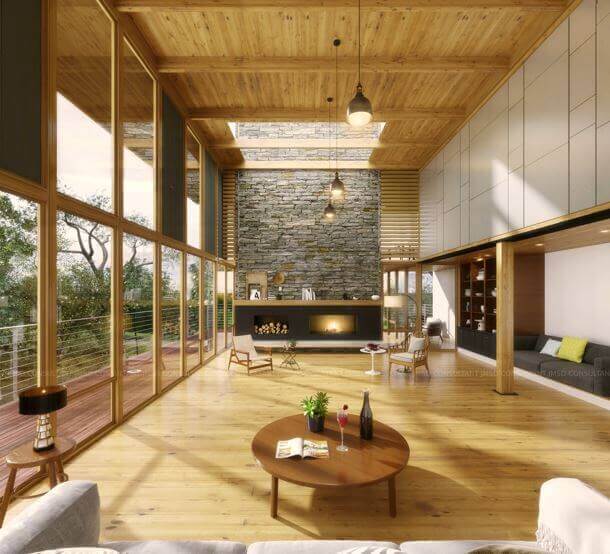 Figure 2 Interior 3D architectural rendering
Exterior 3D architectural renders enable the architect to demonstrate an infrastructure to you from any angle.
You can see it from an aerial view, close-up view, or a street view.
Thus, it becomes easy for you to determine how the proposed building fits into the surroundings.
It also gives you an idea of how it can appear if done using different materials among other things.
Interior 3D architectural renders showcase the inside of the building.
These renders demonstrate space of any architectural object, whether residential or commercial, in photorealistic quality.
The interior 3D architectural renders are ideal for showcasing furniture, materials, lighting schemes, planning, and décor.
In essence, all these aspects convey the atmosphere of a place, making it easy for you to see and feel it too.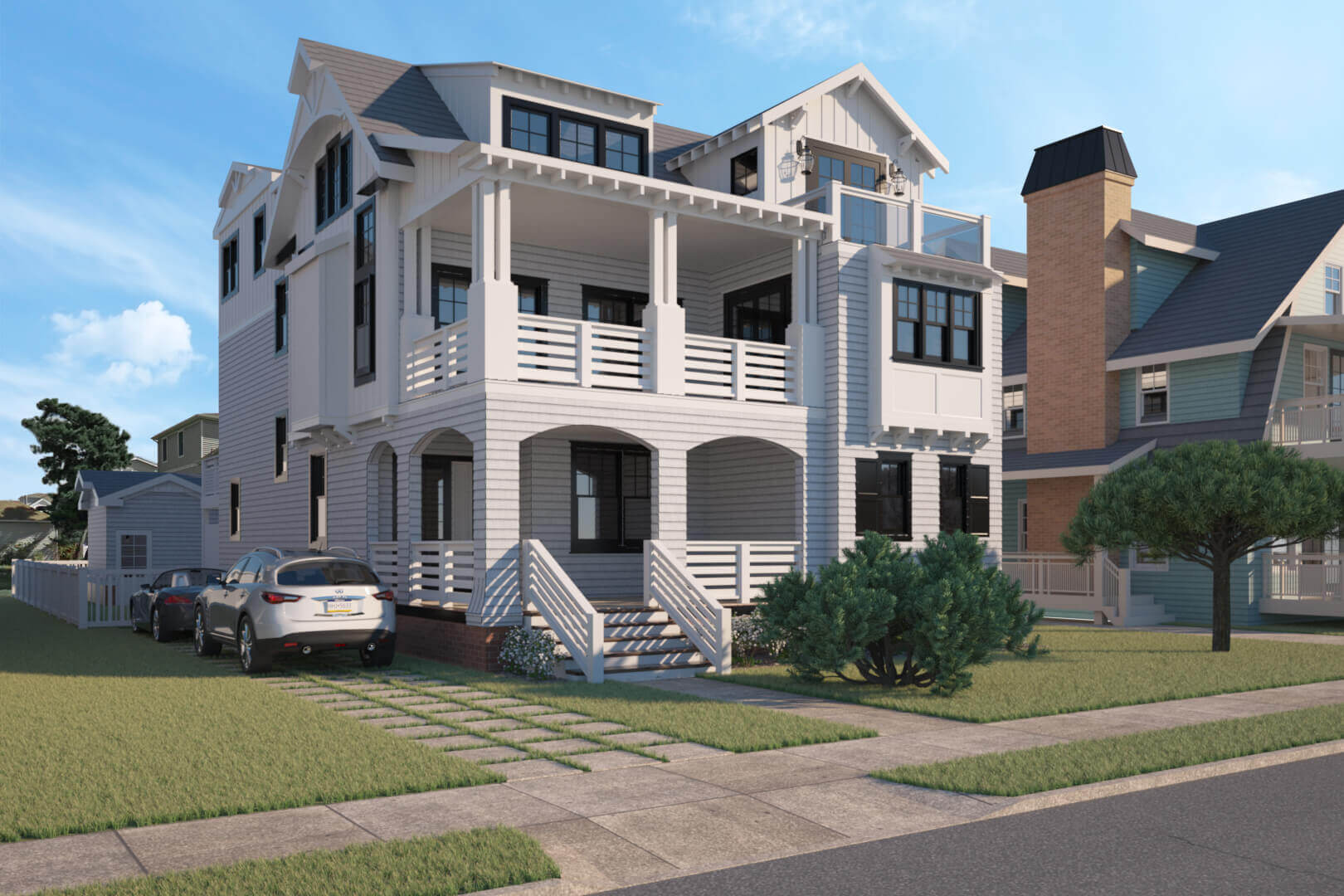 Figure 3 Exterior 3D architectural rendering and visualization
By Type Of Architectural Object
3D architectural renderings are classified into the specific type of building based on its specific features, such as the following;
-Residential – This type of 3D architectural render includes interior and exterior photos of any residential structure.
This include, apartments, townhouse, cottages, and condominiums among others.
In this case, the interior rendering of various rooms has its specifications.
-Commercial – This type of 3D architectural renders are interior and exterior visuals picturing non-residential structures.
Examples here include malls, restaurants, skyscrapers, warehouses, offices, and retails spaces among others.
How Does 3D Architectural Rendering Work?
In essence, any 3D architectural rendering project begins once you contact a studio to formulate a technical assignment.
You also need to submit all the necessary details to facilitate efficient creation of a CG project.
It starts with creating 3D architectural models and choosing the best point for viewing images, and adding lights and shade accordingly.
The artists then select the ideal secondary objects for the scenes, such as decorations based on your requests.
Once everything is in place, photorealistic textures are applied to the 3D models.
Lightings are also tweaked accordingly to generate the renders.
Primarily, images are ready at this point.
Thus, they enter the ultimate phase of the process, which is post-production.
Ideally, this entails making minor improvements like adjusting the contrast, brightness and incorporating special effects.
Once the images are ready, you can ask for revisions if need be.
The number of revisions in many instances depends on the policies of the specific studio you are working with.
Nonetheless, revision is a vital stage in 3D architectural rendering since it allows you to realign all the possible elements to suit your demands.
What Is The Difference Between 3D Architectural Rendering And 3D Architectural Modeling?
Essentially, 3D architectural rendering and modeling related to computer-generated imagery leading to misunderstanding among many people.
Thus, knowing the difference between these two computer-generated techniques is vital.
Intrinsically, it makes communication with your preferred 3D architectural modeling studio cost-effective and productive.
The key differences, in this case, are based on the following grounds;
a) Results
3D architectural modeling results in 3D file and contains a geometric representation of the object.
On the other hand, 3D architectural modeling is artistic representation of modeled objects but presented in form of a still image or animation.
b) Phases
Primarily, 3D architectural rendering and modeling are subsequent stages of CG creation.
In essence, a 3D artist creates a 3D architectural model then rendering process starts where modeling ends.
Thus, it means 3D architectural rendering is a process, which comes after 3D architectural model.
c) Tools
3D architectural modeling and rendering use different tools, software, techniques, and specialization for best results.
Notably, 3D architectural rendering uses more sophisticated and advanced software and programs such as Mental Ray, Corona Renderer, etc.
On the other hand, 3D architectural modeling uses basic software and programs such as 3ds, Maya, Rhino, etc.
d) Modification
It is pretty easy to edit and reuse 3D architectural models.
Thus, it means you can easily use a single model to create different hero shots and lifestyle images with various backgrounds.
In other words, you can create a 3D model once, and it can represent several color varieties and design options.
On the contrary, it is quite difficult to edit a 3D architectural render, particularly the animated one.
e) Uses
Both 3D architectural rendering and modeling are designed for different uses.
For instance, 3D rendering as a service comes in handy when intending to showcase benefits of the product.
3D architectural modeling, on the other hand, is a fast way of attaining different aspects of the objects such as shells, sculptures, etc.
How Long Does It Take To Render 3D Architectural Model?
Mostly, it is dependent on the actual scale of the project.
For instance, a project with relatively small rooms and buildings should take between 1-2 days.
Medium-scaled projects would take an average of 3-4 days.
However, large-scale projects tend to last longer and can take up to about one day to complete.
Even so, it is possible to create an incredible 3D architectural render faster than the aforementioned timelines.
The specific company you choose for these projects determines how fast or slow it can take to have complete results.
Therefore, it would be important to consider several factors when selecting the ideal company to handle your 3D rendering solutions.
For instance, choose a company with a professional team and use powerful hardware and programs to create your 3D renders.
This ensures you get your 3D architectural renders within shortest time possible.
What Is The Cost Of 3D Architectural Rendering?
It depends on a host of variables such as the following;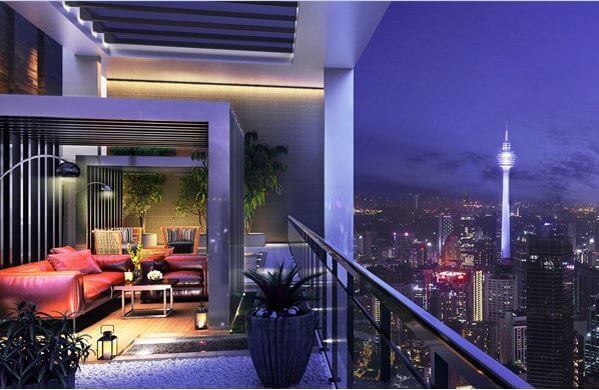 Figure 4 Interior 3D Architectural Rendering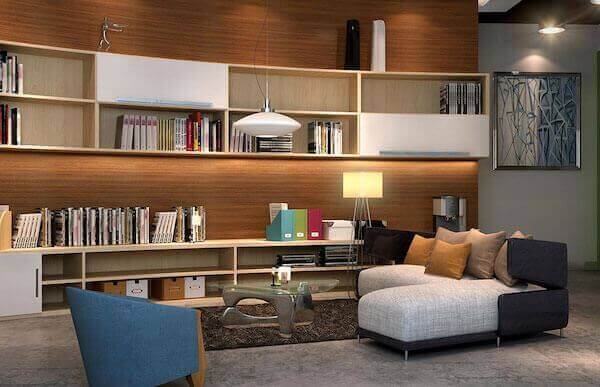 Figure 5 3D Architectural rendering
Urgency
Ordinarily, most 3D rendering companies provide their respective services on a first-come-first-serve basis.
Thus, it means orders are usually queued to follow a laid down order.
However, if you require your project urgently, you will always spend more money.
In such instances, the service providers often dedicate more resources to your project to ensure you get it faster.
Therefore, you'll have to spend more money than you would do for a normal order.
Complexity
Essentially, some 3D architectural renders tend to be more complicated and quite involving.
Of course, such variants tend to be more expensive than simple ones.
The level of details to be incorporated, especially for custom designs, influence the price significantly.
Number Of Revisions
Companies and artists offering 3D architectural rendering services often allow up to a limited number of revisions.
Thus, when you exceed their respective number, you'll need to spend more money than the initial cost.
Process Output
This merely refers to the specific number of views and resolution of the final images.
Of course, the higher the resolution, the costlier the 3D renders.
In general, there is no definite cost for purchasing 3D architectural renders.
It is dependent on a wide range of elements, including the abovementioned ones.
What Is The Best 3D Architectural Rendering Software?
Essentially, professional 3D architectural renders need the use of specialized software.
In most cases, 3D artists use different programs and software in the entire project pipeline.
Ordinarily, different 3D architectural rendering studio has set its specific standards and processes.
Therefore, it could be challenging to point out a specific software as the best for 3D architectural rendering.
As such, 3D artists use software for different projects is determined by the company policies and project goals.
In other words, the most suitable software is dependent on numerous elements, such as the specific phase of the project pipeline.
Nonetheless, the commonly used software for creating 3D renders includes Maya, Rhino, Modo, Revit, 3Ds, Blender, SketchUp, and Cinema among others.
Besides, many 3D rendering artists use several plugins to attain the most quality results.
Some commonly used rendering plugins include V-Ray and Corona Render, which integrate with the popular software.
These plugins facilitate production of stunning images with precise geometry, perfect lighting, and smooth edges.
How Do You Determine Quality Of 3D Architectural Rendering?
You can use several criteria to establish the quality of 3D architectural rendering.
Even so, there are specific universal rules, which work for both interior and exterior images.
One ideal way to determine the quality is by ensuring all the objects loo natural.
In essence, it implies the objects should have accurate geometry, precise size, and high-resolution photorealistic texture.
Coincidentally, slight imperfections are what make the images appear realistic since there are no perfect objects in the world.
A second technique of determining quality of 3D architectural render is by ensuring the lights and shadows look realistic.
Excessively bright or dark images should never have any spots.
Additionally, the object's appearance should correlate with the placement and settings of light sources.
It implies some surfaces will absorb light, others reflect, whereas some transmit it like in a stock photo.
For an exterior 3D architectural rendering, quality ensures the primary object of the image dominates the space visually.
This means the 3D render background should only complement it and not necessarily compete with it.
Besides, the angles and views should hardly be distorted since this makes the objects appear disproportionate.
Furthermore, 3D scenes must also be consistent down to the least possible details.
For interior 3D architectural rendering quality, ensure there is no intersection of geometric objects.
Also, none of the interior elements should float in the air.
Quality 3D renders also pays attention to the furniture and décor within the scene.
What Are The Techniques Used For 3D Architectural Rendering?
You can use different methods in creating 3D architectural rendering.
However, the main techniques include the following;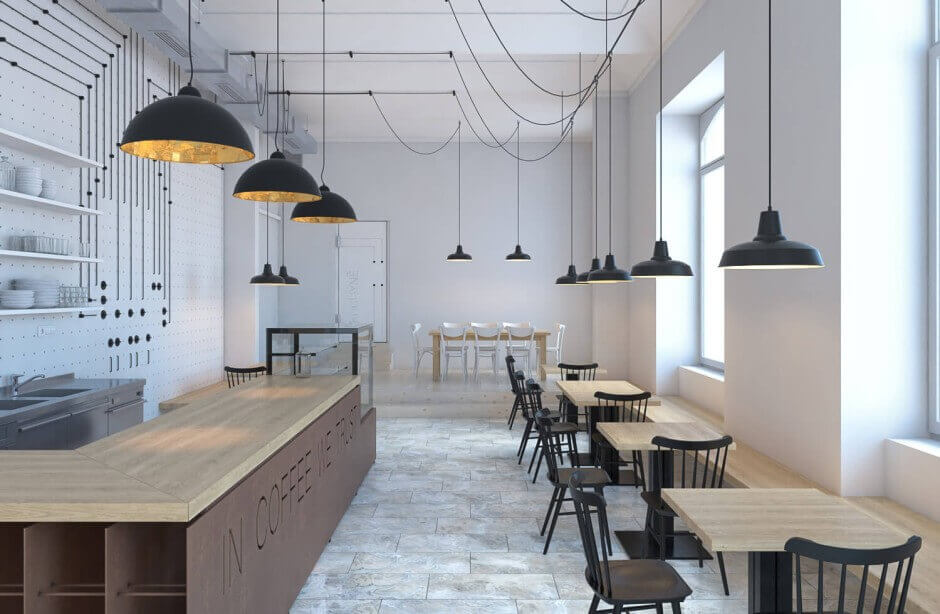 Figure 6 3D Architectural rendering
Ray Tracing
It is relatively an easy way to render different 3D architectural designs.
This method traces natural light either through reflection or refraction of materials available in a 3D scene.
Ideally, this technique computes each color algorithmically and attains more photorealism than many techniques.
However, it is a bit slow; hence can be irritating and inconvenient.
Scanline
It is the best 3D architectural rendering technique to consider in instances where time is of concern.
This method offers real-time rendering based on a polygon by polygon basis in 3D modeling rather than rendering using pixel by pixel.
Scanline rendering technology allows you to easily attain possible speeds of 60 frames per second when integrated with pre-computed lighting.
Ray Casting
This is an ideal 3D rendering technique for projects, which hardly requires exhibiting many details.
It renders a project using geometry of pixel by pixel and line by line.
Primarily, its use entails real-time simulation of 3D modeling.
However, it rarely attains better performance in the computational phase for best results.
What Information Is Required For 3D Architectural Rendering?
Essentially, it depends on the nature of your project.
However, it is recommended to provide as much information as possible.
The fundamental details you should provide include the following;
Drawings or sketches of the object you need renders for
Specifications of furniture, lighting, plumbing fixtures, etc.
Information about materials
CAD files or 3D models where applicable
Your instructions
Any information you find ideal for making 3D architectural renderings
How Many 3D Architectural Rendering Revisions Are You Entitled To?
It depends on the specific company you are dealing with.
In many instances, different studios have policies guiding revision concerns.
Some companies offer up to 10 revisions for minor adjustments for each project.
On the other hand, some offer up to 2-3 free revisions for major editing if you request within 30 working days after providing the first task.
But in many instances, you will be charged for any subsequent revisions after the third one depending on the nature of task and extent of modification.
Thus, the number of revisions you are entitled to depend entirely on the 3D architectural company you are dealing with.
What Is The Ideal Size Of 3D Architectural Renders?
It depends on your preference and the size of the project.
Ordinarily, standard 3D architectural renderings are sized to print on 8.5" by 11" or use on the web.
However, anything large is regarded as a large format 3D rendering and, in most instances, often requires additional charges.
Nonetheless, you can also get a 3D architectural rendering on a billboard of 4' by 8'.
Besides, you can get it in a poster of 24" by 36".
In other words, renders are available in a wide range of sizes.
Thus, the ideal size is dependent on what suits your specific requirements and preference.
What Is The Best Format For Providing Files For 3D Architectural Rendering?
You can submit your files in a wide range of formats.
Ideally, most 3D architectural rendering companies use several software and programs, which are compatible with different file formats.
It is advisable to provide drawings in different formats such as .dxf, .pdf, .ai, .dwg, among others.
You can also provide them in raster formats, which include .bmp, .tiff, .jpg, .tga, etc.
For sketches, you can provide them in .pdf and raster formats too.
Can You Alter Details During 3D Architectural Rendering?
It is possible but quite challenging, especially for an animated copy.
Technically still, 3D architectural rendering are only editable at a particular phase.
For animated 3D architectural rendering, it becomes difficult to modify or edit once the final product is complete.
Thus, in many instances, you'll need to get a new task rather than editing a complete 3D architectural rendering.
What Are The Common Industries Using 3D Architectural Rendering?
3D architectural renderings have been instrumental in enhancing several industries in the past several years.
Some of these industries include the following;
Real Estate
Real estate companies are usually entrenched in keeping up with the ever-changing competition dynamics.
3D renderings offer the necessary sophistication for transforming this industry for the better.
Marketing And Advertising
Nowadays, it is easier to use a 3D architectural rendering to pitch to your clients and potential investors.
It is efficient since the prospective clients will be arguing from an element they can easily visualize.
Interior Design Industry
Traditionally, interior designers used drawings and sketches to articulate their vision, which was unable to capture their ideas fully.
3D architecture renderings provide an epic view making it easy to implement precisely accordingly.
Architecture
Conventional architectural practices involving pens, watercolor brushes, and physical models are becoming obsolete.
3D renderings give an accurate and better concept of the architecture. And this is important because it enables it to sell easily and obtain the relevant licenses.
What Are The Benefits Of 3D Architectural Rendering?
3D renders are beneficial in architectural field thus a worthwhile investment to consider.
Some of these benefits include the following;
Allows You To Visualize Future Projects And Changes
3D renders allow exploring various options without necessarily investing in props, travel, interior designers, photographers, and furniture.
It Streamlines Marketing And Branding
It offers a unique capacity to maintain consistency in branding and marketing over time.
Essentially, you do not need to hire a photographer, lighting specialist, designer, etc., for an ongoing series of expensive photographs.
Instead, you just seek services of a 3D artist to do it all in-house.
Enhances Communication
3D architectural renders enable your customers to understand different details and aspects of the project.
A high-quality 3D render solves communication issues by giving stakeholders a stunning 3D visualization facilitating a better understanding of complex projects.
Guarantees Stunning Accuracy And Precise Measurements
3D renderings give you control over the resulting imagery it offers.
Thus, they render precision measurements within the rendering itself.
What Types Of Structures Can You Render Using 3D Architectural Rendering?
You can render a wide range of structures using 3D architectural rendering, which includes but is not limited to the following;
Resorts and clubs
Office spaces
Landscapes
Hotels and restaurants
Shopping centers
Residential apartments
Family homes
Villas and condos
Schools and colleges
What Are The Myths About 3D Architectural Rendering?
Often, critics argue that if 3D architectural renders are pretty significant and useful, they should become the standard in architectural industry.
Ideally, many specialists that have worked in different ways in the past decades are skeptical about adopting this technology.
Unfortunately, the skepticism is gradually turning into myths about 3D architectural rendering.
The most common myth about this technology is that it lacks customer involvement in the design process.
In the end, this myth suggests the technology leads to unhappy customers.
However, this is not necessarily true because this technology fully involves the client.
You can easily tell whether you like the design or not.
Besides, you, as the client, understand the architect's vision better and feel confident to take part in the process.
While at it, you can easily suggest changes you want; hence the technology allows both parties to come to a comprehensive shared understanding.
What Is The Future Of 3D Architectural Rendering?
Essentially, the future of 3D architectural rendering seems brighter, particularly with 3D printing and virtual reality becoming the main thing.
Albeit be a young technology in the industry, it is set to alter the ways people interact with 3D architectural renders.
Moreover, the arrival of 3D printing is making a significant impact on 3D rendering.
What Are The Shortcomings Of 3D Architectural Rending?
The main drawback of 3D architectural rendering is the initial upfront time commitment. It comes with responsibilities; hence can take numerous weeks or months to perfectly actualize.
Secondly, this technology also lacks proper standardization. Thus, it leads to imitations from various quarters, which quickly generate copyright issues.
For all your 3D architectural rending, contact us today.
Trusted By The Finest

Contact

RJ Models

& Start Making You the Top
Our vision is making the top quality 3d architectural rendering to everywhere in the globe.