Amazing Architectural Model Making Projects in  New York City (NYC) by RJ Models
Introduction of RJ Models:
New York has been voted as one of the greatest city in the world.
The city is the location to Broadway, a major entertainment center; and Wall Street, the world's leading financial district.
The big apple's real estate is one of the most expensive, making it the home of most billionaires.
It is aptly so that they equally have great architectural model makers in the city, hence, RJ Models.
The city is host to an innovative and diverse culture, which is displayed on their architecture.
RJ Models fill the gaps in this diversity by creating miniature architectural masterpieces that everyone is able to grasp and appreciate.
An architectural scale model must possess all the given qualities as the designer envisioned.
It must act as an effective tool so the concepts of proposed and completed projects are conveyed seamlessly.
And our model making company in New York (NYC) does just that and more.
So famous are the landmarks here, some scale models of which are entrusted for RJ Models to fulfill.
It only entails that our architectural model makers in New York provide clients with unmatched professional service known worldwide.
One World Trade Center Scale Model by SOM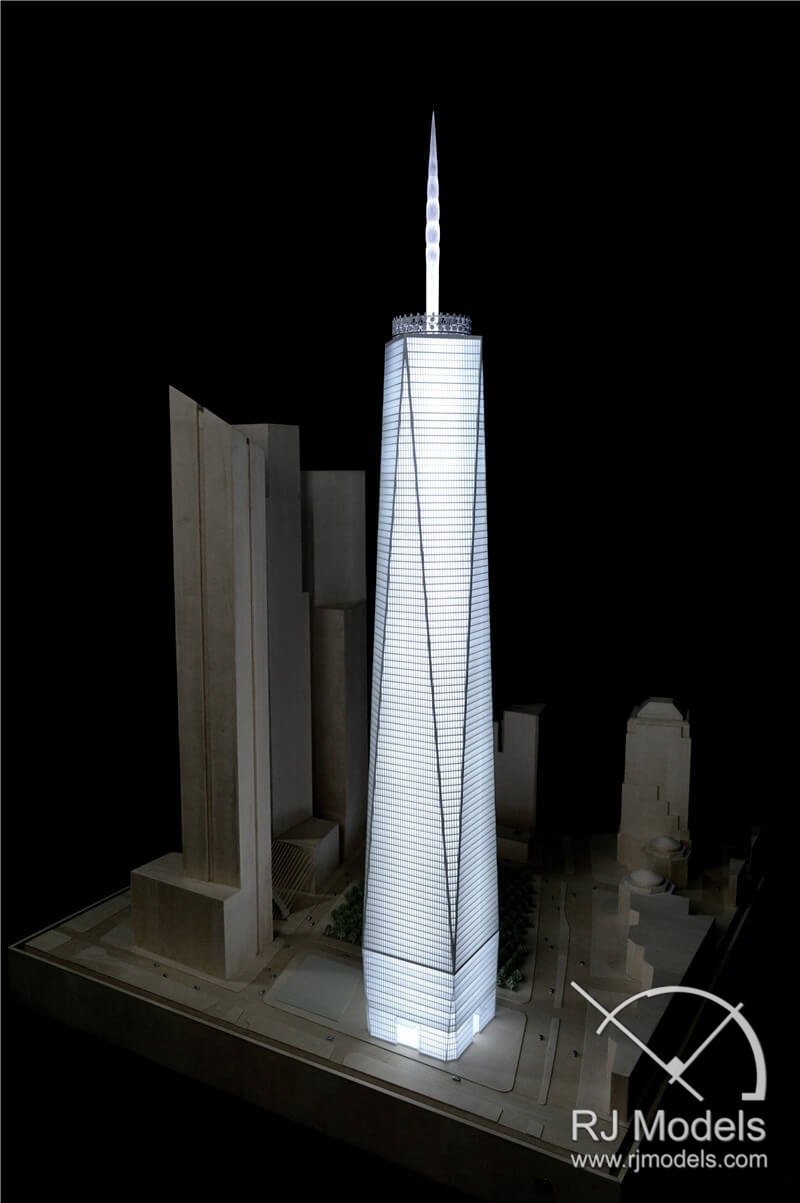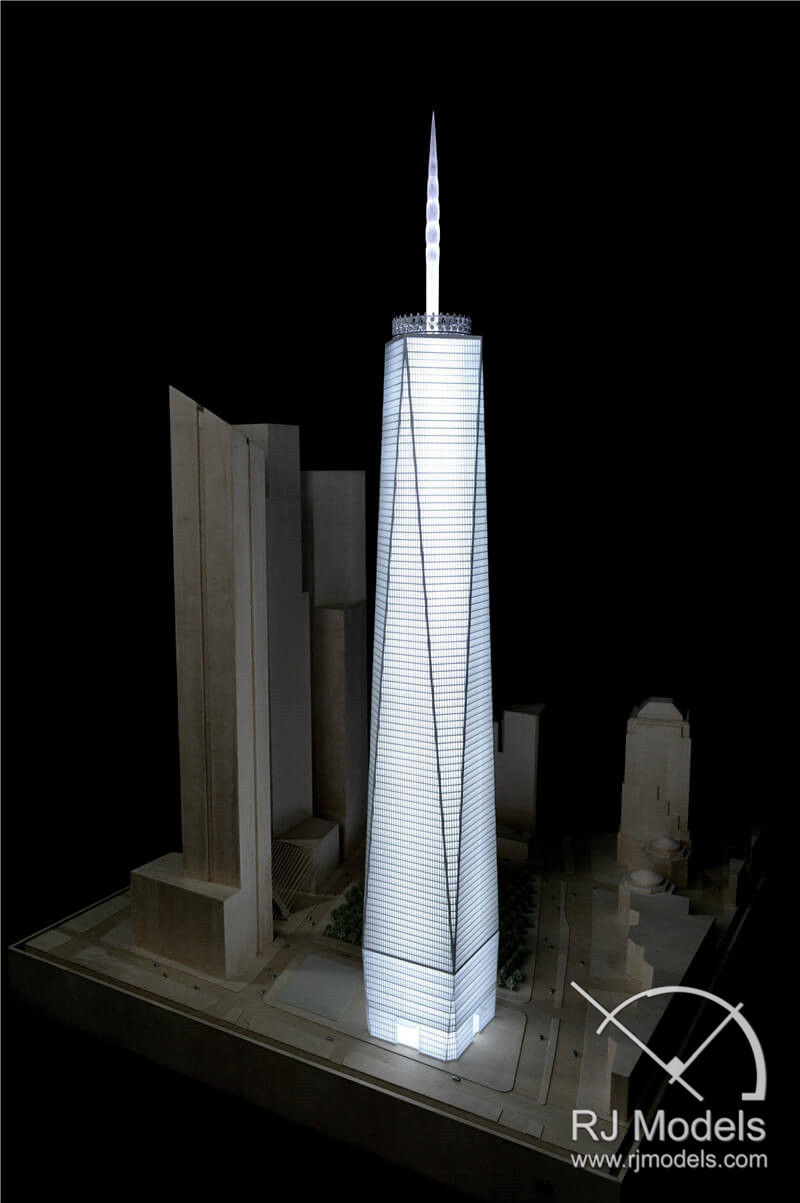 Scale: 1:500                                Size: 800mm x 800mm                              Production Time : 2 Weeks
The unfortunate event of  9/11 never stopped the World Trade Center to rise and soar to new heights again.
RJ Models brings to the forefront its exceptional workmanship into one of the most iconic skyscrapers in history.
The new One World Trade Center tower traces its design from the vestige of the original twin towers.
It still presents a traditional and simple form consisting of steel and glass curtain wall construction.
Nevertheless, the designers of the new tower managed to tweak the final design into something extraordinary.
It has a chamfered cubic base and topped with eight tall triangles forming an elongated square antiprism.
An interesting feature is that the tower forms a perfect octagon around the middle part.
The sculpted mast design along with the broadcasting antenna on top was a collaboration of SOM, renowned artists and engineers.
It follows that model makers from our company in New York City made sure exact specifications are met to achieve these.
The tower office model is presented with amassing of adjacent structures and roads to accomplish full visualization of the site.
Hearst Tower Building Model by Foster + Partners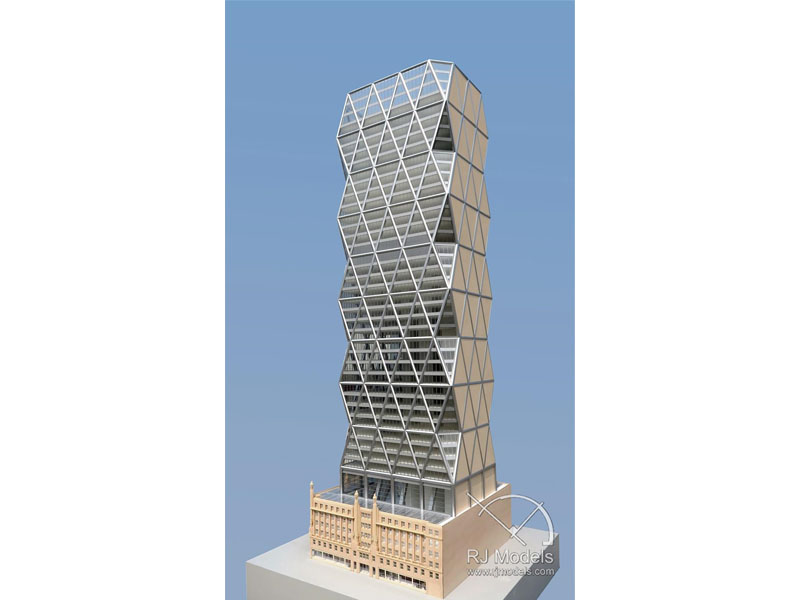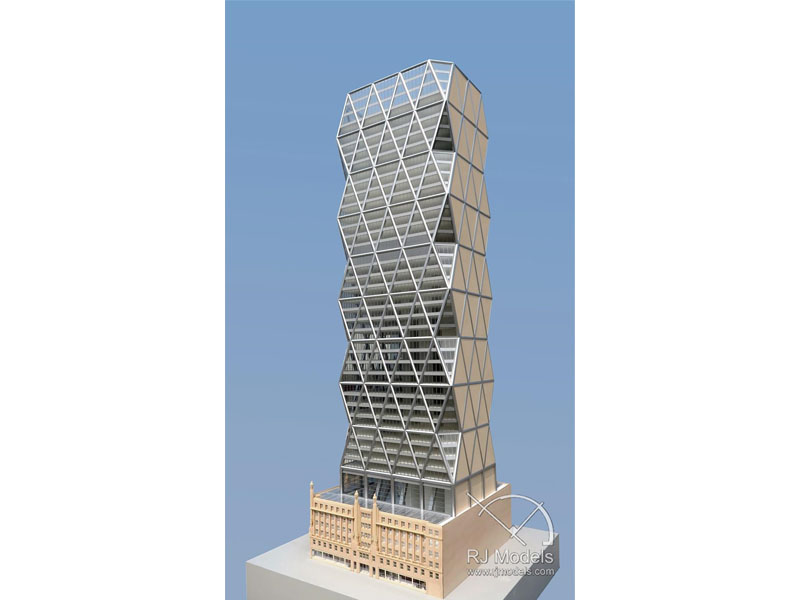 Scale: 1:150                                Size: 600mm x 465mm                              Production Time : 4 Weeks
Located in Midtown Manhattan, the Hearst Tower is the headquarters of the world's biggest print media conglomerate.
RJ models produced this sublime mix of classic and modern tower building model within a span of four weeks.
A six-story podium building characteristic of the circa 1920s was masterfully scaled-down showcasing the cast stone façade.
It comes fully detailed with its major elements like the sculptures, carvings, and pillars of the original design.
The classically styled building served as the base for the tower, which was completed eighty years later.
It surrounds the interestingly modern glass and steel tower designed by architect Lord Norman Foster of Foster + Partners.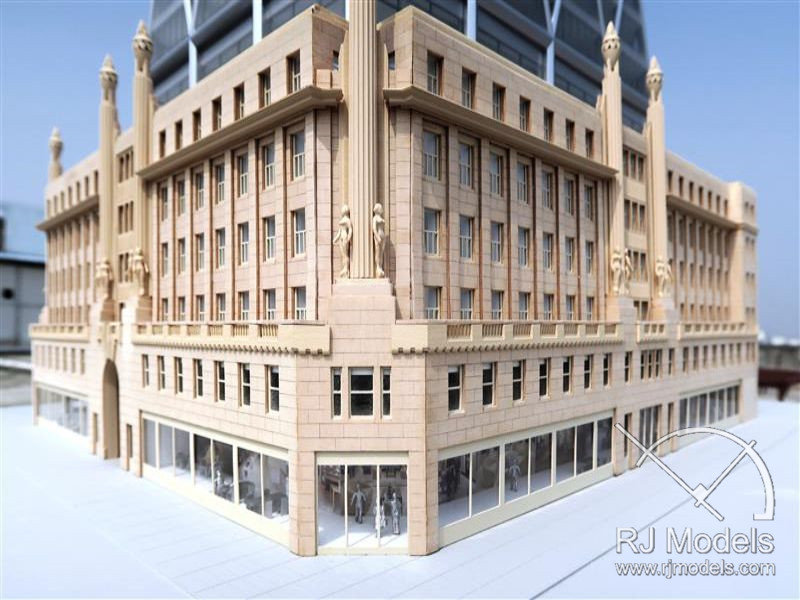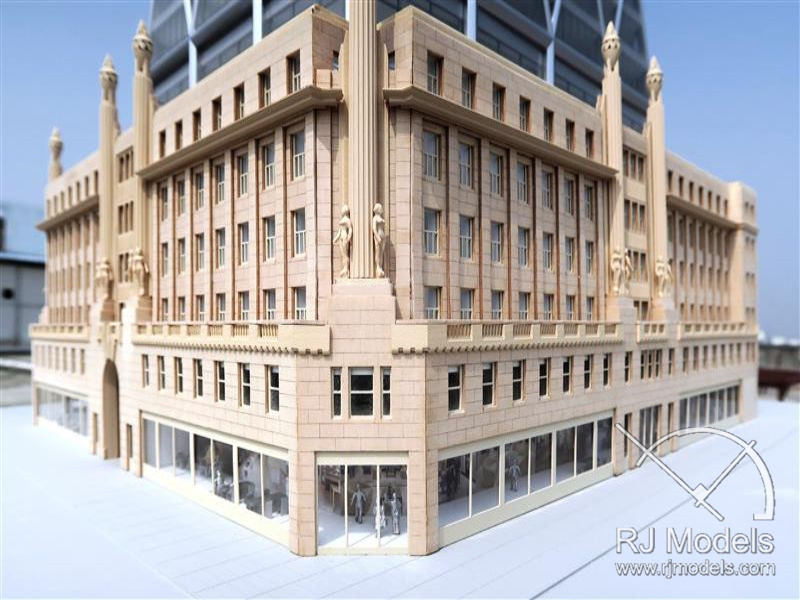 The tower features a symmetrically jagged, 46-story tall diagrid or triangular structural steel framing and curtain wall.
These features were accurately brought to form and perfection by model making experts from RJ Models.
We only select the best material outputs to exactly duplicate each construction detail.
Thereby providing New York City with the true to life craftsmanship our model making company in New York offers.
425 Park Avenue Commercial Building by Foster + Partners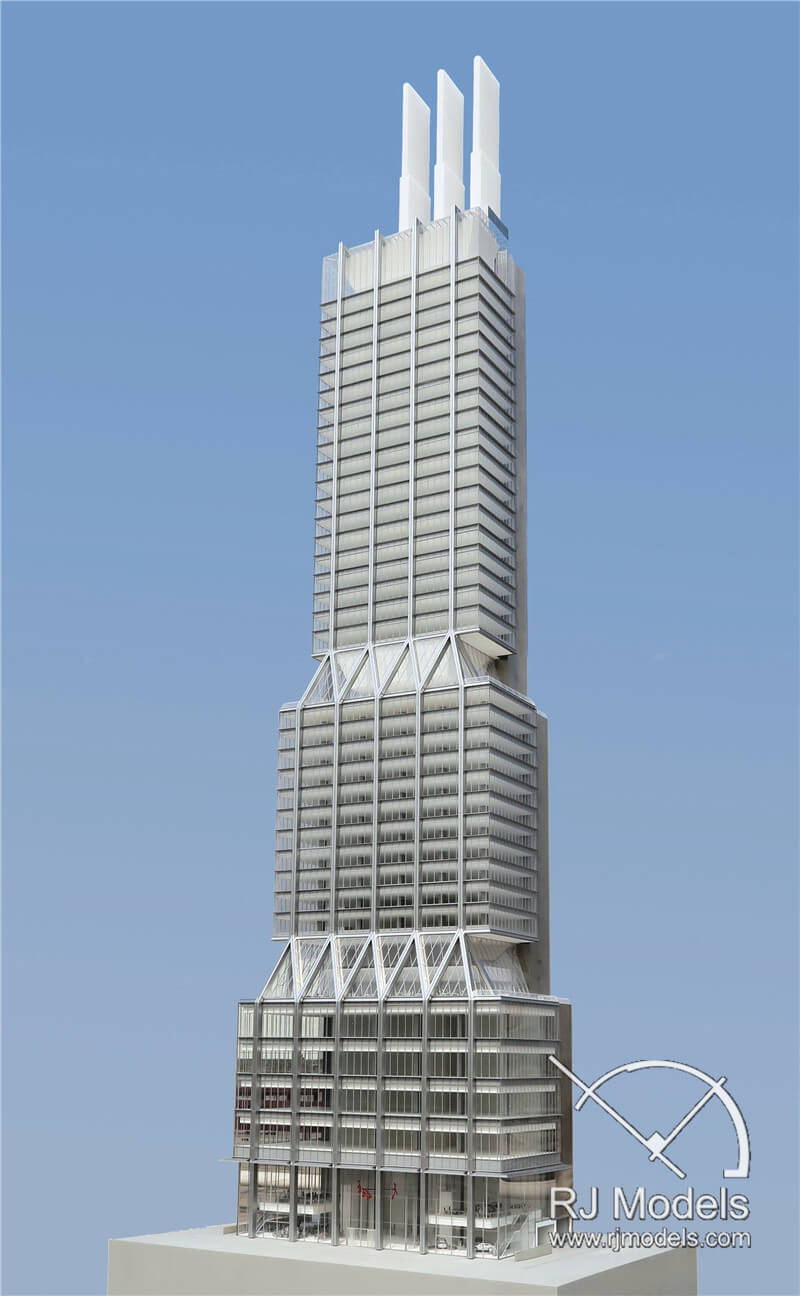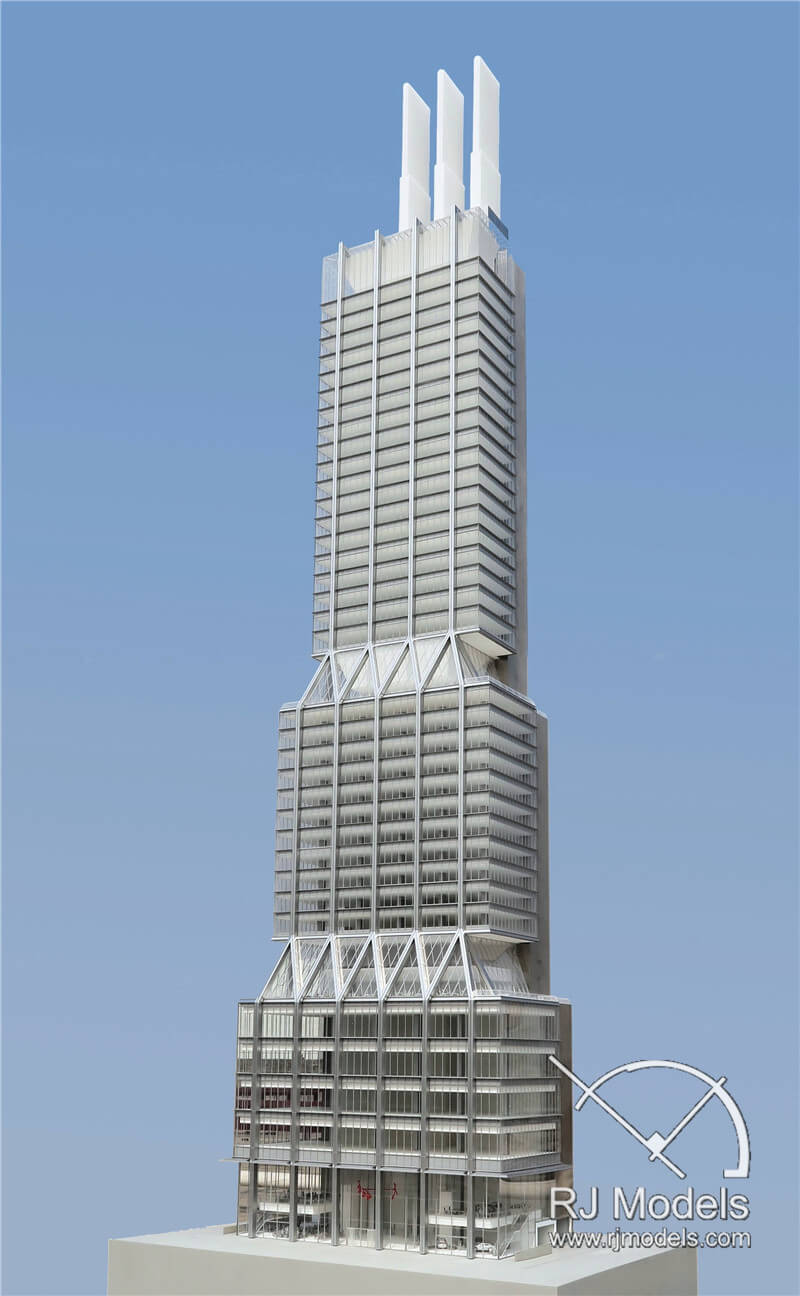 Scale: 1:100                                Size: 50mm x 800mm x 1400mm                         Production Time : 2 Weeks
This winning design by Foster + Partners besting renowned global architects rises 41 stories tall is miniaturized by RJ Models.
Lord Norman Foster's distinct modern design was truly captured in this 1:100 scale 3D model within two weeks' time.
He provided the city, as well as the people who will work in it a timeless landmark office building.
Architectural model makers in New York City fabricated this geometrical structure precisely as it was conceived to be.
The commercial building features a tapered steel frame which is topped by three walls designed to light the city skyline.
The three tiers, extending vertically from low, medium to high rise is proposed to become landscaped terraces.
An elegant façade consistent with the designer's concept was done by meticulous craftsmen from our model making company in New York City.
Providing exemplary model has been our trademark ever since, hence making top firms like Foster + Partners choose us.
Douglas A. Munro Coast Guard Headquarters Building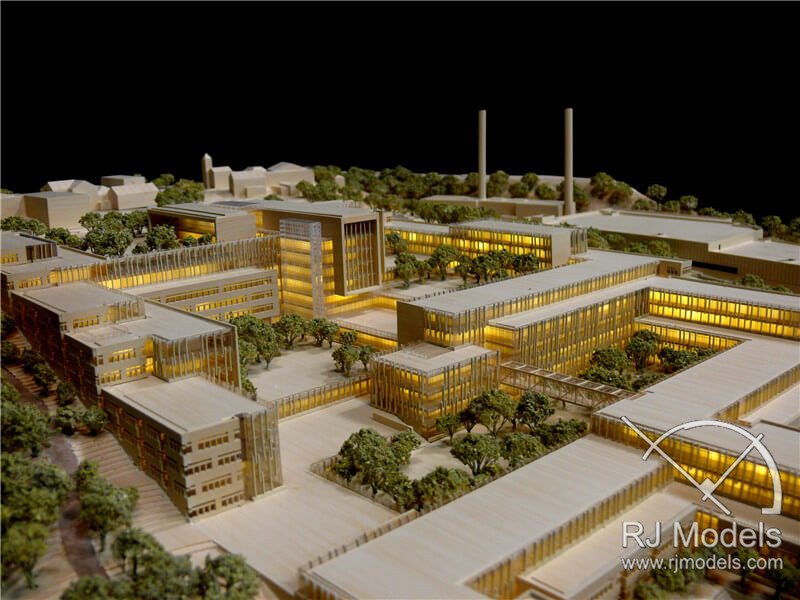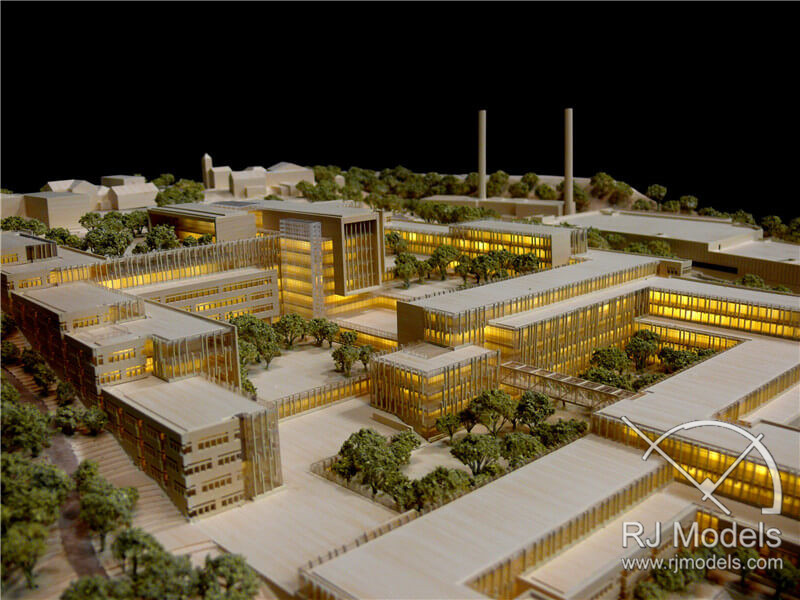 Scale: 1:150                                Size: 1800mm x 1800mm x 1400mm                         Production Time : 3 Weeks
None other than a US government institution entrusted our model making company in New York to make their site model.
The Douglas A. Munro Coast Guard headquarters situated in Washington, D.C.  is really something RJ Models is proud of.
It will house various governmental offices in the country providing coast guard administration and services.
This large model scaled to 1:500 took our model making company in New York just three weeks until completion.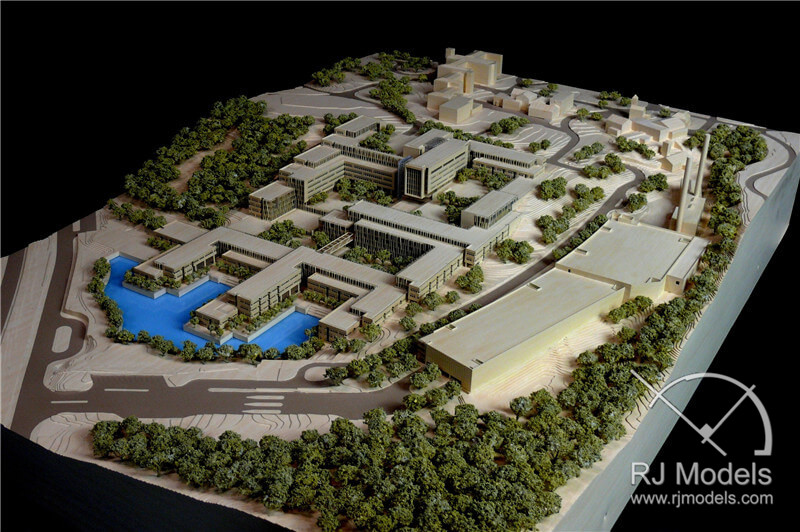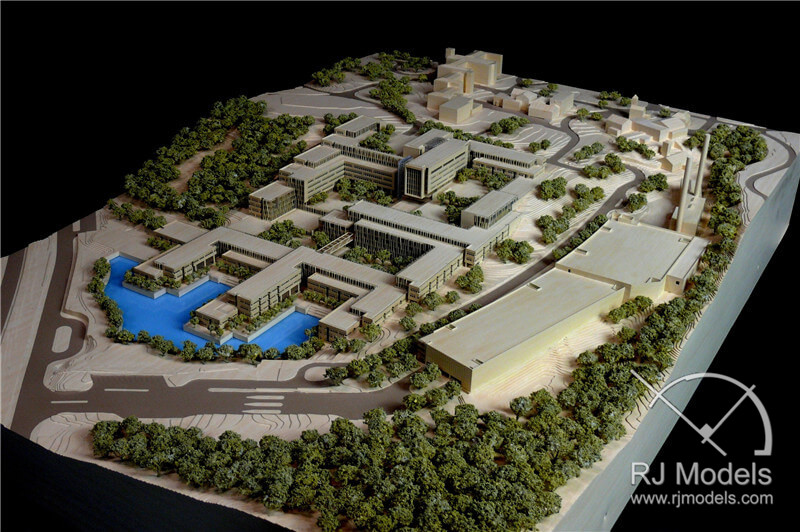 Composed of several multi-story buildings with identical design features creating a uniform look all around the building complex.
Detailed with randomly spaced vertical louver-like accents on each elevation that are highlighted with the incorporation of the lighting system.
The model not only shows the design accuracy, but it also presents the facility in relation to its neighboring structures.
Our team of model makers in New York emphasized the topography of the site.
Sloping land elevations were then littered with a generous number of trees and roadways all around the facility.
The overall result is a representation that is easily grasped with RJ Models' legacy of on-point detailing and modeling.
Ridge Hill Club Interior Model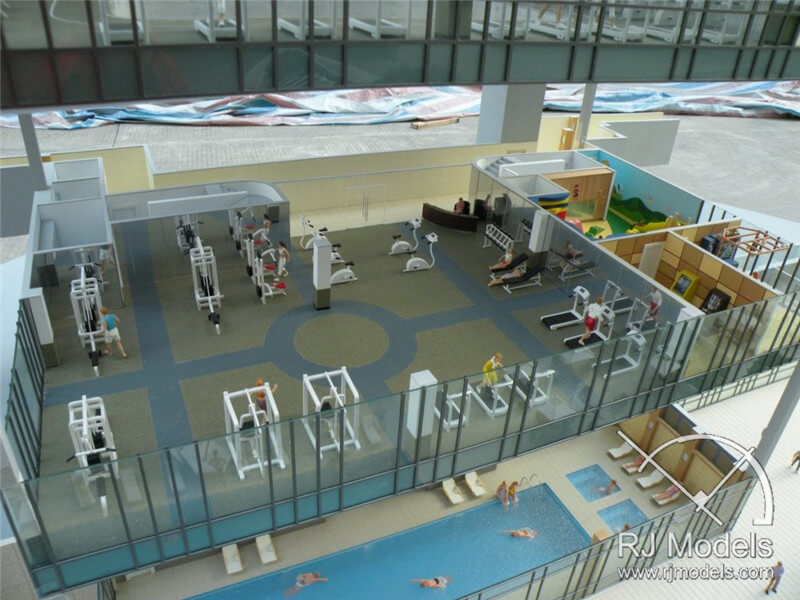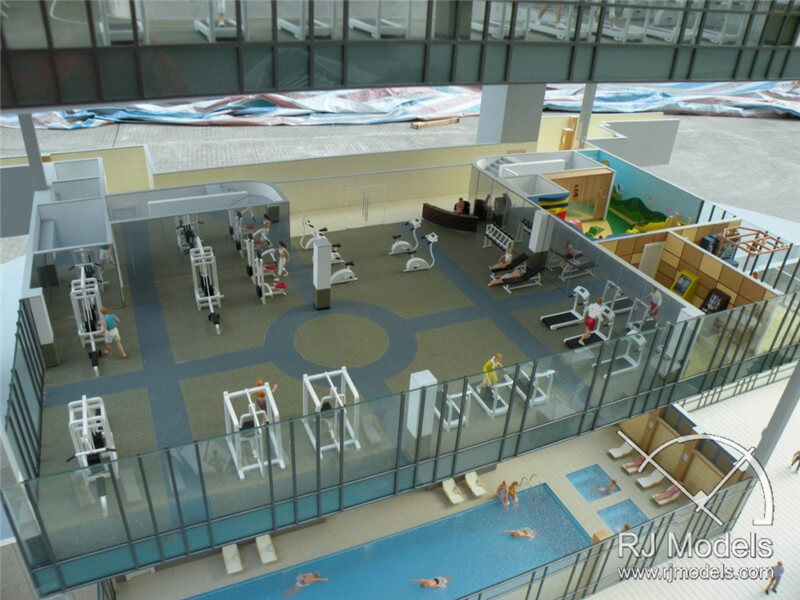 Scale: 1:50                                Size: 1600mm x 1500mm x 30mm                         Production Time : 2 Weeks
RJ Models, the prime architectural model makers in New York creates this in-depth 1:50 model of a club interior.
It was commissioned to display the recreational and commercial facilities for the locals of Ridge Hill in Yonkers, New York.
The Ridge Hill Club caters for a variety of play and well-being activities for children and adults alike.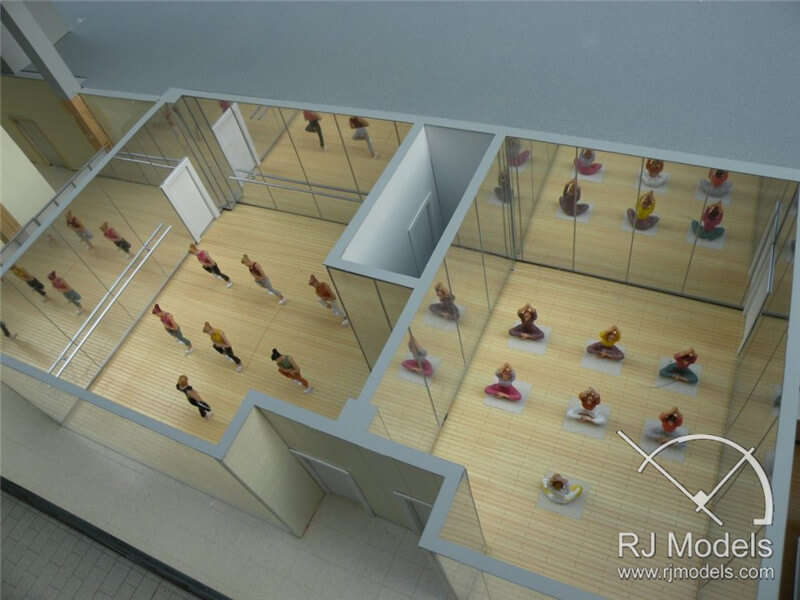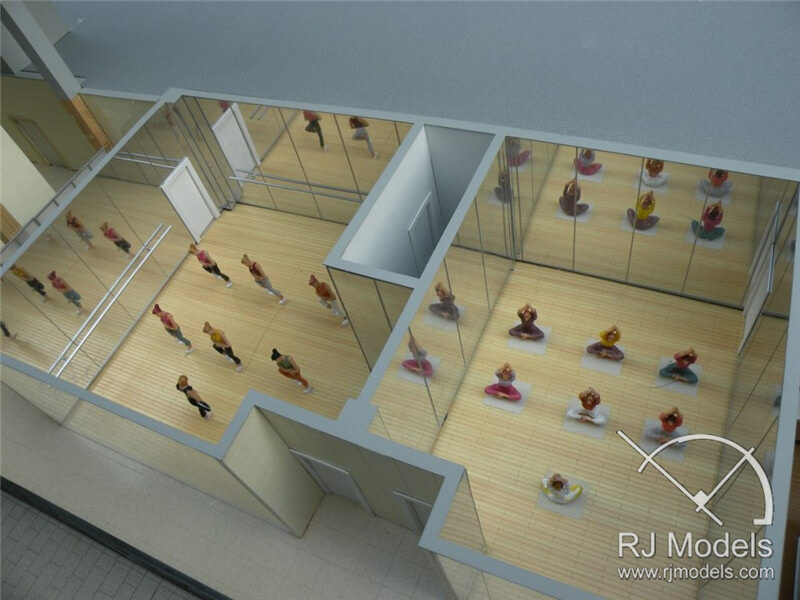 A fitness gym, yoga, and an indoor sports area, as well as bars and restaurants, are available.
They are depicted in the interior scale model to define the spatial relationships between areas.
The bigger scale was preferred to address each section of the multi-level center with the function they are used for.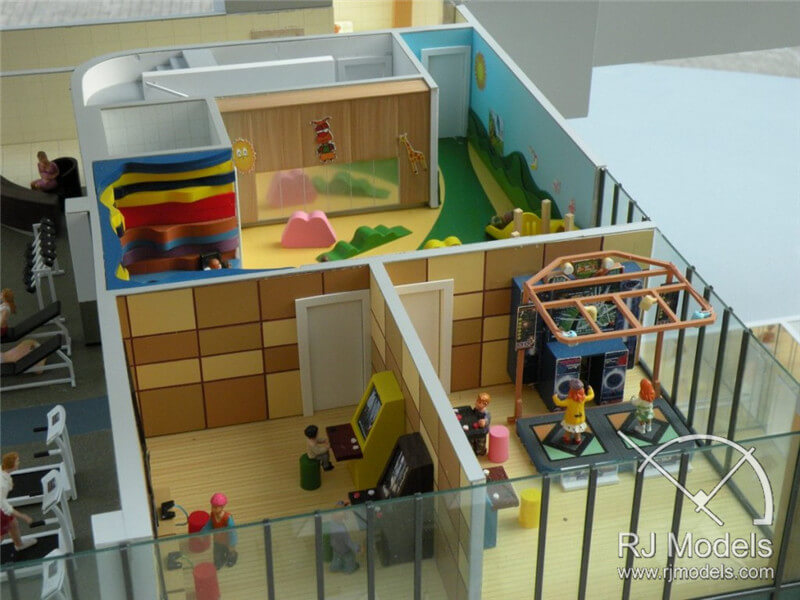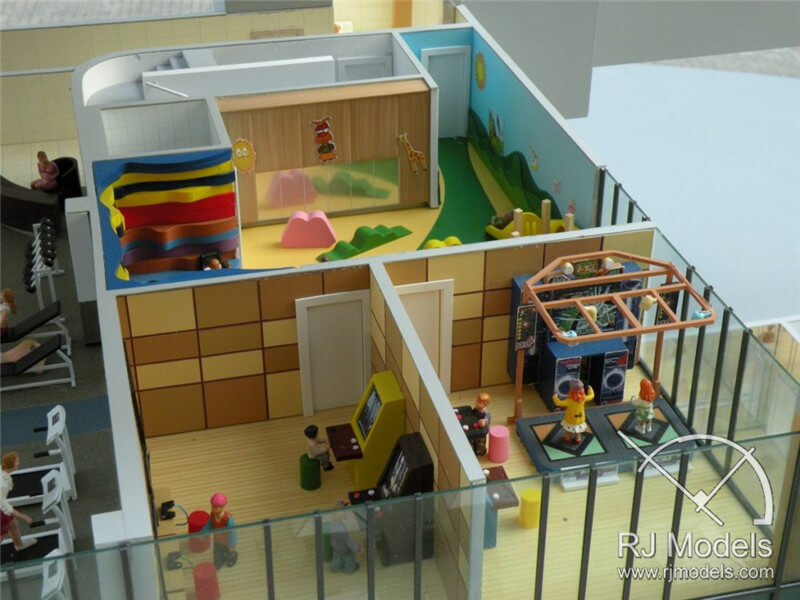 The model-making company in New York used CNC printing to form the equipment and apparatus inside the building model.
One can see how intricately detailed every item in a given section of the model is presented.
Our sure-handed model makers made sure one look can clearly define what each space is all about.
Horace Mann School Model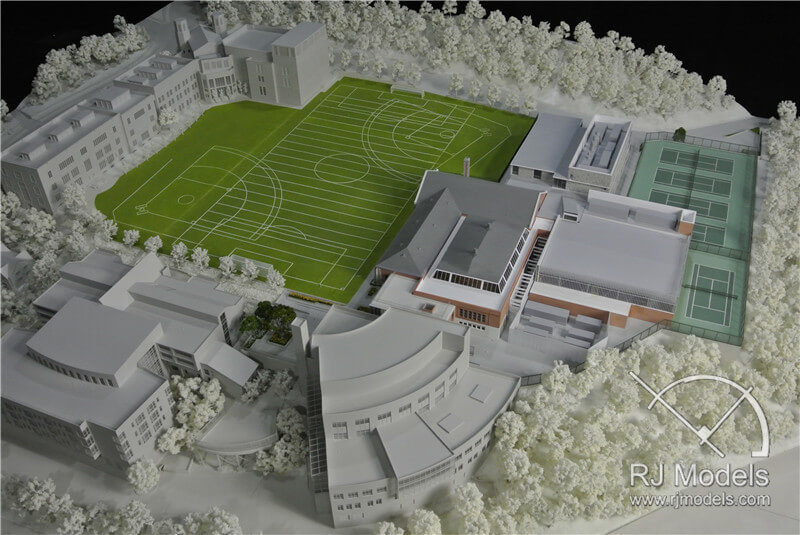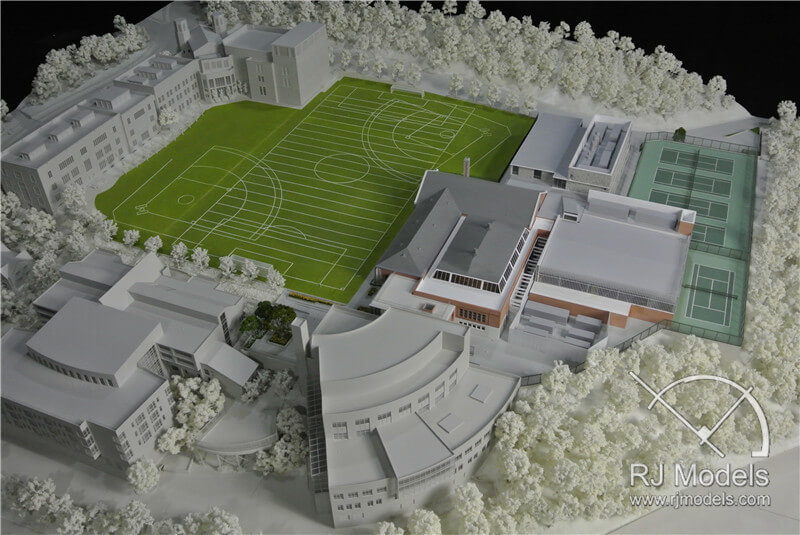 Scale: 1:50                                Size: 1600mm x 1500mm x 1400mm                         Production Time : 2 Weeks
The Horace Mann School in the Bronx, New York commissioned RJ Models for this monochromatic school scale model.
This premier institution caters to students from nursery to twelfth grade, thereby offering complete facilities for every learning level.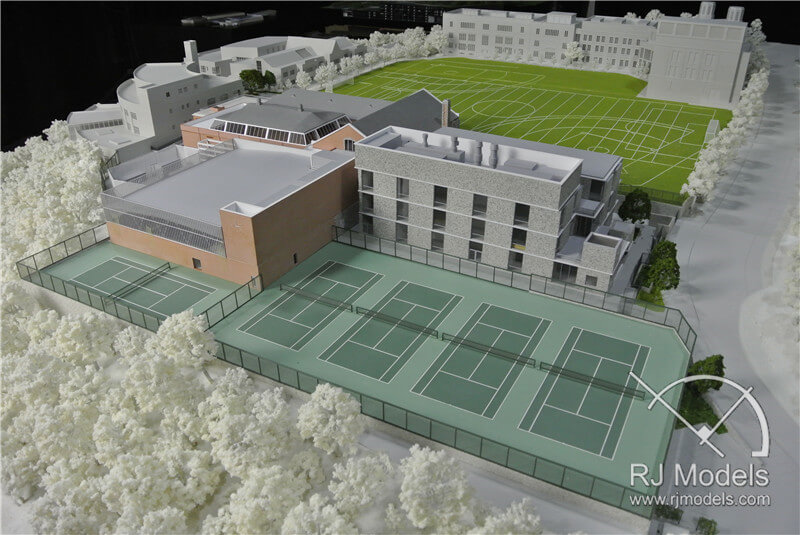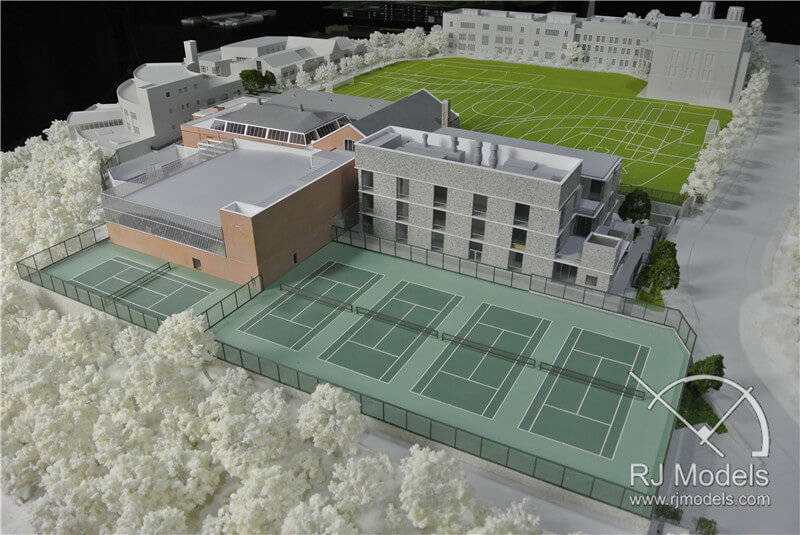 It features the entire site development of the educational facility which is known for promoting a sustainable environment.
Surrounded by white styled model trees are the various school buildings which present the characteristic form of each.
Each building is specifically modeled as the actual one and used specialized technology to craft every facet of the design.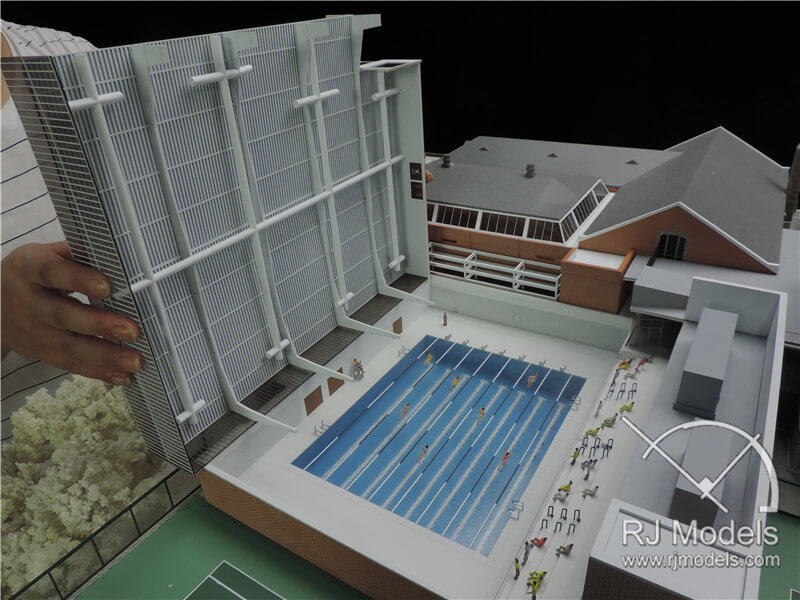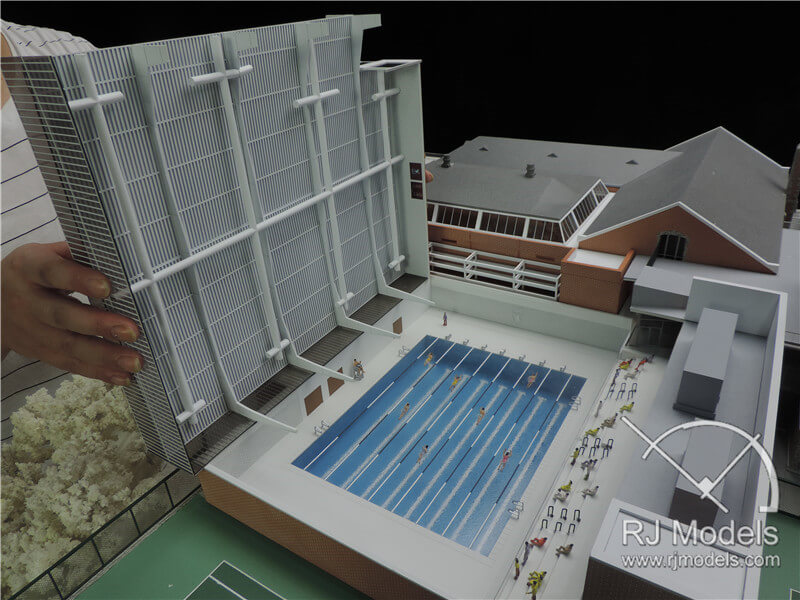 It is complete with campus amenities and a central manicured lawn for outdoor activities or sports.
Accordingly, all these components create an effective visualization of every building's relation to its surroundings as a whole.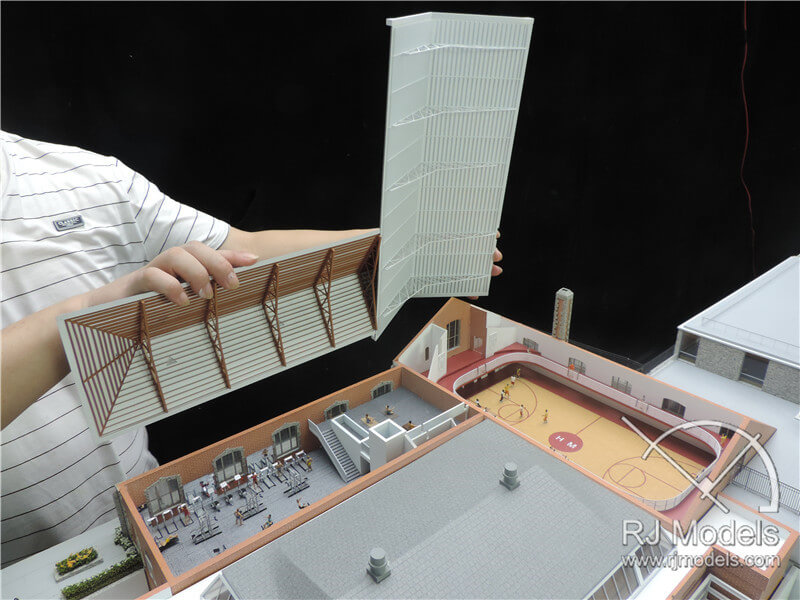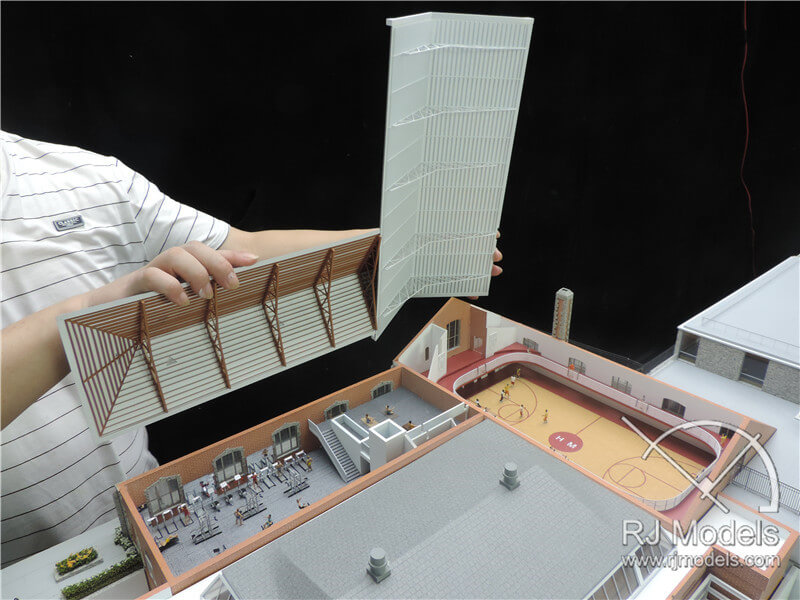 Our model makers in New York highlighted the model with a special LED lighting program and delivered in just a month.
Interestingly, we made the top of the building models detachable so the interior spaces can also be visualized.
The New School University Center Model in New York City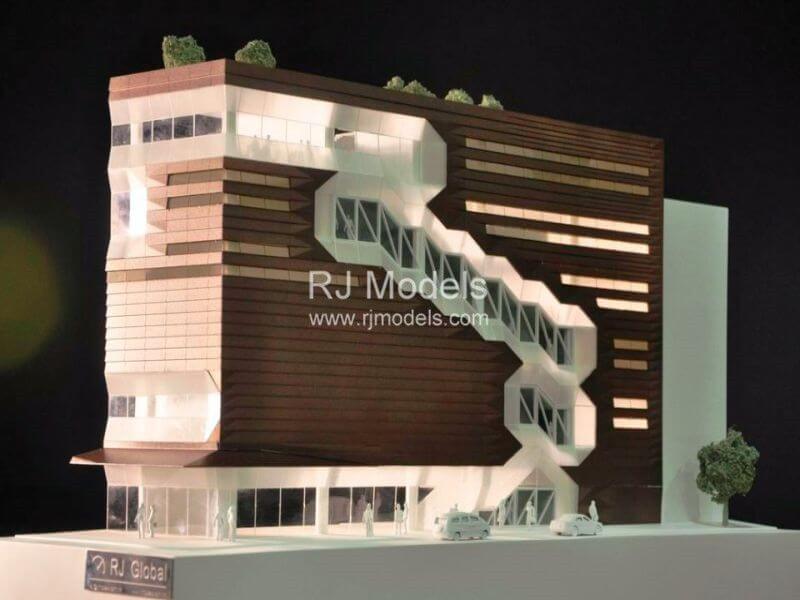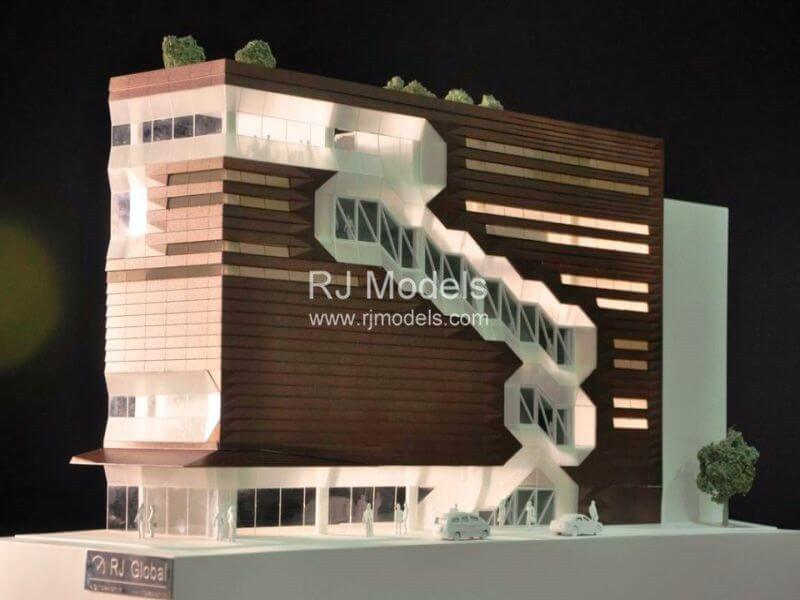 Scale: 1:100                                Size: 1200mm x 1200mm                         Production Time : 2 Weeks
This multipurpose facility of this new school in Manhattan will provide space for a university campus.
Our architectural model makers for NYC features this building with a detailed 1:100 architectural scale model with a removable facade to showcase the interiors.
This development houses 200,000 sq. ft. of academic space in the first to the seventh floor, and 150,000 sq.ft. as a 600-bed capacity dormitory.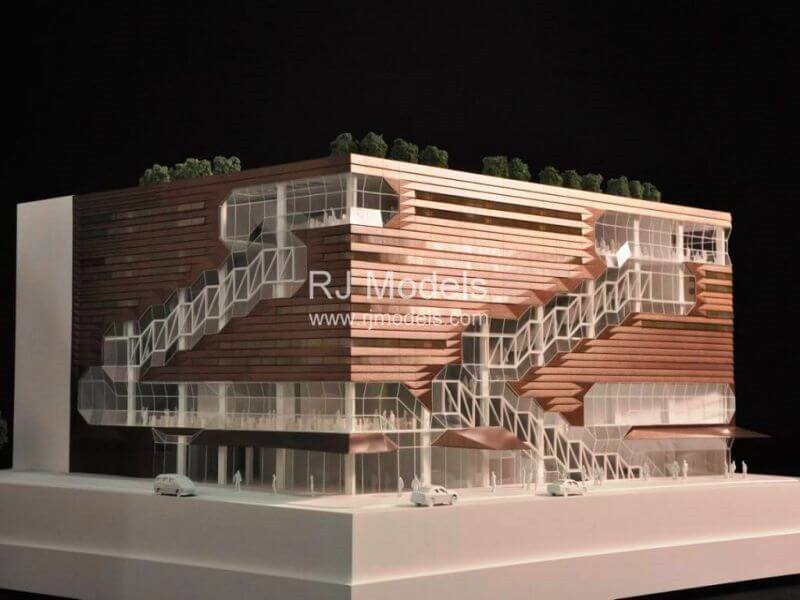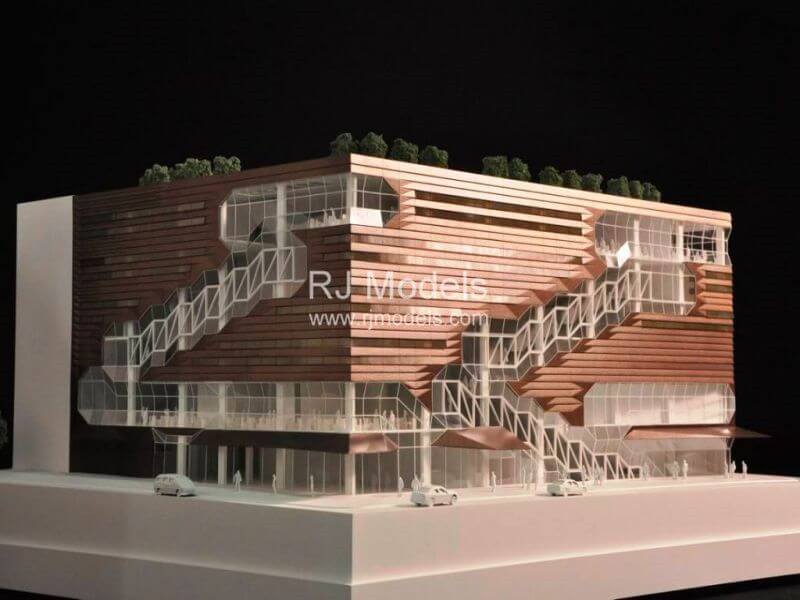 RJ Models used a stacked material method to build up the facade, creating an overall detailed and layered texture.
The unique design of the stairs also brings a distinguishing factor and was also a challenge for the models in creating them.
This development is dispersed with interactive spaces, woven together by the iconic stairs to navigate through them.
In between these spaces, 50,000 sq.ft. worth of space, classrooms, labs, and studios are built.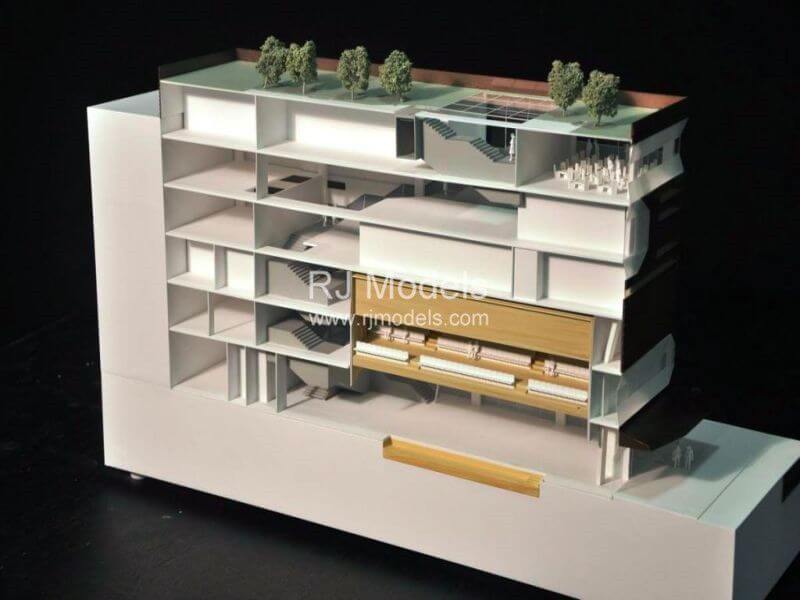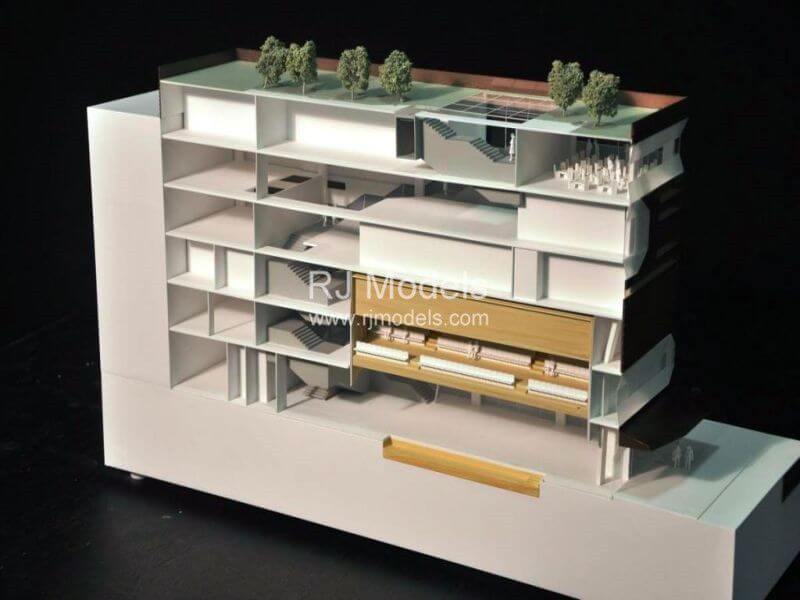 The facility is home to an immense academic program with 19 fashion studios, 12 classrooms, 17 drawing rooms, and seven science laboratories.
The landscape details such as vehicles and pedestrians are colored white instead of the usual realistic colors.
This was done to highlight the style of this development.
Basswood Scale Model for 250 East, 57 Street in New York City by SOM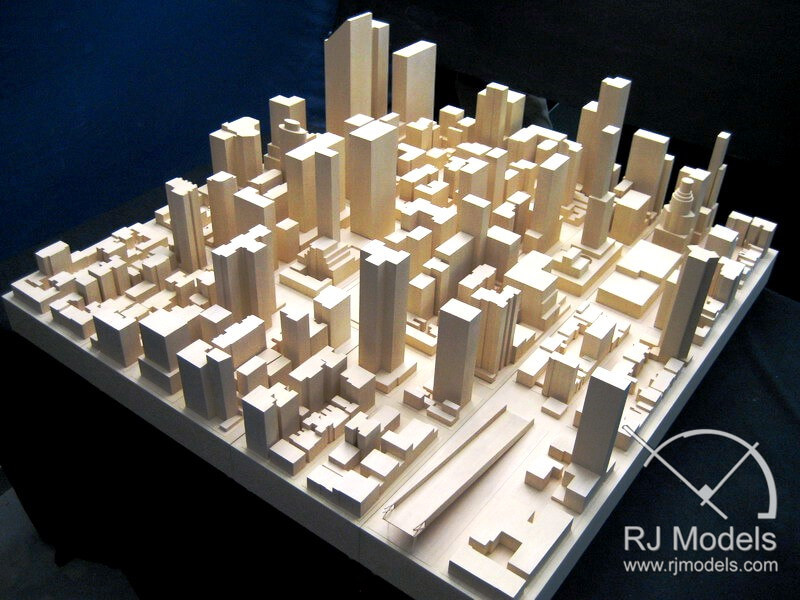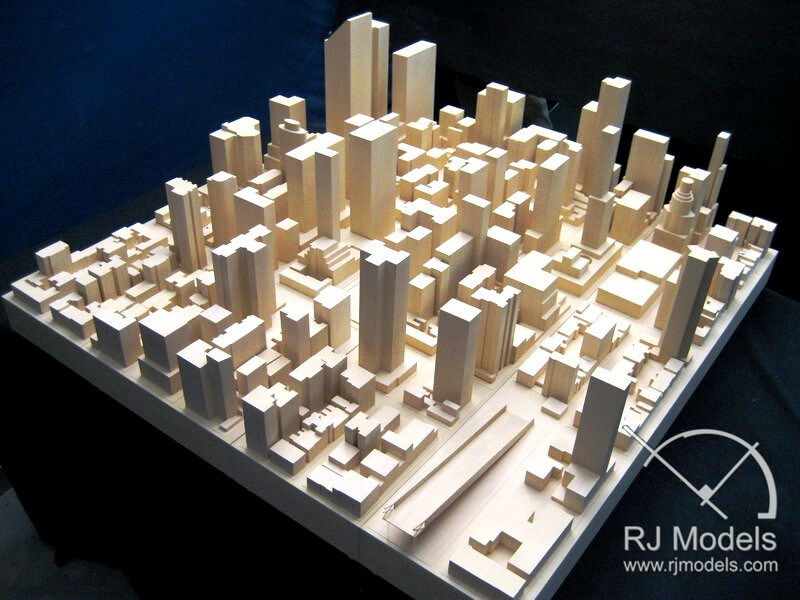 Scale: 1:750                                Size: 1550mm x 1650mm                         Production Time : 2 Weeks
Again, RJ Models was granted the honor to build industry giant SOM's urban plan project scale model.
One of the most accomplished architectural and engineering companies in the world have us as their choice model making company.
This urban model presents the vicinity around two major thoroughfares in New York City.
For this project, our architectural model makers in New York masterfully used basswood as the medium for the model.
Basswood has a fine grain characteristic, sturdy and resists corrosion.
Our model makers laser cut the material to precision by the exact millimeter and finished in less than two weeks.
It is presented as a white styled model just to provide a visual representation of structures in relation to each other.
These types of wooden models are often used for design consultations and planning how the layout will turn out.
Hence, the usual architectural entourage like foliage or cars is omitted.
Having done so supports any viewer to better envision the organization, massing, as well as the layout in general.
Baccarat Hotel Model in New York City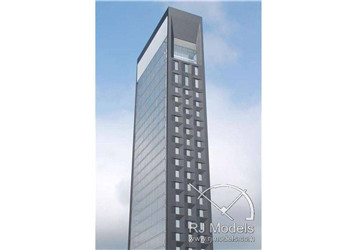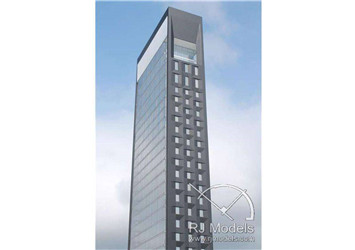 Scale: 1:400                                Size: 900mm x 1200mm                         Production Time : 3 Weeks
Baccarat is a luxury crystal brand founded more than 250 years ago by French King Louis XV.
It goes to say that the concept of the hotel embodies the exquisite elegance of their product into the architecture.
And it was impressively achieved by long-established architectural model making company for New York City by RJ Models.
SOM designed this contemporary style building to accommodate a library, hotel, condominiums, as well as various amenities for guests.
This 50-story structure has a podium façade that glows like a chandelier when lighted especially at night.
Our architectural model makers for New York fashioned the prismatic glass vertical elements to mimic the original.
The tower features matte black panels on two opposite elevations, while the other two have crystal clear glass claddings.
The hotel model truly exudes the elegant sophistication evoking Baccarat's reputation of regal artistry.
Consequently, RJ Models captured the brand's legacy for crafting this hotel model with superb quality within 21 days.
Conclusion:

An architectural scale model can be as simple as a white style, monochromatic type or a rich, full detail one.
No matter how easy or tedious a project demands, RJ Models always delivers 101% effort into the model making and architectural rendering service.
Over 20 years of industry experience made us into where we stand today, on top of the game.
New York City, with its gems of architectural icons, never failed to realize what our model making company offers.
We take pride in our commitment to provide top architectural design companies with professional model making in the most competitive rates.
Regardless of the model's size or specifications, clients are assured of fast turnaround time for every project.
Guaranteeing that only the highest quality product models come out of our worldwide installations.
Our clients are not limited to private and government institutions, also are the biggest names in design and construction.
Suffice to say that RJ Models is indeed the leader in architectural model making and 3D architectural visualization in New York and worldwide.
Leader in World Class Model Making
Any questions about architectural models,just feel free to contact us
We will never rent or sell your email to anyone.
Contact

RJ Models

& Start Making You the Top
Our vision is making the top quality architectural models to everywhere in the globe.