Amazing Architectural Model Making Projects in  Thailand by RJ Models
Introduction of RJ Models: Thailand is with Architectural Model Specialist, RJ Models
Formerly known as Siam, this Southeast Asian country of the Thais is never amiss in updating their urban environment.
Such is manifested through the numerous architectural scale model projects and 3D architectural visualization that they have entrusted with our architectural model making company in Thailand.
Scale models allow builders and potential users with ample visualization of the design plan before they are even erected.
Each model regardless of its requirements must conform to the exact specification as the designer envisioned it to be.
RJ Models is reputed worldwide as the A1 model making company that fulfills whatever a scale model may entail.
It is but fitting to get the best results from the professional team of modelers from our installation in the country.
As their capital city, Bangkok thrives in infrastructure development with its ultramodern cityscape scene.
RJ Models brings their model making prowess of superbly crafted architectural models to help build a more spectacular Thailand.
1. Rosewood Hotel Model in Bangkok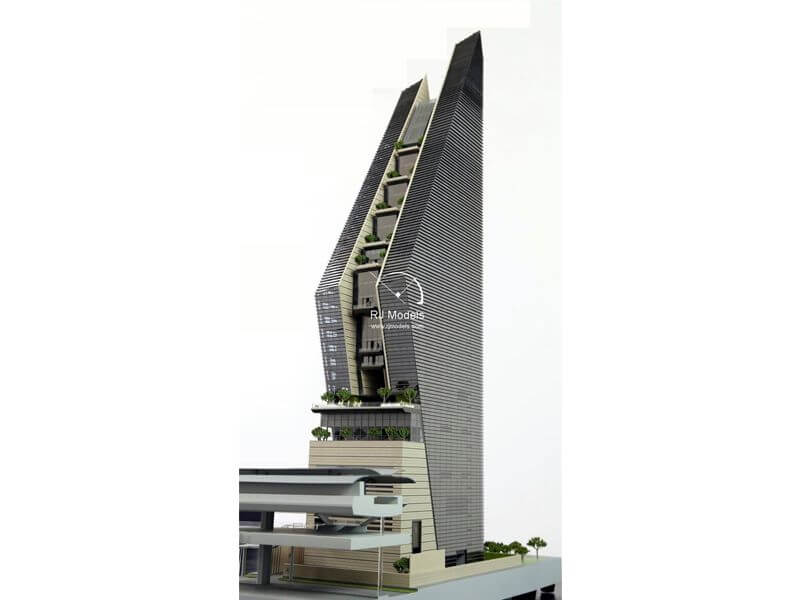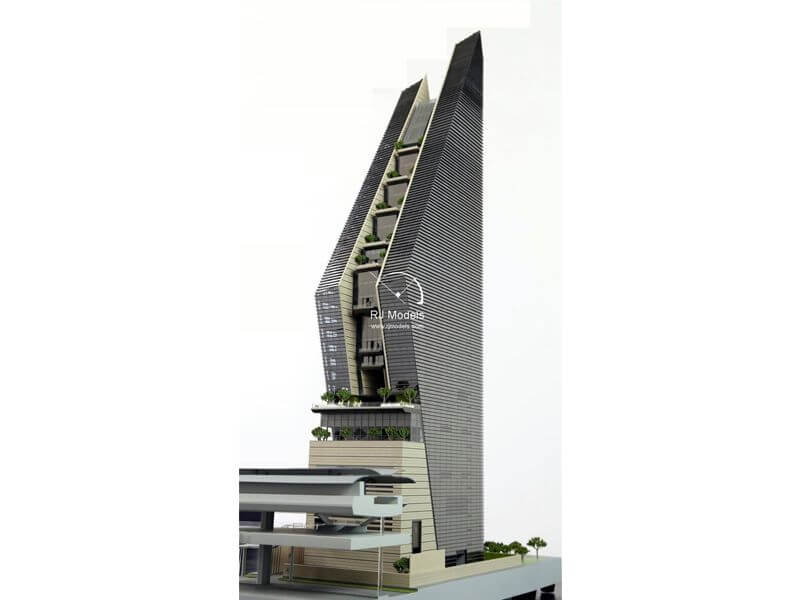 Scale: 1:200                                 Size: 800mm x 1000mm                            Production Time: 21 Days
Bangkok's Rosewood hotel is undeniably a unique concept all its own.
RJ Models in Thailand produces this one of a kind hotel model with the breathtaking view of its cross-section.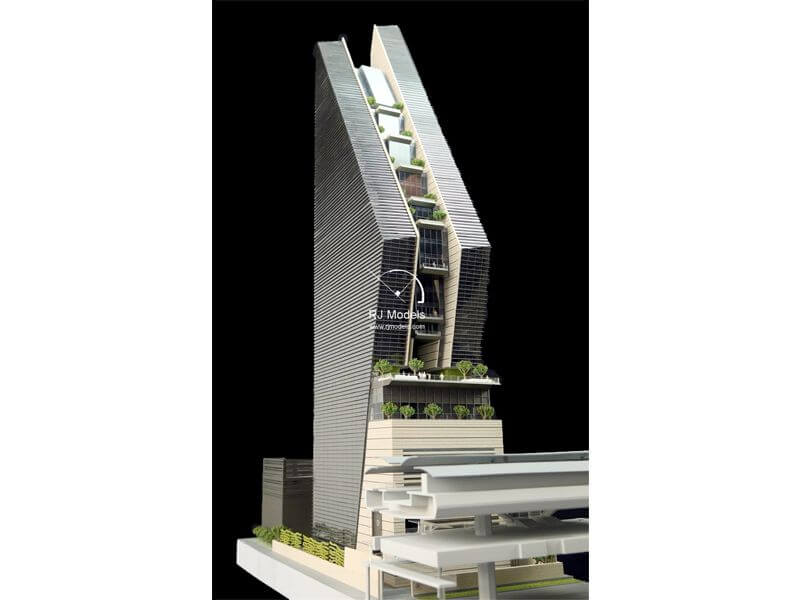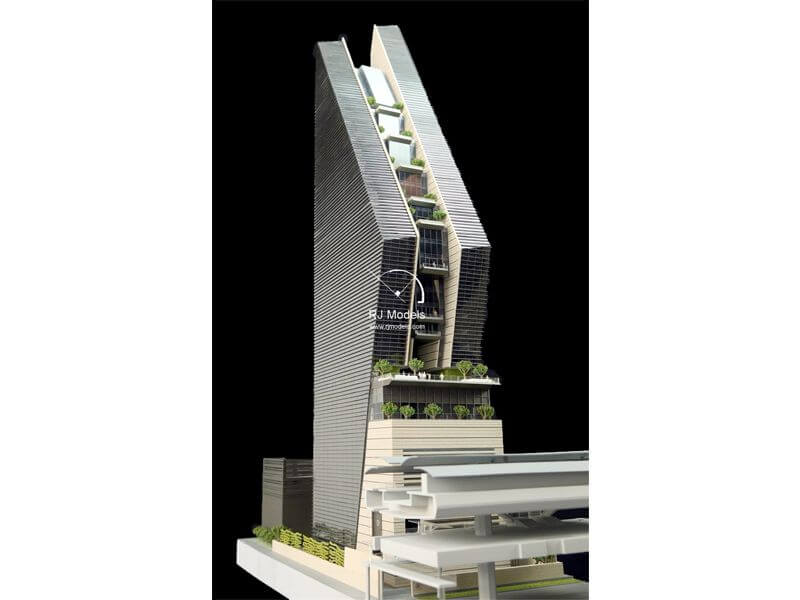 Divided on the middle portion showcasing the magnificent multi-level hanging gardens topped with a chandelier and a pool below.
Seeing that, details are not limited on the facades but also by the craftsmanship of floor levels inside.
Just as winning is the exterior formation of two triangular components and projecting a steel and glass framework.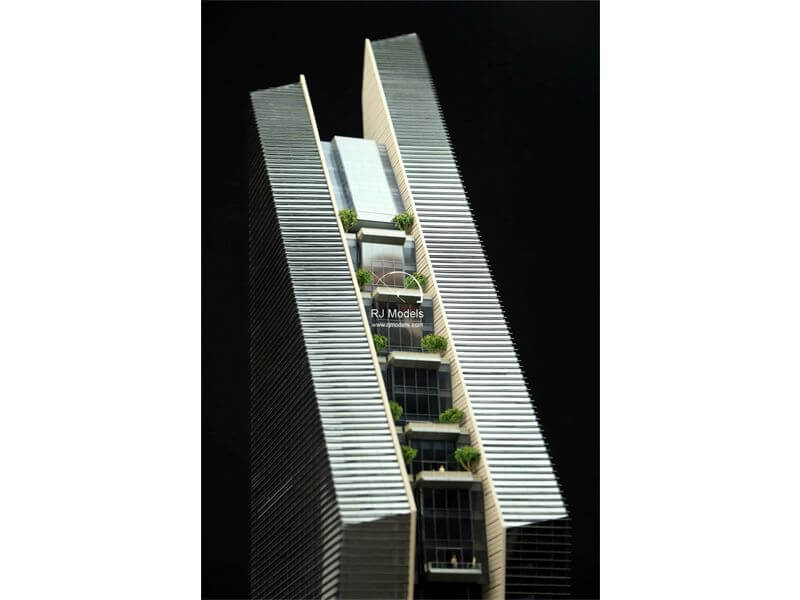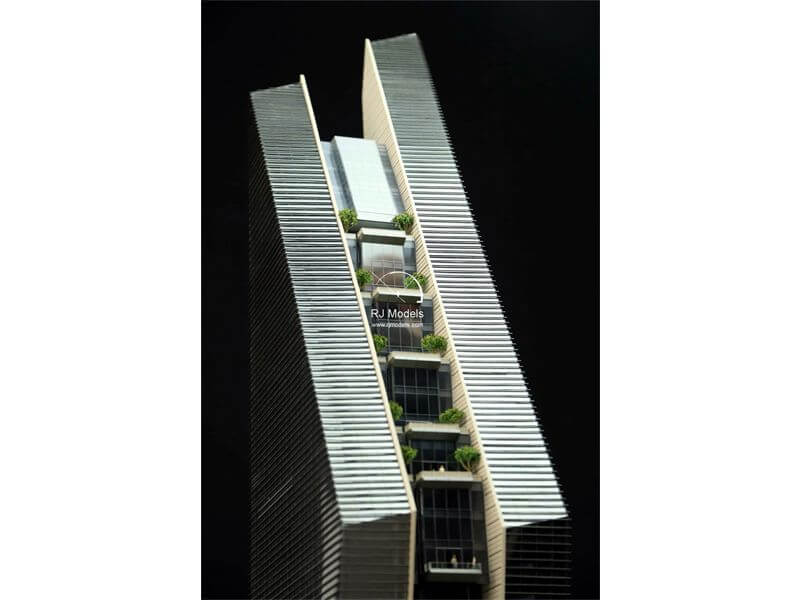 They are split in the middle by terraced balconies conforming to the slope of the sides.
Almost every part of the hotel is adorned with trees and foliage giving the modern structure an earthly, refreshing vibe.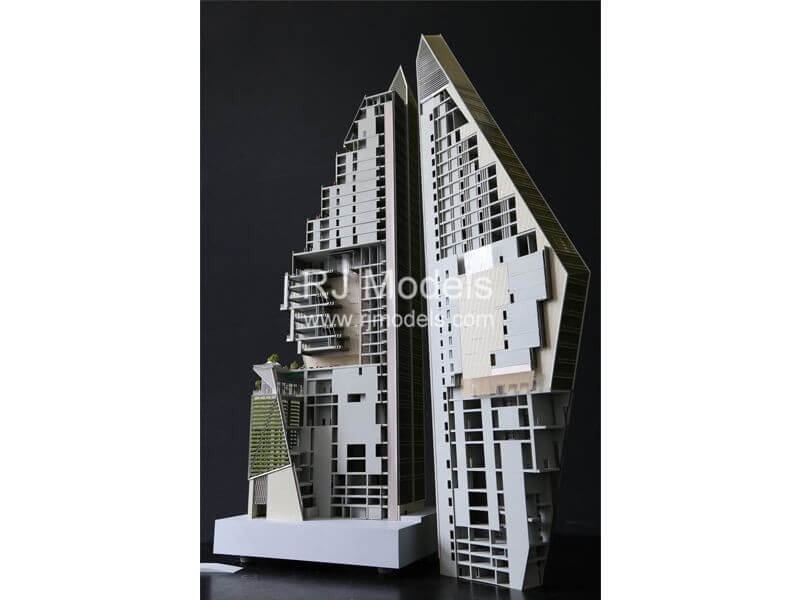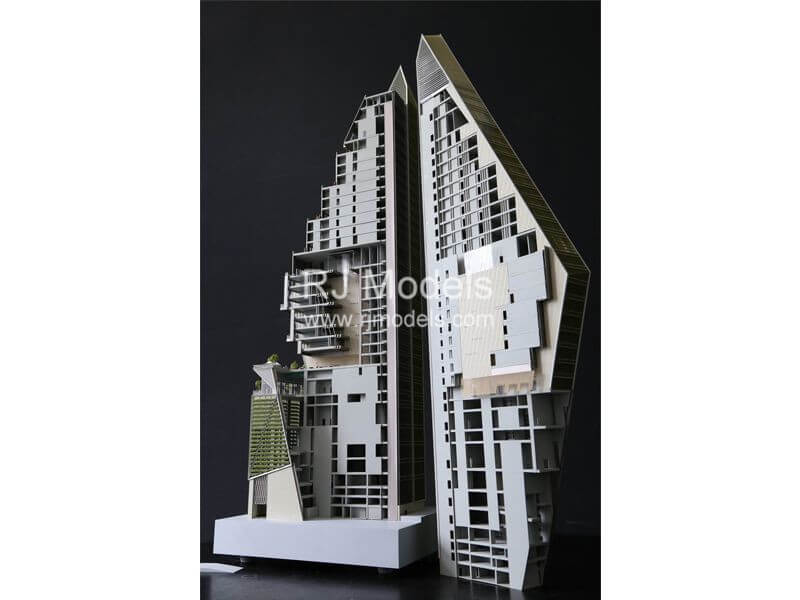 Two options are made to cover the lower front façade and each is made with impeccably high detail representations.
Model makers from the model making company in Thailand ensure that it is delivered in absolute quality.
This hotel replica is a reflection of our commitment to model making excellence.
2. Residential Model in Thailand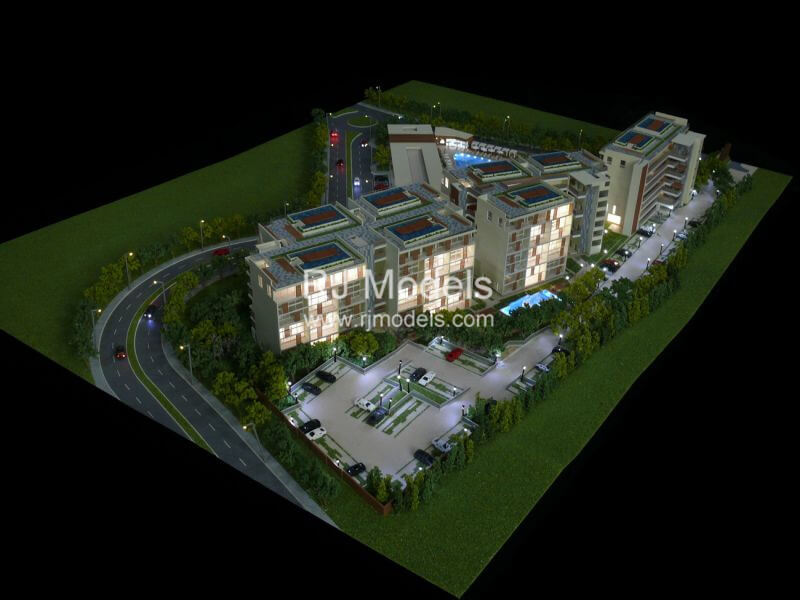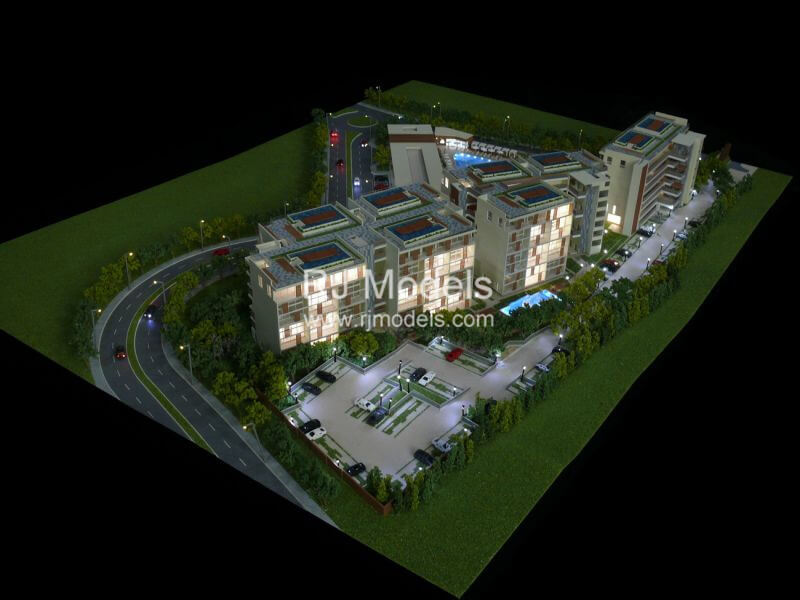 Scale: 1:1000                                    Size:  1600mm x 1500mm                            Production Time:  21 Days
An effective approach to bring a residential community to life is with an architectural scale model.
This 1:1000 miniature building model was commissioned by RJ Models showing the style and arrangement of the buildings and site development.
A number of multi-story buildings with balconies arranged back to back, all finished in classic white.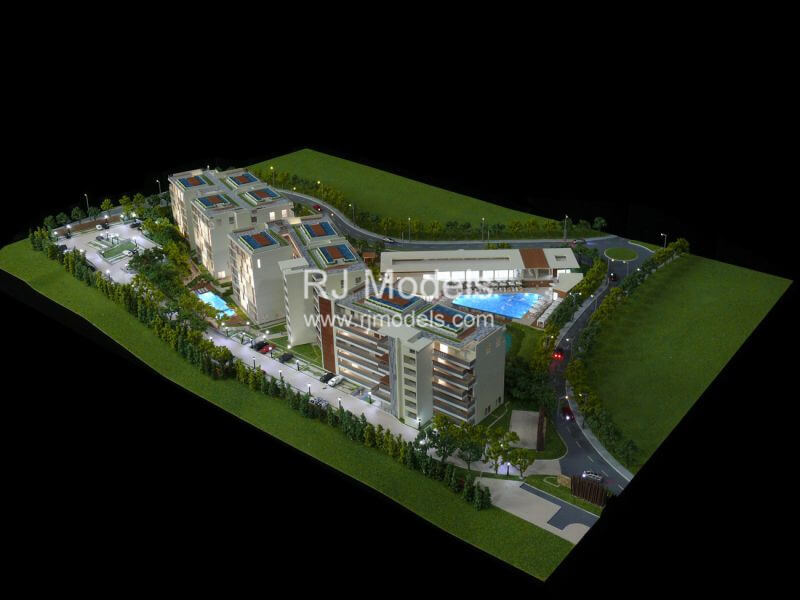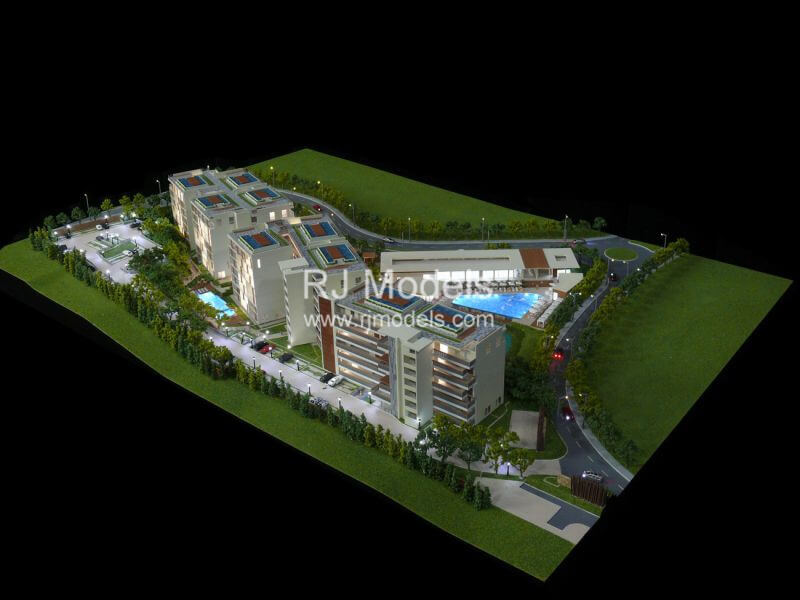 Giving them additional appeal are the brown louvered wooden elements installed asymmetrically on all of the facades.
Each roof deck is covered with tile work along with realistically made swimming pools detailed from the original plans.
Looking down on the residential grounds are the impeccably landscaped areas surrounded by lush trees and greenery.
The lagoon side by side with a larger pool is a refreshing sight with tile and wood for the flooring.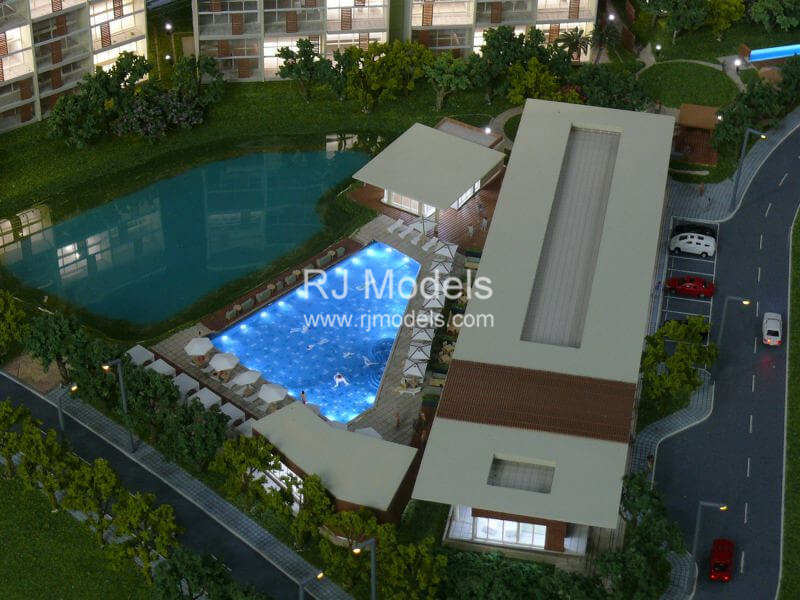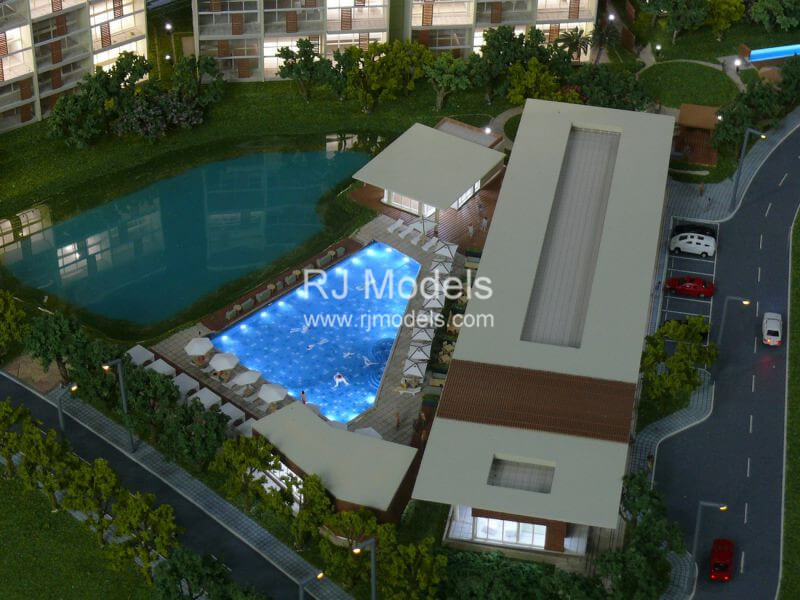 Our architectural model makers in Thailand even added swimmers in the pool along with poolside amenities for a realistic effect.
Completing the lighted model is a back parking area and road ways with well-placed cars and street lamps.
3. Master Plan Timber Model in Bangkok (with scheme option)

Scale: 1:100                                    Size:  600mm                             Production Time:  18 Days
Building timber models void of any intensive detail or color need only the most competent architectural model makers.
RJ Models is a model-making company in Thailand which caters to clients with discerning modeling craftsmanship.
And industry giant Skidmore, Owings and Merril (SOM) acquired our model making services to their project in Bangkok.
The master plan model is set on a circular platform showing the exact massing of buildings present in the area.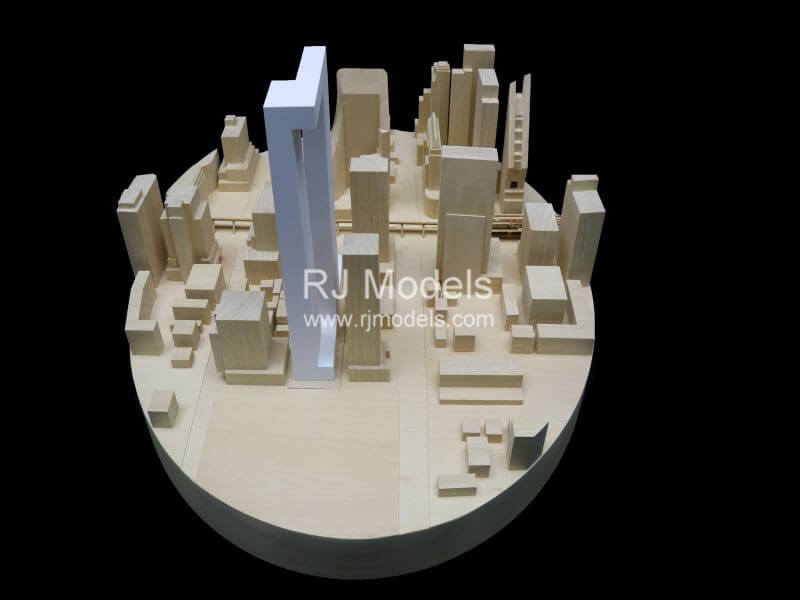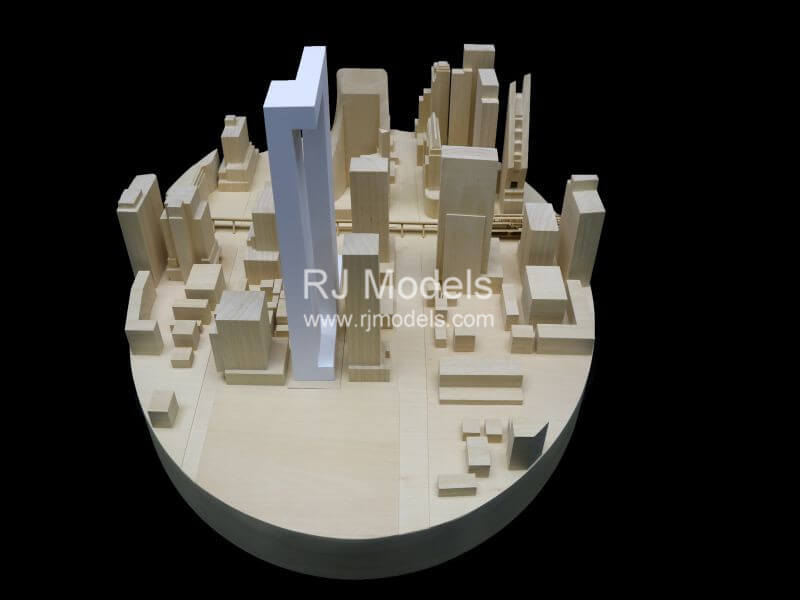 Delivered in perfectly polished wooden surfaces smooth to the touch and without any unnecessary details.
The highlight of the 1:100 model is seven interchangeable building entities in different designs as scheme options.
These come in white style and no complicated details are put, only showing the basic outline of each building.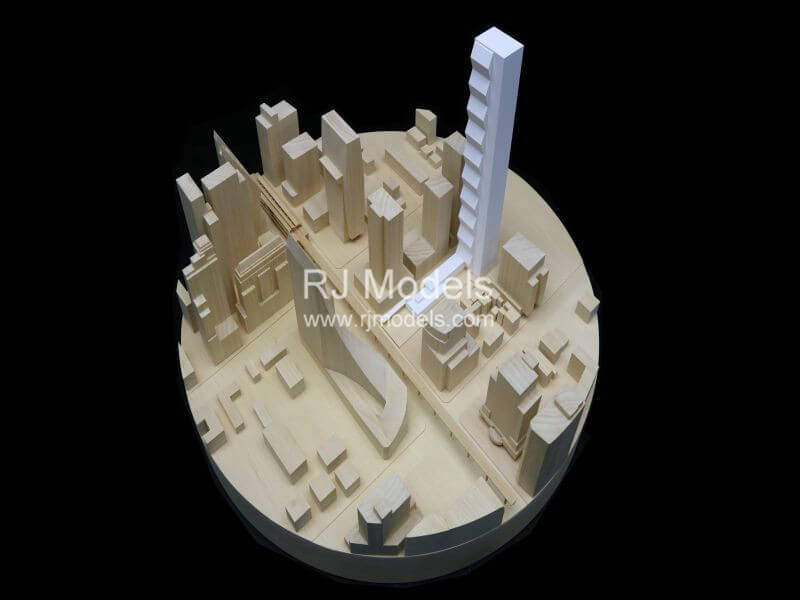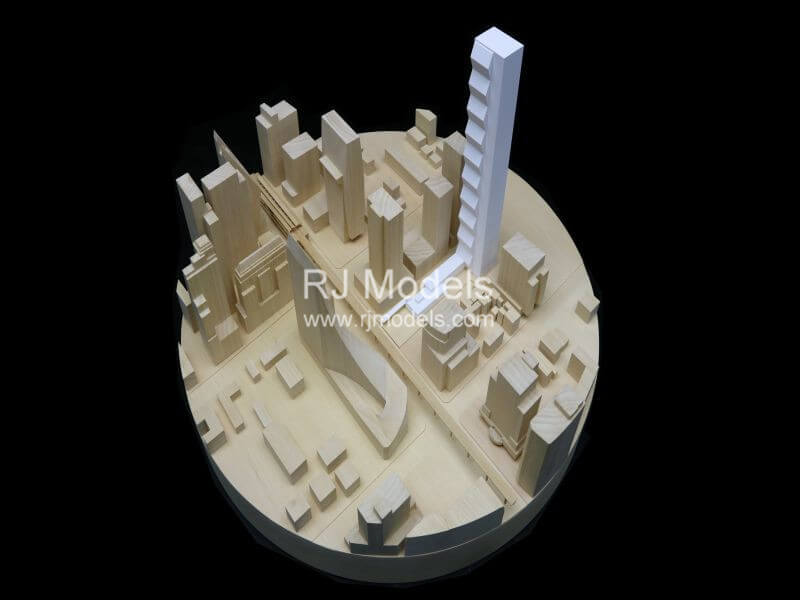 Uniform finishing material gives a clear contrast to its surroundings as each is interchanged onto the site for the client's choice.
Finished in two weeks with precise measurements cut to scale coming from the topnotch model making company in Thailand.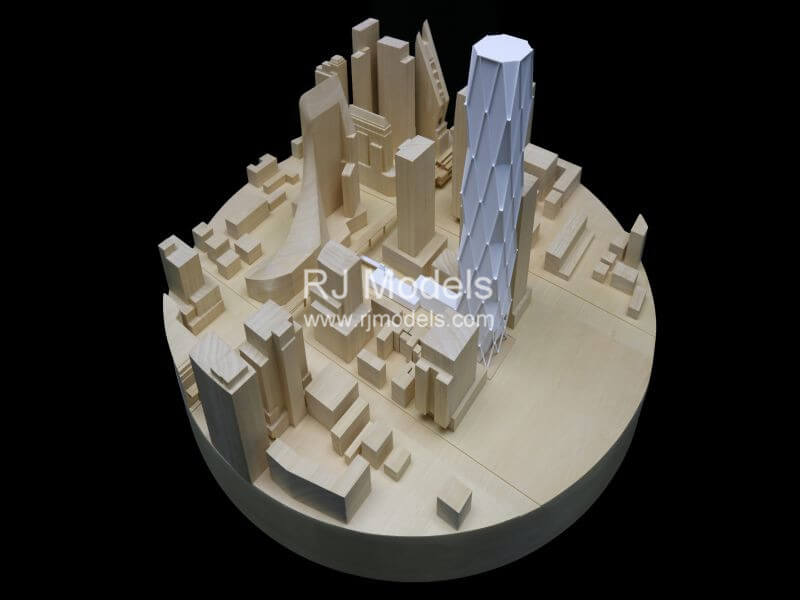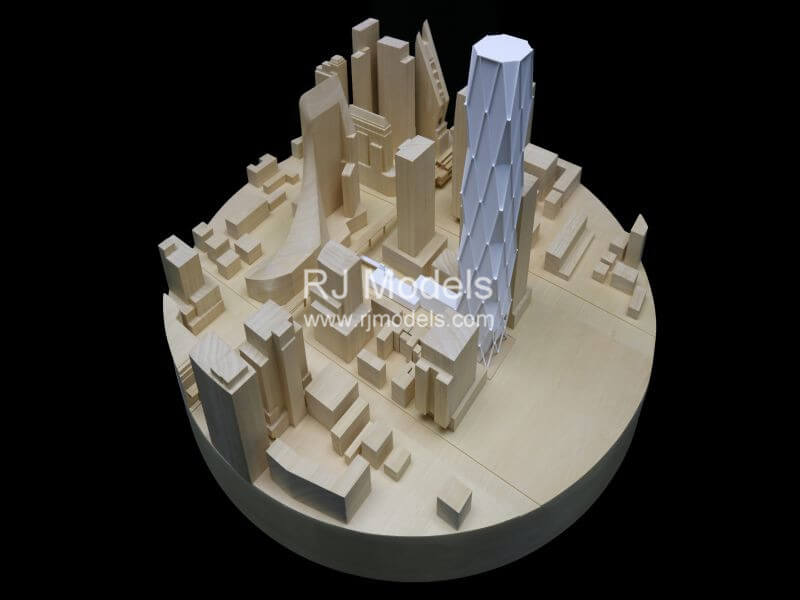 4. Scope 2807 Residential Model in Bangkok  
Scale: 1:25                                 Size: 800mm x 400mm                            Production Time: 21 Days
This intensively detailed masterpiece cannot be executed if not for the expertise of the architectural model makers in Thailand.
A production period of one month is all it took for RJ Models to reproduce the Scope 2807 model.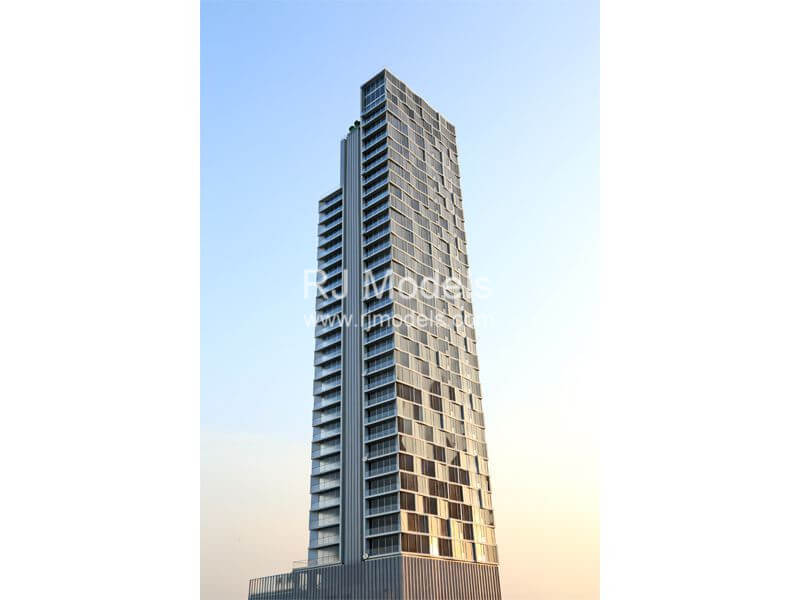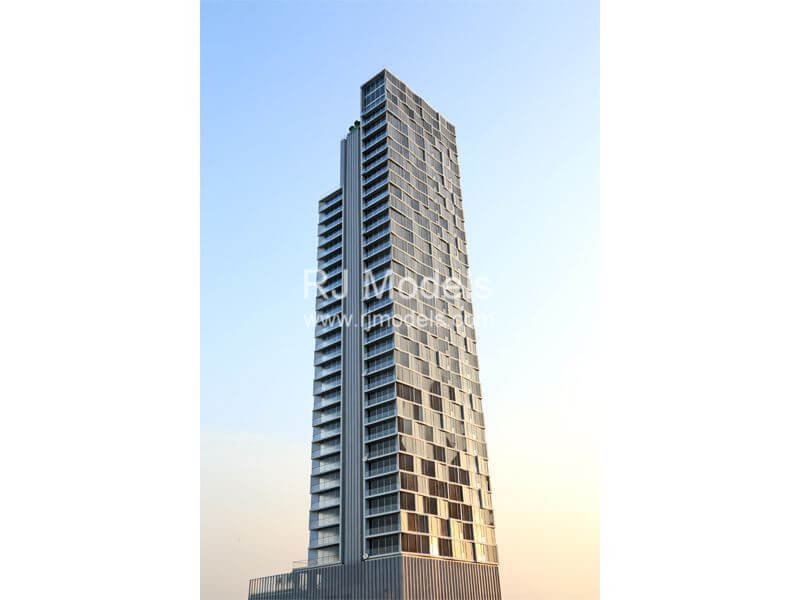 Done in its absolute form, the tedious process of cutting work did not hinder our model makers to produce results.
The fine detailing of tiny cut pieces is one thing but sure-handed bonding of these elements is another.
Aside from that, the sides are featured with curtain walls, all were represented using the best glass-like material.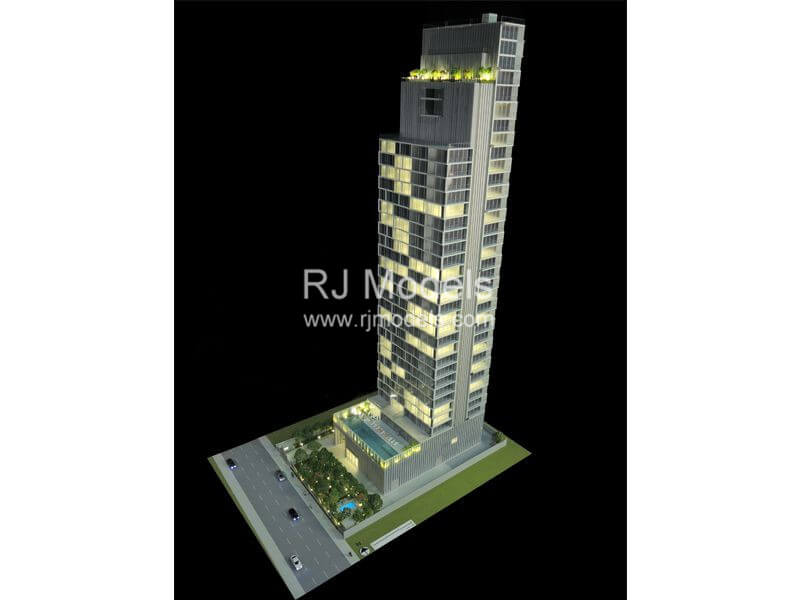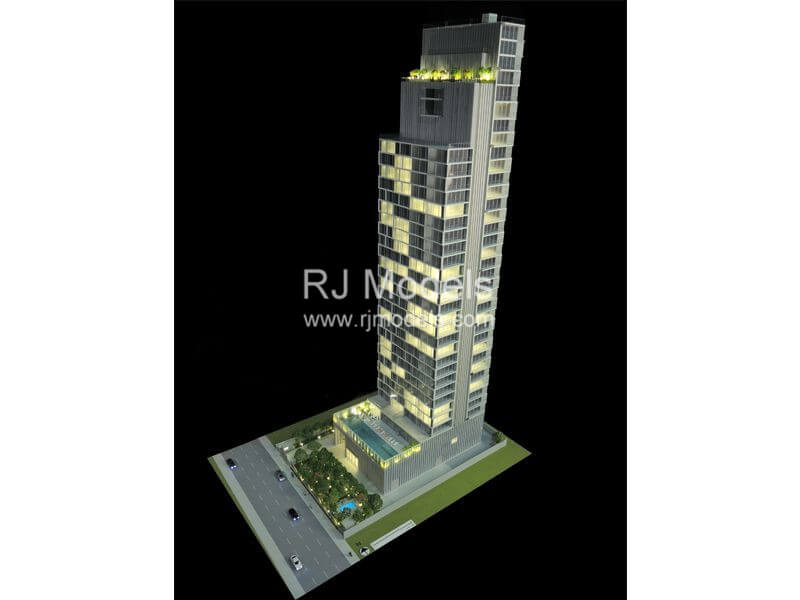 These glass surfaces are wavy in form, only the meticulous hands of model makers can render them to perfect specification.
An aerial garden deck, as well as the realistic water, surfaced pool adorns the structure.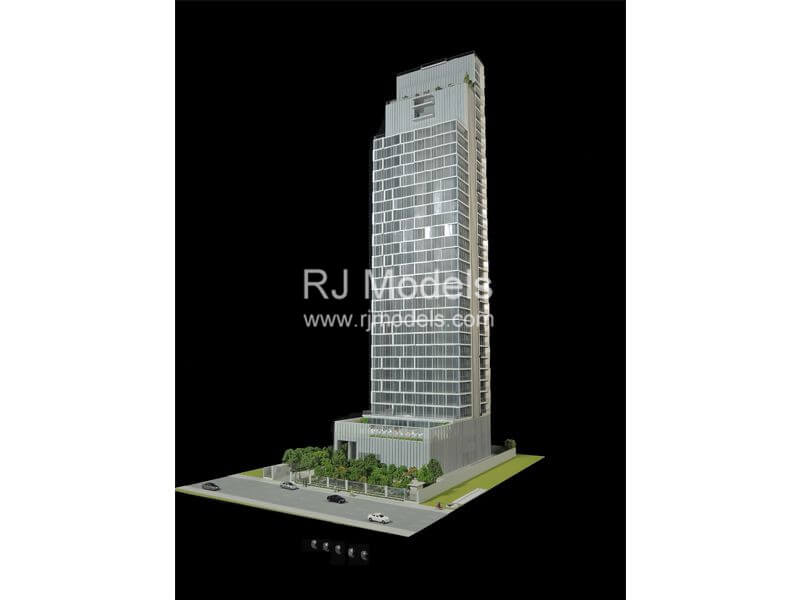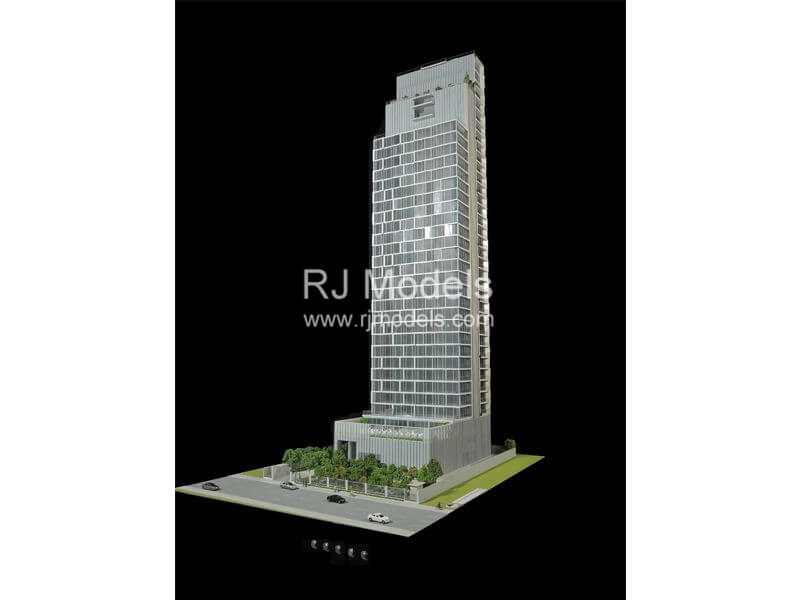 Lighting and entourage elements like cars and foliage add to the overall visual experience.
Proper steps are executed so the stability of the residential tower model will not be affected from creation to delivery.
5. City Planning Model in Bangkok by NBBJ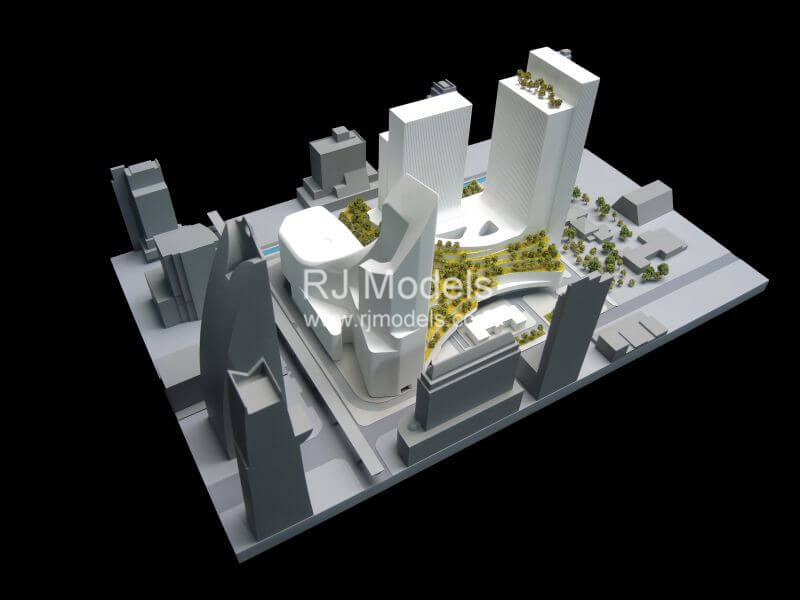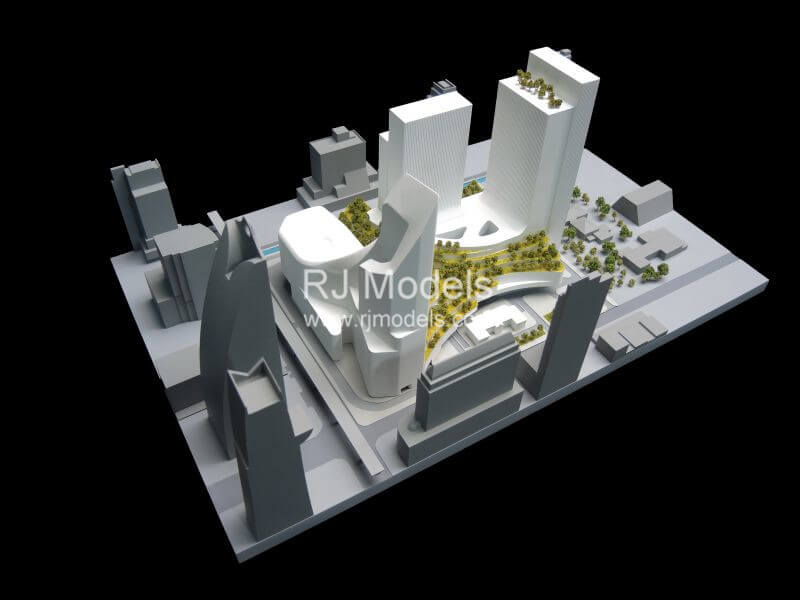 Scale: 1:1000                                 Size: 650mm x 300mm                            Production Time: 18 Days
Surrounded by gray monochrome neighbor buildings is a fascinating form at the center of the canvass.
RJ Models brings the intricacy of this architectural concept into an exact visual representation in a 1:1000 scale.
NBBJ which is an American global architecture firm entrusted our model making company in Thailand in the making of such.
Each building is produced and placed in exact specification so comprehensive planning may be further discussed for the project.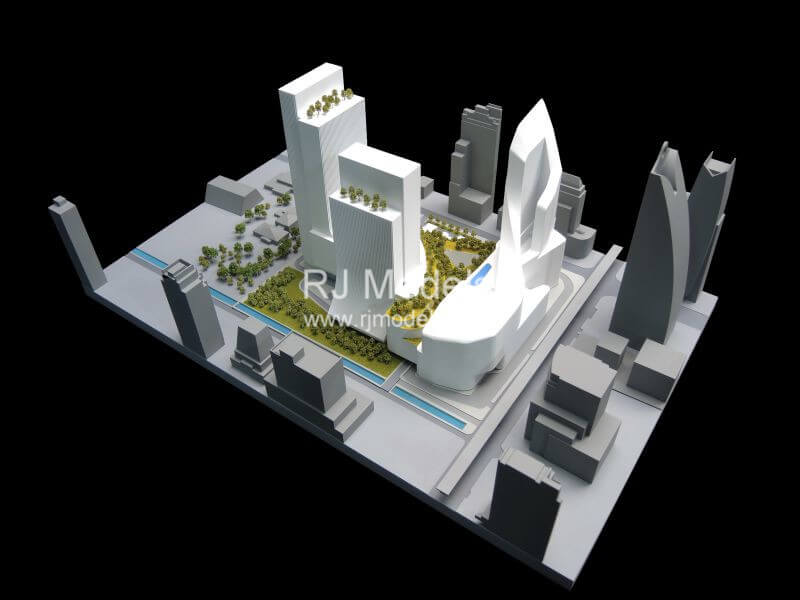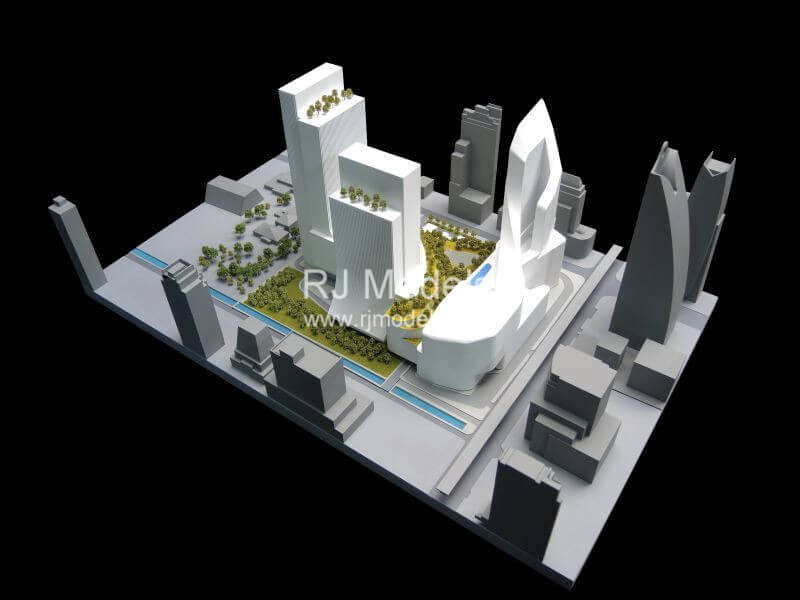 Gracing the center is a striking, irregularly shaped structural formation in white style simplicity.
Architectural model makers in Thailand meticulously carved and cut this piece of artwork in the precise calculation.
A terraced aerial landscape where grass and trees are put in order to demonstrate the use of the feature.
While linear water features accents one side, lined with trees and gives extra visual interest.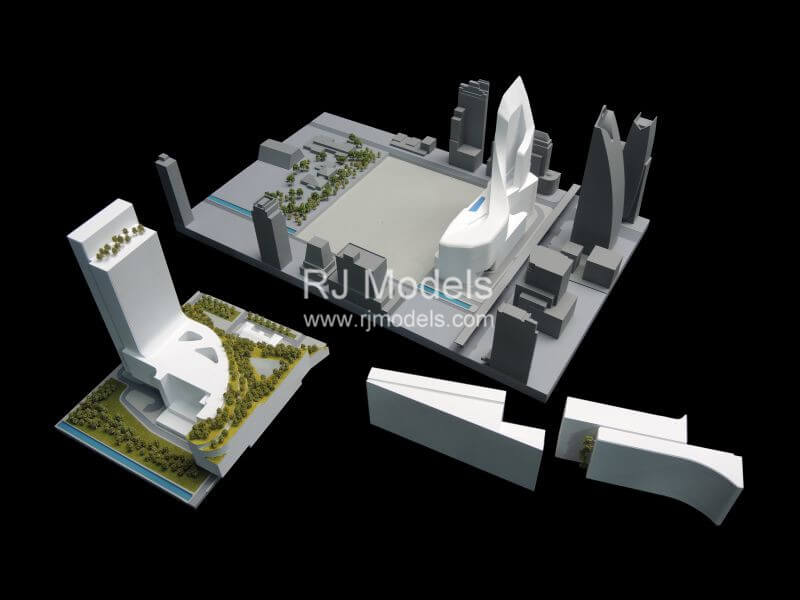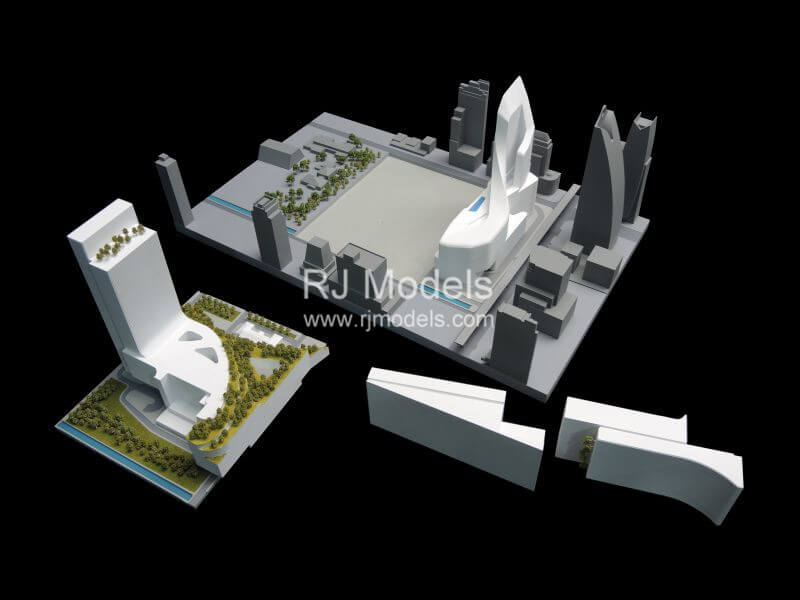 Detachable parts became the option allowing for the visualization of the position and size relationships between each major structural component.
In conclusion, RJ Models' objective to clearly present the architectural design and hierarchy to the area is achieved.
6. Wong Chuk Hang Depot Scheme Model in Thailand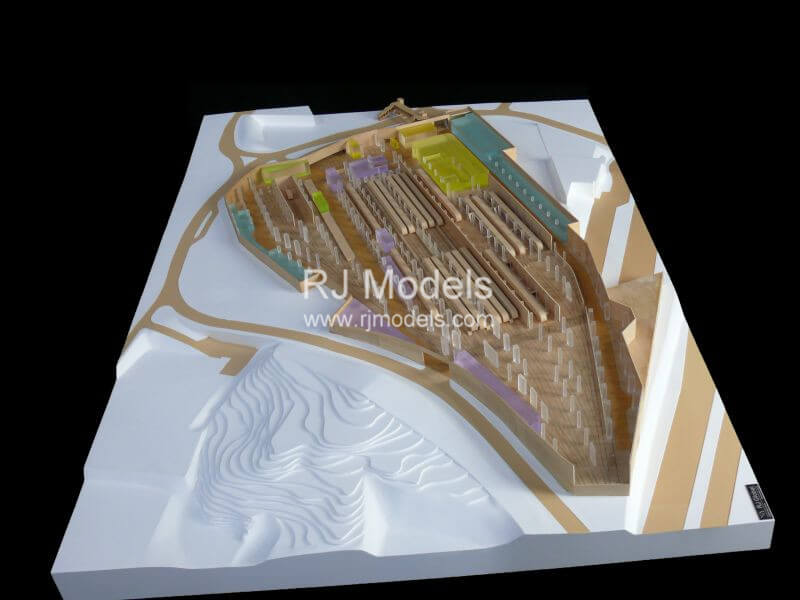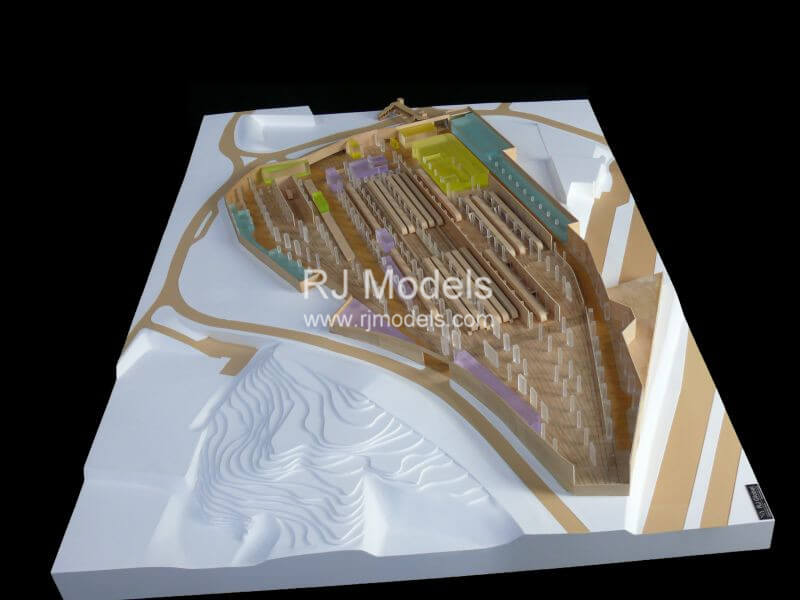 Scale: 1:300                                 Size: 850mm x 1500mm                            Production Time: 14 Days
Transportation has been an integral part of our lives and so is the architecture of transport facilities.
Given that, architectural model makers in Thailand recreated a 3D scheme model of the train depot in the great specification.
Depicting the planning layout of the Wong Chuk Hang station is the function for which it was commissioned.
It features a detachable roof so the more important interior sections of a depot facility can be visualized.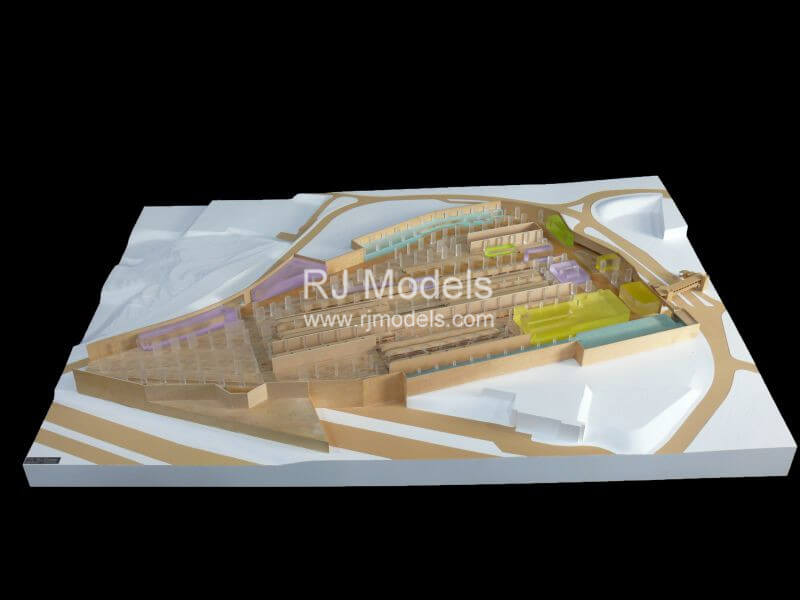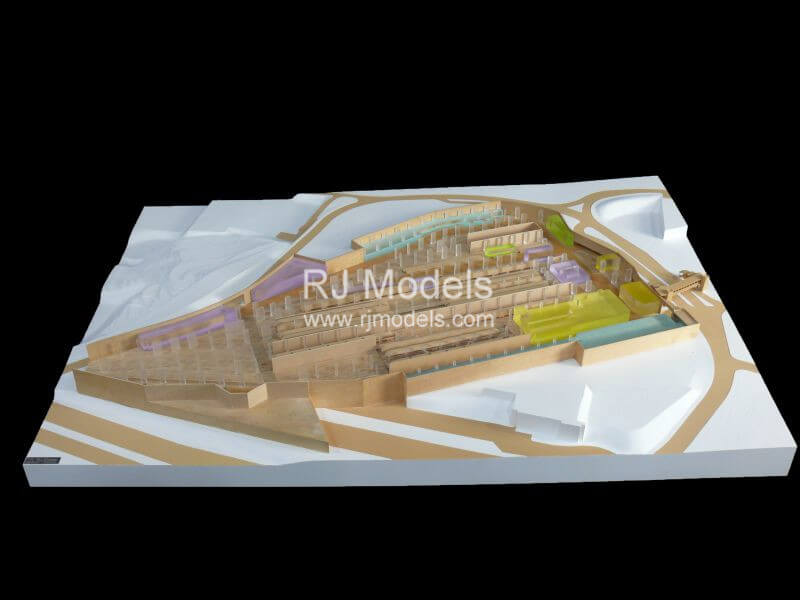 All columns inside are made out of translucent PVC just to represent their positions in relation to the railroad tracks.
On the other hand, different areas are represented with the same material in color variety according to its definite function.
Representing the trains are finely smoothed wooden models with rounded edges.
Much of the city planning model is made out of timber veneer carefully sanded and subtly coated exposing fine wood grains.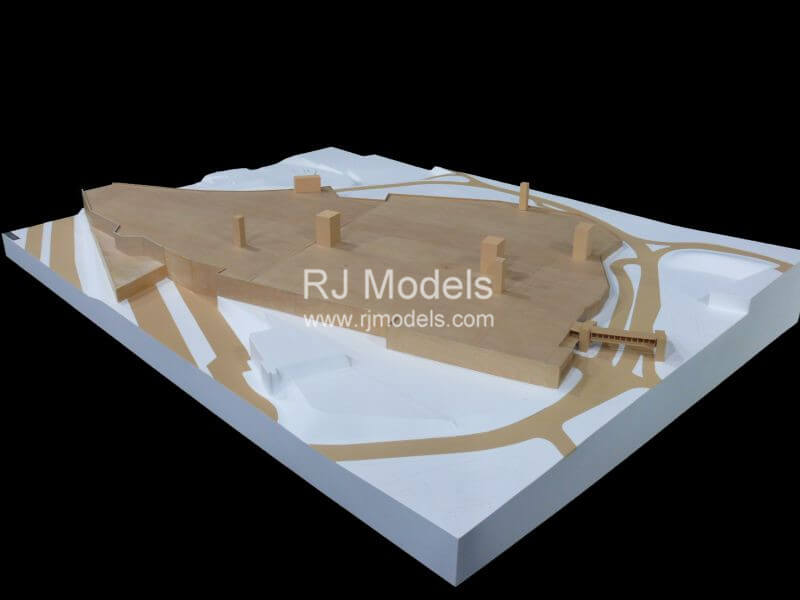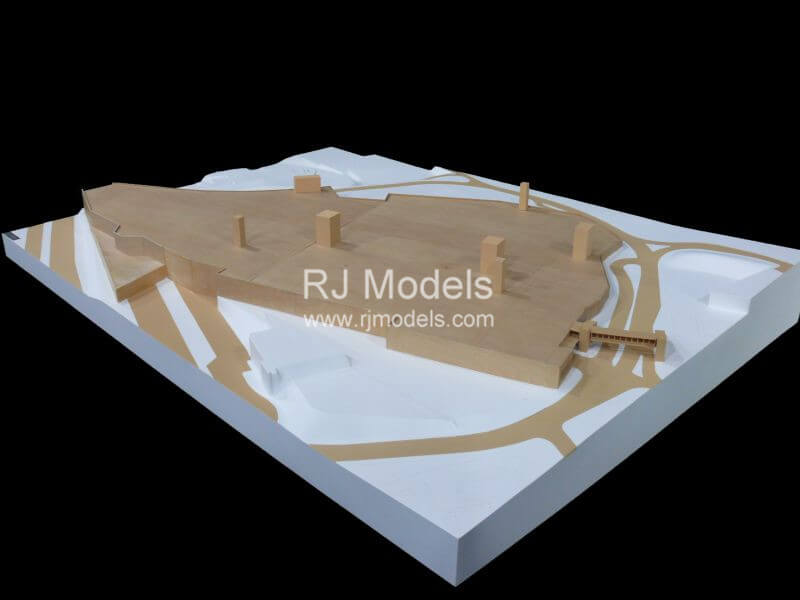 The 850 x 1250mm base is carved with different elevations depicting the natural topography of the environment in white finish.
7. Raimon Land OCC Office Building Model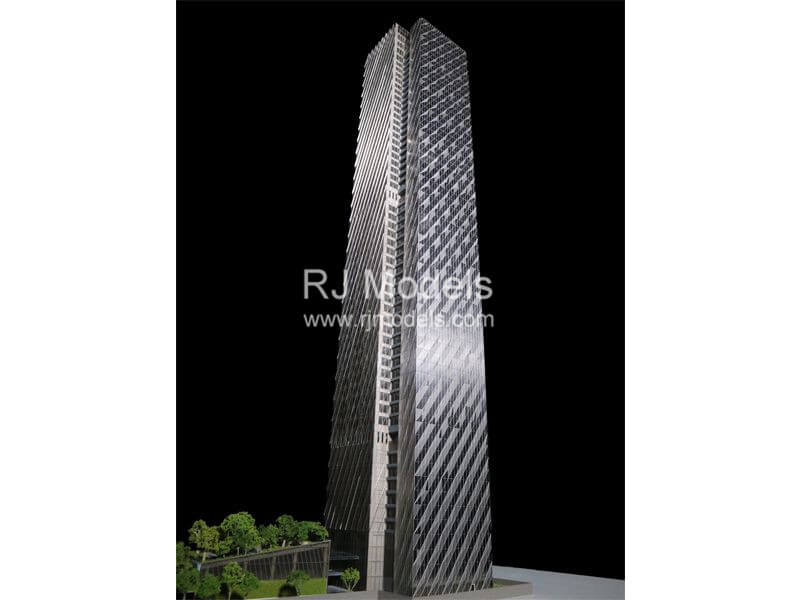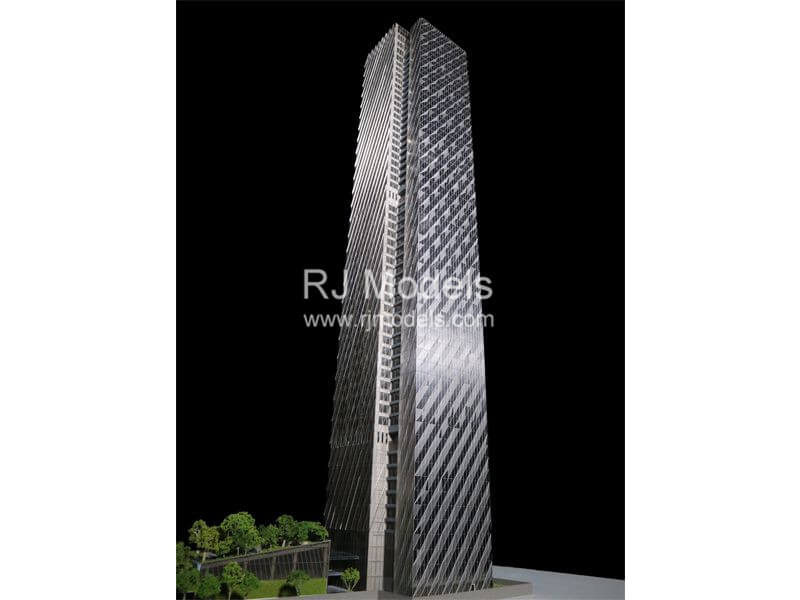 Scale: 1:150                                 Size: 550mm x 1650mm x 1500mm                           Production Time: 14 Days
No matter the complexity of a project, the foremost model making company in Thailand, RJ Models never fails to deliver.
Such can be concluded upon seeing this 1:150 scaled model of the Raimon Land OCC office building.
The office building model is direct to the point, only the main structure with its access to the main highway is created.
The high tower characteristic of its intersecting horizontal, vertical and diagonal lines required meticulous craftsmanship.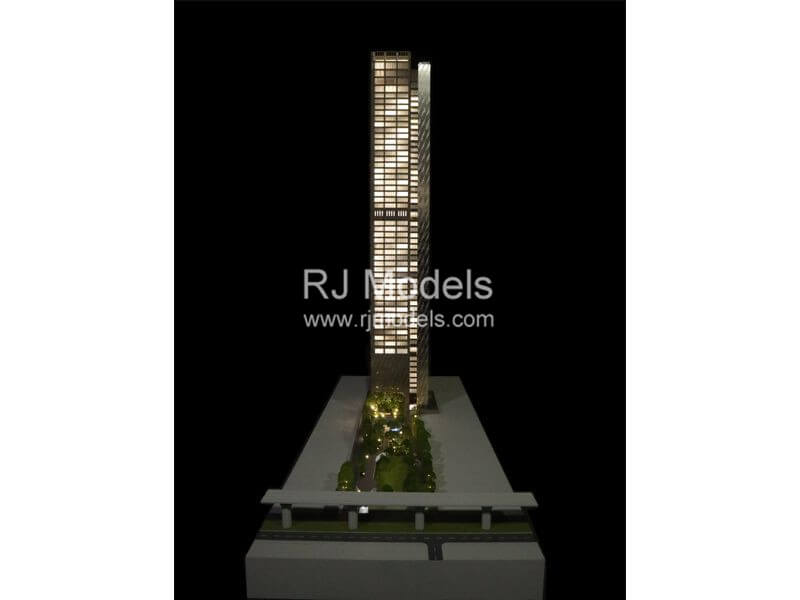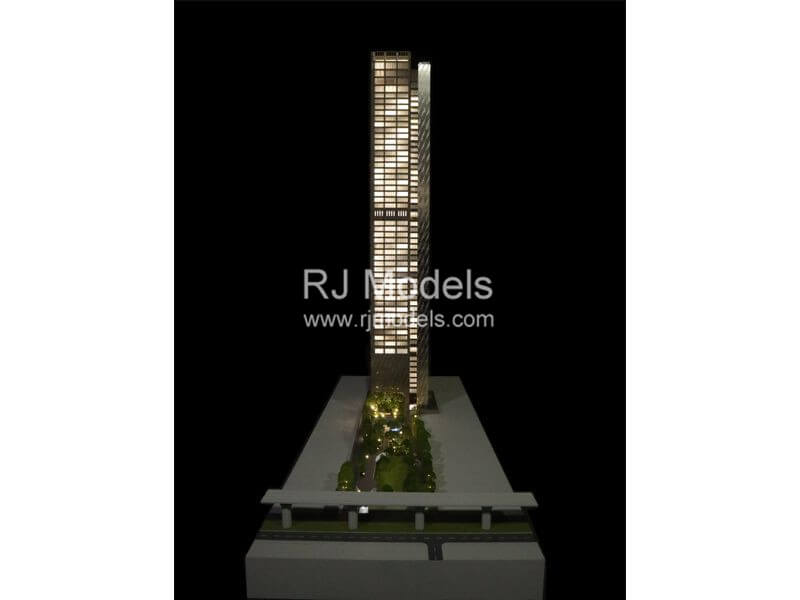 Parallels need to stay parallel all throughout the sides so exact measurements, cutting and placement are of paramount consideration.
Glass windows are created using the best material and are hence connected with each intersecting line.
Other sides are featured with a reflective curtain wall exhibiting a horizontal stripe of two gray tones.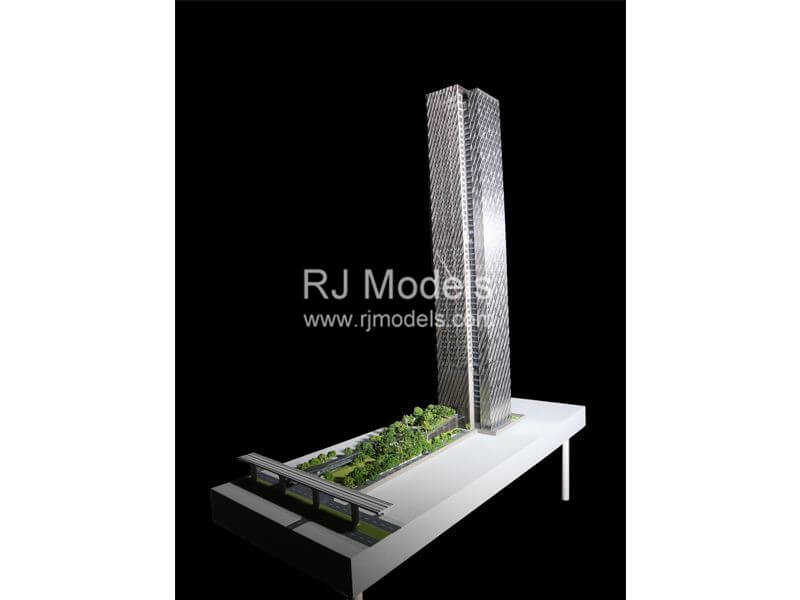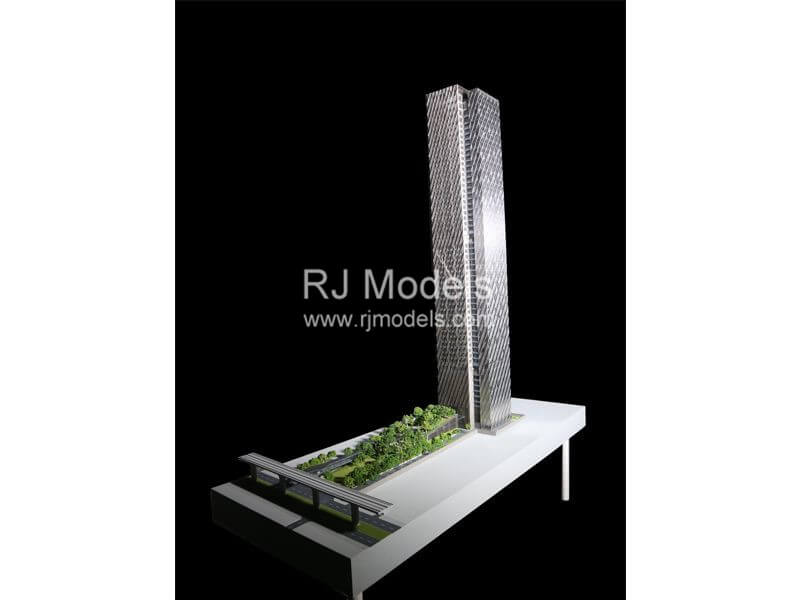 A foliage-covered atrium connects the building to a passageway to and from the main road.
Even the lawn area is presented in a pattern of green hues.
Our architectural model making team in Thailand produced a phenomenal high detail end result in two weeks.
Conclusion: Architectural Model Making Excellence by RJ Models Thailand
In the architectural world, one architectural model building company brands itself to stand out from the rest.
Why? Because RJ Models is a name synonymous with top-notch professional model making services encompassing any other.
And branding ourselves as such comes with the untiring commitment to give our clients scale models that exceed expectations.
Our long history of providing the highest quality architectural model makers at very competitive rates has been around since 1995.
Our model making facilities around the globe employ only the most committed and talented team of modelers.
Architectural model satisfaction trusted by big names in the industry, whether private developers, architectural design companies or government institutions.
Tight deadlines would not matter to us, rest assured that models of superb quality arrive at the appointed time.
RJ Models operate 24/7 to receive your model making queries, assess requests and even ship models right at your doorstep.
Thus, our expertise is never foreign in Thailand, as much as in any other location worldwide.
Leader in World Class Model Making
Any questions about architectural models,just feel free to contact us
We will never rent or sell your email to anyone.
Contact

RJ Models

& Start Making You the Top
Our vision is making the top quality architectural models to everywhere in the globe.