Amazing Architectural Model Making Projects in Turkmenistan by RJ Models
Introduction of RJ Models:
Turkmenistan, a Central Asian country located along the Caspian Sea.
It has experienced rapid economic development in recent years due to the rise of tourism and other industries.
As a result, its building and urban are rapidly iterating and updating.
Due to the influence of Islamic culture, the dome is often seen in buildings in Turkmenistan.
And the facade of the building is mainly white.
Meanwhile, because of the special climatic conditions, most buildings in Turkmenistan use white marble as the main raw material.
Because it can resist the wind, sand, and dry air for a long time.
Architectural model maker in Turkmenustan complete office building model, city planning model, airport model, section model.
Meanwhiles, we do lots of research about the local climate, culture, and social environment.
And strive to be consistent with the local conditions in every detail of the model.
Congress Center Hotel Model in Turkmenistan by Atkins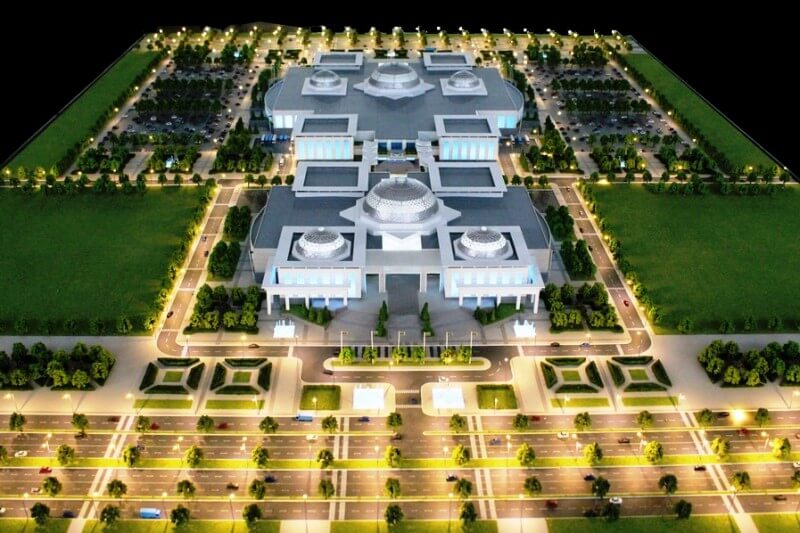 Scale: 1:500                                    Size:  2100mm x 2000mm                            Production Time:  1 month
RJ Models made this middle-sized architectural complex model for the Congress Center Hotel in Turkmenistan within one month.
In this hotel model, our model experts tried every means to create the simulations of each detail in the city.
And conveys an immersive feeling at first glance.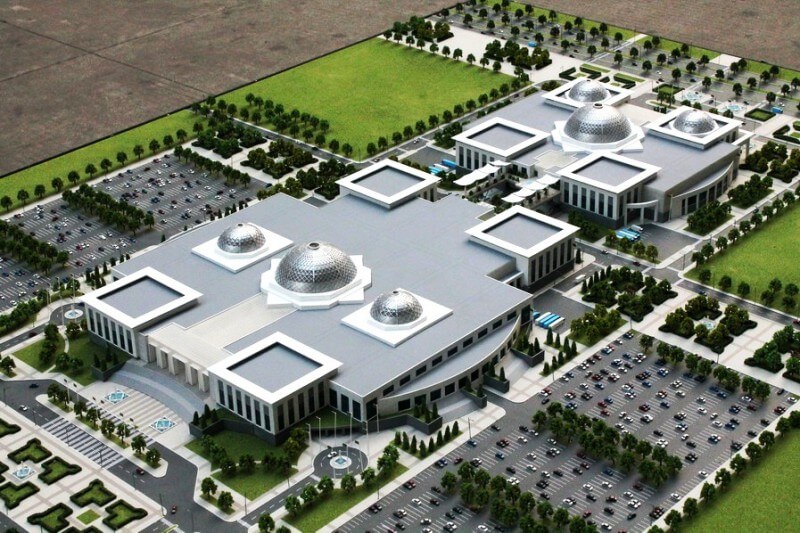 Architectural model maker in Turkmenustan have faithfully proportional scaled and mounted in this 4 square meters' model.
This inculded the central garden, landscape promenade, sports center, plastic floor outdoor basketball court and office buildings, etc.
To enhance the expressiveness of the Congress Center Hotel, the model lighting experts deliberately install white lights for its interior.
Moreover, it is different from the warm yellow of other buildings Lights.
And the hotel is placed right on the diagonal of this approximately square city model.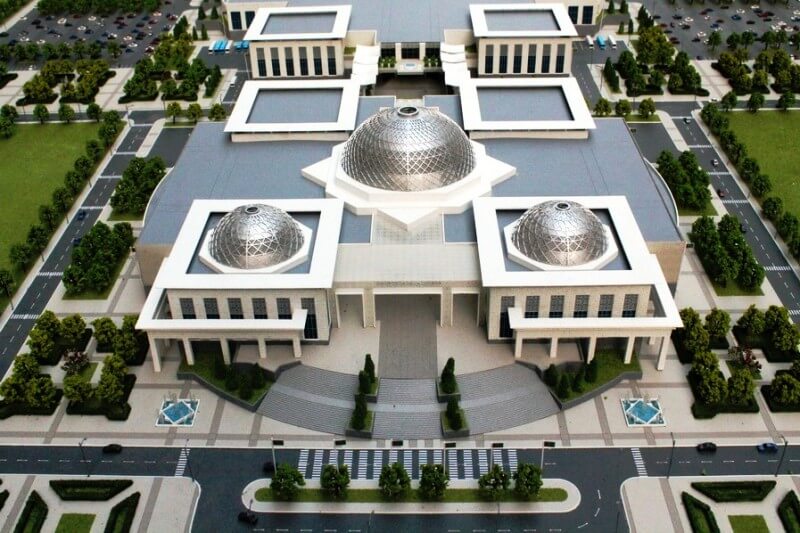 Police Training Center Building Model in Ashgabat, Turkmenistan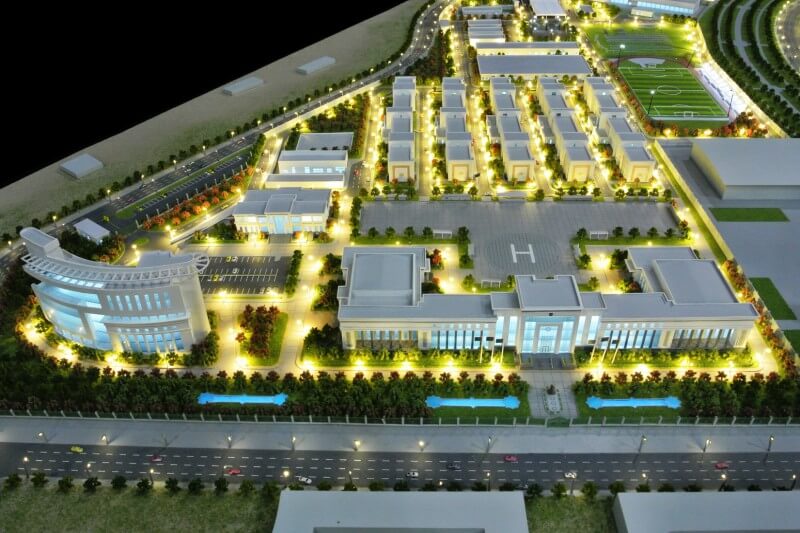 Scale: 1:300                                 Size: 2100mm x 2000mm                            Production Time: 1 month
This 1: 300 architectural police training centre model took nearly one month for our model makers to complete.
So architectural model maker chooses white and gray plastic foam and panels to make the facade of the building.
Because they can be consistent with the local climate and architectural style.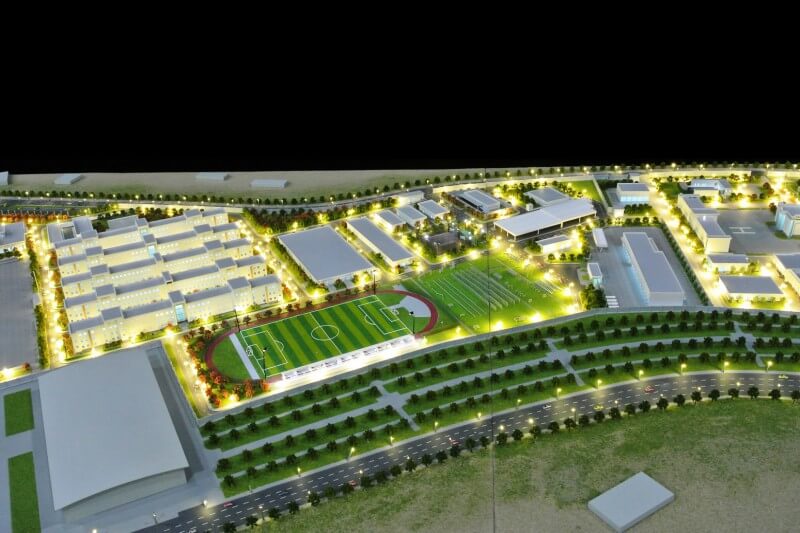 Since the architectural model is made for Ashgabat's local Police Training Center.
There are several buildings with similar functions and resemble shapes in the site.
So how to effectively show the building's hierarchy is the biggest challenge for model makers.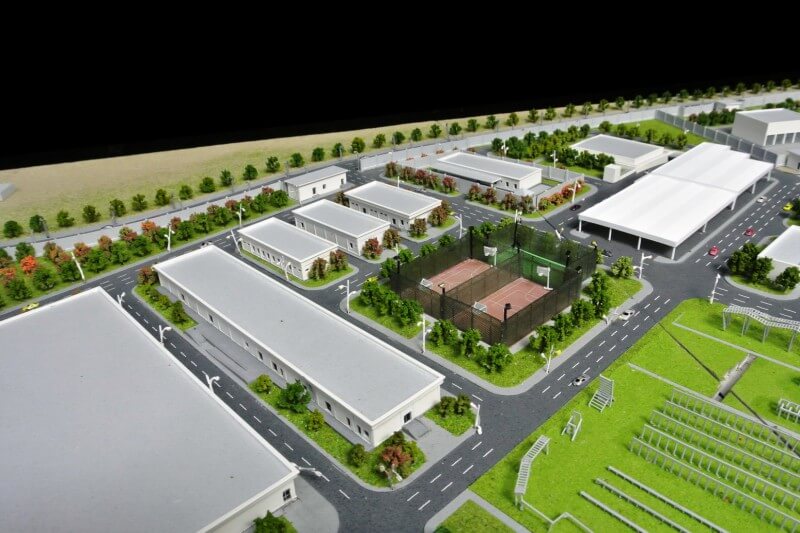 In order to solve the challenge and increase the fullness of the site.
RJ Models' architectural model makers add abundant light sources in the middle of the building groups.
Conclusion:

Turkmenistan's unique building materials and urban design style bring new knowledge and experience to every model experts.
RJ Models not only provide the service of martime model making, 3D architectural visualization.
Our architectural model makers in Turkmenistan designed excellent lighting system.
It will according to the local architectural style, adding a touch of softness to the originally serious, solemn.
And geometrically rigorous site layout, which effectively balancing the viewer's feelings.
In order to restore the real scene to the greatest extent, model experts try their best to avoid any unnecessary intervention and imagination.
RJ Models will follow the climatology, cultural attributes, historical research to complete the model.
Due to the long distance of transportation, after RJ Models finished the model.
When it is split into several parts for packing and transported by a professional transportation team.
RJ Models will ensure its integrity for our architectural design companies.
Leader in World Class Model Making
Any questions about architectural models,just feel free to contact us
We will never rent or sell your email to anyone.
Contact

RJ Models

& Start Making You the Top
Our vision is making the top quality architectural models to everywhere in the globe.