Amazing Architectural Model Making Projects in Brazil by RJ Models
Introduction of RJ Models:
The architecture of Brazil pursues the modern style today, with the remnants of the Baroque style. These styles define the structures of Brazil, from scenic tourist spots in baroque and neoclassical style to functional modernist architecture.
Here at RJ Models, we provide model-making expertise to represent clear-cut architecture around the world.
With the rich history of countries like Brazil, we strive to grasp correct portrayals in creating such scale models.
RJ Models understand the complexity of architectural design. We know our clients' designs are made for a reason; we will deliver these architectural models in high quality, exceeding your expectations.
Facade Model Brazil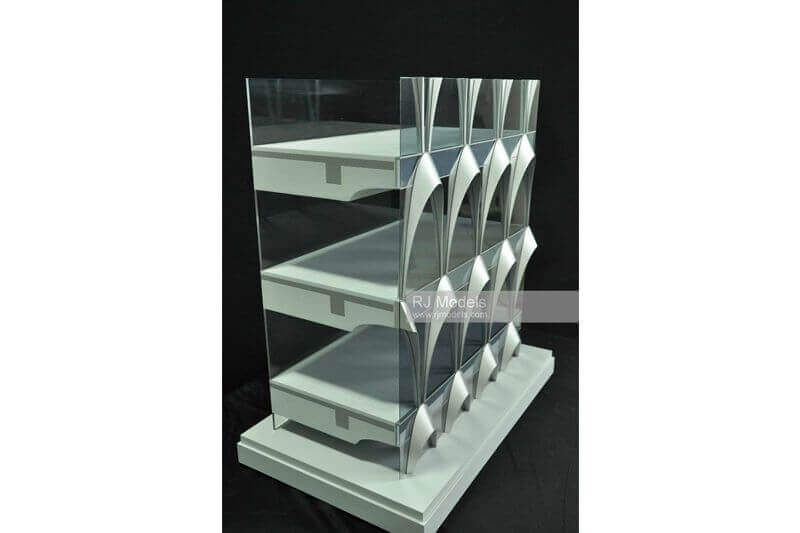 Scale: 1:50                                    Size:  650 x 500mm                          Production Time:  2 weeks
This facade scale model showcases the design for a building facade designed by a client for a Brazil project.
Created for the review of the facade design and intricacies, this model features the arc pattern which will be a prominent theme for the building.
RJ Models creates conceptual models for the analysis of certain parts of the project.
In this case, the facade is examined for its shape, ratio, and general design.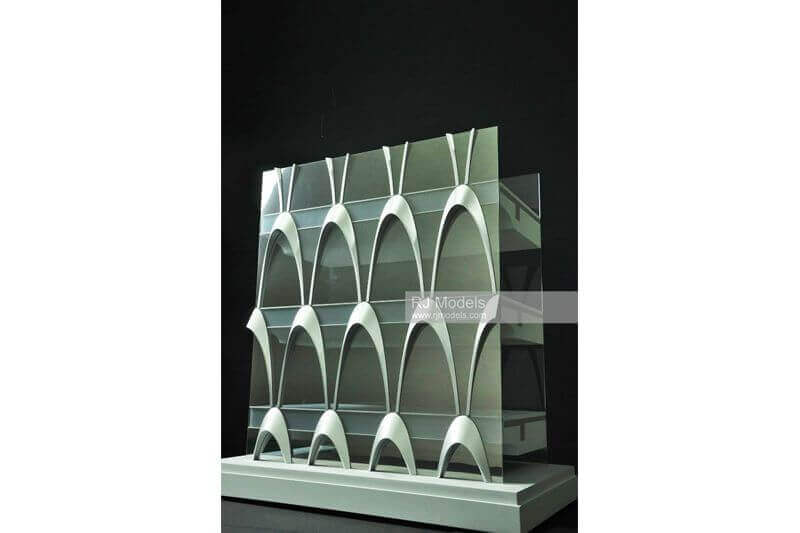 For emphasis on the facade, RJ Models created this model with the emphasis on the facade details by painting them in metal-like luster.
On the other hand, the modelers created the other parts as simple as possible.
The walls are made with transparent material, and floors are modeled simply for reference.
RJ Models can deliver this kind of model as quickly as two weeks, despite using a massive scale, such as 1:50, especially for commercial structures like this.
Club House Model in Brazil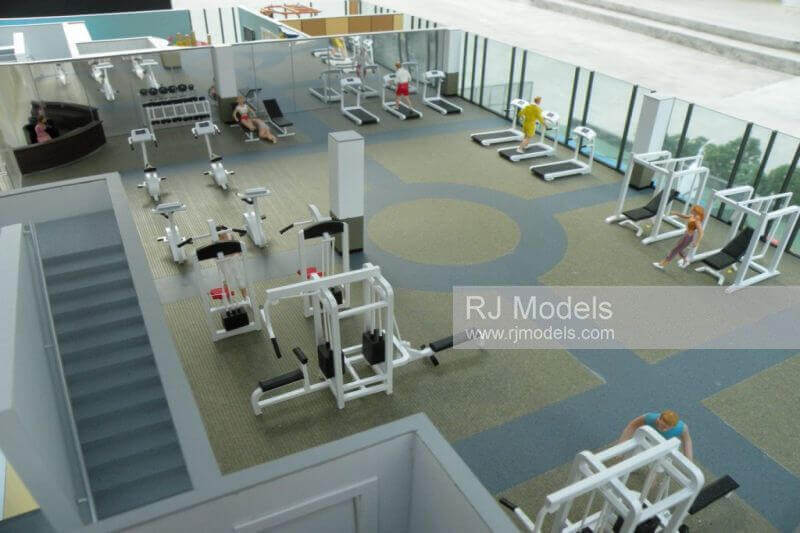 Scale: 1:100                                 Size: 1050mm x 900mm                            Production Time: 2 weeks
This interior model by RJ Models presents a clubhouse project in Brazil.
This architectural model maker heavily showcases the facilities in this clubhouse for its club members to enjoy.
You can see through this model how details bring life to your projects.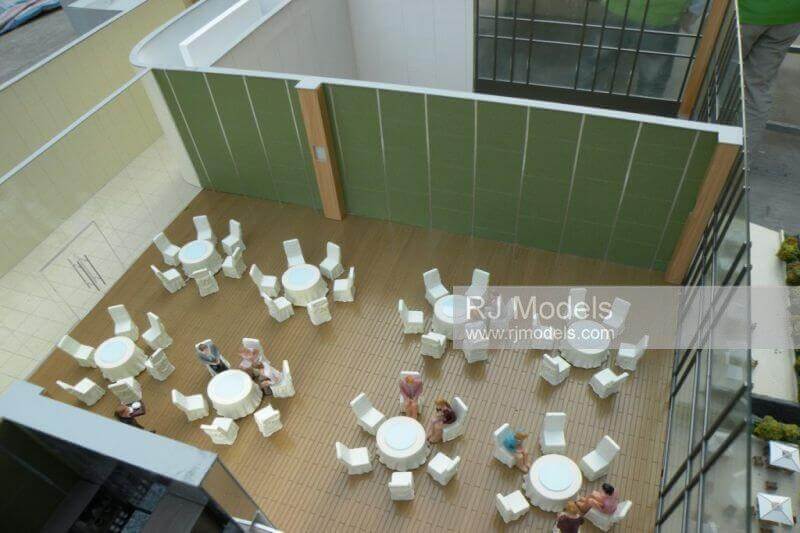 In 1:100 scale, our architectural the model makers went through a thorough detailing process for each section.
This is evident with all the facilities and equipment portrayed in this model, from the gym, dance room, cafe, bathroom and parks.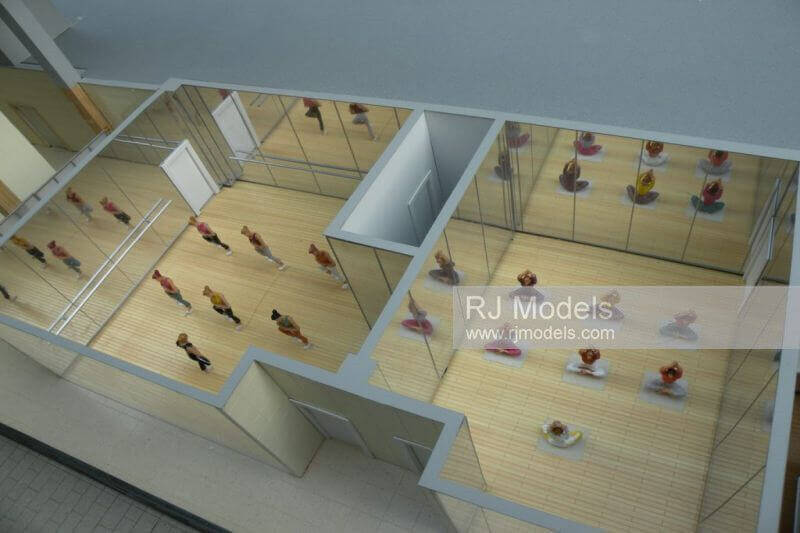 Moreover, the attention to detail with regards to the structural details is also superior. Take note of the flooring, and the glass mirrors and windows of each room.
To give a sense of animation, as well as scale, human models were also included to portray the numerous things you can enjoy in this facility.
RJ Models styles their scale models with generous amounts of detail to keep viewers delighted just as informed in learning about your projects.
Factory Model in Brazil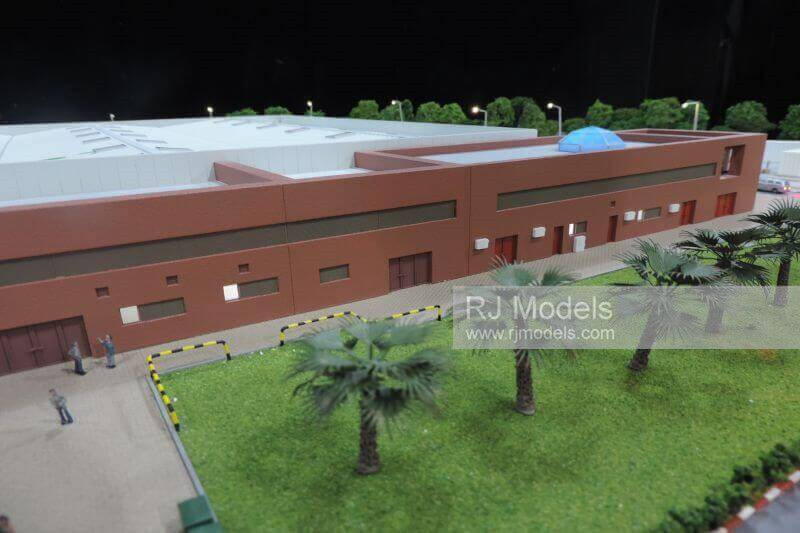 Scale: 1:100      Size: 1500 mm x 1200 mm      Production Time: 2 weeks
This building model displays a large factory to be constructed in Brazil.
The standard design prioritizes the utility of the building aside from aesthetics.
As evident in modern style architecture, this structure heeds on "form follows function." This industrial design shows that efficiency is of prime importance for the factory workflow.
Our architectural model builder created this model to entice viewers, being an informational tool for the project.
Having a large-scale project such as factories can be innately confusing, but with scale models, navigation and information are easier to grasp.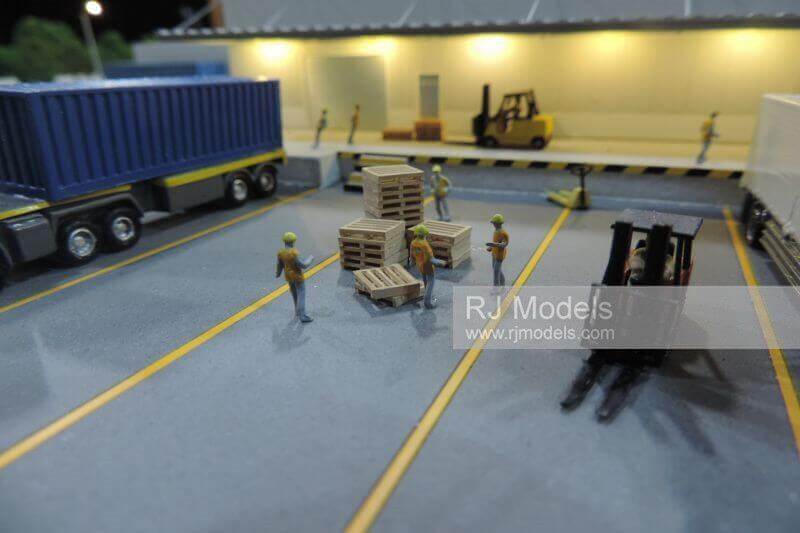 The architectural model building team has included a ton of details in this industrial building model.
The production building, office, and warehouse can be pointed out in the model, as well as parking spaces for outgoing trucks.
The exterior areas of the architectural model show essential areas of the factory such as loading/unloading areas and entryway/ exits.
Other details such as safety signs and symbols are also included in the model.
Stratigraphic Texture Model in Brazil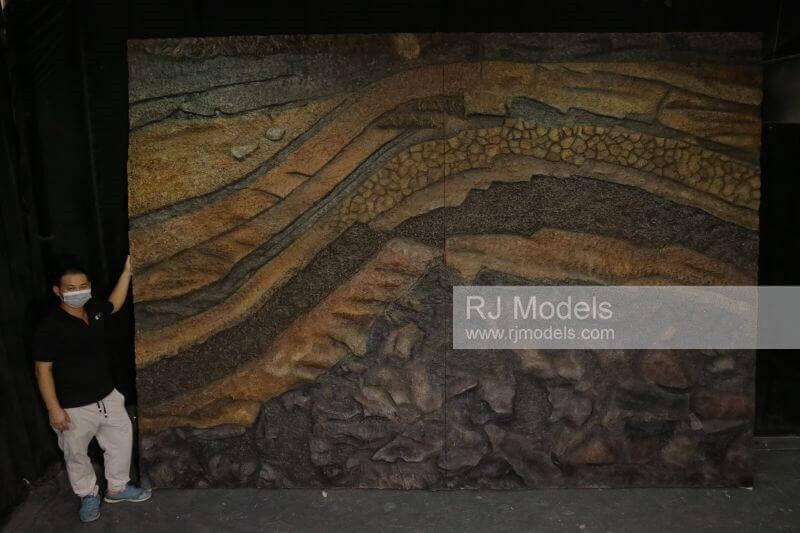 Scale: 1:100      Size: 1500mm x 1200mm      Production Time: 2 weeks
RJ Models has provided a stratigraphic texture model for terrain in Brazil.
This scale model displays the rock layering for study and analysis.
At 1:10 scale, the massive size of the landscape model can provide itself as a detailed instructional material in stratigraphy.
This model is a great viewing medium in order to learn about this field.
Moreover, this particular model can help researchers in Brazil in this field of study.
The RJ Models team assembled this model in great detail and accuracy in all its massive size.
The modelers ensured to create the textures as specific as possible as physical properties of the rock layers are a key to understanding the rock formations.
This rock texture model by RJ Models holds significance in the field of science and research.
This study forms the groundwork for the classification of rocks and their structure in time.
Conclusion:

RJ Models is an experienced company in the architectural model-making field.
With 24 years in the field, international projects are nothing new to the company.
RJ Models has been privileged to work with the top architects around the world, as seen with the projects we showcase.
Moreover, we provide service for all architects and designers, supporting you in your design endeavors through our modeling expertise.
We help realize the design you want by being a reliable service, as well as customer support.
We believe that every architect we serve internationally receives the service you need as we are operating around the clock, no matter where you are.
RJ Models provide model-making services with competitive quotes and quick turnarounds.
Leader in World Class Model Making
Any questions about architectural models,just feel free to contact us
We will never rent or sell your email to anyone.
Contact

RJ Models

& Start Making You the Top
Our vision is making the top quality architectural models to everywhere in the globe.