Amazing Architectural Model Making Projects in India by RJ Models
Introduction of RJ Models:
Architectural Designers require physical scale models in India to evaluate and reveal innovative ideas of new projects before they are built.
At present, model making service in India is in growing demand.
RJ Models has a vibrant team of model makers in India providing services on various domains in the field of architectural models.
Since the inception of RJ Models, we have created flexible platforms for information exchanging between Indian clients and our model making experts.
Being driven by clients' requirements and rich experience, RJ Models became one of the major model suppliers in India.
And we have formed competitive advantages of providing the Indian clients with the most satisfied scale models.
Following the international standards strictly, RJ Models promise that every architectural model we manufacture has a superlative quality.
Using sophisticated materials and high-tech technologies, RJ Models has achieved the highest possible standard of model making industry.
Our pioneering architectural model making techniques enable us to produce the finest quality presentation tools in India.
These architectural models assist Indian clients in interpreting their design concepts by adding more value and enjoyments to the projects.
RJ Models's scale model makers in India are innovative proficiency to help the clients to present their outstanding idea as a true spectacle.
Our specialists are able to come to Indian to complete the miniature model installation and lighting adjustments.
The repeat commissions prove that RJ Models did a satisfying job in assisting prestigious Indian clients in interpreting their visions.
Our esteemed Indian clients were appreciating us for producing superior quality scale models to embody their designs.
1. Omkar Worli Residential Model

Scale: 1: 75
Size: 3500mm x 5500mm
Production Time: 45 days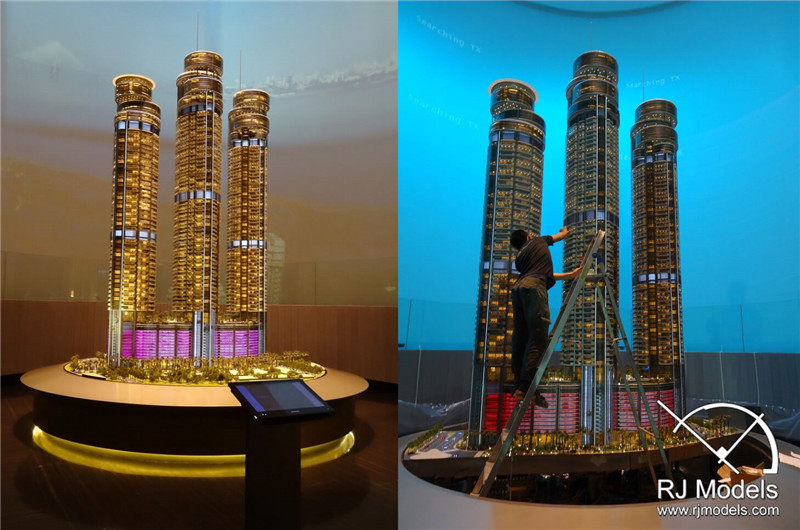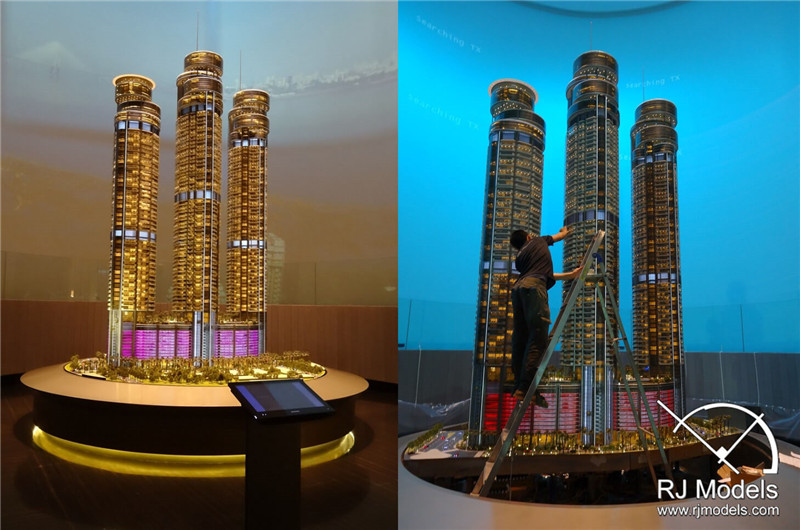 Omkar is a new residential project at Worli,Mumbai, by Omkar Realtors.
This ultra-luxurious residential complex feature three residential towers and equipped with bespoke amenities, such as the meditation room, private theater and sky pools, etc.
In order to satisfy the client's requirements to impress the viewers and fully demonstrate the fine details, the architectural model is made at the scale of 1:75, which is quite distinctive compared to the usual residential models.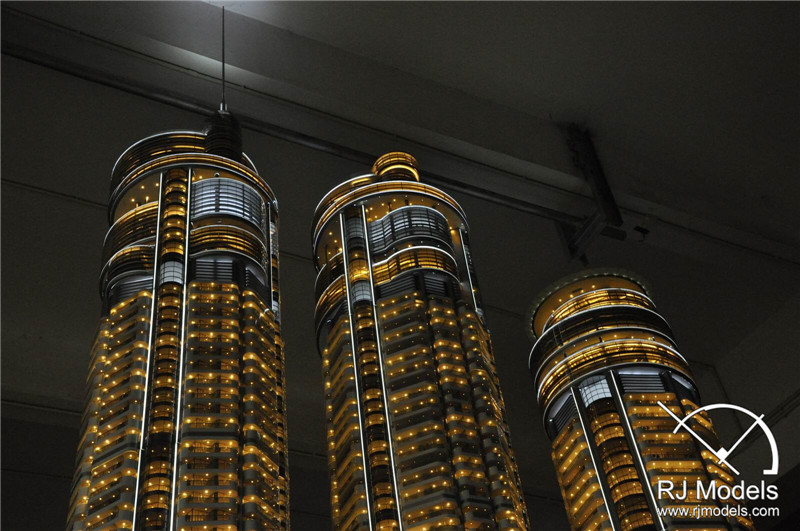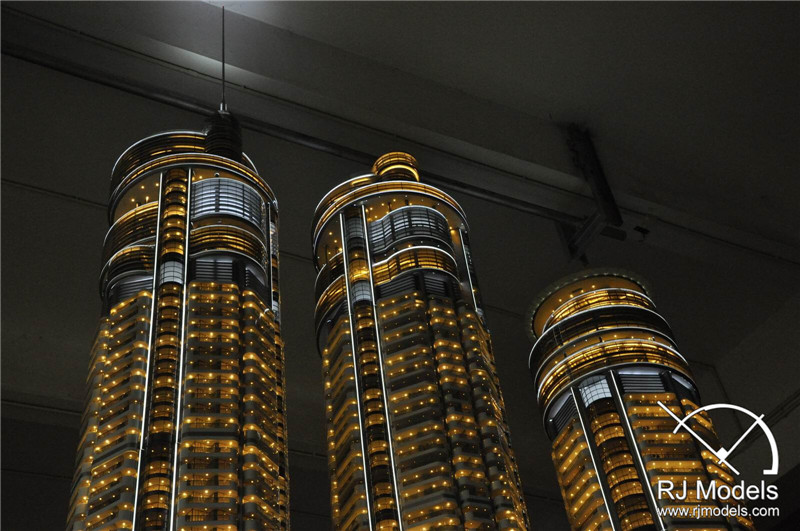 Due to the relatively large scale, the height of this residential model reaches the shocking 5.5m; meanwhile, a large amount of aluminum alloy, iron and plexiglass are used in this model to show an eternal beauty, and the final architectural model weighs over 600 kilograms.
The residential model is equipped with thousands of lights, including warm yellow interior lights for each dwelling unit, hidden white lights in the colonnade, and very unique light columns on the road.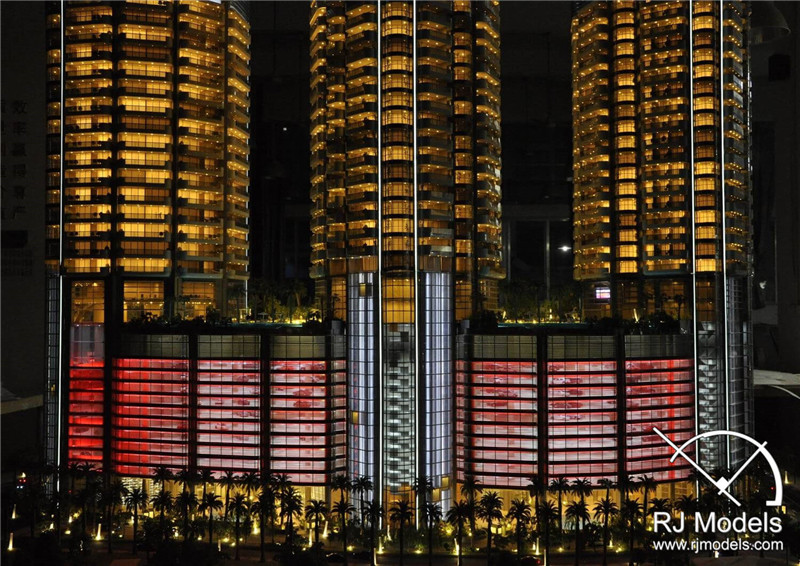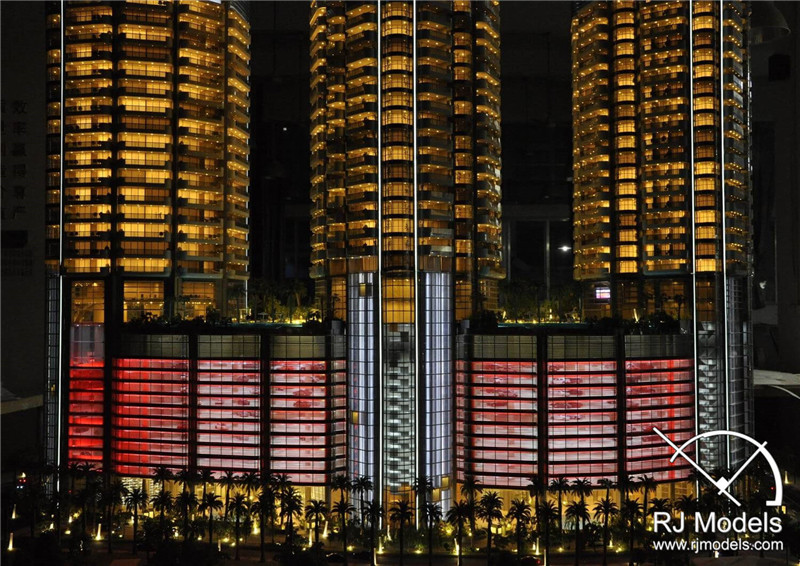 This architectural model is placed in the center of the exhibition hall in India, with a huge electronic screen behind it that can change colors to match the lighting changes inside the model, simulating the appearance of the building at the different time in one day, giving the viewers a more direct visual experience.
2. Omkar Worli Interior Model for India

Scale: 1: 25
Size: 1300mm x 1300mm
Production Time: 30 days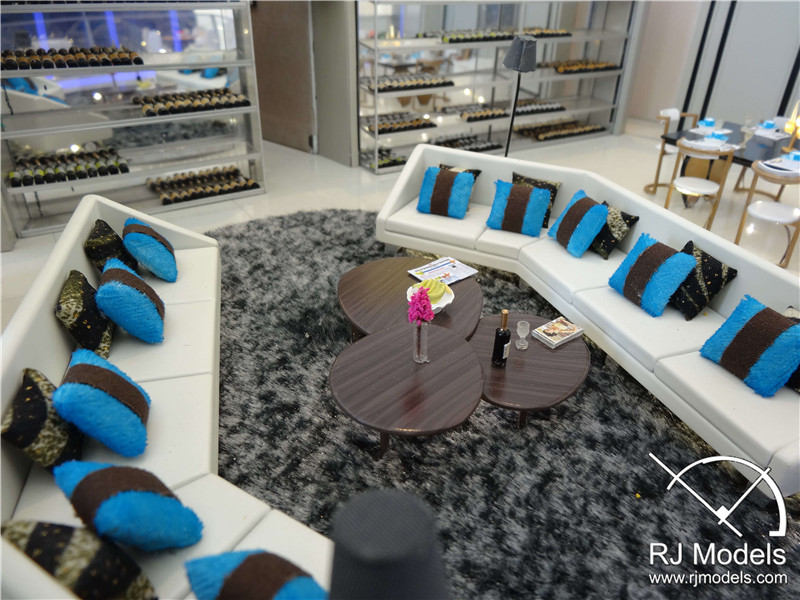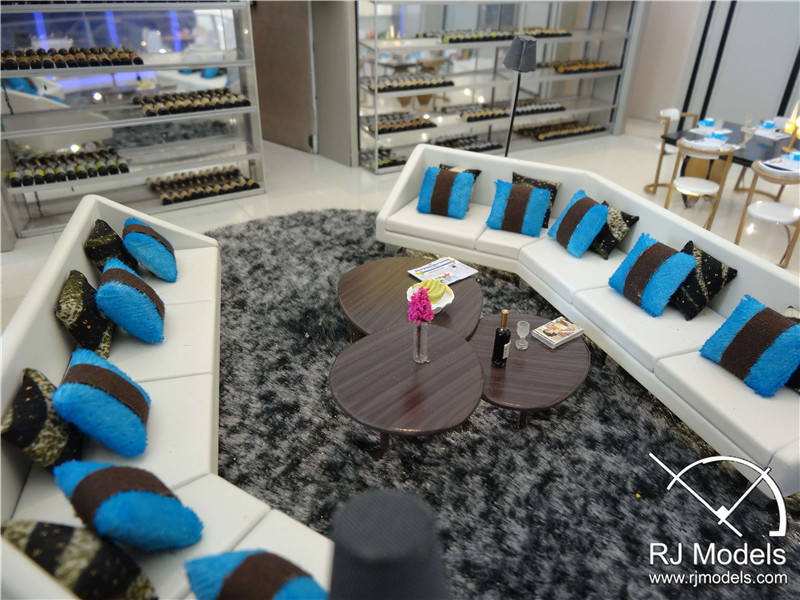 Worli is designed to be a mixed-use development project which would feature extravagant residences for distinguished inhabitants in a notable location in Mumbai.
Shown here is the interior representation of a typical apartment of one of the prominent luxurious buildings.
RJ Models aims to provide a seemingly realistic version of the real model.
The interior design provides a contemporary and lavish lifestyle to future residents.
Furniture arrangement and other internal upscale amenities of this 1:25 scale model was selected and put in place following exactly the 3D architectural visualization drawings brought by the client.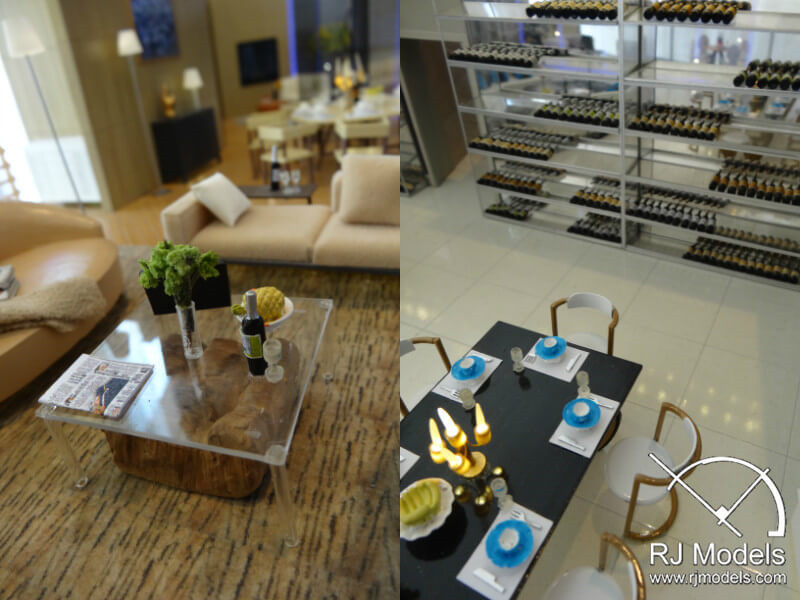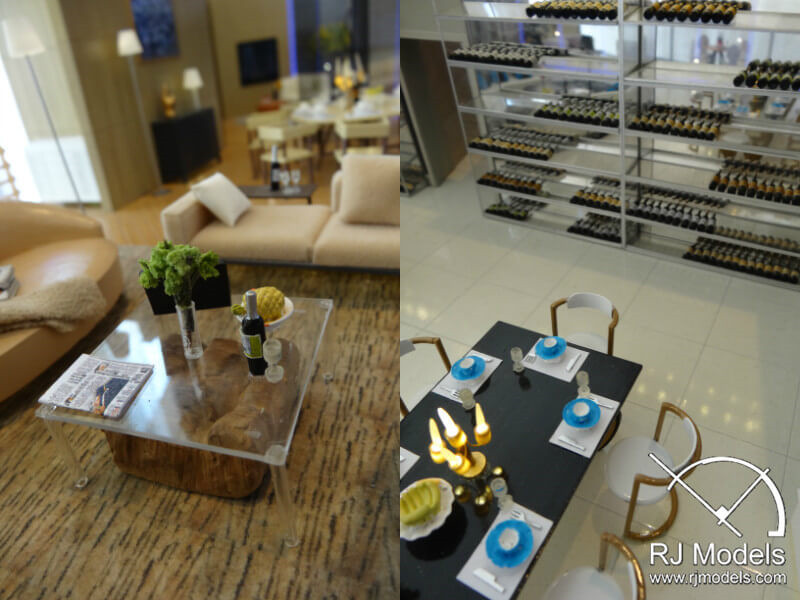 Since it presents abundant precise details about the project with its photorealistic look, this interior replica was displayed at a few real estate events after completion.
The interior model serves as a means of dialogue between the developer, potential investors, and housing buyers. Our client was very pleased with the final results.
To make the transportation easier and protect it from human damage RJ's model makers build a customized pedestal together with a Plexiglas cover. Lightning effects were accomplished using LED and natural sunlight to showcase the model during different times of the day.
3. Forum Club House Architectural Model in Mumbai 
Scale: 1: 40
Size: 2000mm x 1600mm x800mm
Production Time: 30 days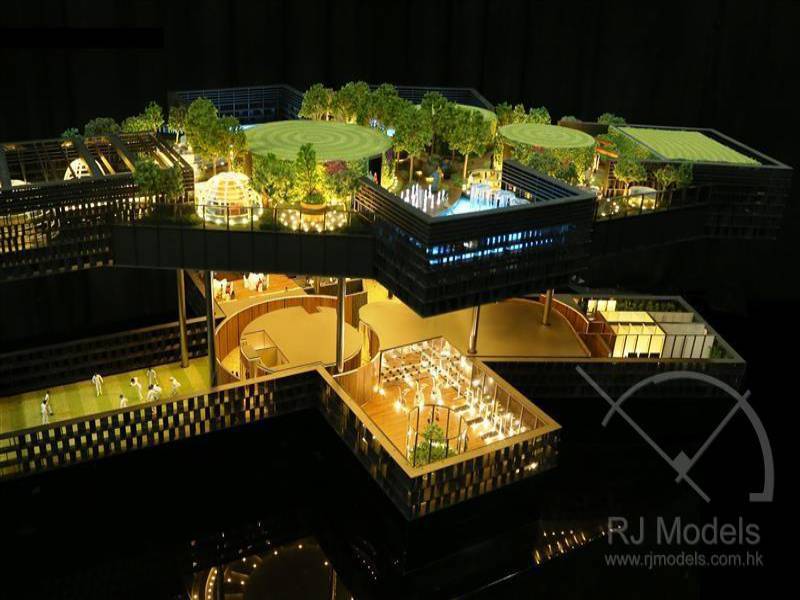 Presented here is the modern concept of designing clubhouse buildings, containing various recreational facilities.
This miniature model is a 1:40 scale replica of the luxury Forum Club House located in the central area in Mumbai.
Bringing the most relaxing and pleasurable experience to their customers, all in one place, was the ultimate goal behind this design.
The lush landscaping transmits a feeling of tranquility whether you are enjoying the mini football field, the party lawn or the private swimming pool on the terrace.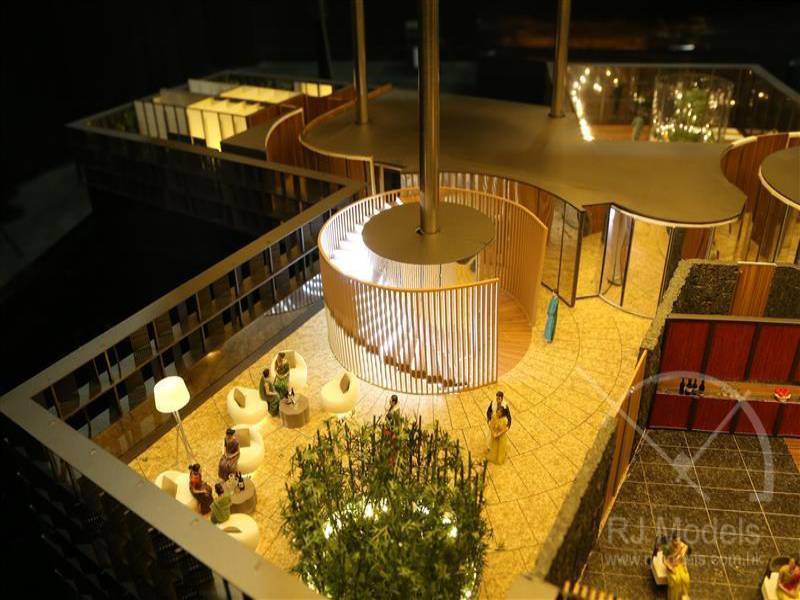 The majority of parts on this interior model were laser cut out of ABS and acrylic. RJ's professional model makers carefully crafted and fabricated the other decoration components as well, giving an outstanding appeal to the model.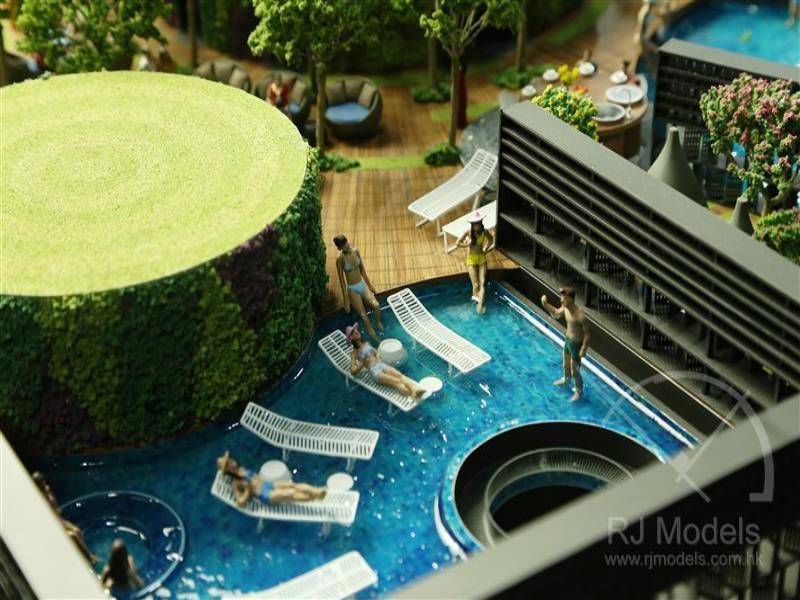 What makes this model a perfect tool for fundraising is also the lift up function, to fully showcase the interior design of each floor.
LED lights were installed to highlight the visually impressing details and offer a better perspective.
Publicly displaying the model is easily done, due to the manageable scale that allows taking it to various sales events.
The client was very satisfied with the final product as it exceeded their expectations.
3. India Tower Architectural Model
Scale: 1: 200
Size: 1800mm x 1600mm
Production Time: 30 days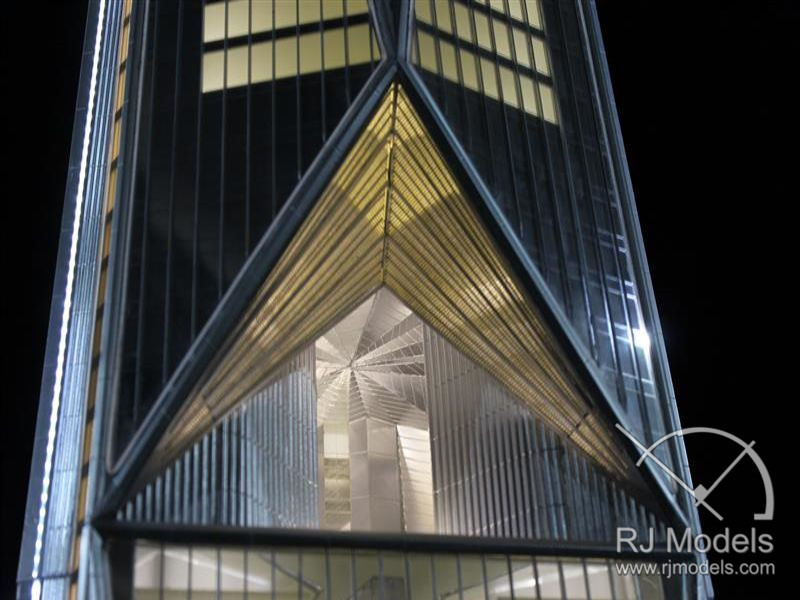 India Tower is an outstanding symbol designed to celebrate Mumbai as the leading innovative and cultural hub of India.
Redefining the skyline of the metropolis, this office tower is considered to be a modern landmark as it will dominate the development landscape of the city.
Featuring residences, amusement areas, and high-end shopping to attract local and international travelers and investors, this dynamic new destination has high potential importance for the further development of the local economy and urbanization process.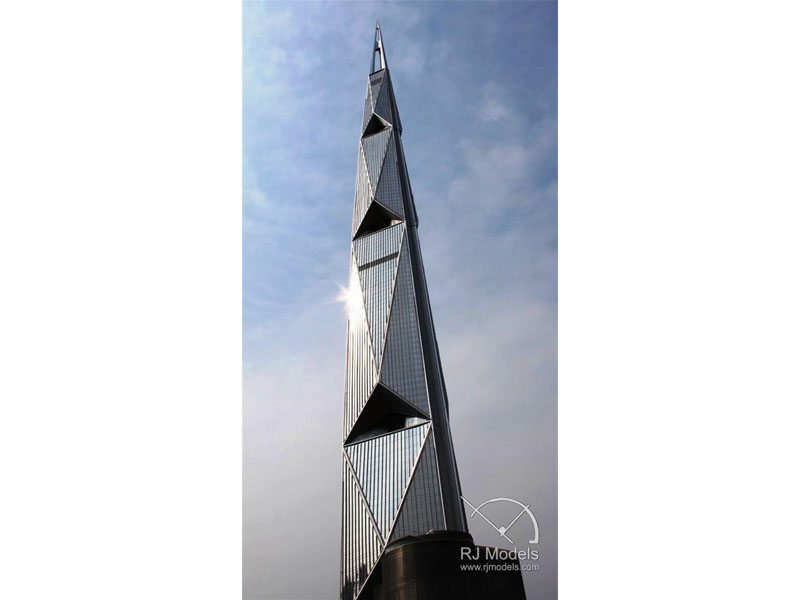 Fabricating this office tower model was not an easy task for our model makers.
The entire enamel building facades required extremely careful glass-sheet pasting work to perfectly present the vigorous geometrical appearance.
High-performance acrylic was also used to add extra resistance and reduce the overall weight of the two-meter tall model.
RJ Models created a pleasant and relaxed luxury atmosphere by adding some micro-light-emitting diodes along the border rods to simulate the outlying structure lines.
Advanced modeling making techniques plus refined handcraft skills enabled our architectural model making team to complete this stunning glass and steel office tower model in only 4 weeks.
4. The Atmosphere Interior Model Making for, India
Scale: 1: 200
Size: 1800mm x 1600mm
Production Time: 30 days
Being the first residential sky sculpture in India, Atmosphere is a high-class grandeur residence build in Kolkata.

Our client selected one typical mock-up apartment and commissioned RJ Models to design the interior model as a means to promote property sales of this ultra-luxurious residential model-making project.
Great effort was put in designing every interior element precisely, to ensure that the interior model would match the client's desire for a splendid representation.
The potential residents can get a feel of the place where they could enjoy an extravagant and elegant lifestyle only by looking at the interior model making for India.
Marketing through this method has resulted in increased interest and more potential customers, bringing them even closer to the real experience.

RJ's model making team used Computerized Numerical Control (CNC) Router and laser cutting techniques, to engrave the majority parts of the interior model.
Professionally selected miniature furniture fittings and other decorations were installed, providing the viewers with a thorough vision of the interior model and allowing them to easily identify different room functions.
To further showcase the sophistication and grace of the interior model, lighting effects were created to bring attention to the spacious area and small details of this work of art.
5. Mumbai Airport in India
Scale: 1: 500
Size: 2000mm x 1200mm
Production Time: 30 days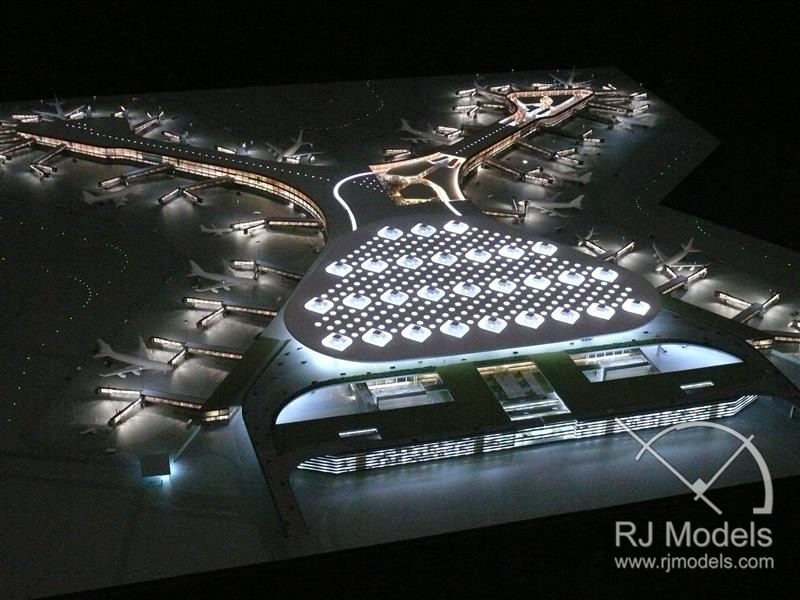 Chhatrapati Shivaji International Airport Terminal 2 can also be labeled as a beautiful piece of art and a treasure of India, due to its unique features.
Designed by SOM, the airport model covers an area of 410,000 square meters.
Defying the industry's stereotypical design of a city hub facility, the completed airport is a breakthrough in architecture, starting from the extended columns to the coffered ceilings embracing a sacred and beautiful interior.
GFRG material was used to create the coffered roof with a 3D engraving machine.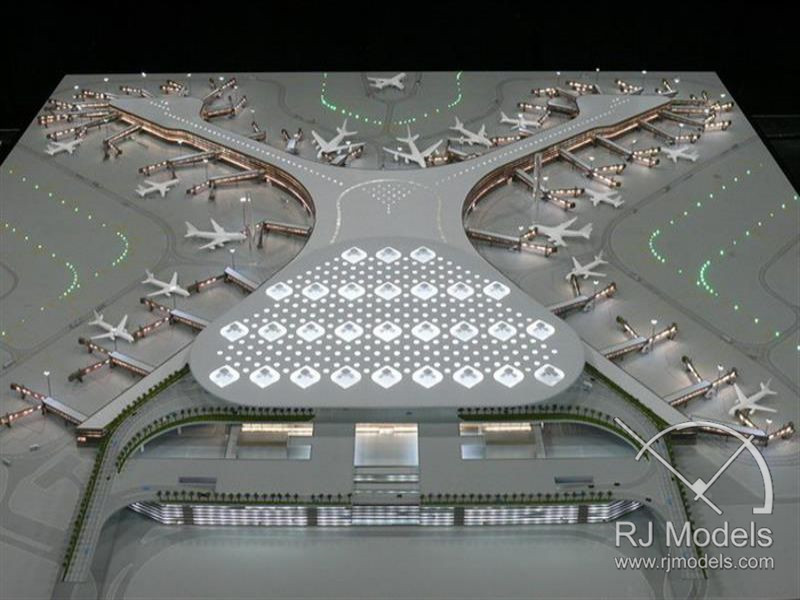 GFRG is a type of reinforced fiberglass material that is naturally white and can be seamlessly pieced together to create a complete structure.
RJ Models use 3D software to draw the roof skylight windows before producing the airport model for India.
Using excellent skills of craftsmanship and 3D printing technology makes it possible to accurately process the 3D model data to produce the airport model components.
LED lights were also fitted to the interior of the model, to produce an accurate depiction of the real-life structure with lights being scattered through the coffered roof of the airport model.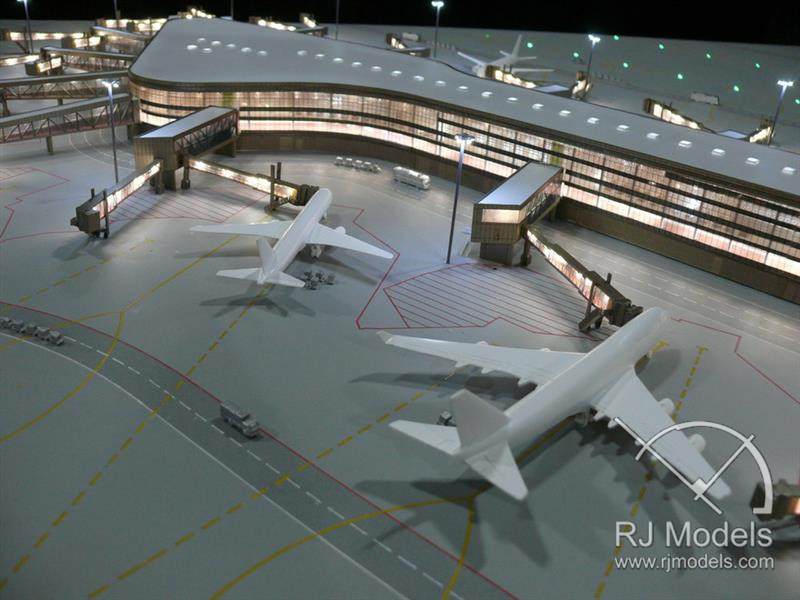 Using these professional tools ensures a high standard product and delivers a structure that meets both the architect's and quality control requirements while shortening the production lifecycle of the actual model to only one month.
RJ Models has created a truly remarkable masterpiece, worthy of being dubbed a palace for India.
6.Bangalore Airport Model by SOM
Scale: 1: 600
Size: 1750mm x 1500mm
Production Time: 30 days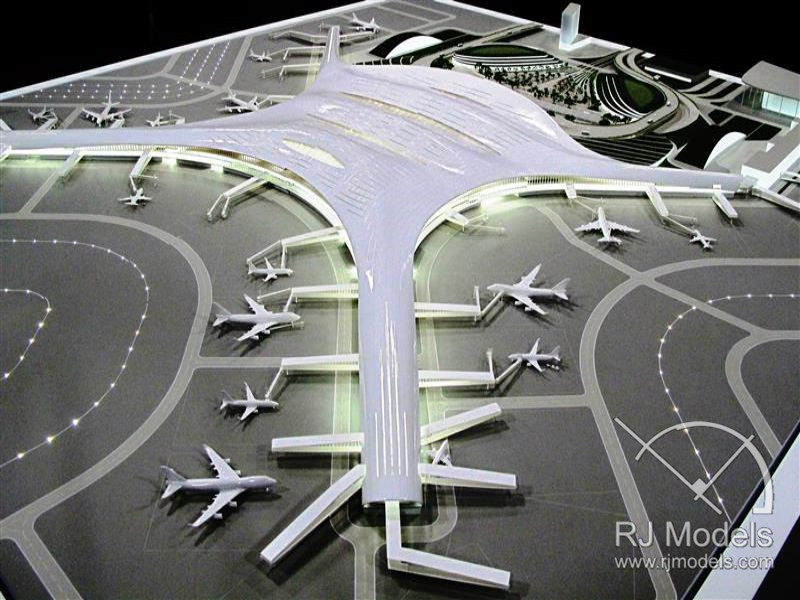 Bangalore Kempegowda International Airport Terminal 2, used Garden City as a theme for their concept design.
This was due to SOM's aim to design the airport as a natural extension to Bangalore's greenish landscape.
The airport design has a glossy white appearance being stretched symmetrically in four directions.
Soft lighting is diffused from the base of the airport model onto the airplane parking bay.
The unique roof outline is beautifully lit, further enhancing the visually appealing structure details.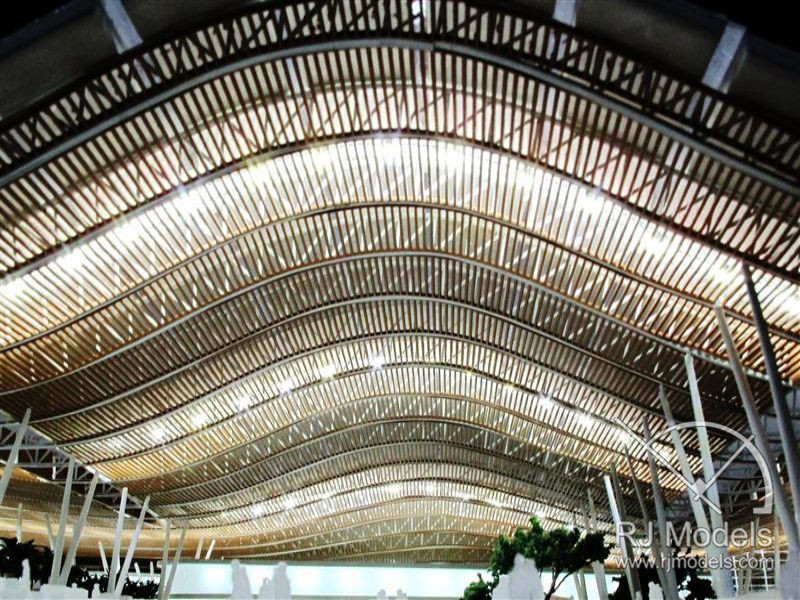 RJ's architectural model makers as a professional model building company showed once again their professionalism and skillful experience.
Striving for utmost accuracy in the airport model building guarantees an authentic and remarkable 3D work of art.
Aiming for consistencies with the building specifications while still being able to envision the real-life environment, allows their imagination to flourish.
Sculpting the modern building shape required both traditional and high-tech model-making techniques to be used, and it took RJ Models only 30 days to complete.
This 1:600 scale airport model provides the designers relative freedom when it comes to the usage of model-making techniques.
Focusing on the materials used and the building form, without excess details, is enough to demonstrate the airport design concept effortlessly and to maintain a high delivery standard by this model building company for India.
7. Club House Model Building in India
Scale: 1: 40
Size: 2300mm x 2300mm
Production Time: 40 days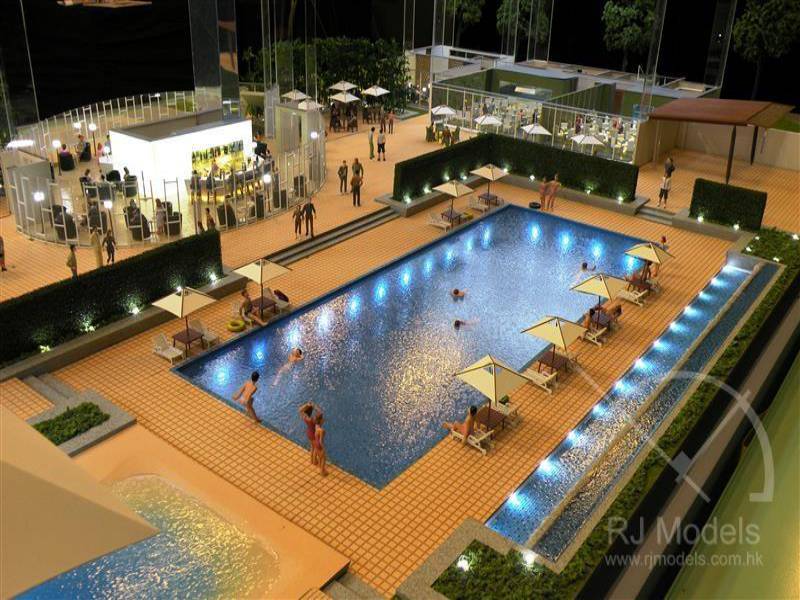 Planned to be a dominant community place for the development of the location area, this clubhouse was designed as a part of a large master plan development in India.
RJ Models, as a famous model building company for many India clients,  has been contracted to build this elegant 1:40 scale model for the client.
Including a wide range of health and recreational facilities such as swimming pools, drinking lounge, gym, yoga studio, and meeting rooms, the finished model acts as a promoting tool to increase the future ownership and attract valued guests.
Miniature 3D people and objects were placed across this interior model, making it come alive.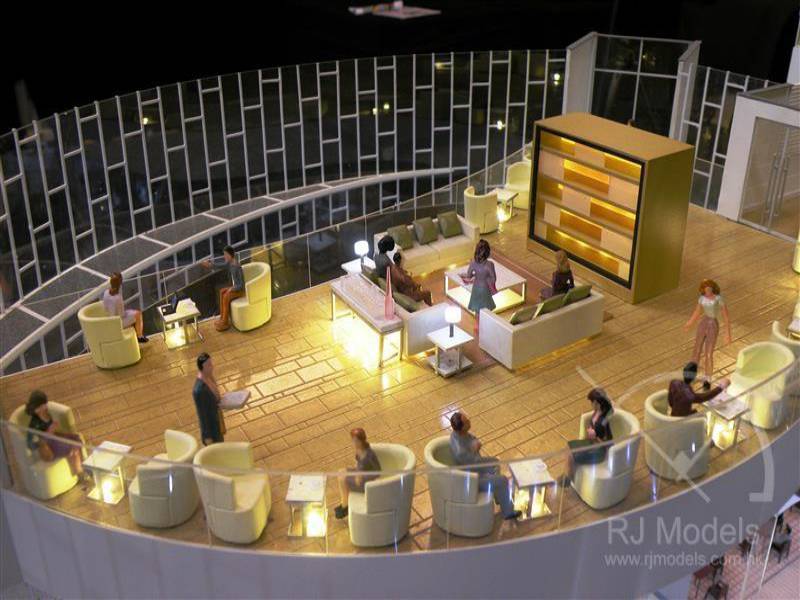 RJ's model makers added a lift function to the upper floor, exposing the interior design details of the building from different angles.
According to the overall architectural design style, together with the traditional Indian architecture and modern design, RJ's architectural model building teams focused elaborately on selecting furnishing and decorations for both the internal and external space of this aesthetically pleasing model.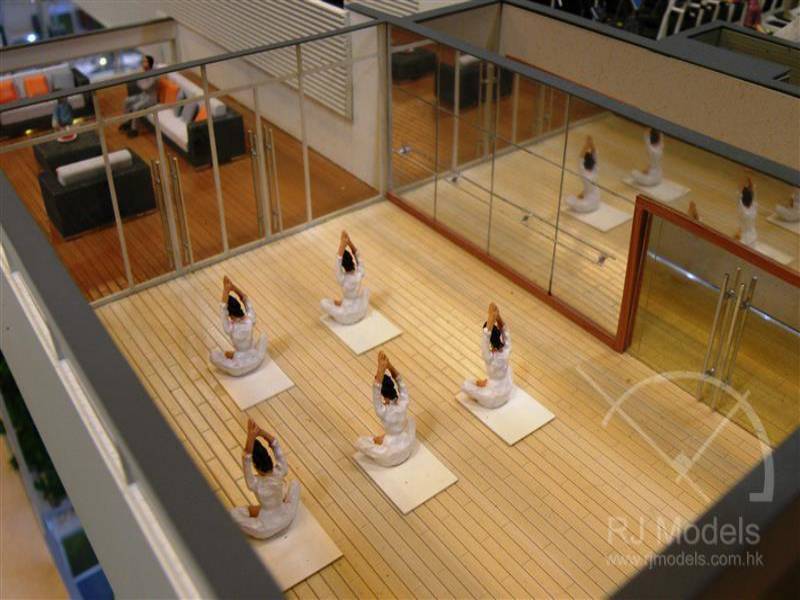 Impressive lighting effects were added to this interior model to further optimize the visual effects.
The finished product was placed in the client's sales office for marketing purpose as it could provide the viewers with a 360° vision of the relaxing and luxurious clubhouse.
8. Siddha Sky for Residential Model in India

Scale: 1: 200
Size: 1800mm x 1600mm
Production Time: 30 days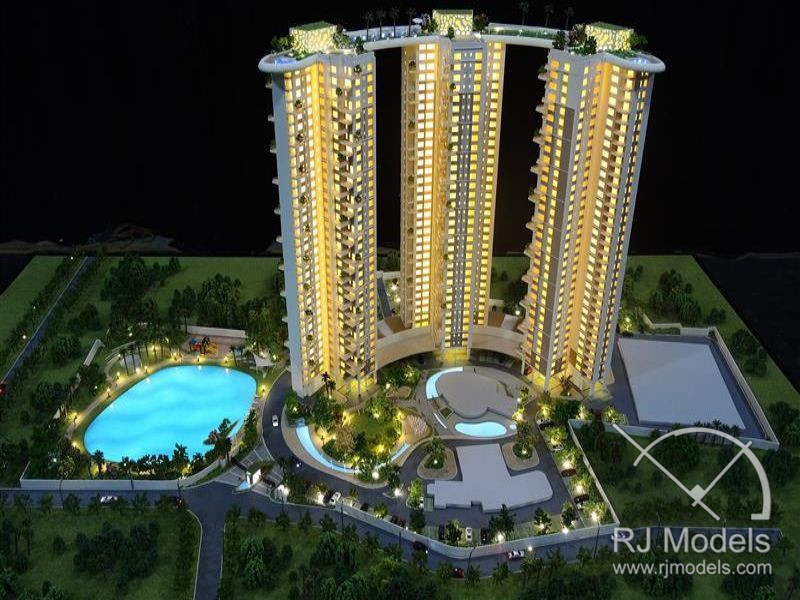 Siddha Sky was designed to be another new famous landmark in the city of Kolkata, India.
These three 340 feet high towers are linked together with an exceptional skywalk on the rooftop.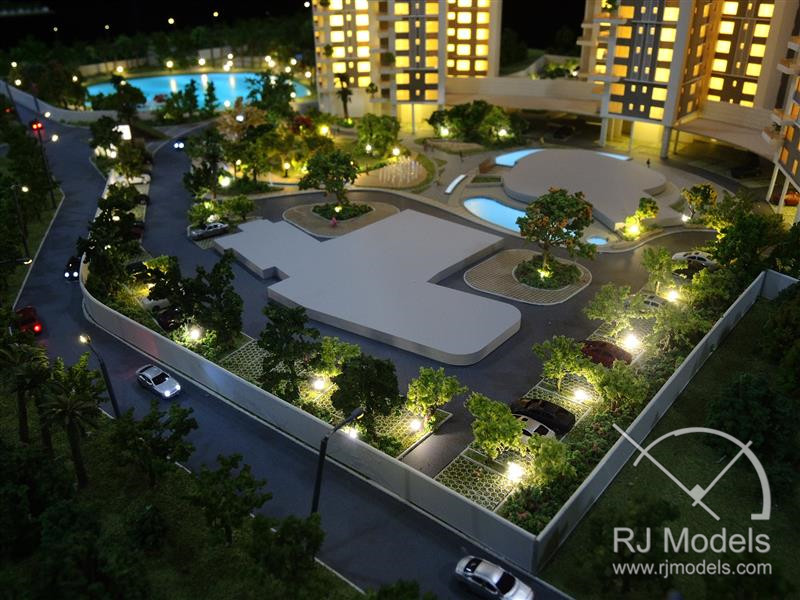 Rising majestically above the landscape, these contemporary residential buildings were designed to be the city's most attractive residences as they provide panoramic and amazing views.
Since this architectural wonder was planned to be part of Siddha's affordable housing projects, the primary design intention of this flawless project was to provide the future residents with a modern and pleasant lifestyle at an affordable price, resulting in an unforgettable experience.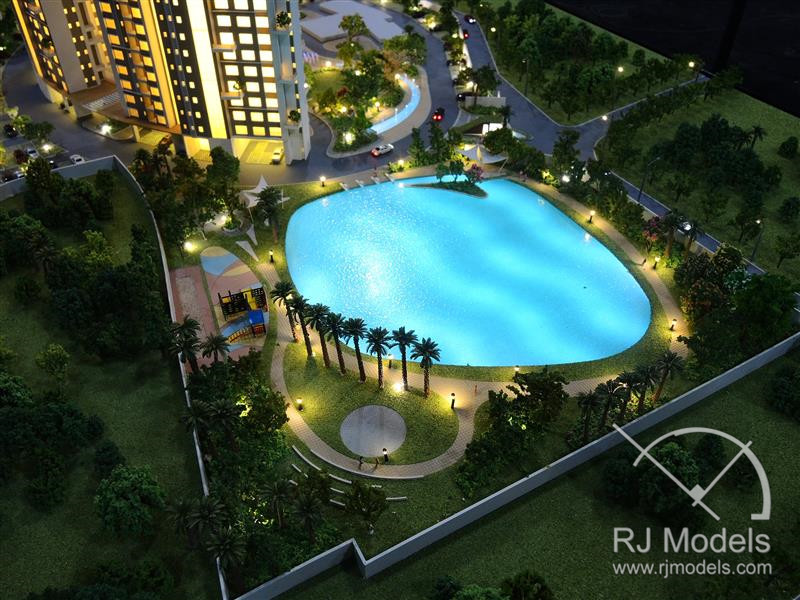 To achieve excellent quality results, this architectural model was fabricated mainly from high-performance acrylic and laser cutting technology.
The model building company, RJ Models replicated the comprehensive skywalk on the rooftop by adding various amenities like leisure pools and lush greens to bring more vitality.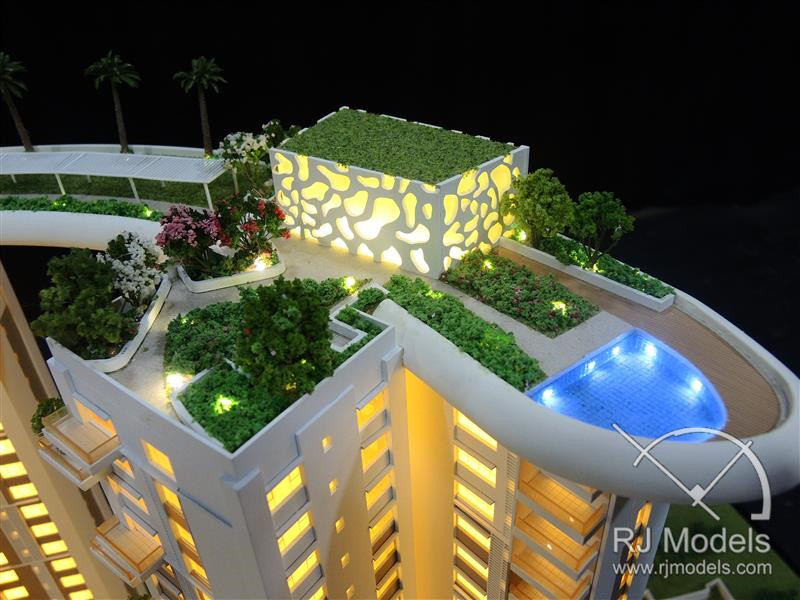 Illuminating the interior of the residential building model can bring a delightful sense of warmth and comfort to the viewers.
Ensuring that the order meets the high detail standard requested by the client, our architectural model makers in Kolkata spent approximately one month thoroughly crafting and building residential model elements.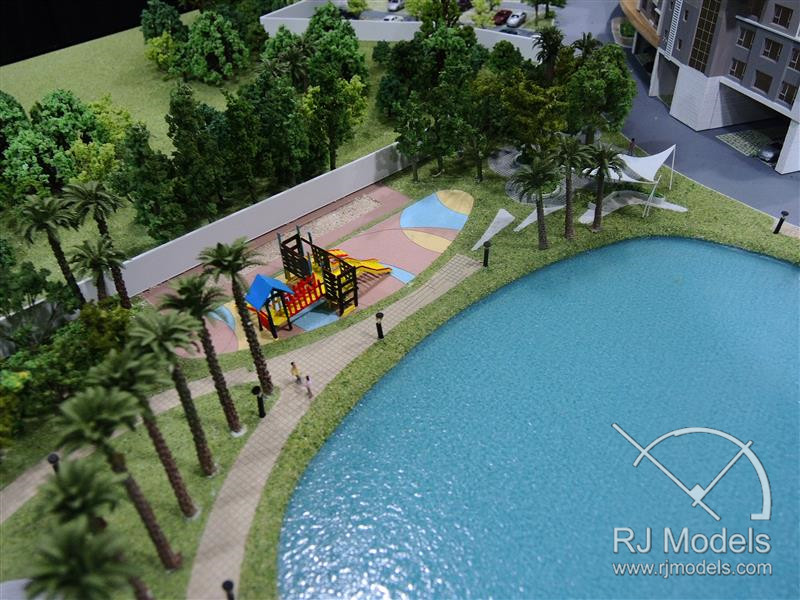 The final product had a quite captivating effect when it was put on display during sales events and public exhibition.
9. Interior Culb House Model Making of Atmosphere in Kolkata
Scale: 1: 40
Size: 2300mm x 1000mm
Production Time: 30 days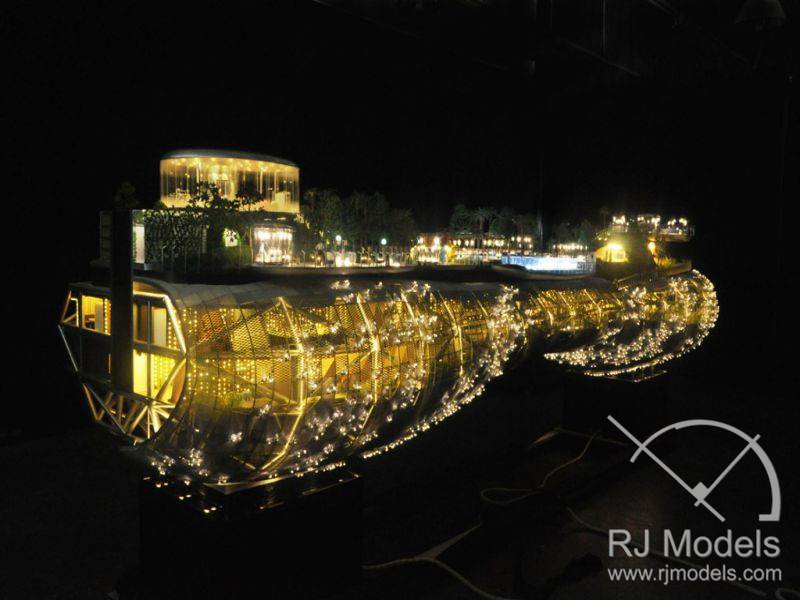 Atmosphere Club House in Kolkata is constructed on top of the exceptional well-known bridge that connects the two skyscrapers together on the rooftop.
Designing this sophisticated and futuristic looking model required great effort and persistence from our team of architectural model makers in Kolkata.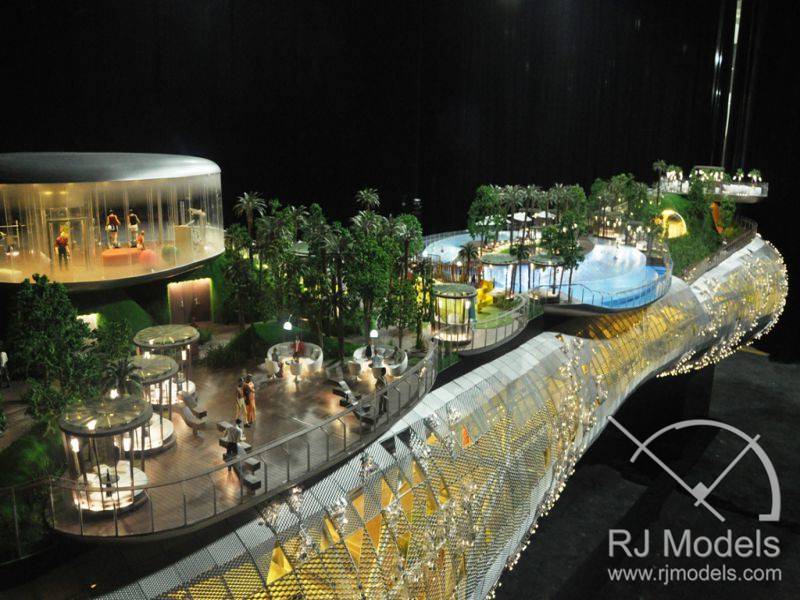 Sprayed with silver paint to illustrate the metallic curved façade, the innovative exoskeleton was fabricated mainly from high-performance acrylic.
Our client in India firmly believed that the more detailed and visionary the interior would be, the better it would communicate with the viewers.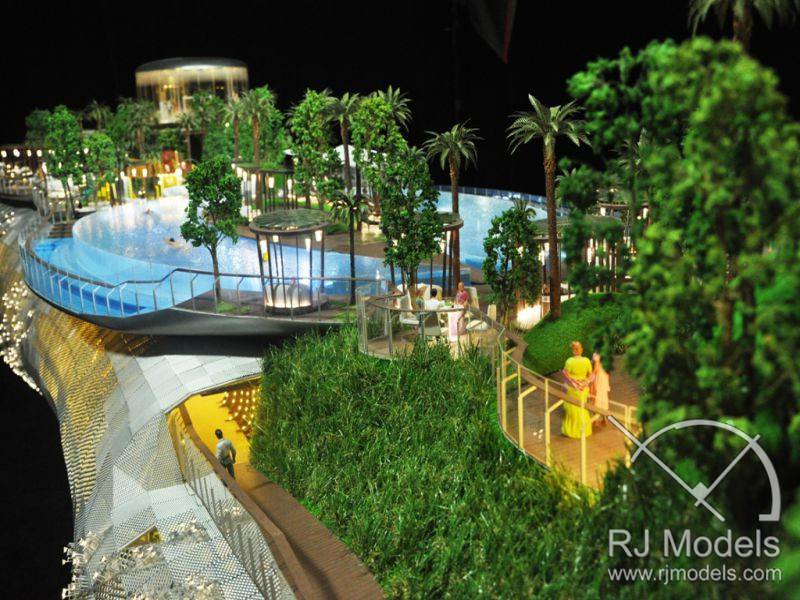 So the final clubhouse model does an amazing job in showcasing the unique space for all sorts of recreational activities.
Including a fabulous detailed range of amenities and luxurious accessories such as swimming pools, outdoor sports facilities, cafeteria, pavilions, and party lawns, this exceptional model serves as a means of promoting sales and attracting potential guests from all over the world.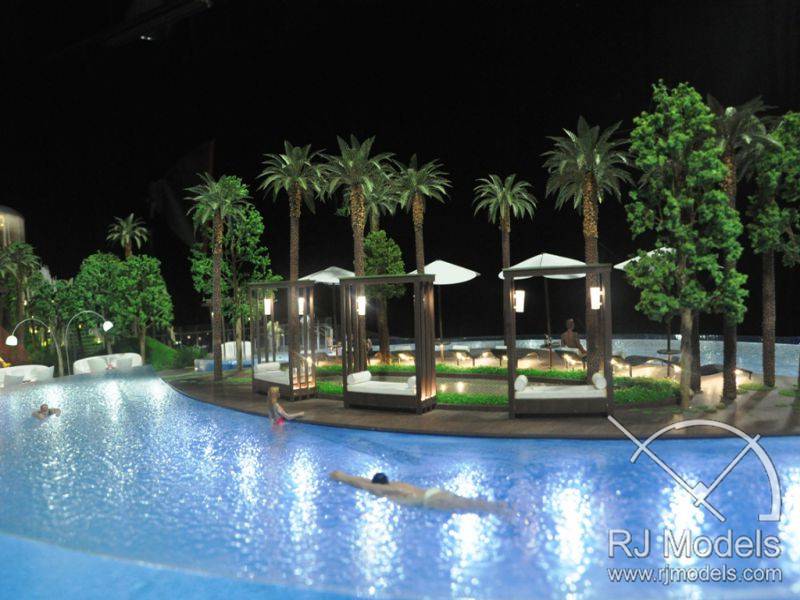 Magnificent lighting effects were installed, to bring out the extremely precise details and light up the night sky.
Morphing together the fluidity of the metallic structure with the greenery and luxurious spaces on top, this elegant bridge is used to hold evening parties and other private events.
RJ's architectural model makers in India put lots of effort into this project, to ship the final model to the client on time.
Conclusion
Up to now, RJ Models has completed a lot of remarkable scale models for the top architectural design companies for India.
Our architectural model makers pay attention to the smallest of details to ensure every scale model we produced is of the highest quality.
These miniature models not only assisted Indian designers in developing their projects but also offers infinite points of view to the viewers.
Leader in World Class Model Making
Any questions about architectural models,just feel free to contact us
We will never rent or sell your email to anyone.
Contact

RJ Models

& Start Making You the Top
Our vision is making the top quality architectural models to everywhere in the globe.