Amazing Architectural Model Making Projects in Sweden by RJ Models
Introduction of RJ Models:
Swedish Architecture shows a rich history, as it has been derived from various influences.
Beginning from foreign and European architecture, Sweden has then created numerous styles and variations.
Just like Sweden, RJ Models have also adopted various techniques in architecture modeling throughout the years.
Working with architects of different origins, RJ Models have to work on the same page in order to achieve a successful project.
The projects of RJ Models with Swedish Architecture is not an easy feat.
Our architectural model building team should be at par with the architect's ideas in order to execute them properly.
Thanks to their experience with various projects in years, the team can be able to satisfy the architectural design companies's desire.
Sweden Interior Model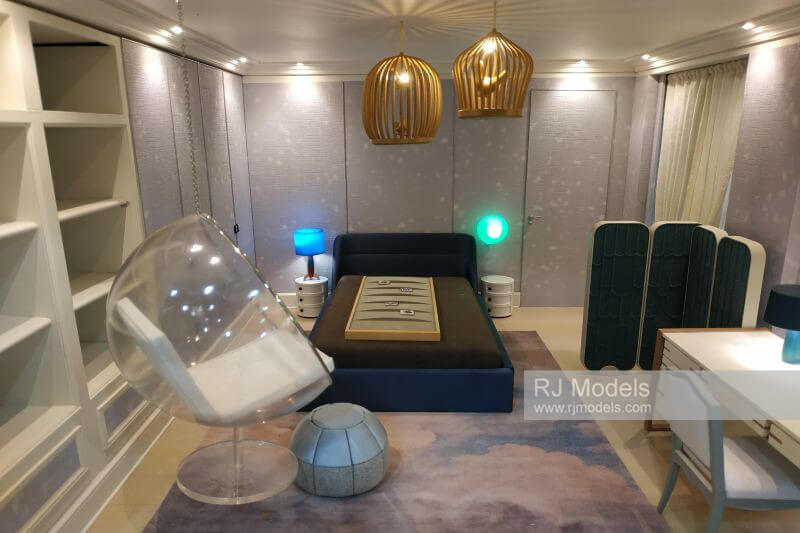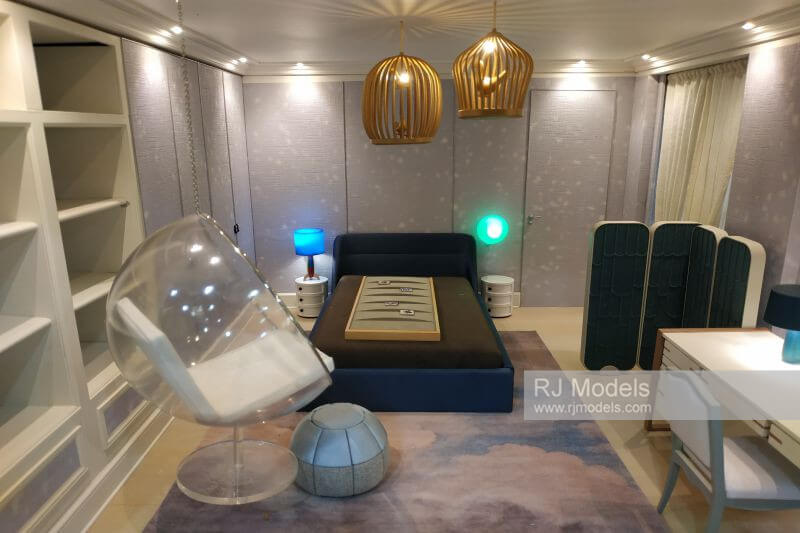 Scale: 1:30                                    Size:  1000mm x 1000mm                            Production Time:  7 Days
The first project for Swedish Architecture by RJ Models is an Interior Model.
In this interior model, it is evident that the mix of natural and modern elements gives a unique look.
To achieve this variety, the modeling team utilized several materials from wood, cloth, glass, and plastics to create these pieces of furniture.
The details of the unique pieces of furniture give off a welcoming feel.
Despite the great detail, RJ Models can be able to deliver this project quickly in 3 days.
The varied lighting also gives a nice playful look to the model. This can be done simply by placing light diffusers in different colors.
The modelers achieved a minimalistic style in this interior model. The use of blends of textures and soft hues make this space inviting.
The furnishings are also simple but functional, emphasizing cleanliness and utility.
This style gives an impression of a homey environment, a good place to live in.
Scale: 1:100                                    Size:  1600mm x 400mm x 700mm                           Production Time:  21 Days
Our architectural model makers has been commissioned to create a model for a retail building model.
This structure showcases the facade of the building, and a sectioned view at the rear.
This large retail building features an extensive detail for both the exterior and interior.
Modeled at 1600 mm length, the front facade shows the large windows that permit natural lighting to illuminate the interior.
At the interior view, the modelers included fine details from restaurant tables, escalators, retail stores, and merchandise.
These details also provide a sense of scale to clients, letting them know the abundance of space this retail store has to offer.
Contact RJ Models now to experience a flawless service for architectural model making.
The modelers from RJ Models used an extensive number of materials to create the model accurate to the real structure.
The sturdy base of the model also gives an easy and safe way to transport the shopping mall model, which can be convenient for the clients.
Sweden Section Model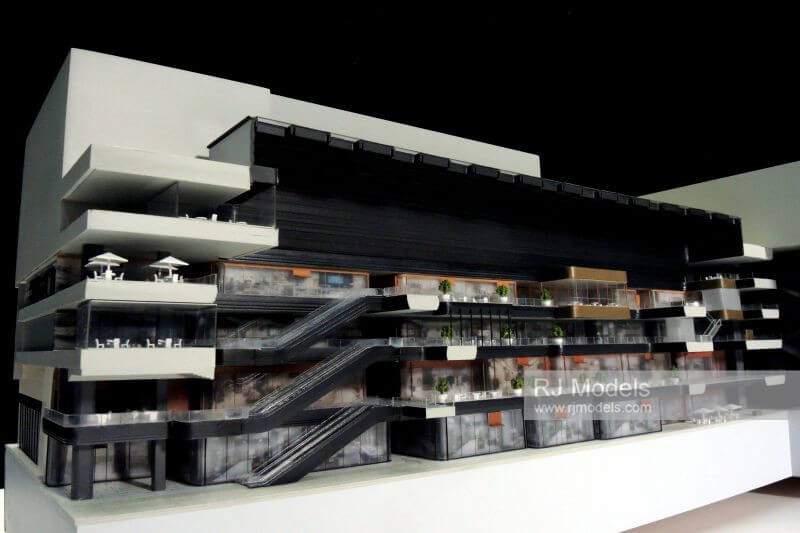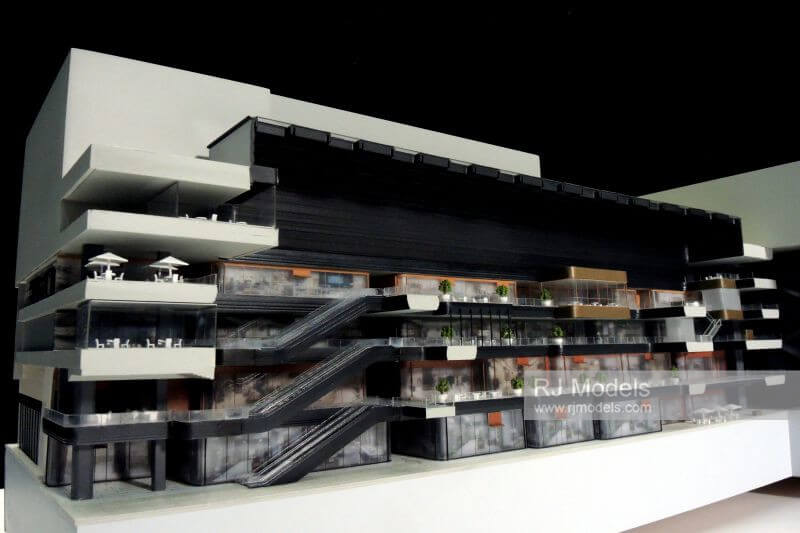 Scale: 1:150                                 Size: 600mm x 300mm  x450mm                      Production Time: 12 Days
This project by RJ Models is another section model of a building in Sweden. This structural model aims to showcase the concept of a new structure, as well as to have a preview for its parts.
The lack of color and finishing details could be said about this model, however, this model serves its purpose to construct the designer's idea into a physical model for early critique and evaluation.
RJ Models have resorted to innovative technologies to achieve this complex model.
Using machines like 3D printed architectural model making techology, the modelers were able to create organic curves and shapes easier.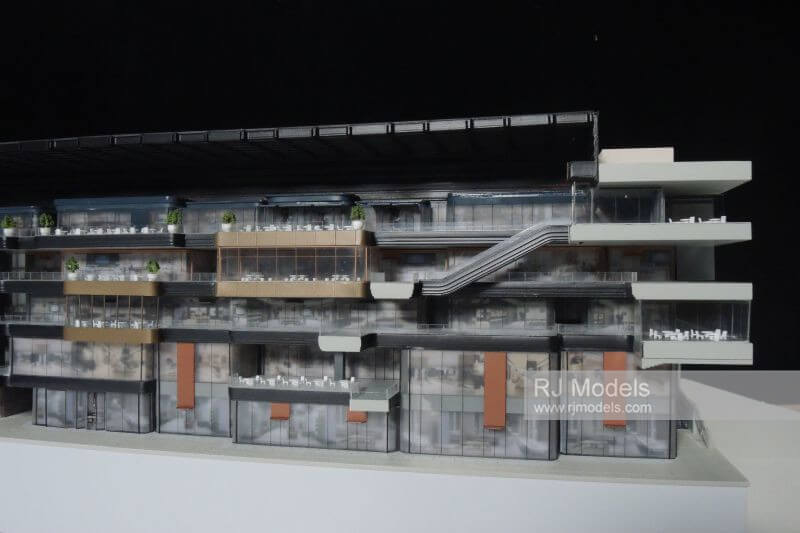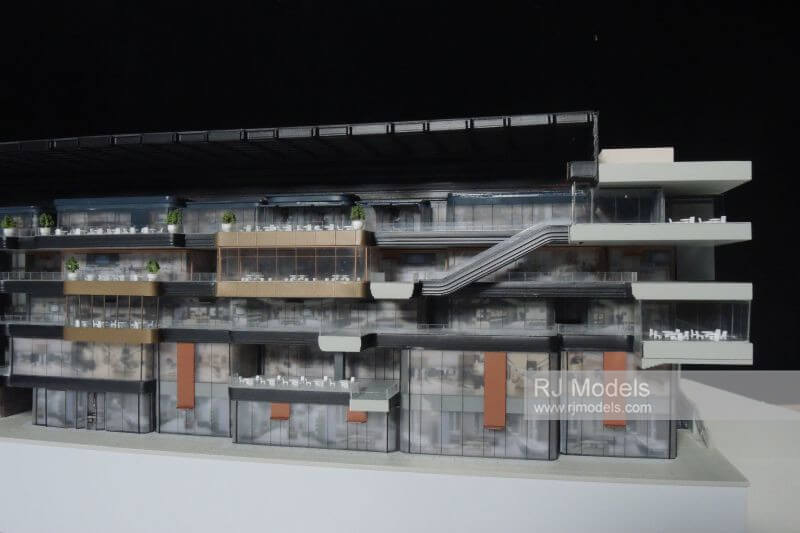 Scandinavian Architecture emphasizes natural lighting due to their unique weather conditions.
In this structure, the large openings accommodate as much daylight as possible.
The section model comprises two parts in order to provide a vision for internal sections and features. The sections reveal underground parking levels and a general view of the structure interior.
RJ Models creates all kinds of architectural models, customized to your needs and taste. We cater everything from conceptual models to a fully-furnished model for presentation.
Conclusion:

RJ Models is known to almost 98 countries and counting. Our architectural model making team have gone far to learn what an architectural designer wants.
We have worked with various architects and firms in delivering their requirements. Our 26-years experience proves we are a trusted company, and you can depend on us to be at one with your missions.
We have also grown in numbers, as we handle your projects from start to finish, and we are built with a solid team of experienced staff.
Be it modeling or customer service, you can bank on us to provide the best quality product and service.
At RJ Models, we provide a complete professional package proven with architects worldwide.
Leader in World Class Model Making
Any questions about architectural models,just feel free to contact us
We will never rent or sell your email to anyone.
Contact

RJ Models

& Start Making You the Top
Our vision is making the top quality architectural models to everywhere in the globe.