Amazing Architectural Model Making Projects in Mexico by RJ Models
Introduction of RJ Models:
Mexico is not all about tacos and tequila, it has one of the most vividly iconic cultures around the world.
The country boasts some of the best destinations that our architectural model-making company became part of.
Through a professional team with a broad range of experience, RJ Models provided their superb services to Mexico.
Fabricated and delivered scale models with a commitment to individual customer solutions.
As a highly regarded model-making company, RJ Models is the largest in the industry by a global scale since 1995.
The long history and equally long list of noteworthy projects worldwide are reason enough why this Latin nation chose us.
Mexico City Replacement Airport Model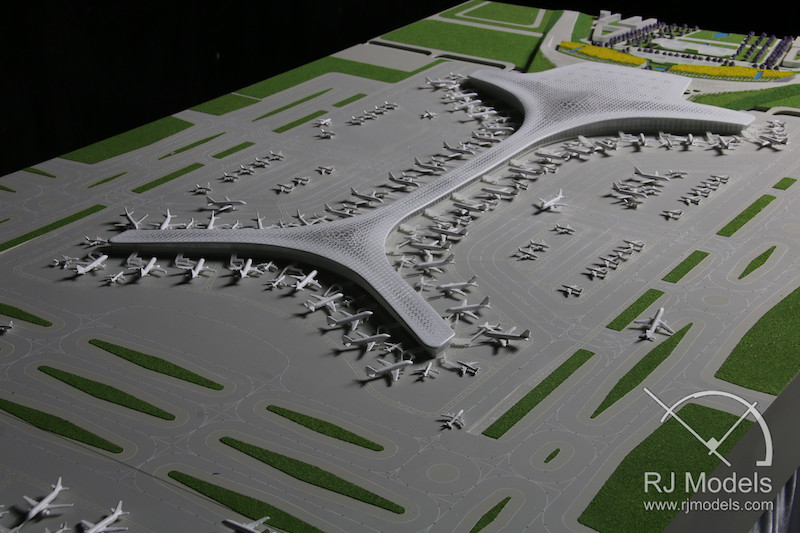 Scale: 1:1000                                    Size:  2200mm x 1200mm                            Production Time:  4 weeks
The replacement airport, which was completed in 2018, is the master plan done by famous architectural design companies such as TEN Arquitectos, SOM and SENER.
The airport model was done by none other than RJ Models, the foremost model-making company in Mexico is scaled at 1:1000.
It has one main terminal building with a sheer size 560,000 sq.m.
A consistent symmetrical layout of futuristic geometric metal features plays up on each of the airport buildings' rooftops.
Our model-making team used state-of-the-art digital engraving machines, thereby producing model elements in absolute precision.
Triangular skylights are scattered throughout the terminal atriums enabling sustainable natural light utilization from Mexico's ample sunlight.
Additionally, floor-to-ceiling curtain walls surround the entire perimeter making the building interiors effortlessly bright and airy.
The same geometrically shaped and strategically placed landscaping complemented the overall look of the site development.
Architectural model makers in Mexico added visual impact with the seamless installation of lights, especially the landing guides at night.
Bridge Model in Mexico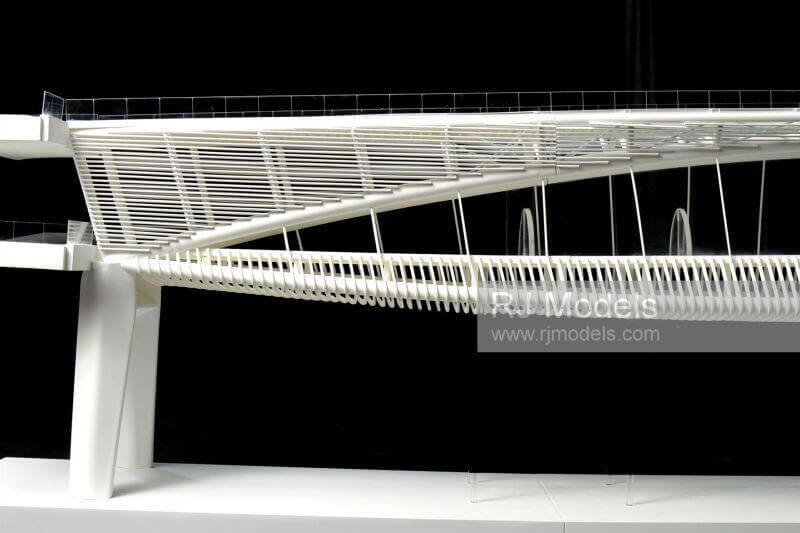 Scale: 1:200                                 Size: 600 mm x 500 mm                            Production Time: 3 weeks
The architectural model makers in Mexico proved to be the ultimate Pro having completed this one-of-a-kind bridge model.
With the fast-paced urbanization, every location is in the necessity of modern and efficient access from point A to B.
That is why the Mexicans opted for this futuristic-looking bridge, which is also very appealing to the eye.
RJ Models only employs model makers fully capable to create with optimum accuracy and detailing like this bridge model masterpiece.
The team only utilizes the best materials for the job and makes use of both traditional and advanced techniques.
The two level bridge is in a white style that is basically to give a 3D perspective of the architecture and engineering design.
Each piece of horizontal and vertical element on this bridge was measured, cut and put together with thoughtful accuracy.
Our model-making company in Mexico delivered this impressive bridge model within 30 days to a fully satisfied client.
Section Model in Mexico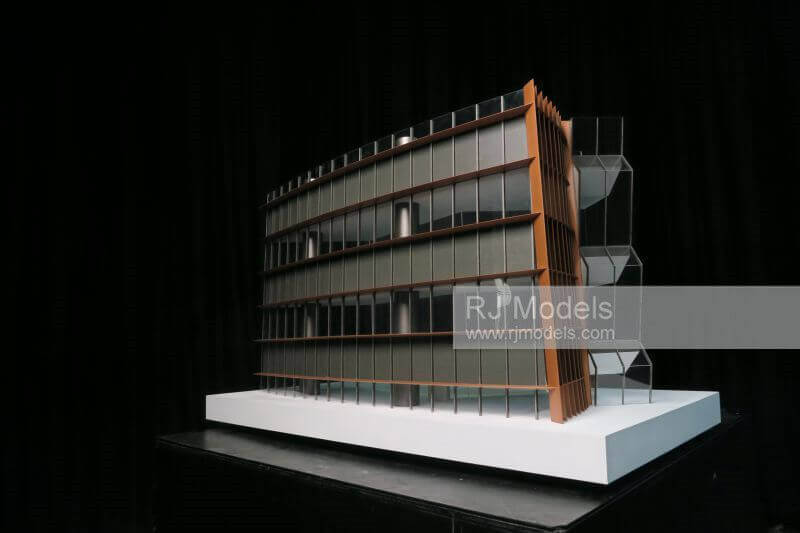 Scale: 1:200      Size: 450 mm x 350 mm      Production Time: 2 weeks
In order for a more insightful view of the internal spaces and elements of a planned structure requires a section part model.
RJ Models takes pride in having commissioned numerous technically and aesthetically detailed section models from our long model-making history.
A perfect example will be this 1:200 scaled section model for a building in Mexico that was produced in roughly a month.
Two huge circular columns that protrude all the way to the roof deck hold the three-level structure section.
Lines of thin steel columns angled and connected to an effect interestingly hold the three levels.
A vertical louver-like design reminiscent of wooden tones provides a striking but warm appeal to the otherwise industrial-looking facade.
This design element slopes in a subtle angle towards the levels of alternating glass windows
The model-making company in Mexico created a remarkable job of exposing the more specific structural qualities with detail and accuracy.
Conclusion:

Any viewer can easily agree that these projects stand out because of the model making company in Mexico's expertise.
Model making is a craft necessary to evoke the essentiality of an architectural or engineering design.
It has to leave a definitive impression even without having seen the structure erected yet.
Our Mexican clients received stable and reliable cooperation from start to finish which enabled this feat.
RJ Models can cater to any architectural model requirement at hand and may even provide better solutions without extra cost.
And that comes with the ultimate quality of scale models any company or government can display with much pride.
Leader in World Class Model Making
Any questions about architectural models,just feel free to contact us
We will never rent or sell your email to anyone.
Contact

RJ Models

& Start Making You the Top
Our vision is making the top quality architectural models to everywhere in the globe.