Amazing Architectural Model Making Projects in the Morocco by RJ Models
Introduction of RJ Models:
RJ Models is on the tireless effort in bringing an architect's masterpiece into accurately authentic scale models.
And those efforts never failed to impress the Moroccans prompting them to commission our architectural model makers for their projects.
Morocco is rich in culture, what better way to present their artistic expressions in architectural scale models with the A1.
This dynastic kingdom in the North African region deserves just that.
With installations in almost all major locations around the world, RJ Models provides individual customer solutions without boundaries for our architectural design companies.
This suitable partnership brought about two spectacular projects, yet, definitely to be followed the soonest.
Miniature City Location Map Model in Morocco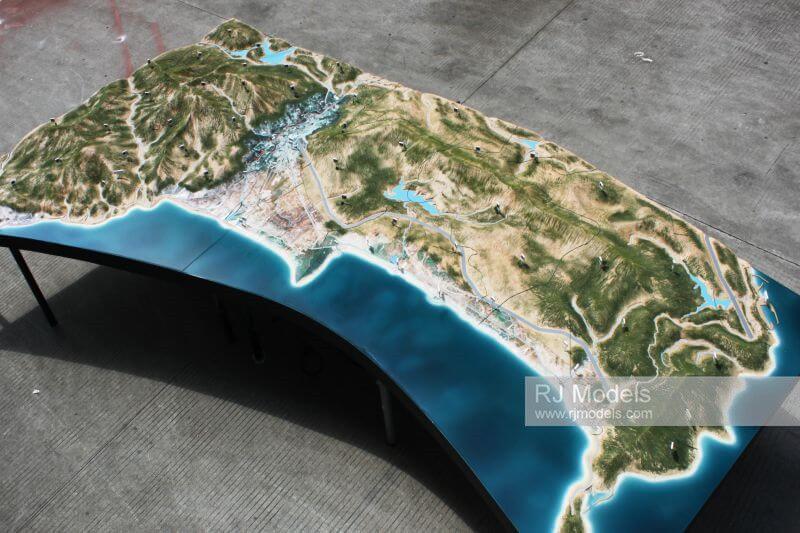 Scale: 1:7500                          Size:  8000 mm x 7000mm                            Production Time: 4 Weeks
This huge 2650 by 2500 mm location map project took our model making company in Morocco just four weeks to complete.
The rugged mountainous terrain was outstandingly modelled by top-notch architectural modelers from RJ Models.
The model looks like a blown-up map but in 3D.
It may have a small scale of 1:500, but our dedicated team made sure its topography is parallel with reality.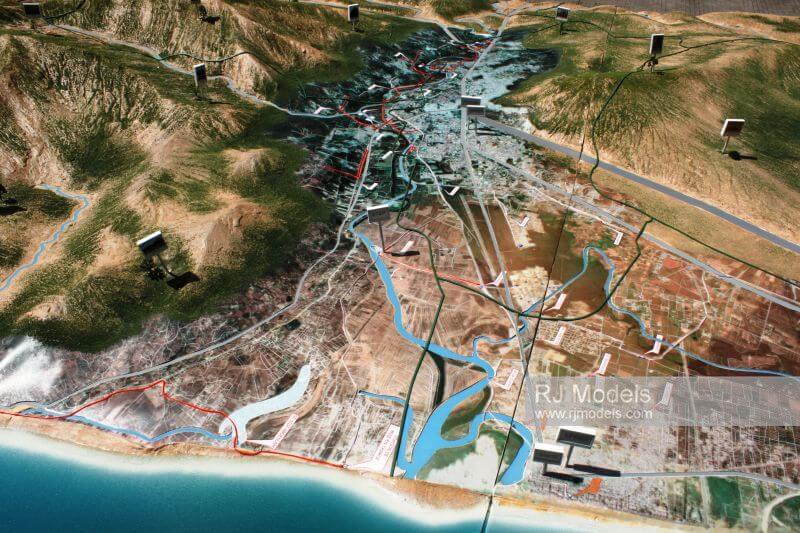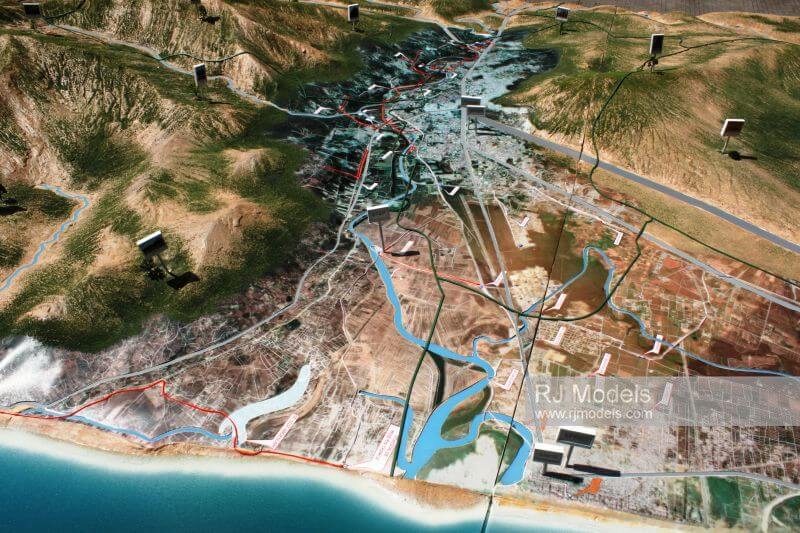 Developed valley zones, networks of rivers and lakes adorn the landscape, along with the panoramic white sand coastline artistry.
Authentic detailing is a must, creases on the mountain side, grass powder was placed methodically producing that realistic landscape effect.
True to life is the craftsmanship that a bird's eye view of the model won't say it's just a mini version.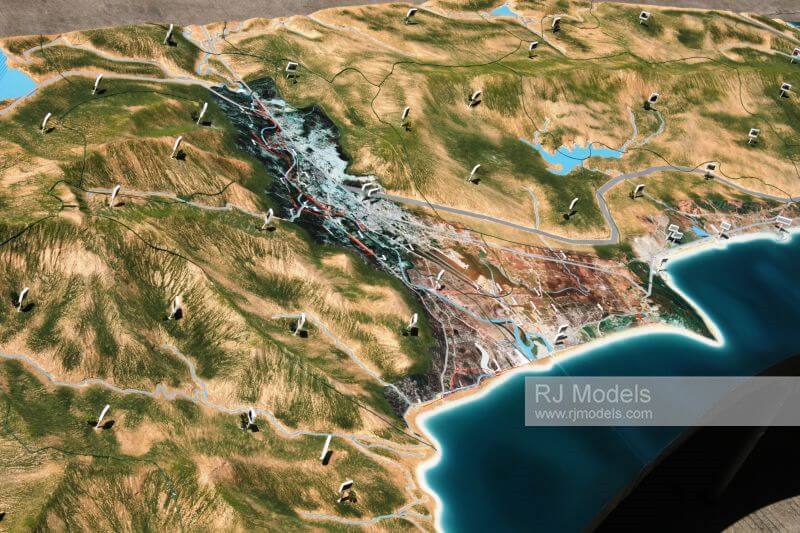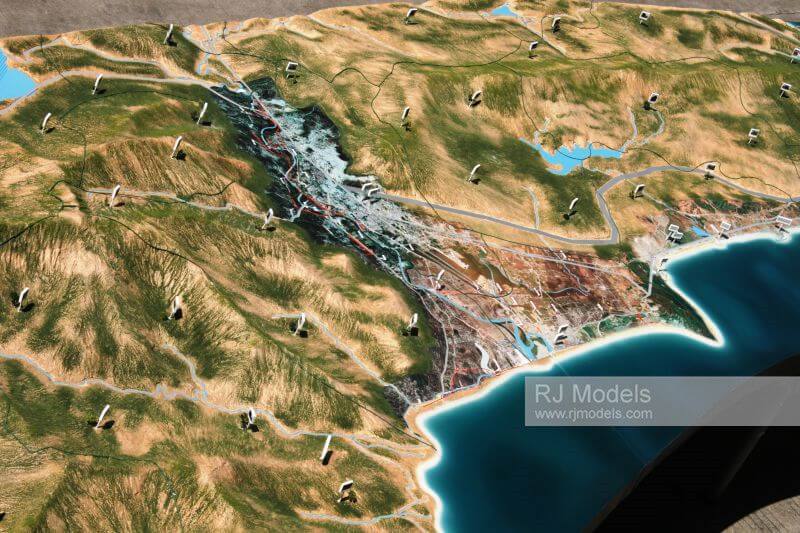 If only for the propped up labels scattered throughout, one would think it's real.
The miniature city model project is just one demanding task delivered in absolute quality and professional service by RJ Models.
Al-Houara Model Project Morocco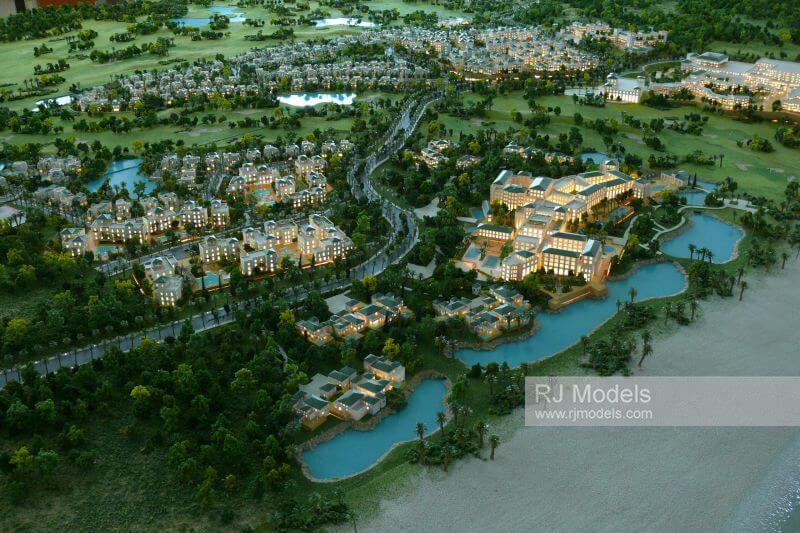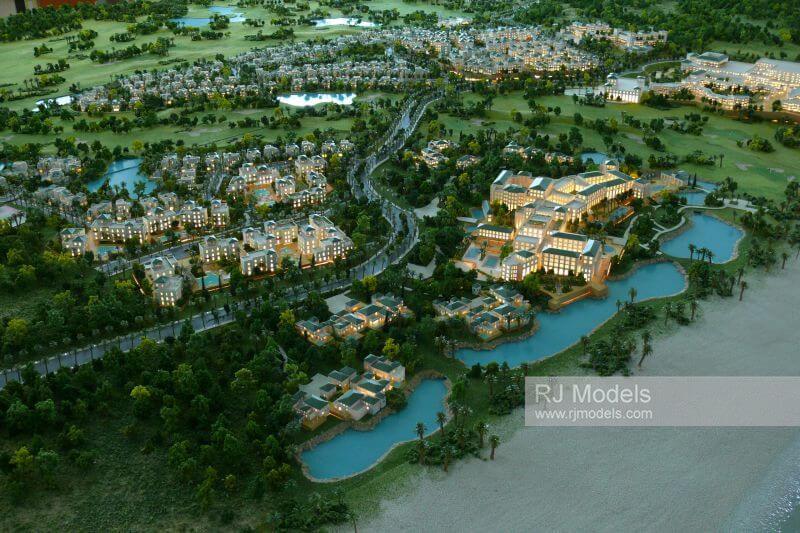 Scale: 1:300                          Size:  2000 mm x 1500mm                            Production Time: 3 Weeks
The Al-Houara project by RJ Models is a luxurious complex complete with amenities to cater well-to-do Moroccans and visitors alike.
Refreshing realistic views of a beach using fine white sands and crystalline thin water-grain film greets with visual appeal.
Mounted on an 8000 by 7000 mm sturdy base and filled with a breathtaking scene of buildings and nature.
Features an extensive golf course complete with putting greens, water features, clubhouse, apartments, and villas.
Full on detailing can be seen with the building structures composed of beach side of hotel, villas, sports and entertainment facilities.
The tiny 1:300 scale never hindered our experienced architectural model makers in Morocco to depict just as the designers conceived.
Well-placed trees and bushes adorn the entire landscape and scattering throughout the finely grassed golf course.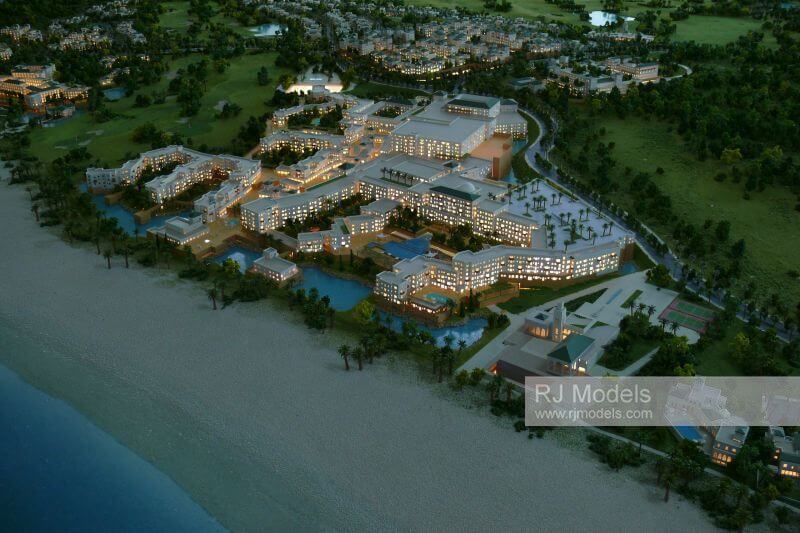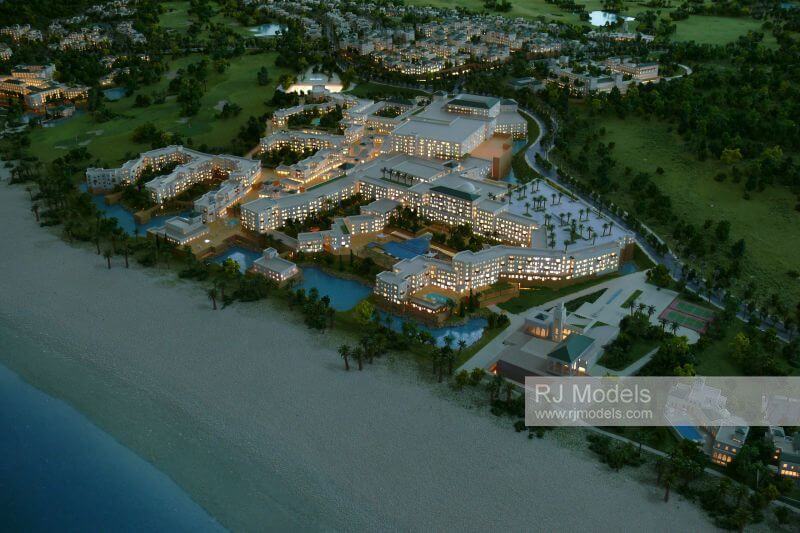 Topping it off to add drama and also enhance its features is the installation of segmented lighting units per area.
Conclusion:
Such is the conclusive evidence that no matter where a project demands top class architectural models, RJ Models is there.
Turning an architect's concept to a fully detailed presentation, from a two-dimensional one to a three-dimensional reality model.
Our professional line up of architecutral model building artists are armed with the experience and commitment to obtain the highest quality result.
Hence, every client is rest assured of total monitoring from acceptance of the project to final delivery.
Morocco, with its deeply ingrained culture entrusted our architectural model making facility in the country for this reason.
And so are the top designers, developers, and governments worldwide who trust RJ Models.
Leader in World Class Model Making
Any questions about architectural models,just feel free to contact us
We will never rent or sell your email to anyone.
Contact

RJ Models

& Start Making You the Top
Our vision is making the top quality architectural models to everywhere in the globe.