Amazing Architectural Model Making Projects in Iran by RJ Models
Introduction of RJ Models:
Of world renown as the premier architectural model maker, RJ Models Iran now contributes to the country's rich artistic legacy.
Once known as Persia, this mountainous, desert plateau in the Middle East is famed for its diverse ethnicity and handsome architecture.
Iran's storied history of an empire with a distinctive culture and society deserves the superb model makers for their projects.
RJ Models never misses involving clients from start to finish of the fabrication process ensuring every aspect adhered.
The architectural model makers in Iran continuously cater with unparalleled credibility model after model.
We take pride in every model that comes out of our facility, the largest of its type in the industry.
Mosque Model in Iran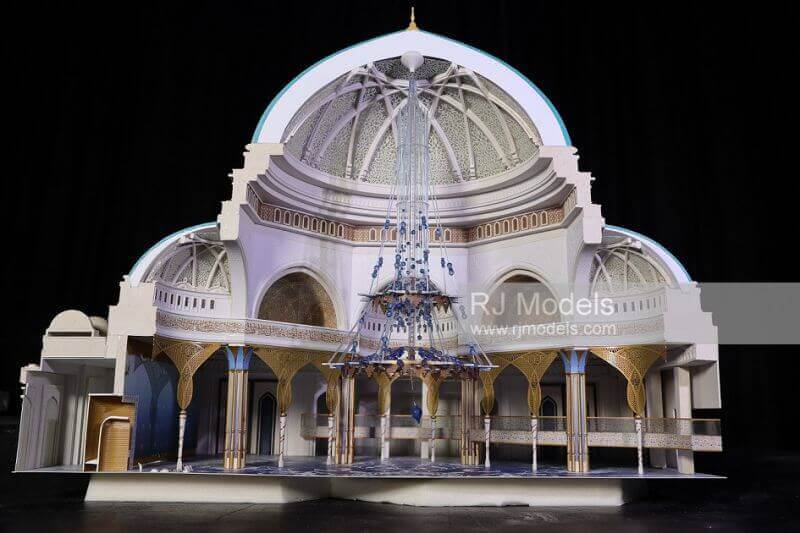 Scale: 1:50                                    Size:  650mm x 500mm                            Production Time:  4 weeks
Iran is a predominantly Muslim nation adorned throughout with majestic mosques.
Our architectural model-making company in Iran commissioned this 1:50 scaled mosque section model with irreproachable quality.
The interior's main color scheme is pristine in whiteness, highlighted by the gold and sapphire blue hues.
The vaulted dome structures of the model are meticulously decorated in mosaic and laser cut to astonishing detailed form.
Every curve and transition of the ceiling vaults are depicted in absolute exactness as on the drawn 2D plans themselves.
A delicate golden motif lines the entire length of the architrave, which is then supported by equally elegant golden capitals.
Our proficient model makers tailored each graceful capital with its slender columns in remarkable true-to-life likeness.
It took them a mere 4 weeks to finish this fine piece of architectural model gem.
A magnificent chandelier hangs in the middle of the central dome enticing every looker to marvel at the detailed artistry above.
Mosque Model in Iran 2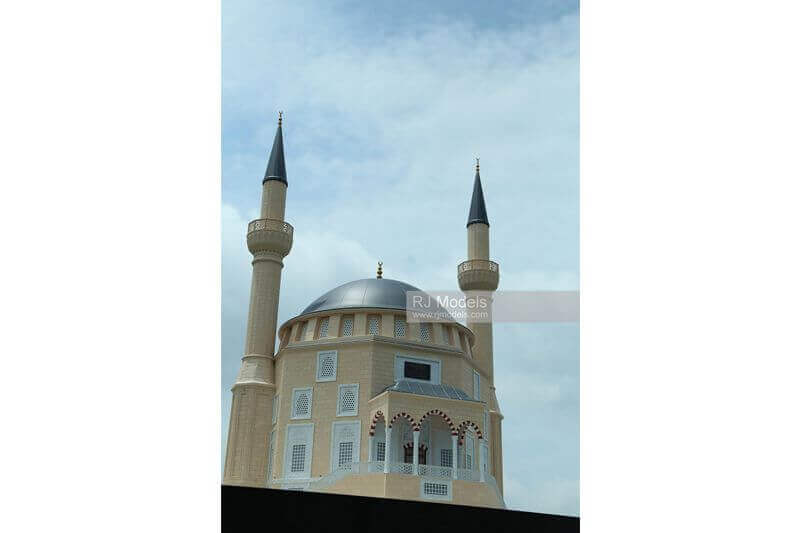 Scale: 1:50                                 Size: 600mm x 500mm                            Production Time: 2 weeks
RJ Models has the distinction of providing our Islamic clients with mosque models in its full exquisite form.
Every aspect of the structure can be modest or lavish, but will always entail traditional features a mosque should have.
Carefully analyzing in detail every aspect of each mosque model project is essential to be able to fabricate its full essence.
In this regard, another mosque model with a size of 600 x 500 mm graced our model-making facilities in Iran.
It may come in a smallish size, but never lacks to amplify all the design features.
Essential conically topped minarets extrude to the heavens boasting with both simplicity and opulence.
The entire exterior wall finish is decked with beige layers resembling marble bricks combined with the white of the windows.
Each of these windows displays the appealing craftsmanship of ornate latticework which can also be seen on the railings.
Ensuring precision and artistry combined with each model project is what RJ Models delivered in this mosque in Iran.
Section Model in Iran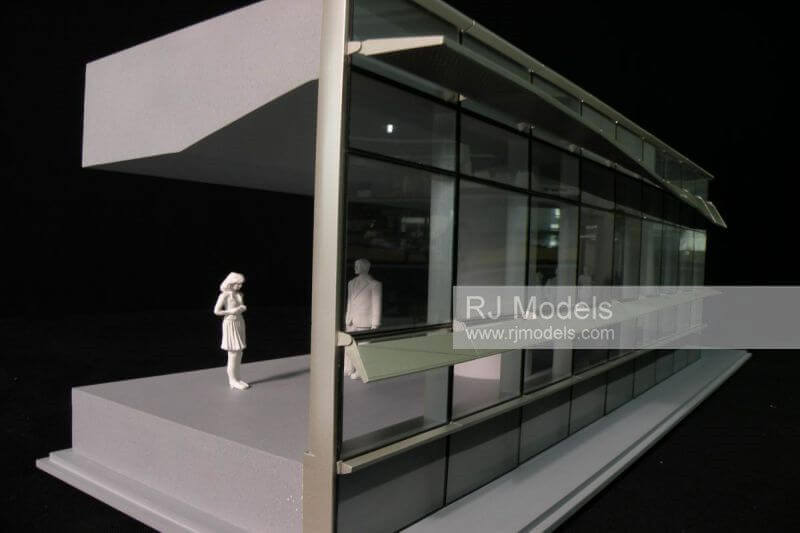 Scale: 1:50      Size: 800mm x 500mm      Production Time: 2 weeks
Undoubtedly illustrated as designed is the commissioning of this section of a white-style platform model in Iran.
RJ Models is not new to the knowledge that primary design considerations are the objective when exhibiting a sectional model.
Cut-away section models along with the larger scale of 1:50 are created to help emphasize any design element.
The ceiling inside features a unique sloping upwards variation as it reaches the floor-to-ceiling glass walls.
For this, clear acrylic sheets that are carefully cut and aligned in precise, sure-handed fashion mimic the glass perfectly.
However simplistic in white, the quirky twist of the window overhang to block sunrays is a thing for the imagination.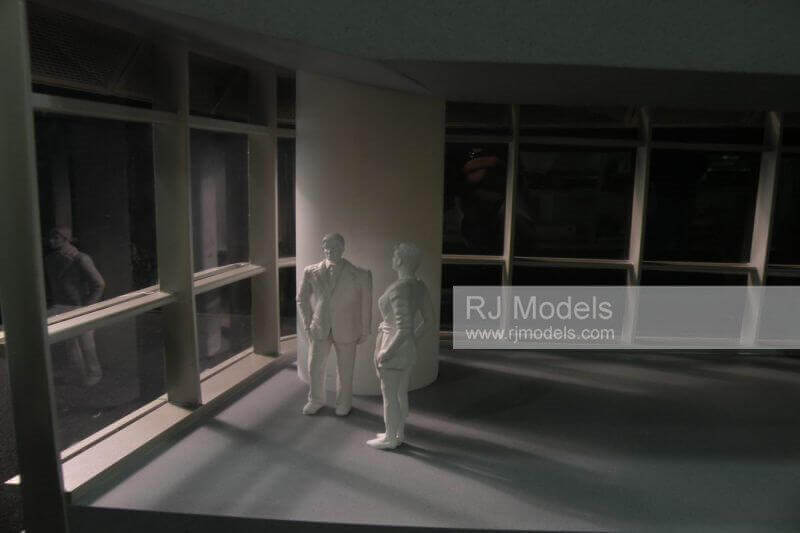 Utilizing the specific types of materials most resembling a true-to-life replica is something that RJ Models has never failed to achieve.
Architectural model makers in Iran added complementary lighting and white-styled people entourage to represent spatial relationships between spaces.
Conclusion:

Our architectural model building team for Iran create with a passion to conform to accuracy and pay great attention to details.
And those are what exactly our clients in Iran received upon every project delivery.
RJ Models adheres to the ultimate goal to execute models that embody the unique and essential characteristics of every structure.
We keep clients involved by regular communication every step of the process to ensure full requirement satisfaction.
RJ Models has established satellite facilities in key locations in the Middle East and around the globe for convenient access.
All these came into being because we thrived on the consistency of producing excellent scale models along with professional customer assistance.
Leader in World Class Model Making
Any questions about architectural models,just feel free to contact us
We will never rent or sell your email to anyone.
Contact

RJ Models

& Start Making You the Top
Our vision is making the top quality architectural models to everywhere in the globe.