Amazing Architectural Model Making Projects in Greece by RJ Models
Introduction of RJ Models:
It is known that the country of Greece is the origin of notable contributions in the world of architecture. It is widely known that several Greek architecture elements are still widely used until today, and serve as fundamental knowledge in the field.
At RJ Models, we deliver our skills and experience to bring Greek legacy in architecture an accurate representation into our models. Not only with Ancient Greek architecture, but also the developing style at the present day.
RJ Models is a model-making company with an experienced portfolio of architects around the world. We provide quality modeling services, as we understand the architects' needs in presenting your projects in the most fitting way.
Facade Model in Greece

Scale: 1:30                                    Size:  650mm x 400mm                            Production Time:  2 weeks
RJ Models was commissioned in creating a facade model for a residential project in Greece.
This model showcases the facade of four adjoining buildings that are planned to be constructed on a slope. As indicated by the changing elevation of the structures.
This apartment building features a straightforward design, with large windows to permit natural lighting for the interior.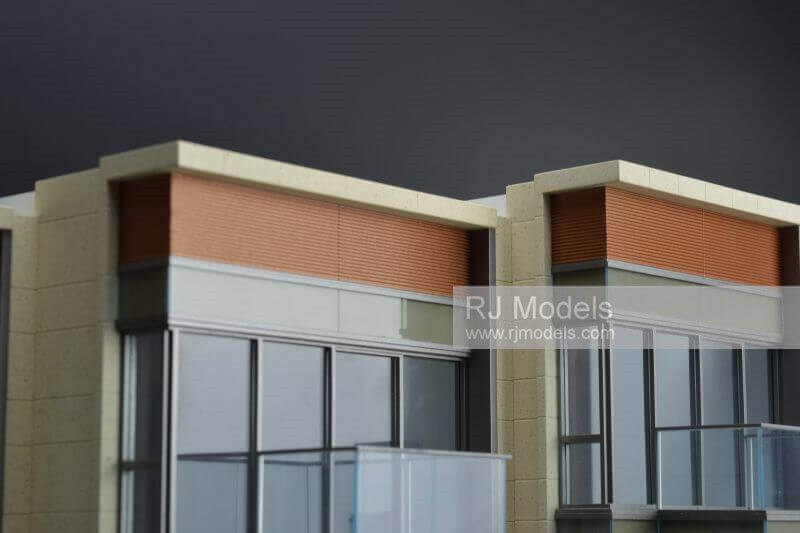 The modeling team still pursued a detailed approach in this design, as seen with the textured walls and metallic window frames.
The materials for the window also provide transparency and luster, achieving a more realistic look.
The modelers also made sure to showcase that the project is designed on a sloping location, and executed it elegantly in this model.
For excellent service in architectural model making, contact RJ Models now.
Interior Model in Greece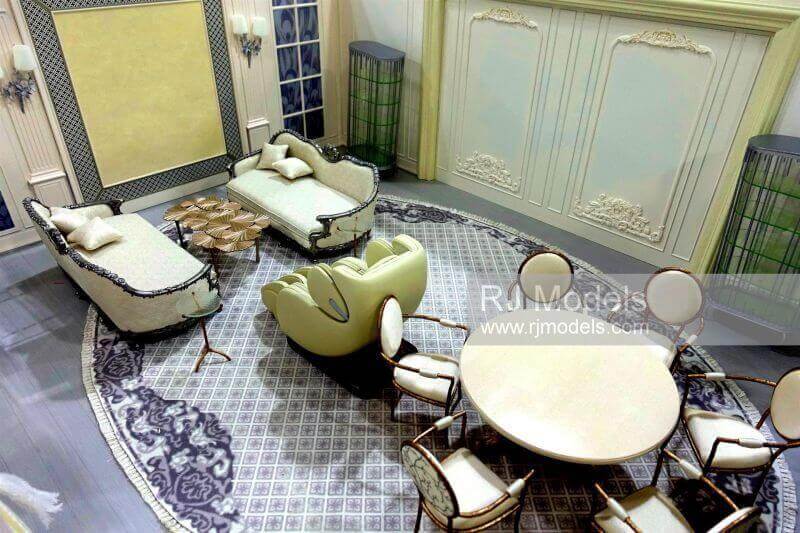 Scale: 1:20                                 Size: 1550mm x 1000mm                            Production Time: 3 weeks
This interior model by RJ Models primarily uses neutral colors such as white and brown, and evident technique in traditional interior design.
This project based in Greece heavily utilizes the European traditional style, a coherent interior design where all details are unified as a single theme.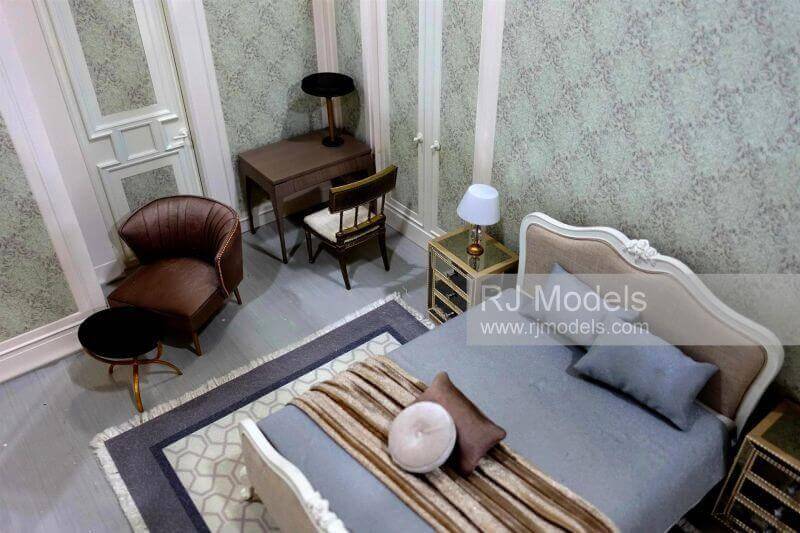 Aside from the neutral colors, this style heavily relies on symmetry. This is observed with most of the furniture and details, as they mostly come in pairs.
The architectural model makers were able to create the details in a unified fashion, that every detail matched the traditional style.
Moreover, the details are also defined, such as the furniture's carved details, and the wallpaper pattern designs.
Conclusion:

In our 24 years of experience, RJ Models has grown to be the trusted architectural model builders for architects worldwide. We provide services for architects around the world, even from big names and firms.
Our modeling team utilizes up-to-date technology in creating architectural models, along with sheer skill and talent in order to create a masterpiece that can inspire and convince their clients of the architects' vision.
RJ Models can cover the changing needs of architects to bridge the gap between their ideas and a concrete representation so that clients can appreciate it.
RJ Models are the architectural modeling experts.
We are capable of bringing your project into a masterpiece at affordable costs and strict deadlines.
Leader in World Class Model Making
Any questions about architectural models,just feel free to contact us
We will never rent or sell your email to anyone.
Contact

RJ Models

& Start Making You the Top
Our vision is making the top quality architectural models to everywhere in the globe.