The load line of a superyacht stretches for at least 24 meters.
Superyacht can be personally owned, commercially chartered or both. It contains multiple decker and cabins.
So, it is out of the question to accommodate a host of guests and crew members.
RJ Models not only good at architectural model making.
And our maritime model team is capable of catching and highlighting the most valuable characteristics of super-sized yachts.
The vivid model takes you to every corner of the yacht, experiencing its styling exterior and luxury interior.
Superyacht owners will find themselves extremely proud of possessing such a brilliant maritime model.
It demonstrates yacht's essential qualities in an exquisite form.
Despite the superyacht model is a scaled-down product, it doesn't compromise the grandeur of its prototype.
Thanks to maritime modelers' talented skills, the model is more than a duplicate. It's actually a polished miniature.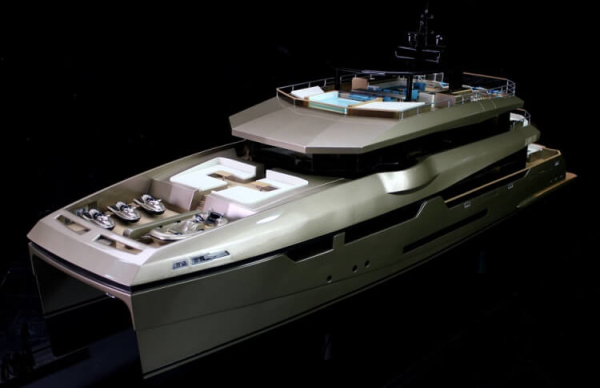 Simple Steps to work with us for custom Maritime Models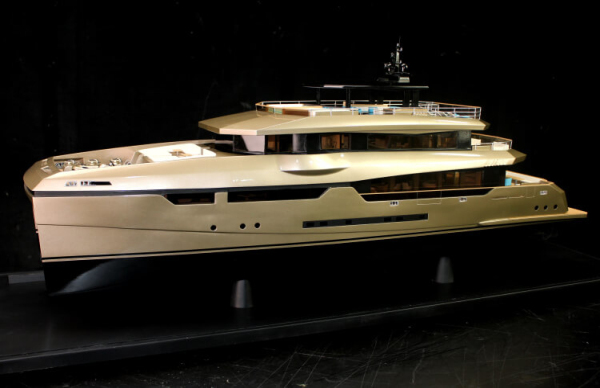 China Cup Regatta Wind-Rider
Scale: 1:40 | Size: 650mm x 108mm | Production Time: 14 days
With the rise and popularity of marine sports in China, China Cup Regatta (CCR) is noticed by more and more yacht enthusiasts from all over the world; this Wind Rider 1 is a motor yacht that achieved remarkable accomplishment in CCR.
Built by high-quality aluminum alloy, the Wind Rider 1 has faster speed, stronger impact resistance, more neat lines and haler shape; our model makers use materials that glow with metallic luster to produce the hull.
At the bow of Wind Rider 1, three Jet Ski and one tender are displayed organizationally; our genius model experts use the same material of the yacht model to make these entertainment facilities, showing a splendid consistency.
A strong hallmark of design and layout is the double stairway that connects the rear part of the main deck to the dining and social area.
Through the brown porthole glass, you can lucidly see the interior design and furnishings, and no detail is ignored or underestimated.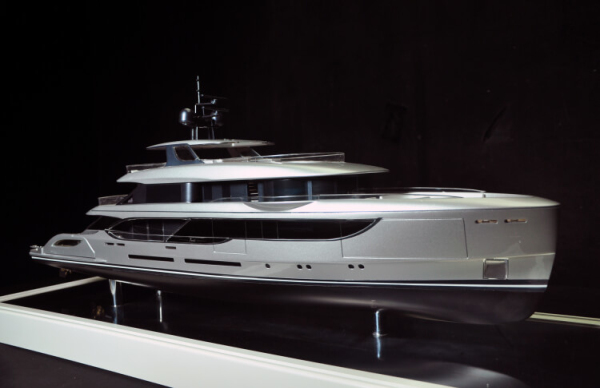 Benetti OASIS 40M
Scale: 1:40 | Size: 850mm x 190mm | Production Time: 14 days
Designed by British studio RWD in collaboration with Benetti, the Oasis 40 superyacht has a beam of 8.5 meters, while its interior is conceived by New York firm Bonetti/ Kozerski Architecture.
As we know from the news release in 2019, the second OASIS 40M hull has been sold to an experienced owner who "fell in love at first sight" with the model, even though the yacht can not be delivered until summer 2020.
This case shows an exquisite model not only can be used after the production, but also pre-production, striking and seizing the market in a super speedy way.
In a departure from the common practice, our sophisticated model makers use a frosted grey abs material to mold the hull, deck and flying bridge of the Oasis 40 model, demonstrating an outstanding futuristic design.
Additionally, model experts also spray the bottom of the hull with dark reddish-purple material deliberately, keeping consistent with the tonal like the interior, indicating its noble design.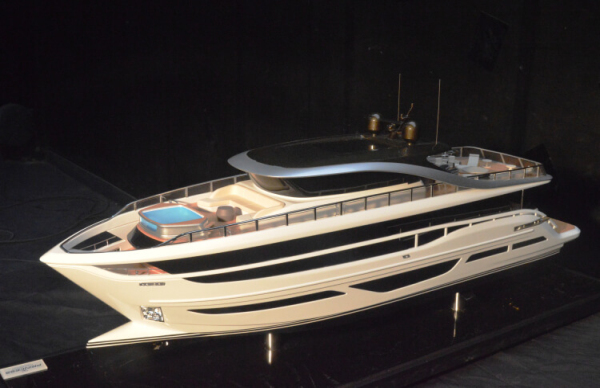 Princess Yacht X95
Scale: 1:50 | Size: 800mm x 200mm | Production Time: 14 days
Developed in collaboration with Princess Yachts' long-standing naval architect, Bernard Olesinski, and Italian Pininfarina studio, X95 defines a new 'Superfly' X Class for the yacht industry.
The X95 has striking sculpted surfaces and long flowing lines, with the flybridge and main deck cover almost the full length of the yacht, providing expansive spaces for its owner.
According to the measurement, the layout provides 10% more outdoor space and 40% more indoor space than a traditional motor yacht.
The super flybridge of X95 stretches almost 22 meters, more than double the length of a typical flybridge on a yacht this size.
A combination of high strength white plastic, deep dark transparent thin glass, and stainless pipe materials are used in the yacht model.
3D printing plays a great role in this yacht model making process, thanks to its high accuracy of each component, our final work can be consummate and ideal.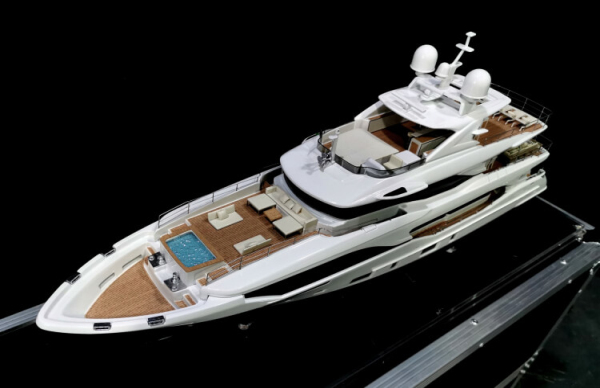 Benetti FB702 M/Y ELALDREA+
Scale: 1:35 | Size: 600mm x 180mm | Production Time: 14 days
The Benetti Elaldrea+ is designed by a multiple-award-winning yacht designer and naval architect Horacio Bozzo while the interior design is completed by the Benetti Style Department.
As described by Bozzo, "The minimalism and purity of the lines are the heart and soul of this project, in which the demand for functionality embraces the design."
Therefore, yacht model makers from RJ Models pay more attention to producing smooth lines and components by using laser cut.
One of the distinct highlights of M/Y Elaldrea+ is the luxurious beach club with sauna and its 115-square-meter flybridge for swimming and sunbathing.
Our yacht model makers put scaled furniture and electronic gauges on the deck and flybridge, which effectively enhance the sense of reality.
By using the finest quality of materials, the Elaldrea+ yacht model made by our experts is distinguished by the exquisite furnishings, teak laid deck board and flawless white hull.
With over 500 projects being created every year, we thrive on maintaining consistency of delivering high quality architectural visualization projects.
RJ Models has an extensive team of collection more than 30k+ models of all major interior and exterior accessories, lighting in our architectural visualization library, with a high reputation for being specialists within our industry.
Your projects are given full attention and implemented to ensure the highest-quality result whilst complying with tight deadlines by our architectural visualization service team.
RJ Models open 24 hours a day, 7 days a week to serve you in different time zone and regions.
Your projects will be delivered quality results within 3 to 7 business days.
Contact

RJ Models

& Start Making You the Top
Our vision is making the top quality architectural models to everywhere in the globe.