Italy has been famous as home to the greatest artists known in history.
And what better way to honor that tradition with RJ Models' equally noteworthy presence in the field of artistry.
Our architectural model building team in Italy has an extensive team who offers high-quality results that also meets tight deadlines.
We know that an architectural scale model should distinctly represent how a design will turn out in reality.
With that comes the commitment to bring Italians the same architectural model making pride we gave to others around the world.
This commitment is how RJ Models thrived to become top specialists in the industry.
Hospital Model in Italy



Scale: 1:5000                                    Size:  1200mm x 8000mm                            Production Time:  45 Days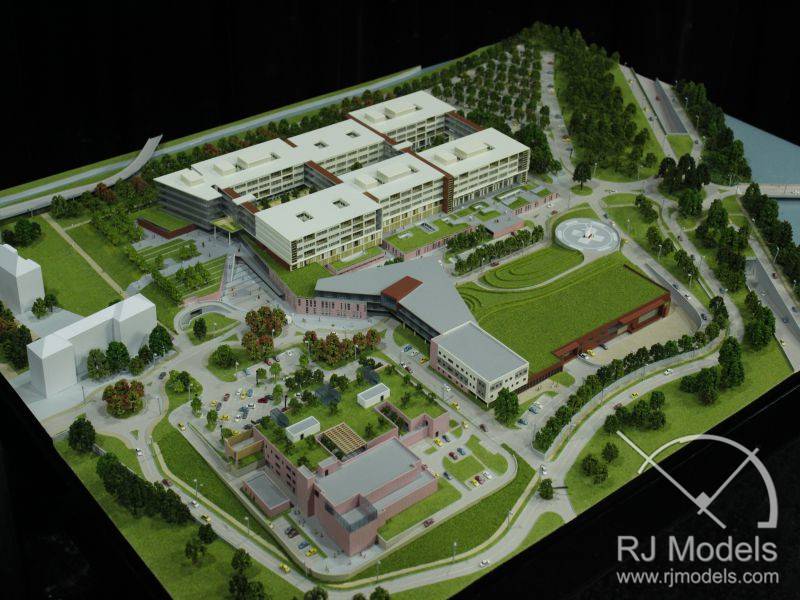 The sprawling 1200 mm square hospital model features the entire site development of a complex in Italy.
Architectural model makers in Italy took no shortcuts in order to deliver the project within three weeks in outstanding quality.
It is characterized by split level buildings which were significantly borne out of the natural slope of the area.
Each grade level and slope was measured according to specifications necessary to provide viewers with spatial realizations.
The horizontality of the low to mid-rise buildings appear as if they are naturally part of their surroundings.
Wide-open lawns and trees are well-placed and never scant.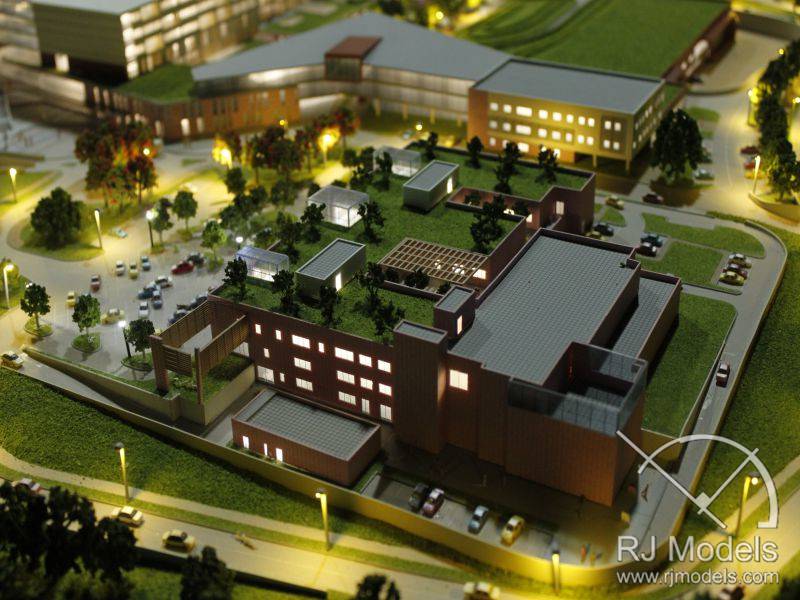 Completing the full landscaping, parking areas along with a helipad is the integration of lighting which further enhances the impact.
RJ Models is manned by experienced modelling crafters who made sure that impression would equally show on the output.
Only the best choices of high-end materials were used and meticulously measured, cut, and glued together.
Italy Island Resort Model
Scale: 1:5000                                    Size:  1200mm x 8000mm                            Production Time:  45 Days
Having been blessed with a long coastline, this is RJ Models' take on Italy's island resort architecture.
Feast your sight with a dramatically lighted luxury resort surrounded by realistic PVC water-grain sea replica in 1:300 scale.
The island perimeter is adorned with wooden docks, including a semi-circular one meticulously lined with pebbles maximizing the effect.
Along with the usual on land hotels, it features accommodations protruding on the waters and giving a tropical destination vibe.
The vibe is enhanced by using lots of coconut trees with a scattering of other foliage and people hanging around.
You can clearly conclude our architectural model makers' attention to detail in putting together pieces with such detailing for the resort model.
The luxury yacht on one side with a helicopter landing is spot on.
There is never a shortage of yachts model in every size on the vicinity, whether docked or at sea.
Truly at the top of its class, RJ Models never fails to impress.
Conclusion

More than 20 years of Architectural model making etched the RJ Models mark on some of the industry A-listers worldwide.
Italy as one of the major economic and cultural leaders in the European region can further attest to that.
This was manifested through the model making company's output for the hospital and resort models' superb craftsmanship.
Huge projects such as these or any architectural model regardless of size for that matter, RJ Models will be sure to deliver.
With installations strategically located wherever you are in the world.
Our extensive team's effort to ensure the highest quality result to become the outcome of every model project is key.
Leader in World Class Model Making
Any questions about architectural models,just feel free to contact us
We will never rent or sell your email to anyone.
Contact

RJ Models

& Start Making You the Top
Our vision is making the top quality architectural models to everywhere in the globe.