Amazing Architectural Model Making Projects in Egypt by RJ Models
Introduction of RJ Models:
Egypt has been known as the cradle of civilization. With this, the country has seen the earliest developments in architecture and urbanization.
Today, Egypt continues to progress and has heavily invested in developments in infrastructure.
Famous for its ancient architecture, Egypt continues to develop its urban areas while keeping the ancient structures under their care.
Urbanization is a long-term project that needs careful planning.
To help with urban planning, RJ Models, an architectural modeler, gives a visual of the plans through models.
RJ Models have worked on projects on a global scale, even being a model-making company in Egypt.
Their vast experience is their strength, keeping them the leader architectural modeler in the country.
Given the experience, RJ Models also creates these 3D models and 3D architectural rendering accurately with state-of-the-art techniques.
With the 3D models they create, architects, designers, and planners can show their concepts and ideas in physical form.
Cairo New Capital Miniature City Models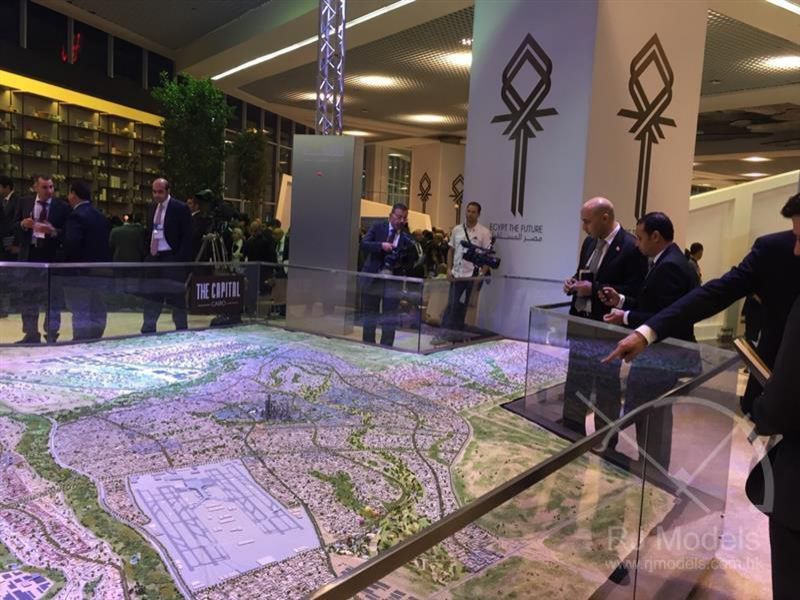 Scale: 1:5000                                    Size:  1200mm x 8000mm                            Production Time:  45 Days
With the vision of a sustainable new city, world-renowned Skidmore, Owings & Merrill LLP (SOM) developed a master plan for "The Capital Cairo."
The new capital city will highlight the 'green city' concept for the 700 sq.km sites.
While being a center for government offices, the new capital will be the hub for schools, jobs, and healthcare facilities.
This 1:5000 scale master plan model is one of the largest city masters plans that RJ Models made.
It is a perfect illustration of this new global city in the desert.
RJ Models made this scale model with accurate spatial data and high-resolution aerial photos.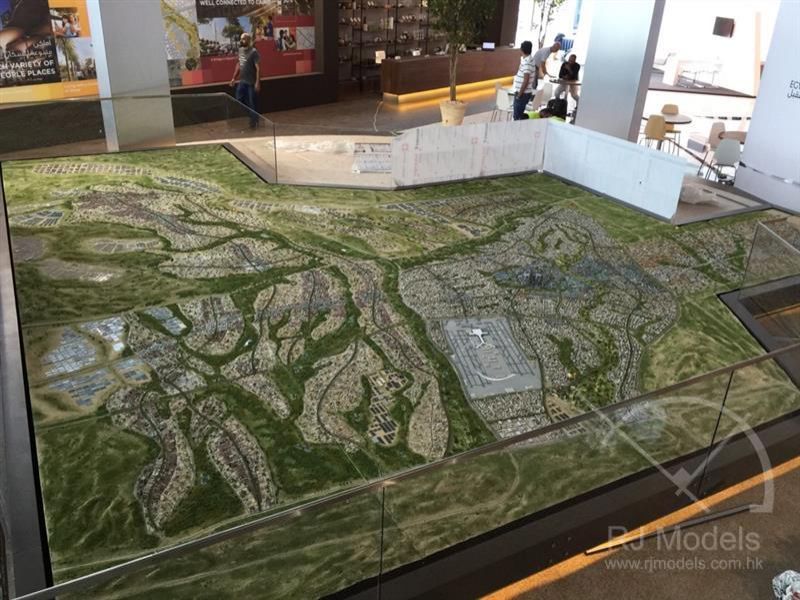 The team started this model by modeling 24 separate blocks first, before combining them.
After joining everything into a single build, the modelers housed the assembly in a glass enclosure, with a sturdy hardwood base.
Also, viewers can control this enormous scale model with an iPad to highlight the master plan's various build features and key zones.
Residential Model – The Gate
Scale: 1:100                                    Size:  4500mm x 3500mm                            Production Time:  45 Days
In a growing district in Cairo, this residential complex will be a famous landmark with its design and its technology.
Cairo's Gate Residence will house 1000 apartments along with commercial and retail spaces.
The designers, Vincent Callebaut Architectures (VCA), included renewable energy technologies that will use 50% less energy.
This residential complex is in a series of rectangular volumes with a steel gridding roof canopy.
Thus, this was a challenge for RJ Models due to their unique designs and intricate details.
The architectural scale model makers did a careful process by sticking 2000 glass sheets one by one.
One of the intriguing elements of this model is its "living green walls" between buildings that copy a coral reef's form.
In order to create this, RJ Models used U-type ABS material for the mesh and decorated it with synthetic grass.
The skills of RJ Models can be seen through this model, portraying the residential building and tourist spot with accuracy and detail.
RJ Models has created a model in 1:150 scale to portray the towers in high detail. In creating this, the architectural model makers made careful steps in creating complex details.
Also, the smooth glass-like finish adds needs extreme care when being made.
Besides, the smooth finish of the towers gives contrast to the landscape which includes grasses and trees.
The shiny and bright surface of the office building model also blends with the dark green landscape below.
Interior Model in Cairo
Scale: 1:25                                 Size: 800mm x 400mm                            Production Time: 21 Days
This interior model features the design of a separate house in Cairo. RJ Models portray how interior design and landscapes are executed in a balance of human living and nature.
In this interior model, viewers can find the landscape around the house, including numerous bushes, tall palm trees, coconut trees, and lawn.
RJ Models uses transparent glass plates to divide the different spaces, giving viewers a clear view between each room.
The living room, enclosed with the dining room, has a very good view through the floor-to-ceiling windows.
The bedroom, children's room, and other living spaces are arranged around the living room.
Also, the modelers installed blue lights under each glass plate to showcase the interior design model. The lighting can then be controlled through devices.
With this kind of scale model, RJ Models can help interior designers, architects, and landscape designers to showcase designs in sales activities, which can then greatly promote the sale of the property.
Conclusion:

RJ Models has an outstanding reputation globally when it comes to creating 3D scale models.
Through the years, the company has served a vast number of architects and designers not only in Egypt but also internationally.
As an architectural model maker in Egypt, the high standards in creating every architectural model is expected.
As a client of RJ Models, you can expect that they can deliver the best quality on time.
The team of RJ Models is built to cater to all your needs. From professional architectural model making, architectural rendering  and communication to its clients, the team can deliver in every aspect.
Moreover, the combination of up-to-date technologies and architectural modeling skills can deliver despite any complexity.
Given these, every project is set to a reasonable price for the great value service and model you will have.
We also have a partner, 3DR Models to support our model making service in Middle East District for ensuring the quality of model making.
For an architectural design company in Egypt, reaching out to RJ Models will be a step closer to showcase your design and ideas.
Leader in World Class Model Making
Any questions about architectural models,just feel free to contact us
We will never rent or sell your email to anyone.
Contact

RJ Models

& Start Making You the Top
Our vision is making the top quality architectural models to everywhere in the globe.