Amazing Architectural Model Making Projects in Boston by RJ Models
Introduction of RJ Models:
Architectural model making has been a definitive part of the construction industry through the changing times.
To that effect, RJ Models will capture your imagination with our combination of traditional and advanced model making techniques.
Boston's skyline, teeming with architecture never failed to miss this legacy from our model making company in this populous region.
RJ Models will treat you with a stable cooperation that is always available and adaptable to your architectural modelling requirements.
Thus, our architectural model makers in Boston will leave you in awe with the craftsmanship and realism we constantly deliver.
Testaments that we only apply the right model making techniques, and select the best materials for your scale model construction.
Echelon Seaport Building Model in Boston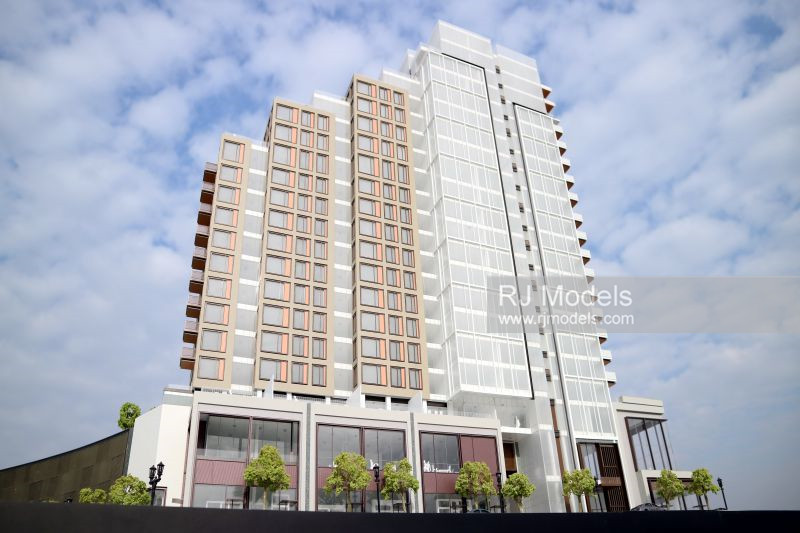 Scale: 1:100                                    Size:  1450mm x 950mm                            Production Time:  18 Days
Professional engineering consulting firm Consultants of Technology Co., Ltd. (COT), commissioned RJ Models to create this masterpiece scale model.
Our model making company in Boston only need a short production time to create scale building models.
The Echelon Seaport is a building model of high-end condominium units with their very own supermarket and restaurants below.
Situated near the sea, varied heights among the units embody the cascade of water and waves.
Additionally, clear glass windows not only act to provide natural lighting, likewise so that you can appreciate fantastic seaport views.
Each floor layered precisely to the last millimeter with the detailing to achieve the closest to reality as possible.
Undoubtedly, the scale model construction possesses the unmatched quality standard that made RJ Models thrive through decades.
Boston Residential Building Model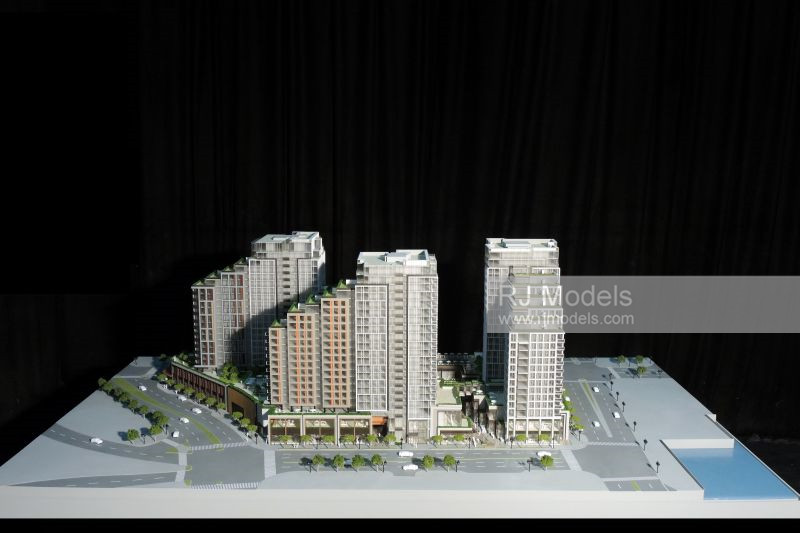 Scale: 1:120                                    Size:  2200mm x1350mm                            Production Time:  28 Days
RJ Models boasts of a team of diverse architectural modelling talents collaborating for your individual scale model requirements.
Thus, top international architectural firm Kohn Pedersen Fox (KPF) chose us to create the scale model for their Boston project.
This residential model is a complex consisting mainly of residential towers and businesses for convenient shopping and leisure.
Architectural model makers in Boston's craftsmanship made sure to portray every specification to give justice to the design.
Layered heights of the building models, with each roof deck adorned with greenery breaks the hardness of glass and concrete.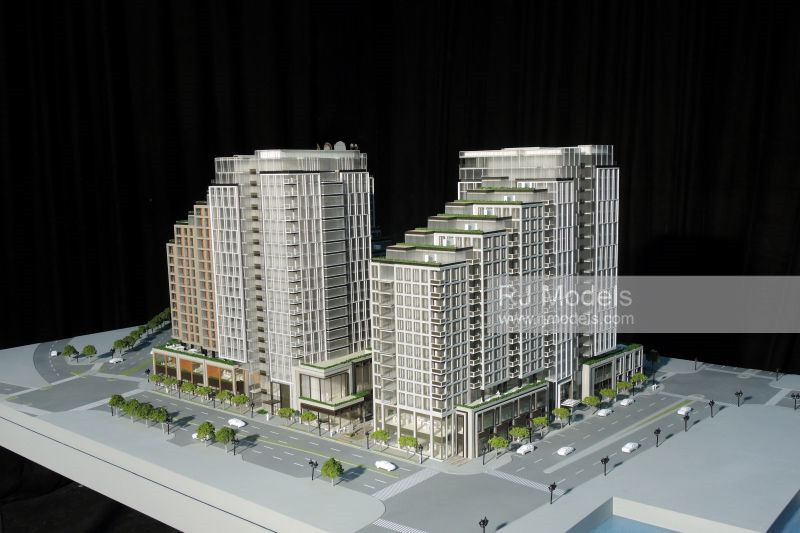 Moreover, this staggered triangular concept brings appeal and allows natural light to the pools and gardens on the lower levels.
The overall impact of the full site model complete with roads and lines of trees provide depth of realism.
Our architectural model makers in Boston delivered this impressively huge scale model within the specified due date.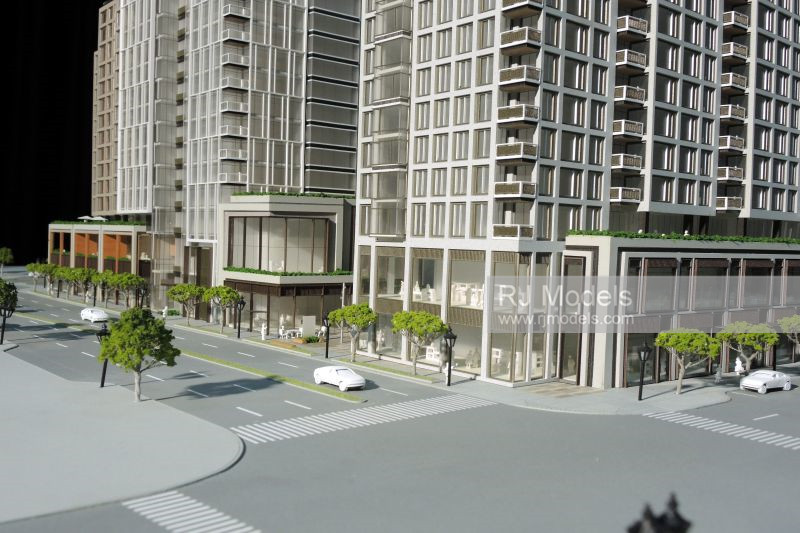 MIT College of Computer School Building Model in Boston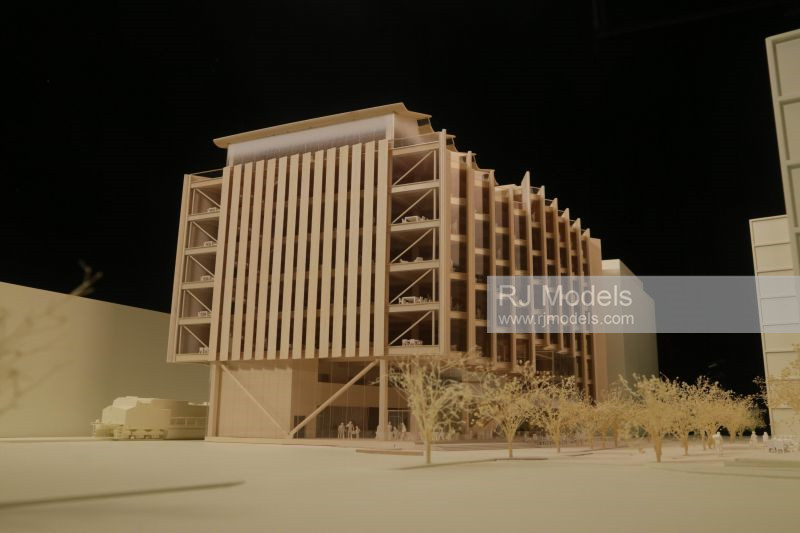 Scale: 1:96                                Size: 1850mm x 1200mm                            Production Time: 21 Days
Designed by renowned firm, Skidmore, Owings & Merrill (SOM), MIT's school building model deserve an equally superior model making company.
That is to say, architectural model makers in Boston satisfied the expectation of one of the best global architectural firms.
Scale model must be true to form and comply with every specification as that of erecting the building itself.
Surely, SOM conceptualized the design from parts of a computer system into the building form.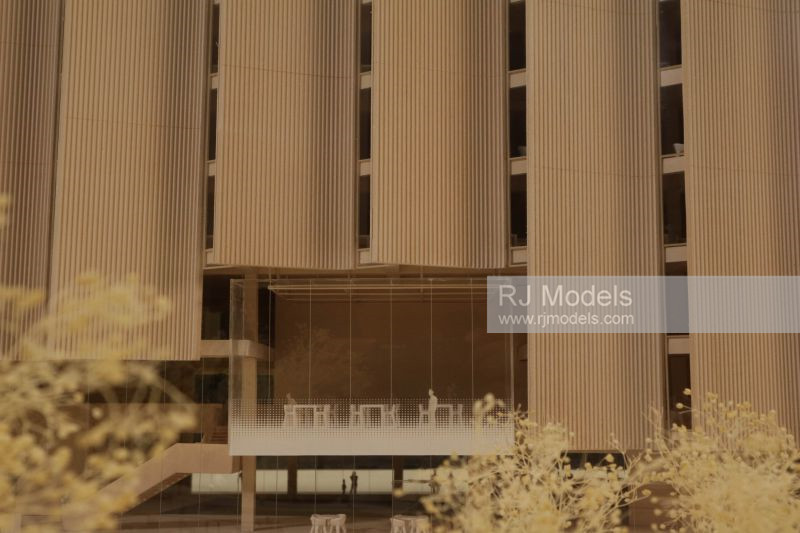 The baffled design is conducive to both natural lighting and ventilation for the building that promotes a comfortable learning environment.
Hence, architectural model makers in Boston precisely measured, cut and joined element parts in exact angles forming its peculiar effect.
Additionally, miniature tables, chairs, and people create a sense of spatial perspective to the model.
RJ Models only employ highly skilled model makers with the professionalism to comply up to the minutest detail.
JLL Boston Four Seasons Building Model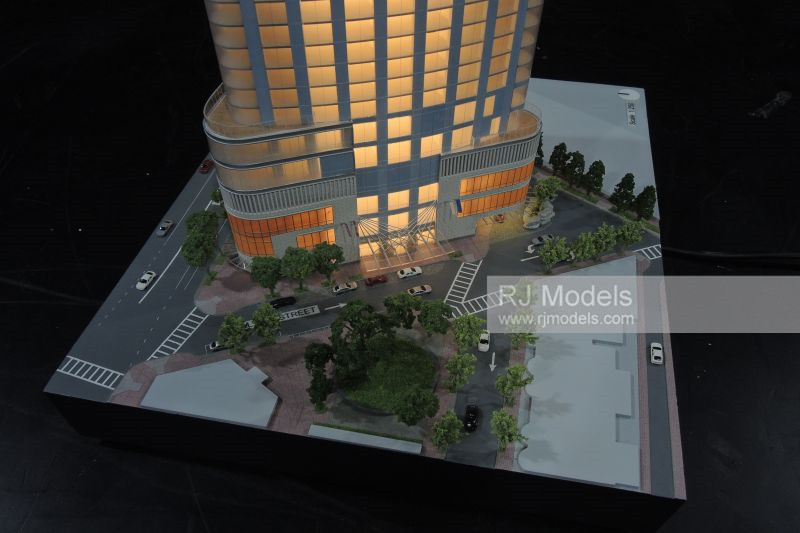 Scale: 1:250                                 Size: 800mm x 450mm x 700mm                           Production Time: 20 Days
Towering the scene of Boston's skyline is this scale model depicting the restoration of an office building.
Naturally, commissioning the reputed top architectural model making company in Boston for the job is the choice.
RJ Models believe that even in making a tiny 1:250 scale model does not mean skipping on the small details.
Thus, JLL Boston Four Season's tower model stands with pride reflecting exactly what the designer had in mind.
Architectural model makers in Boston produced splendidly straight vertical columns that look like real steel.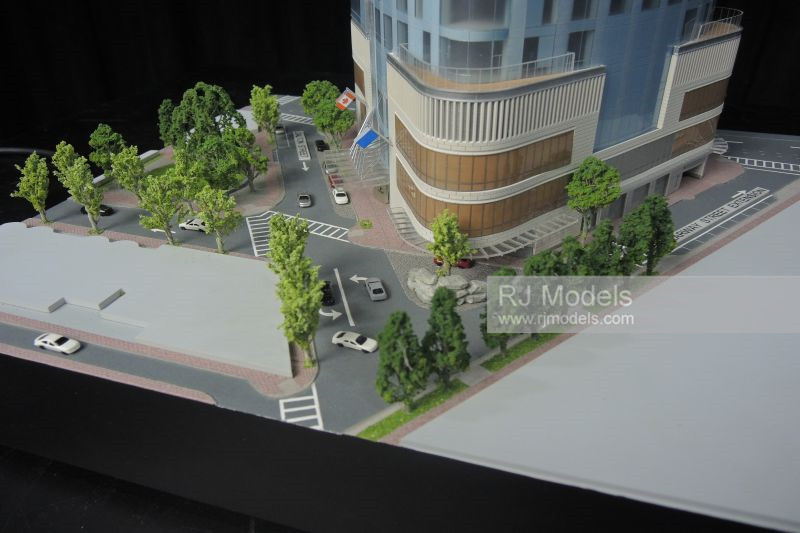 The modelling team carefully selects the best material; the result is an ultra-realistic curtain glass wall as an outer shell.
Moreover, the tower base is a composition of different finishing effects that never fail to represent real life materials.
Finally, additions like roads with car traffic, side streets and purposefully placed trees complete the scale model.
With the architectural model makers in Boston's prowess, this office-building model as a marketing tool will surely attract investors.
Boston Garden Building Model - Gensler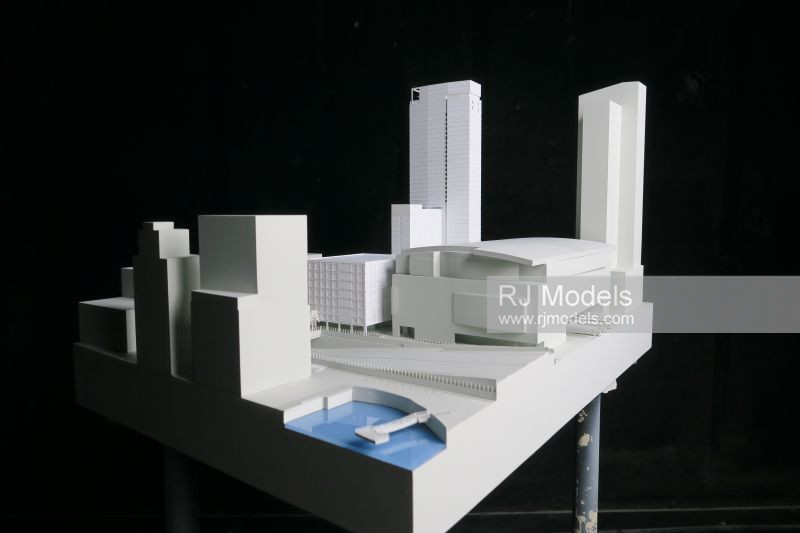 Scale: 1:480                                 Size: 1000mm x 650mm                            Production Time: 20 Days
The Boston Garden-Gensler is an architectural model of an office building set in white styled modelling.
RJ Models is highly adaptable to every architectural model need, be it simple white styled or an intricately detailed project.
It is usually before the finalization of colors or finishing materials that designers opt for this type of scale model.
Albeit the simplicity and within a 1: 480 scale, it still effectively presents the integral details of the structure.
Again, nothing falls short from the original scheme where every defined section is for what they represent.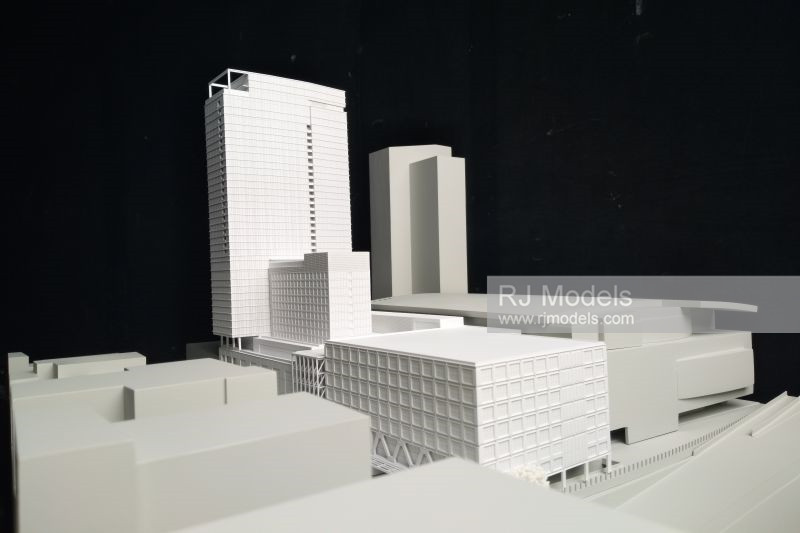 Primarily, commissioning this architectural office-building model is for use in planning consultations before the final changes.
Mass models of neighboring buildings are present so architects and planners can see a general view on the surrounding layout.
White styled models are cheaper and quicker to make with the 3D printing technology of architectural model makers in Boston.
Conclusion:

The RJ Models legacies are architectural scale models that encompass every aspect of the design.
These city's scale model buildings share the worldwide expertise of architectural model makers in Boston in scale model manufacturing.
You can rest assured of more than two decades of excellent service with a reputation that stands among the rest.
RJ Models would only thrive this far because of the commitment and consistency in producing premium architectural scale models.
Likewise catering to you 24/7, tight deadlines will not even matter and that is wherever you are in the globe.
Exceeding your scale model building expectations has always been the direction we firmly gear to reach.
Leader in World Class Model Making
Any questions about architectural models,just feel free to contact us
We will never rent or sell your email to anyone.
Contact

RJ Models

& Start Making You the Top
Our vision is making the top quality architectural models to everywhere in the globe.