In the 26th France MIPIM in 2015, Istanbul Trade Organization (ITO) presents a living Turkey City model whose area is up to 96 square meters with changeable lights, audio and visual effect for professional investors from 89 different countries understanding the Turkey Government's plan of large infrastructure and city renovation projects in Istanbul.
The model gained popularly attention from 23000 professionals and investors, becoming a major focus in the estate exhibition.
Turkey City model is completed by more than 80 professional model designers from RJ Models within 3 months.
This article will expound on various challenges during design and production process and how each department completes the model efficiently with team-work spirit.
1. The initial period of city model:
After receiving the Turkey city model project, two responsible persons in RJ Models, Mr. Ray Cheung, Mr. Terry Hui, and Hakan Ozkan, Ugur Maslamani.
They are the in-charge persons of Turkey branch company, immediately convene a meeting on design and production of the model, model details such as scope, scale, color and lighting distribution, providing several options, and finally determine the production schedules and model requirements with customers.
RJ Models will also liaise closely with customers, regularly make report and discussion to ensure that customers get the latest model progress information, and the model can be successfully delivered.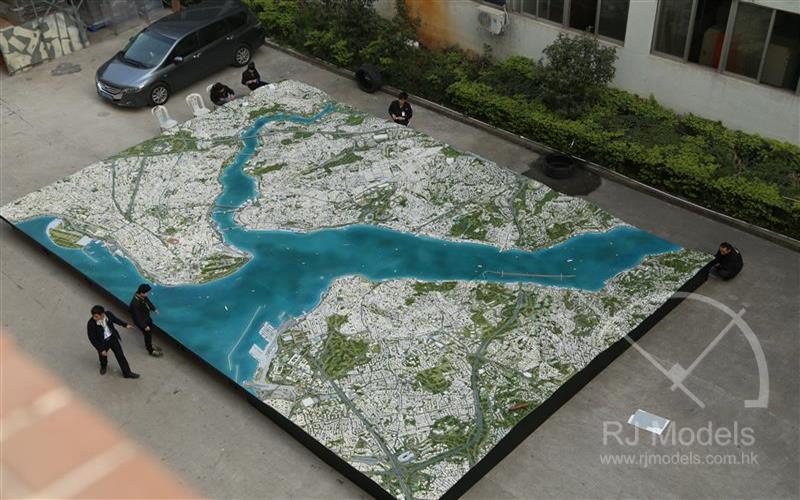 2. Division of drawing team:
After confirming the production schedule, Mr. Terry Hui's team will receive a lot of information from the customer and then go on discussion and study.
First, the team arranges nearly 15 professional draftsmen to check and redraw the model drawings.
Craftsmen will be responsible for different parts of the model, such as landmark buildings, podium buildings, lighting, environmental terrain, achieving division of labor clearly, communication and coordination effectively.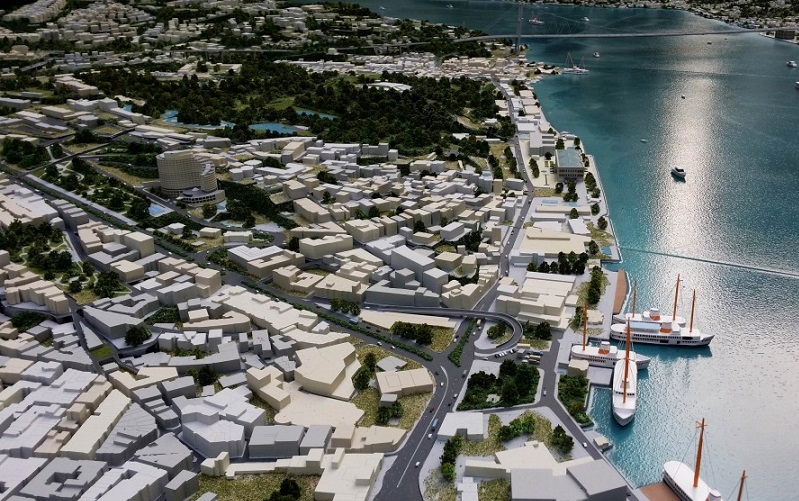 3. Cooperation of production departments:
Once the drawing is completed, nearly 10 carving machines will be used for producing model components and assign to different production departments.
The city model is 96 square meters.
In order to facilitate transportation, the model base will be split into 32 blocks, each block is 3 square meters.
The department which makes the environment maps will be responsible for the terrain of Istanbul city, such as street, highway, hillside, and the coast of the model, and cooperate with electrical department installing LED lights at specific places such as highway and coastline to reduce production cycle.
Model designers who are in charge of numerous landmarks of Istanbul city model will polish, glue, and paint these components, then hand over to the electrical department to install LED lights in the stairs, make marks.
Different departments can conduct in parallel, enhance productivity.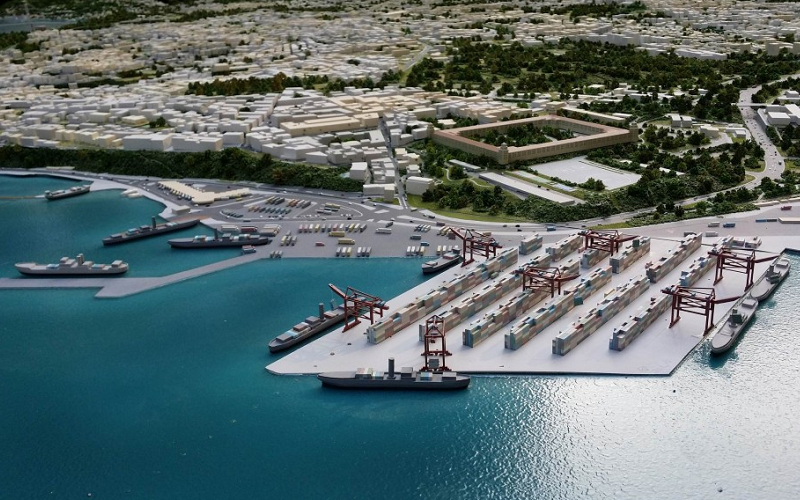 4. Quality assurance of Turkey city model:
Generally, when the real city is scaled down to 1000 times, the model will be shown in the form of terrain and building features.
RJ Models takes real photos as reference, produces historical sites, estate and infrastructure projects in Istanbul, making the model perfectly show the true charm of Istanbul.
With the development of technology, the model is coupled with a series of a high-quality propaganda film, interacting with production projection, making frames more artistic, more colorful and effectively showing that Istanbul is a snare to the intersection of different cultures, a golden section of great business opportunities.
The model in the exhibition attracts many exhibitors and generates the propagandistic effect.
5. Safely deliver of model:
How to deliver the model safely to the MIPIM site in Cannes, France depends on RJ's logistics department which has more than 20 years' experience.
The department especially makes more than 10 tailor-made aviation wooden cases for 32 1.5m x 2m blocks, equipped with professional packing, avoiding that the model damages in transit.
After the model arrives at the venue on time, RJ Models arranges 8 professional model makers set out from Hong Kong to Cannes installing, inspecting and maintaining the model, making sure that the Istanbul City model successfully attracts 23000 estate professionals' investment every year in the most prestigious estate event.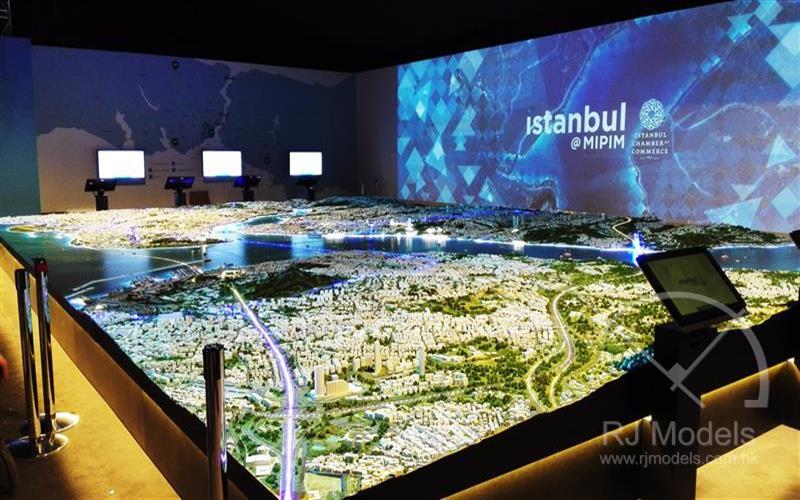 6. Model Packaging and Delivery
Once we got the confirmation on the completed model from the client, the model needs to be delivered to Dubai exhibition safely and fast.
At that moment, the packaging and delivery work became very important.
RJ Models has many years' professional packaging experience; therefore, we made wooden boxes quickly for the 2.1 meters height Ferris wheel and other models.
Within one week, the whole model was delivered from Hong Kong to Dubai and eight RJ Model's makers arrived in Dubai for the model installation on exhibition site.
We insist on the criterion – whichever country the model will be delivered, RJ Models must provide efficient and secure delivery service.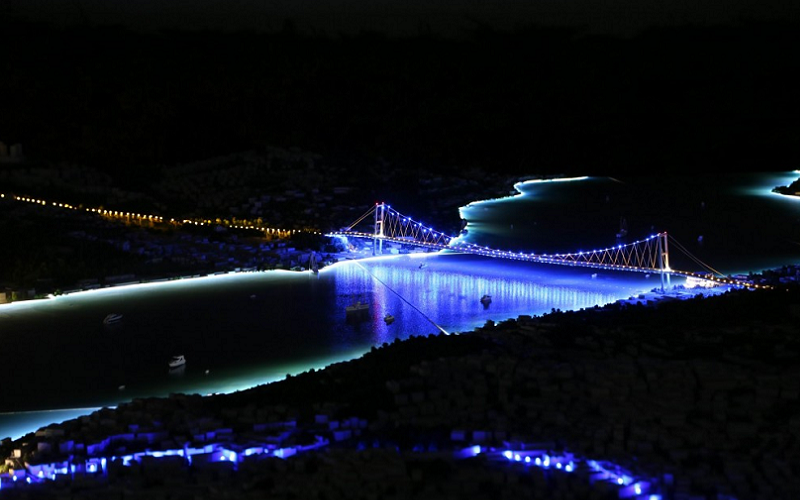 Conclusion
Istanbul City model is the biggest architectural building model in Turkey Government displayed in MIPIM.
The city planning model, equipped with excellent quality and impressive propaganda film, shows the vitality and charm of Istanbul city and also attracts many foreign media's attention, wins several awards and cooperation opportunities in the exhibition.
RJ Models based on more than 26 years' experience in architectural model making, teamwork, and cooperation of each production department, producing so many outstanding architectural building models, and trusted by customers.
Contact

RJ Models

& Start Making You the Top
"
Our vision is making the top quality architectural models to everywhere in the globe.
"