Amazing Architectural Model Making Projects in Kingdom of Saudi Arabia by RJ Models
Introduction of RJ Models:
RJ Models' awe-inspiring architectural model making in the Kingdom of Saudi Arabia.
The Kingdom of Saudi Arabia, however conservative in its norms exudes its expressive nature in terms of its architecture.
Their rich oil reserves enable them to build structures at par with the rest of the modern world.
Hence, RJ Models, a model-making company in KSA is what they need to provide their world-class, scale models.
Model making has been an integral part of the architectural industry.
These small representations of artistry and engineering are necessary to realize the actual structures even before they were erected.
So, scale models should be created in the most masterful detail as it would appear eventually.
For this reason, we as architectural model makers in KSA deliver to achieve that goal.
The goal to present model masterpieces in full detail, fast and best of all, within a relatively fair price.
With over 10,000 scale model projects and 6000 3D architectural rendering of distinction commissioned from the major cities globally.
A number of these projects show the elegance and artistry of Saudis through several types of architecture, especially mosques.
RJ Models' history of model making satisfied top-notch clients not only in the kingdom but the world over.
Mecca KSA Masterplan Model
Scale: 1:750                                    Size:  1200mm x 8000mm                            Production Time:  40 Days
Mecca or Makkah is known as Islam's holiest city for its most sacred shrine, the Kaaba.
Millions of locals and Muslim tourists arrive here annually for their pilgrimage rites.
It is therefore important that the kingdom commits to making the location as pleasant and convenient as possible.
A major key to this will be to draw a city masterplan, consequently, the Mecca KSA Masterplan model.
This would show the development of the growing city scaled at 1:750.
There would be zoning for residential blocks, especially hotels and accommodations for the tourists and pilgrims.
LED lighting adorn this residential zone to project a warm glow and highlight their uniform design.
A geometric and futuristic look will be the characteristic of the main city center.
This and its network of skyscrapers are highlighted with white light diffusing a silver glow.
This masterplan model is to be used to communicate the architectural concept for the growing cityscape.
And it only took one month for our architectural model makers in KSA to wrap up the finished product.
Park Energy Villa Model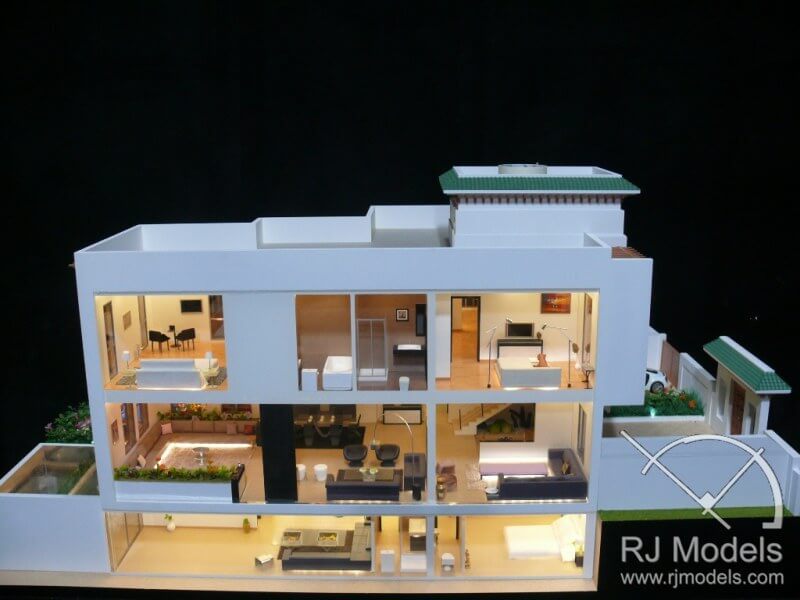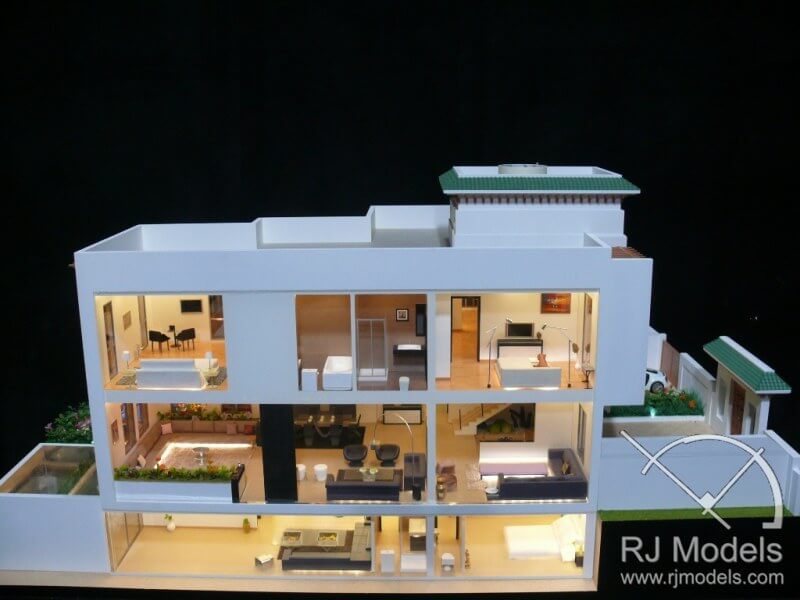 Scale: 1:25                                    Size:  1200mm x1200mm                            Production Time:  15 Days
A villa is a common term for a house in Saudi Arabia.
These homes exude the upper-class lifestyle of most Saudis.
Our architectural model makers in KSA presented this villa model in a bigger scale of 1:25 to show its interiors.
It is the best approach to perfectly represent a dream house to future owners.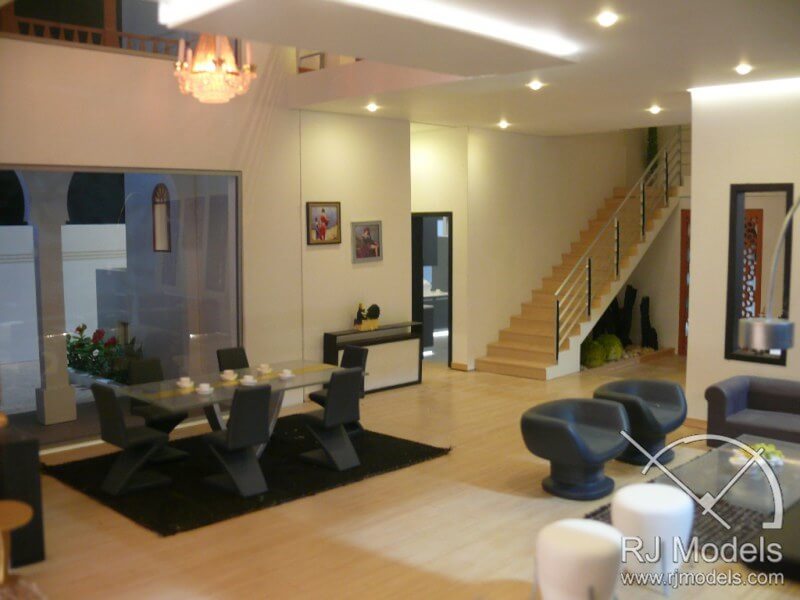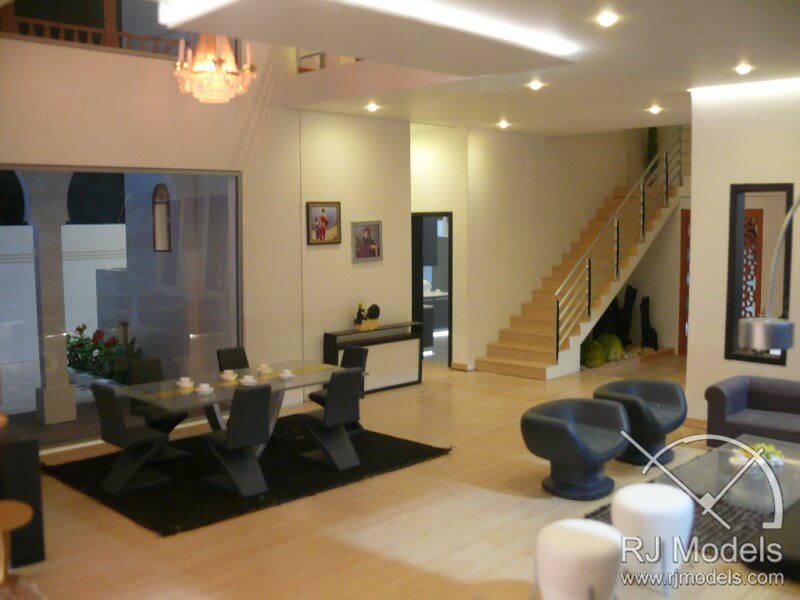 This split-level, three-story with roof deck residence incorporates a classic and contemporary design.
The simplistic white exterior may fool any viewer of its modest look until the inside is seen.
Each room features sleek and stylish furniture and fixtures that give them the contemporary vibe.
On the other hand, the use of warm, neutral colors, as well as the chandeliers give the classic look.
Added to these are the delicate woodwork design of the balcony railings and window features.
The Park Energy Villa Model is accentuated with lighting fixtures like in an actual house.
The rest of its gated outdoor space is complete with a pool, scale model trees, and carport.
The committed team in our model making company in KSA made sure every minute detail as an interior model as planned.
King Abdullah Financial District Conference Center Model
Scale: 1:100                                 Size: 2000mm x 1600mm                            Production Time: 30 Days
Renowned architectural design firm SOM commissioned RJ Models to create this engrossing conference center model.
It will become the masterpiece replica to be displayed in their museum.
The KAFD Conference Center was borne out of the vision to become an iconic government facility.
In this regard, the kingdom is never lacking with groundbreaking architectural and engineering marvels.
RJ Models have in its line up only the most sure-handed staff to create this radical conference model.
The complexity of replicating this building structure is made possible by using 3D model printing technology.
It was fabricated with the use of acrylic and plexiglass to achieve a realistic outcome.
Additionally, our architectural model makers in KSA used the polychromatic lighting system to play up its dramatic characteristic.
This concept maximizes natural utilization of sunlight, as well as, green living.
Even its fascinating interiors are adorned with plants, which is planned to be indigenous to the region.
The entire site development was crafted with geometrical floor patterns.
Scaled-down trees, lawns, and people are put in place, making sense of its surrounding areas.
Thirty days were all our model making company in the KSA needed to deliver a project this complex.
Medina Mosque Model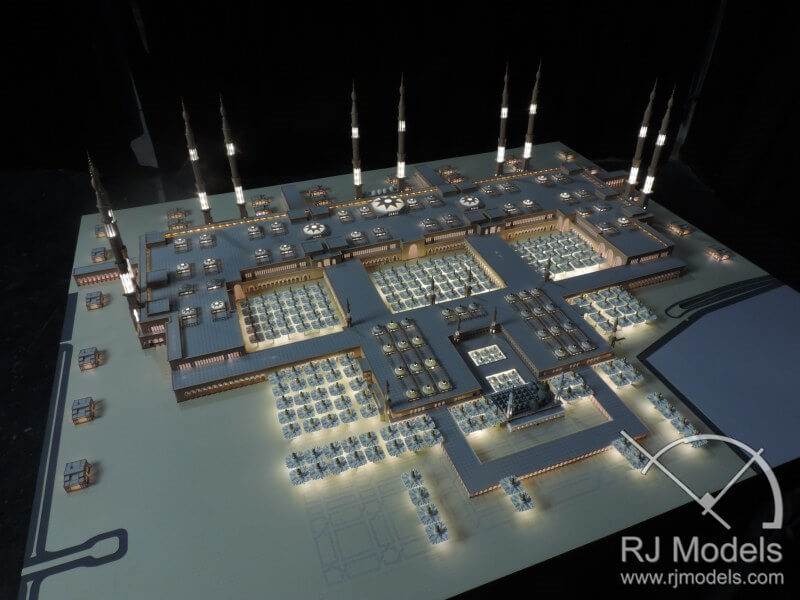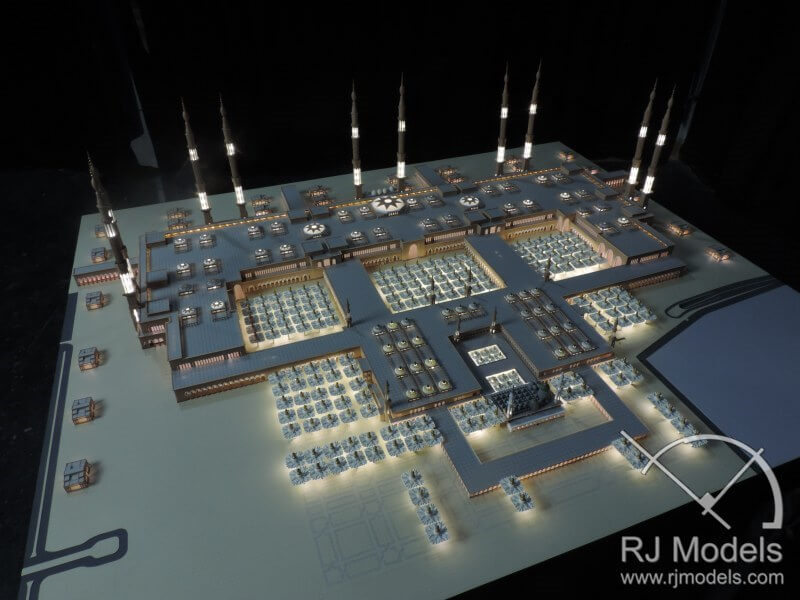 Scale: 1:500                                 Size: 2000mm x 1600mm                            Production Time: 30 Days
The Kingdom of Saudi Arabia serves to be the setting of Islam's holy sites.
Aside from Mecca, Medina comes in second.
To this fact, the city is the place of the prophet Muhammad's tomb enshrined within the mosque.
It is also said that the Prophet himself built the original modest structure on this very site.
This is one of the more prominent ones miniaturized by the model making company in KSA, RJ Models.
Rectangular in a plan, the Prophet's Mosque's main prayer hall can accommodate over half a million worshippers.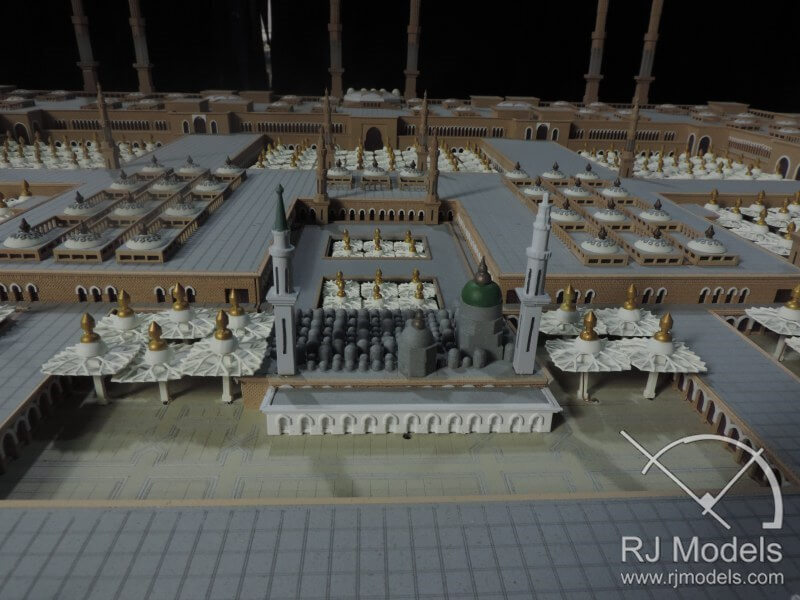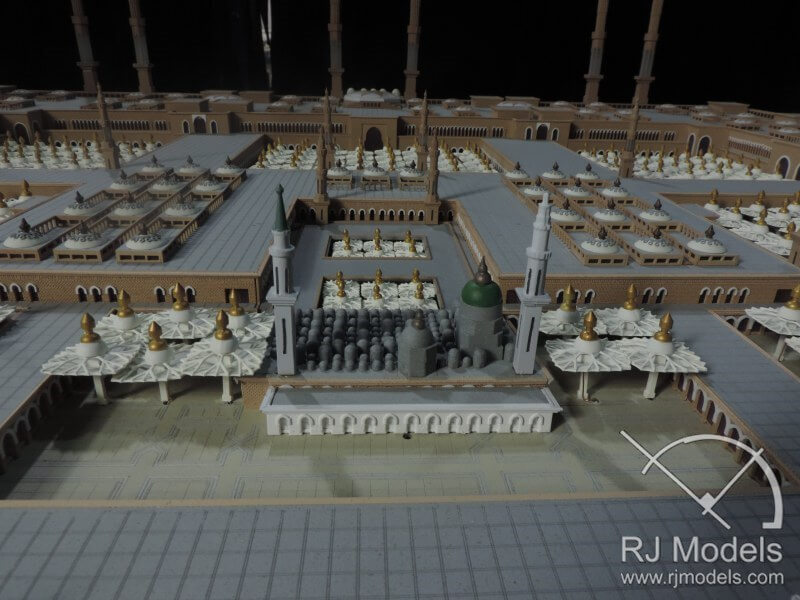 Numerous domes or tombs, including the biggest one in green belonging to the Prophet.
The remake of the large open porticos with arched walkways was on point.
Six minarets typical to mosques stand tall on key points around the site.
Appealing features like the freestanding columns with umbrellas serve as shade to visitors in the courtyards.
Accenting this mosque model in Medina is the meticulous placement of lights.
Our mosque model crafters paid great attention to the details as a religious site specifies.
Makkah Masjid Al-Haram Mosque Model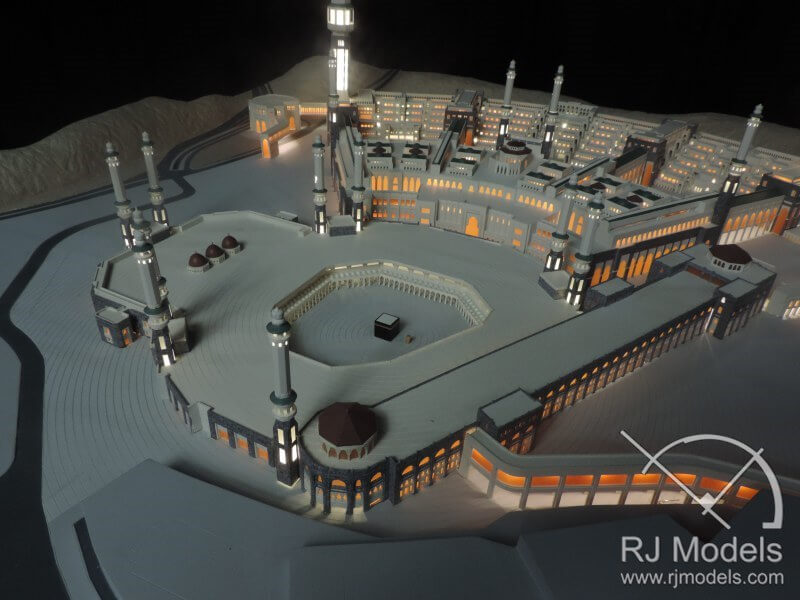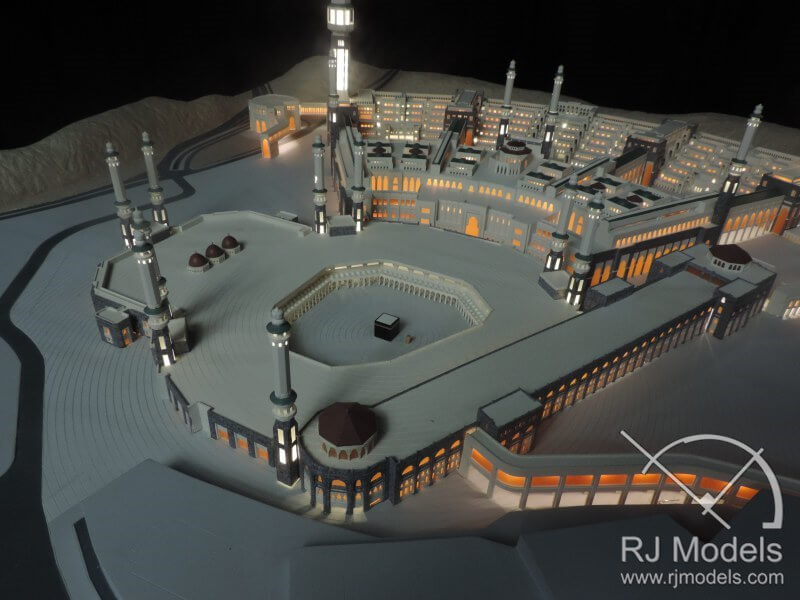 Scale: 1:500                                 Size: 2000mm x 1220mm                            Production Time: 30 Days
The Masjid Al-Haram or the Great Mosque of Mecca requires the highest expertise when it comes to its scale model.
It is largest in the world and considered the most important site in Islam because it houses the Kaaba.
For this reason, millions of Muslims flock here annually for the hajj and umrah pilgrimage.
Stone grey walls accenting the facades are realistically textured.
The polygonal central courtyard surrounding the Kaaba is fashioned with arched colonnades and covered praying areas around it.
These distinct features are seen all around the mosque, as with all Islamic edifices.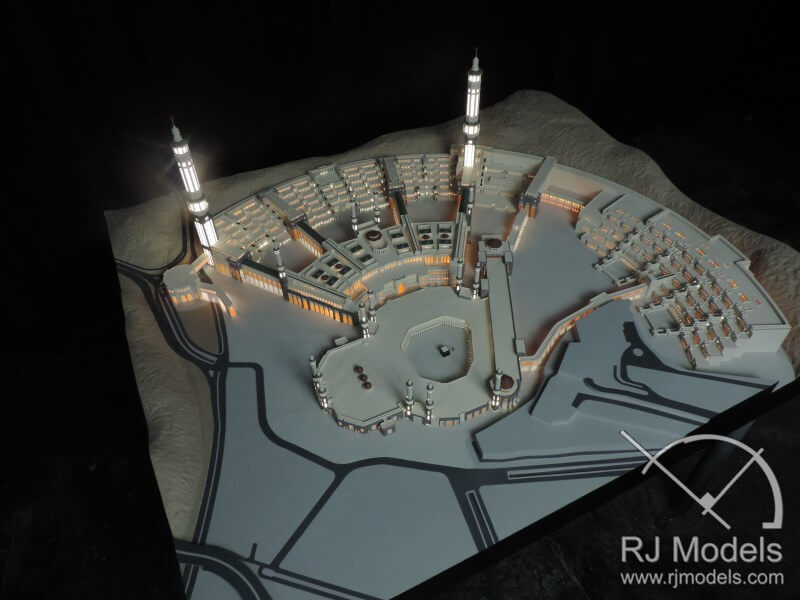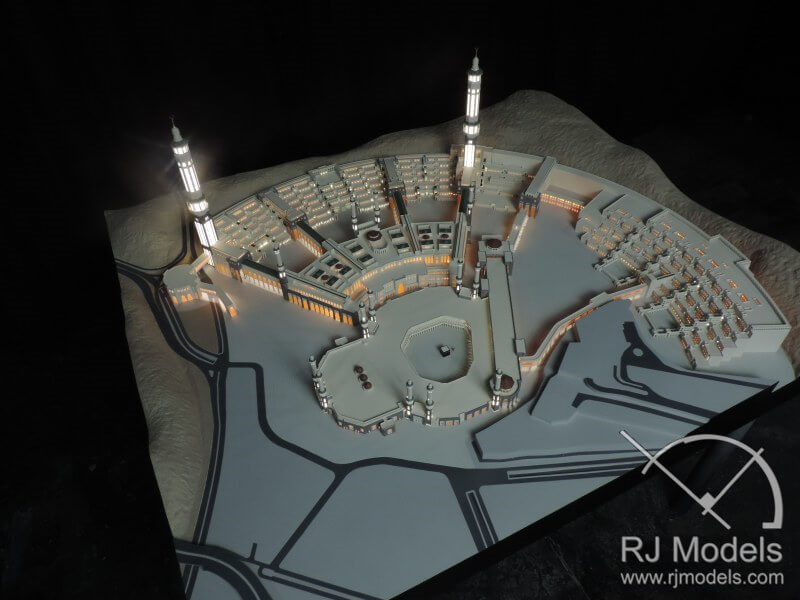 It contains the greatest number of minarets, two of the major and several minor beacon towers.
Even it's small 1:500 scale distinctly shows how our architectural model makers in KSA produced the highest details.
Our posse of experts finished its well-laid-out intricate design in a months' time.
And added lighting as a finishing touch for that accentuated effect.
We may infer that RJ Models is considered unsurpassed among architectural model makers in the KSA.
Because premium architectural models deserve a likewise premium model making company.
Conclusion:

KSA, the key figure in the Arabic community choose RJ Models to be the key to superb architectural models.
Our brothers in Saudi Arabian architecture never settled for anything less in trusting our model making company in the KSA.
The highly skilled architectural scale model makers in our team completed a number of amazing and popular projects in the kingdom.
The commitment to implement the highest quality result in every project was proven in our decades of service.
Hence, they got the entire professional package from our architectural model makers in the KSA indeed.
Our services are not only in the KSA, but we cater to every major city across world continents.
We offer to ship globally to save you the hassle for maximum convenience.
Our architectural model building team not only prides itself as the deliverer of premium and finely detailed models.
Our competitive price range sits well in the model making industry, too.
This strength goes along with fast production time in even the tightest deadlines.
Thus, RJ Models successfully continues its mission for the scale model making ingenuity.
We also have a partner, 3DR Models to support our model making service in Middle East District for ensuring the quality of model making.
And the professional 3D architectural vidsualization serivce for the communicating of the team.
Now you know why top development companies, architectural design companies and governments around the world trust RJ Models.
We are available to be of service 24/7, no matter your time zone or region.
Leader in World Class Model Making
Any questions about architectural models,just feel free to contact us
We will never rent or sell your email to anyone.
Contact

RJ Models

& Start Making You the Top
Our vision is making the top quality architectural models to everywhere in the globe.